The Best Thing to Come Out of the Lockdown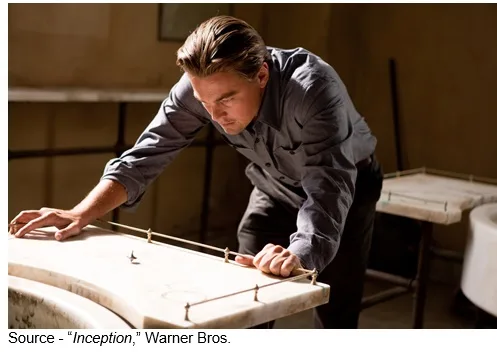 A couple of months ago, Sony Picture's group boss, Tom Rothman, wrote a nice guest column in THR (The Hollywood Reporter), basically thanking his people for a really tough year and thanking himself for not knee-jerking the situation with wholesale firings – some folks called it furloughs which sounds nicer but…
If you want, you can read it here – but what caught our attention was how the organization turned on a dime and completed so many projects during the year.
Production and post-production were all done in the cloud.
Now we're the first to tell you that we're a knuckle-dragging on-prem person.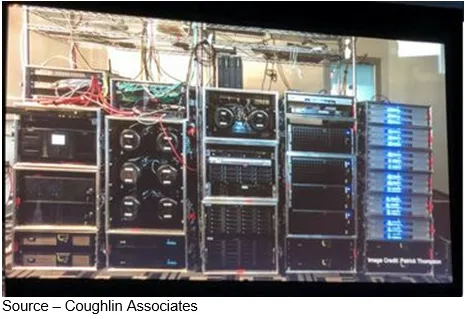 We like our content, workflow and storage (especially the storage) around us … like to see it, touch it, know where it is at night.
But we're open to considering changes – especially after this past year. So, we were interested in seeing what HPA (Hollywood Production Association) was going to share at this year's Tech Retreat.
The Tech Retreat isn't a glitzy Hollywood event other than everything they do is the backbone of the industry's content – shoot, produce, post, deliver.
And it's nothing like NAB, IBC or any trade event that has exhibits/exhibitors and some ancillary tech discussions.
Oh sure, there are celebrities at the event, but they're the folks who know how to feed the M&E industry and keep it running.
The HPA standards and sharing expertise have been vital part for the industry since probably 1948 when the Supreme Court busted up the studio system.
Since then, most of the people who actually create the M&E industry's magic have been freelancers – an estimated 800,000 in North America and Europe and an equal number for the rest of the globe.
They sign on for a project and when that film/series is done, they move to the next "opportunity."
That worked out well until last year when the pandemic put most new projects on hold.
The fortunate folks were able to produce and put the finishing touches on projects remotely, thanks in no small part to HPA.
The standards hammered out by creative tech types, consultants, educators and hardware/software providers covered every element of creation, production, editorial and post-production. The standards enable them to use connected tools and technology as a seamless team to produce deliverables as a team–regardless of where the creatives and technologists are located.
When country, city and office lockdowns were mandated, the ability to move production and post work from one specialist to another turned from being a nicety to absolute necessity.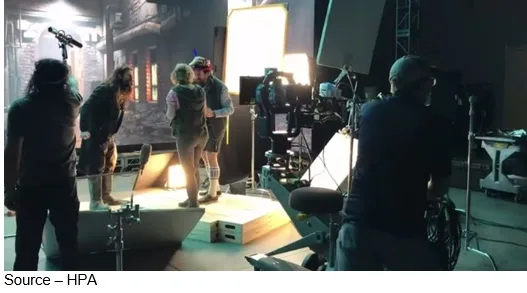 Last year, HPA conducted one "proof of concept" project, The Found Lederhosen, that highlighted state-of-the-art tools like virtual production sets and LIDAR planning.
This year, it was pedal to the metal to prove cross town, cross country and global production would really work and which parts might come up short.
HPA management created a great 3-hr documentary of how crews produced films on four continents in locations as dispersed as Hollywood, Dubai, Brisbane, London, Mexico City and Ulaanbaatar (Mongolia).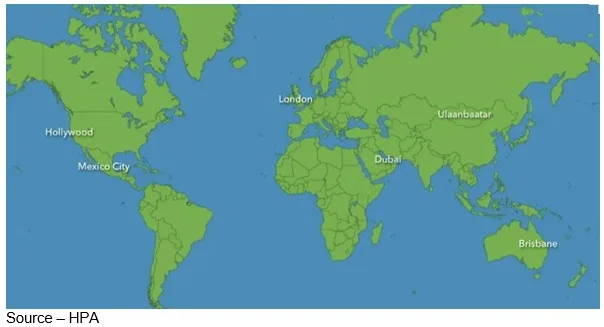 We don't really know Joachim "JZ" Zell, a consultant on production/post-production workflow, ACES (Academy Color Encoding System) and imaging science; but anyone who could come up with the breathtaking idea of getting volunteers to do a series of short films in six cities with five audio mixes, four color spaces across three clouds is the kind of guy you want to help get funding for your next project!
Jeezz!
All of the projects were produced/directed by women – it wasn't planned that way, just the best folks for the tasks – with the assistance of 300 volunteer filmmakers from around the world:
Ruby Bell in Brisbane guided Tangent
Abeer Abdullah, Dubai created Neo-Bedoin
Sandra De La Silva, Mexico City, produced La inquilina
Azzaya Lkhagvasuren, Ulaanbaatar created Kintsugi
British producer, writer and actor Bayra Bela produced the comedic horror film, The Found Lederhosen
To prove the project wasn't a one-time thing done with smoke and mirrors, each movie will soon be available online at the HPA site. Deliverables will range from HD to 8K and a range of color spaces including Rec.709 and Rec.2020 and sound mixes such as stereo, 5.1, Dolby Atmos and DTS. Language versions and archiving were also performed using distributed teams.
Oh yeah, and a pandemic was going on, in case you forgot.
In addition to developing a whole new set of health and safety guidelines/procedures the industry had never had to deal with before, the teams had to develop/rework/refine their creative, connected, remote, collaborative and cloud-based "off-the-shelf" workflows.
HPA keynoter and supervising DP on the poetic short Tangent, Mandy Walker said, "The cloud is part of our future. It's a big game-changer and Joachim's 'test' showed its strengths and where more work is needed."
The HPA Supersession (which really needs a catchier Hollywood title) had regular industry folks – filmmakers, editors, VFX artists, and sound designers, technologists using real world tools, technology and workflows in collaboration and alone in their offices/homes to complete the final works.
Each of the productions used different combinations of technologies with different workflows, cloud-based production tasks and video conference participation in the editorial, color grading, mixing sessions.

Amazon, Google and Microsoft clouds were used, and hardware/software was provided by 5th Kind, Adobe, ARRI, Avid, Bebop, Blackmagic, Colorfront, Evercast, Frame.io, Moxion, Sohonet, Teredek and Teradici.
With the assistance of Dolby Vine Theater, VFX house Framestore and Skywalker Sound, the finished project was a documentary by Origin Point.
Because of the close realtime coordination that was possible with the best tools in the marketplace, there was almost no "fix it in post" needed.
In watching it, you quickly realize that the shortest distance between two points isn't necessarily a straight line.

After the global tests, Zell emphasized that the cloud is ready for today's production work, which is important because it enables you to tap the best talents to quickly work on a segment in one country while someone else is doing other work somewhere else.
What isn't quite ready yet is worldwide ultra-reliable, high-speed, high-capacity broadband but Sohonet seemed to do a very good job of delivering content for all of the project teams.
"Transmission processing needs more than just the marketing promise of 5G," Zell said. "The best solution today is to rely on a strong 4G LTE (long-term evolution) network which is available worldwide and steady amplified signals that are capable of moving high-quality video."
He emphasized that camera data is growing in file size and that bandwidth capable of moving high-capacity RAW content is lagging behind.
He noted that bandwidth requirements are expanding as camera data grows in file size (the shorts were lensed in 4K, 6K or 8K resolution).
Several of the teams were working with ARRI and12K Blackmagic RAW files; and uploading that volume of data to the cloud is … difficult.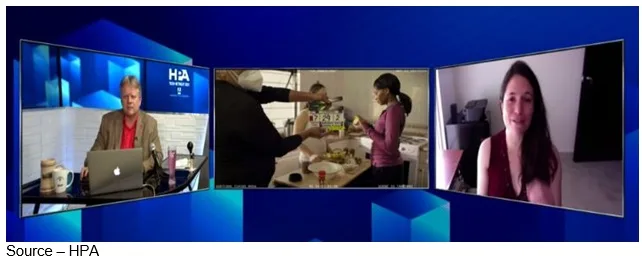 Video production files can be huge, and it's not always practical to push high bit-rate files up to the cloud. Popular video codecs such as XDCAM-50 require 22.5 GB of storage per hour, and a 4K ProRes220 file can require 567 GB.
It may take a few years before project teams will be able to upload full-resolution data to the cloud but HPA and its members are working on the problem.
Until the telecommunications industry delivers on its specifications everywhere or the M&E industry develops an efficient/effective workaround, production and post teams will continue using proxy (low resolution) files of the footage, enabling remote editorial and postproduction.

Of course, the growing file sizes, transfer issues/challenges, data tracking, and coordination of everyone working with the files is one of the reasons the data wrangler has become an important part of the production team.
What the HPA over-the-top test(s) proved is that pandemic and post-pandemic era film production is not only possible but many of the new processes and procedures are not only de rigueur but in a short time will be SOP.

The forced team distancing has been a long, difficult road no one really wanted to travel in this way.
What this year's dramatic HPA Supersession proved is that interactive workflows can perform using multiple technologies across multiple production sites and productions anywhere in the world.
The key is to use the tools in a non-destructive, dynamic manner with common interfaces, underlying data formats and metadata.
All of today's leading-edge applications – Adobe, Avid, Autodesk, Frame.io, Blackmagic, ARRI and the other leading creative tools – have found the best move for the entire industry is to work together smoothly in the cloud.
Producers, directors, cinematographers and key production/post folks are then able to quickly and efficiently access, edit and work on the assets they need to turn RAW data into an exciting visual masterpiece.
At this year's HPA Tech Retreat, Zell and the team showed the virtual event attendees that global creative production is possible and that it is reliably available now.
For next year's event, Zell and the volunteer team are going to thoroughly explore the burning question every studio's and content owner's CTO has … what does it all cost?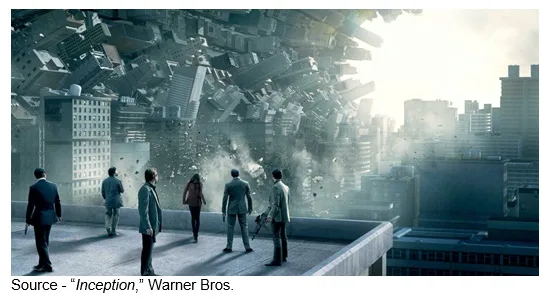 And yes, there are other questions Zell wants to explore for Retreat attendees next year just as Cobb reminded us in Inception, "Because building a dream from your memory is the easiest way to lose your grasp on what's real and what is a dream."
At a full hour shorter than Zack Snyder's Justice League (242-min), we watched the 180-min HPA Supersession three times, and it was … awesome!
If you want to explore the depth and breadth of everything the HPA Tech Retreat had to offer – including the Supersessions this year, you can dig into it all at https://bit.ly/3dqnmKK.
It's cheaper and more interesting/informative than taking your team to the movie house and you can watch it again … and again … and …
Am pretty sure you'll enjoy it as well because it shows how technically aware today's filmmakers really are.
Okay, pop your popcorn, get your favorite beverage, sit back and watch one of the most educational, informational and fun films you'll see this year…and if it doesn't earn an award, the voting was rigged!
# # #
Andy Marken – [email protected] – is an author of more than 700 articles on management, marketing, communications, industry trends in media & entertainment, consumer electronics, software and applications. An internationally recognized marketing/communications consultant with a broad range of technical and industry expertise especially in storage, storage management and film/video production fields; he has an extended range of relationships with business, industry trade press, online media and industry analysts/consultants.