BTR wants to wish Kingston Technology Company a Happy Birthday today as they celebrate 30 years in business as an innovative technology hardware provider for computers and devices. Kingston is not a corporation but was co-founded on October 17, 1987, by CEO John Tu and COO David Sun. The two co-founders continue to guide the company and remain very active in day-to-day operation.

We are a media partner with Kingston and we have the very highest regard for their company and employees. We have also visited their Fountain Valley headquarters several times and we were really impressed with the scale and efficiency of their operation. Kingston has always been supportive of small gaming-oriented tech sites like BTR, and they have often sponsored our Community contests with awesome prizes. We look forward to continuing to review their excellent products and we are impressed with the excellent support they give their customers. The following is from their press release.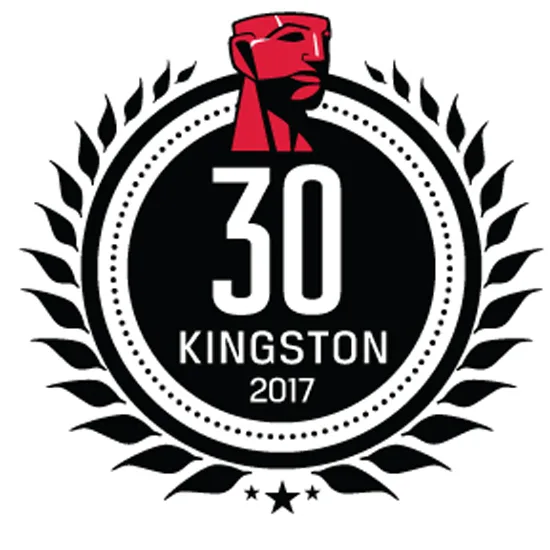 Kingston Technology Company, Inc., a world leader in memory storage products and technology solutions, announces tomorrow that it celebrates its 30th year in the business as an innovative technology hardware provider for computers and devices. Kingston® was co-founded on October 17, 1987, by CEO John Tu and COO David Sun. The two co-founders continue to guide the company and remain very active in day-to-day operations.
Seeing SSDs as the future for hard drives in both client PCs and data centers, the company began offering SSD products in 2009 and last year analyst firm Forward Insights cited Kingston as the second-largest supplier of SSDs in the channel. The company also saw the growing demand for smart phones, tablets, IoT-based devices and wearables. In 2010, it formed Kingston Solutions, Inc. (KSI), which manufactures embedded memory products (single-chip storage and controller solutions) that go into lighter and thinner everyday consumer devices. Today, KSI is the leader in embedded solutions for second-tier smart phone manufacturers.
The product portfolio has further expanded in recent years to headsets, keyboards, mice and mouse pads via its HyperX™ gaming brand, and the innovative products have rapidly gained accolades and acceptance among professional gamers and pro sports athletes. It took only two years for HyperX to ship its 1-millionth gaming headset. Today, Kingston through all its brands and product categories offers over 2,000 quality technology solutions and ships to more than 120 countries. It is a widely recognized and accepted brand known the world over.
"David (Sun) and I were almost broke when we started this little company 30 years ago and there weren't that many people doing what we did outside of the big PC makers," said John Tu, CEO and co-founder, Kingston. "We had no idea how it would turn out but due to lots of luck and people whom we previously worked with who liked and helped us, we were able to slowly grow and build up a successful organization. I feel very blessed and fortunate every day I come into the office."
"Our good fortune as a company is due to the hard work of our employees and the respect we have for each other. When John (Tu) and I started this company, we wanted everyone who worked here to feel like they are part of a family," said David Sun, COO and co-founder, Kingston. "Our philosophy for the last 30 years has been, 'If we take care of our employees and vendors, they will take care of our customers.' This has not changed and none of Kingston's success happens without family."
From 1987 to Today: The Growth of Kingston
1987: Kingston begins operations in Orange County, Calif., with a new Single In-Line Memory Module (SIMM) that creates an industry standard for memory modules.
1992: Kingston is ranked by Inc. magazine as the fastest-growing privately held company in America.
1995: Kingston opens its first overseas office in Munich, Germany to better provide support to its European customers.
1995: Kingston joins the Billion-Dollar Club as sales exceed $1.3 billion (USD).
1996: Kingston and Toshiba co-Market memory upgrades for Toshiba PCs. This is the first time ever that a PC OEM and a memory manufacturer teamup.
1997: Kingston expands its global footprint as it establishes the headquarters for Asia-Pacific operations including a manufacturing facility and offices in Taiwan. Kingston also opens its first office to serve South American customers in Brazil. Its European headquarters move to the United Kingdom and a manufacturing/logistics facility in Dublin, Ireland is opened.
1997: Kingston Technology Services Division (KTSD) is formed to exclusively work and manufacture memory solutions directly for OEM customers such as Dell.
1999: Kingston purchases a controlling interest in Powertech Technology, Inc., now the world's largest back end wafer and chip packaging and testing facility for both DRAM and Flash. The purchase further strengthens Kingston's ability to control all facets of the memory-manufacturing cycle from wafer to finished good.
1999: Kingston strategically opens its Mexico office to support a growing region.
2000: Advanced Validation Labs, Inc. (AVL) is launched as an independent memory testing and validation lab. Its "one-stop shop" services cover component level to module testing to support the entire memory industry.
2001: Kingston begins assembling memory modules in Shanghai, China.
2002: HyperX begins with its first product, high-performance memory modules.
2003: Kingston begins shipping Flash memory products.
2004: iSuppli (now IHS Markit®) ranks Kingston as the world's No. 1 memory module manufacturer for the third-party memory market, a streak that has continued each year to date uninterrupted.
2005: Kingston opens the world's largest memory module manufacturing facility in Shanghai, China.
2006: Kingston revenue reaches $3 billion (USD).
2009: Kingston's Asia-Pacific region reaches the $1 billion (USD) mark in sales for the first time.
2010: Kingston and Phison Electronics Corporation form Kingston Solutions, Inc., a joint venture manufacturing embedded memory products for the emerging mobile industry.
2010: Kingston revenue reaches a new record high of $6.5 billion (USD).
2013: Gartner Research ranks Kingston as the #1 USB manufacturer for the 6th straight year.
2013: Kingston ships the world's largest and first 1TB USB Flash drive.
2014: HyperX launches its first gaming headset.
2016: HyperX sells its 1-millionth headset.
2017: Kingston ships the world's largest and first 2TB USB Flash drive.
2017: Kingston ships the second-most SSDs in the channel in 2016 according to Forward Insights.
2017: Kingston celebrates its 30th anniversary on October 17.
Happy Birthday, Kingston … and Happy Gaming!