BabelTechReviews received a reviewer's copy of Grand Theft Auto V (GTA V) last week, and began playing it two days later, after downloading all 60GB and nearly 500MB in total patches. This editor has spent the good part of a week playing the main story and looking for a great place to analyse IQ and performance. Here are our impressions of it, including a mini-performance and IQ evaluation using ShadowPlay video, Fraps, and seven Nvidia top GeForce video cards that each have at least 3GB of vRAM.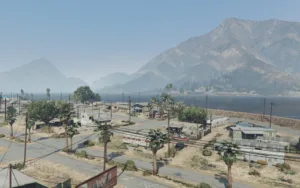 We are primarily testing with Nvidia cards up to 4K resolution, and focusing particularly on AA (Anti-Aliasing), including MFAA (Multi Frame Samples Anti-aliasing), as we will especially focus on the game in motion – using ShadowPlay to capture different IQ settings that affect aliasing. GTA V is a game with a lot of visible aliasing, and especially temporal aliasing that results in shimmering and crawling with the camera in motion.
Motion Blur is enabled by default, and even at its lowest setting which we picked, it is quite obvious. We also picked completely maxed-out and mostly "ultra" settings at 1920×1080, 2560×1600, and at 3840×2160, to differentiate the PC experience from the console. 2GB vRAM-equipped cards need not apply at these demanding settings. The GTX 770/2GB and even the GTX 690 dual-GPU card cannot run GTA V at even Very High settings without severe chugging and hitching, artifacting, and late texture loading, although frame rates might otherwise be OK if the disk did not need to be accessed.
Here are the cards that we tested with:
GTX TITAN-X/12GB
GTX 980/4GB & GTX 980 SLI
GTX 970/4GB
GTX 780 Ti/3GB
GTX TITAN/6GB
GTX 780/3GB
Unlike with playing the earlier games in the series, we were more drawn immediately into GTA V. Although this editor is not a big fan of the series, it appears that GTA V combines the very best of the San Andreas games with the GTA series into an amazing open world game that appears to surpass Watch_Dogs in every way.
One thing that is immediately stands out is the incredible detail and huge scope of the game's setting. Literally hundreds of NPCs move about their world in a normal manner. Driving is improved over the earlier games in the series, and the graphics are spectacular for this type of game. The characters are not as detailed or as real as in Crysis 3 or Ryse, but the world is far more ambitious than either of these CryEngine games, and GTA V succeeds brilliantly
There are no screenshots nor videos that really do this game justice. You have to experience GTA V for yourself as a player to appreciate its scope, much as you do a movie or a play; and not from viewing clips on a tablet, nor from watching Youtube gameplay videos. This mini-evaluation is not going to focus on the story, however, as we did not finish the game. Instead, we are going to look at changing anti-aliasing settings and their effect on IQ and performance of GTA V. We only played some of the single player missions and did not look at online multiplayer. The game world is huge and there is a lot to do.
Bugs, Graphics and Performance
There appear to be few bugs and only rare crashes to desktop from playing and benching for more than a couple of dozen hours. Rockstar has released a couple of patches, including one this morning, that have addressed some issues. GTA V requires a higher frame rate than the "usual 30fps" to feel fluid, and AA is the first setting that is usually turned down.
This game uses several of Nvidia's GameWorks features for PC including PCSS (Percentage-Closer Soft Shadows), MFAA, DSR and TXAA. GTA V also uses AMD features including CHS (Contact Harding Shadows) with is similar to PCSS, but with a sharper shadow that some prefer although it is less realistic. GTA V is a true next-generation open world game which is very demanding. Using a GTX 980 we could manage Ultra settings on everything – but only up to 2560×1600! It took a TITAN X or GTX 980 SLI to have a good experience at 3840×2160, and even then we were mostly limited to FXAA. All of our screenshots and ShadowPlay video are taken at 1920×1080.
Performance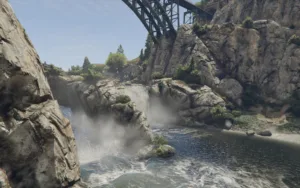 We played GTA V at maximum details with 6 top Nvidia graphics cards using Core i7-4790K at 4.0GHz where all 4 cores turbo to 4.4GHZ, a EVGA Z97+, and 16GB of Kingston HyperX RAM at 2133MHz.
All of the in-game settings were maxed completely out (except as noted; Motion Blur low; Softest Shadows; Grass, Very High, and 2xMSAA Reflections) with these variables – 2x and 4xMSAA, FXAA, TXAA, 4x-and 8xMFAA, and 0xAA (no AA).
On the next page, we will introduce image quality and AA used and later we will give performance results as well as IQ screen shot comparisons for each setting as well as a ShadowPlay video comparing these settings in motion.
Image Quality
In our opinion, TXAA provides some of the best image quality because it address temporal aliasing. It definitely introduces more blur although it fits in with the game's "cinematic" look. 2xTXAA provides very good anti-aliasing approximating 4xMSAA, while the performance hit is less.
The TXAA blur is more noticeable than with FXAA, but unlike with FXAA and MSAA, the texture crawling and shimmering are nearly gone when the camera is in motion. If one desires an even sharper image, SweetFX can usually be used together with TXAA. 4xMSAA is cleaner than 2xMSAA which in turn is an improvement over FXAA, but MSAA takes the biggest performance hit. MFAA will be discussed separately, and it has turned out to became our favorite form of AA. FXAA can be turned off or on with any combination of AA, so there are a lot of options affecting performance.
Let's look at some of the settings individually.
MFAA
MFAA is available exclusively for Maxwell based GPUs – GeForce TITAN X, GTX 980, GTX 970 and GTX 960 graphics cards. Jagged edges, and especially shimmering in motion, are quite noticeable in GTA V with no AA enabled. MSAA reduces the prominence of jagged edges, but it does so at a substantial performance cost.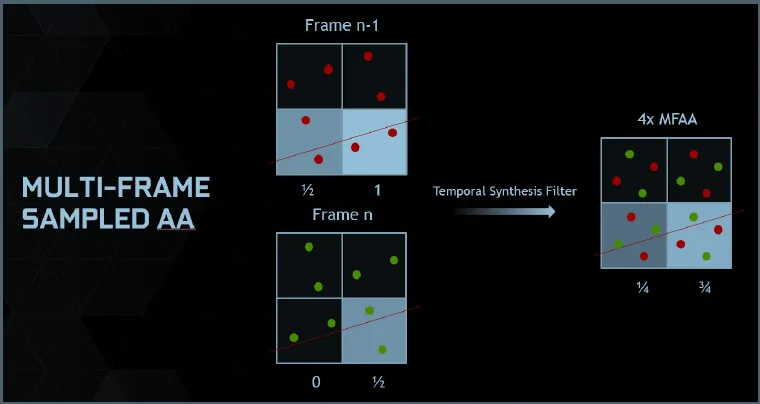 Nvidia's engineers developed MFAA to reduce this performance cost while delivering comparable image quality to MSAA by varying the sample patterns used per pixel both spatially in a single frame and interleaved across multiple frames in time. For example, each successive pixel uses one of four different 2x AA sample patterns. The final result is that MFAA can deliver image quality approaching that of 4x MSAA at roughly the cost of 2x MSAA, or 8x MSAA quality at roughly the cost of 4x MSAA.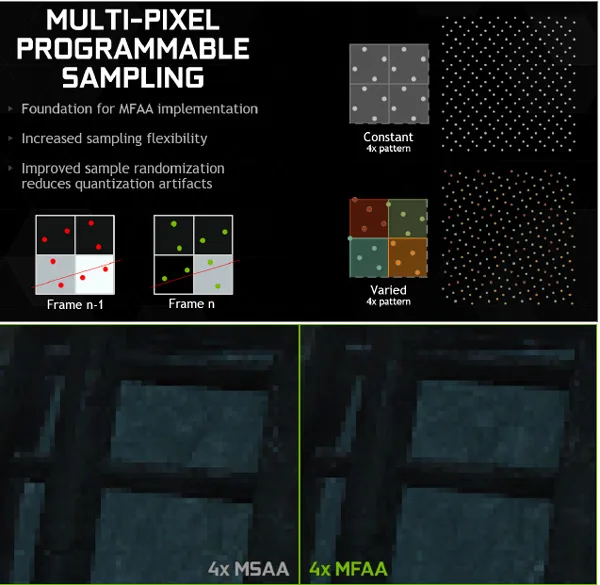 MFAA has been progressively enabled with each new WHQL GeForce driver since 344.75. From a few games originally, now most games are supported both in global and in Program settings in Nvidia's Control Panel. Nvidia has been releasing WHQL drivers to coincide with AAA major game title releases.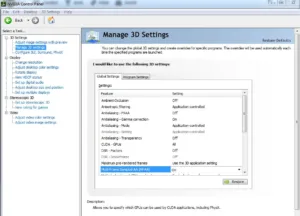 MFAA is a new AA mode which is supposed to give the same quality as 4x MSAA but with only the performance costs of 2x MSAA, or the same image quality as 8xMSAA with the performance costs of 4xMSAA. MFAA is based on a Temporal Synthesis Filter with coverage samples per frame and per pixel.
Nvidia recommends that MFAA not be combined with other forms of post processing AA such as FXAA or TXAA although MFAA works rather well with FXAA in GTA V. MFAA requires at least 2xMSAA to function just as TXAA does.
TXAA
TXAA is a cinematic-style anti-aliasing technique designed specifically to reduce temporal aliasing (crawling and flickering in motion). TXAA is a mix of hardware AA, custom CG film style AA resolve, and a temporal filter. To filter any given pixel on the screen, TXAA uses a contribution of samples both inside and outside of the pixel in conjunction with samples from prior frames. The trade-off is blur, which for some is intolerable and for others, cinematic. This editor much prefers the mild blur of TXAA to the texture crawling and flickering while in motion without.
TXAA has improved spatial filtering over standard 2x MSAA and 4x MSAA, particularly on fences or foliage. TXAA is also capable of intelligently managing per-pixel effects without introducing lighting artifacts on object edges. The filtering used by TXAA results in a softer image compared to traditional MSAA – the blur.
TXAA uses hardware MSAA in conjunction with a temporal filter. The performance hit of TXAA will vary from game to game and is directly correlated to the performance hit of MSAA. In this game, 2xTXAA takes less of a performance hit than 4xMSAA. Screen shots look better with MSAA, but playing the game with the camera in motion or our ShadowPlay video capture can easily show the advantages of TXAA.
Percentage-Closer Soft Shadows (PCSS)
Percentage-Closer Soft Shadows (PCSS) is a technique designed to simulate the natural softening of shadows that occurs over increasing distance from the occluding object. PCSS provides three notable improvements over hard shadow projections: shadow edges become progressively softer the further they are from the shadow caster, high-quality filtering reduces the prominence of aliasing, and the use of a shadow buffer allows PCSS to handle overlapping character shadows without creating "double-darkened" portions.
AMD uses Contact Hardening Shadows (CMS) which does a similar thing but the shadow is harder, less progressively softer than PCSS; and to this editor's eyes, less natural (or less photorealistic). Both of these shadowing techniques are visually better than the Softest Shadows option the game offers.
In addition, GTA V offers 4K textures – something probably best experienced by SLI'd GTX 980s or even a single GTX TITAN X if a few settings are lowered. We preferred TXAA, but when the performance hit was too great, 4xMFAA+FXAA worked well and even dropping to only using FXAA at 4K was acceptable. Playing GTA V without any AA is ill-advised and even raising the resolution to 4K without some AA is not a good solution.
DRM
GTA V uses Rockstar's proprietary Social Club to launch the game and the gamer must connect to the Internet for validation each time. We received a Steam key which adds an extra layer of DRM.
Test Configuration – Hardware
Intel Core i7-4790K (reference 4.0GHz; HyperThreading and Turbo boost for all 4 cores to 4.4GHz is on; DX11 CPU graphics), supplied by Intel.
ASUS Z97e motherboard (Intel Z97 chipset, latest BIOS, PCIe 3.0 specification, CrossFire/SLI 8x+8x)
16 GB DDR3 HyperX Kingston "Beast" RAM (2×8 GB, dual-channel at 2133MHz; supplied by Kingston)
Kingston 240GB SSD used for caching the HDD, supplied by Kingston
GeForce GTX TITAN X, 12GB, reference clocks, supplied by Nvidia
Two GeForce GTX 980s, 4GB, reference clocks, supplied by Nvidia
GALAX GeForce GTX 970, 4GB, GALAX design and clocks, supplied by GALAX
GeForce GTX 780 Ti 3GB (reference clocks), supplied by Nvidia
GeForce GTX 780 3GB (reference clocks), supplied by Nvidia
GeForce GTX TITAN, 6GB (reference clocks), supplied by Nvidia
Onboard Realtek Audio
Genius SP-D150 speakers, supplied by Genius.
Two 2TB GB Toshiba 7200.10 hard drive identically configured; 1 for Nvidia and 1 for AMD
EVGA 1000G 1000W power supply unit
Seidon240 watercooler, supplied by Cooler Master
Thermaltake Overseer RX-I full tower case, supplied by Thermaltake
ASUS BW-12B1ST 12X Blu-Ray writer
Monoprice
HP LP3065 2560×1600 thirty inch LCD.
ASUS 1920×1080, 27″ LCD, 120Hz
HyperX Cloud gaming headset, supplied by Kingston
Test Configuration – Software
Nvidia GeForce WHQL 350.12. High Quality; Single-display Performance mode; Prefer Maximum Performance. Shader Cache on, Vsync off.
Windows 8.1 64-bit; very latest updates. All DX9 titles were run under DX9 render paths, DX10 titles were run under DX10 render paths and DX11 titles under DX11 render paths.
EVGA PrecisionX 16 overclocking and monitoring software; temperature and power targets set to maximum; updated by Steam.
Latest DirectX
Varying AA enabled including MFAA for the GTX 980
All results show average frame rates
Highest quality sound (stereo) used in all games.
Windows 7 64-bit, DX11
Latest version of Fraps
Latest version of ShadowPlay and the GeForce Experience
The Game
GTA V, digital reviewer's copy Steam Key; Supplied by Rockstar/Nvidia
Let's check the performance, settings and the Image Quality (IQ) on the next page.
Graphics and IQ versus Performance
GTA V has excellent graphics. It is perhaps not quite up to the level of realism that Crysis 3 or even Battlefield 4 commands, but it is definitely next generation open world console graphics sufficient to give superb visuals when everything is maxed out. We benchmarked and played the game at 1920×1080, 2560×1600, and at 3840×2160 using 6 of Nvidia's' top video cards including TITAN X and GTX 980 SLI, using Core i7-4790K which turbos to 4.4GHz. We also played using 16GB of Kingston's 2133MHz Beast HyperX DDR3.
One thing to note is that GTA V uses a lot of video memory and 3GB is the minimum for playing with ultra or even very high settings at 1920×1080, never mind at higher resolutions. If you have a 2GB vRAM-equipped card, you will be limited to mostly a combination of high and very high settings with modest AA at 1920×1080 even if you have an otherwise very fast card like the dual-GPU GTX 690. It is not pretty when the game runs out of video memory and has to access system RAM or the hard drive/SSD. We saw serious artifacting, intense chugging, and late loading pop-in textures when a card's vRAM limit was exceeded. Playing at 4K mostly requires 4GB as a minimum and the 6GB and 12GB vRAM equipped TITANs are ideal for this game.
The implementation of FXAA in GTA V is decent and the text is not blurred. Setting AA to Off offers the highest performance but the jaggies and shimmering from aliasing in motion is really irritating, especially in the city where there are a lot of buildings. 2x or 4xMSAA can be used but the performance hit is high and 4xAA actually does not look as good as 2xTXAA which does a great job of eliminating shimmering at a noticeable cost of blur which the player may decide is cinematic, or not. MFAA is an improvement over TXAA in terms of much less blur, and the temporal aliasing (texture crawling and shimmering) may also be slightly mitigated by 4xMFAA and to a greater extent by 8xMFAA.
The Performance Hit of using varying AA
First up we look at the GTX TITAN X running at just 1920×1080, but with every single setting at Ultra or the Very Highest chosen, with the exception of "2xMSAA Reflections" and Motion Blur. Using 8xMSAA is barely playable and the improvement in IQ is less than 8xMFAA which is 10fps faster.

Here is the main chart comparing our top six Nvidia GeForce cards using ultra settings and only varying the AA: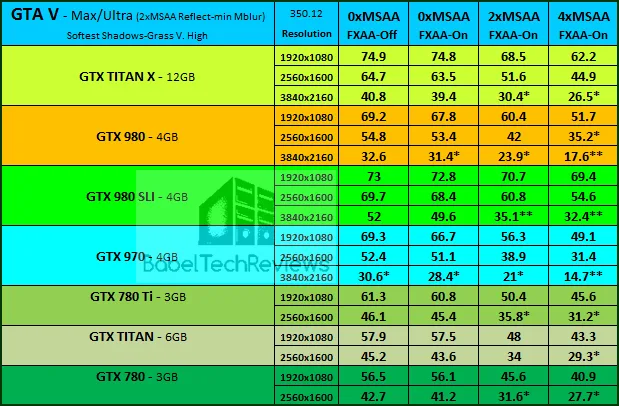 As you can see a 3GB vRAM-equipped GTX 780/Ti needs to play at 1920×1080 with up to 4xAA, and the performance results will be OK with ultra settings. A 3GB GTX 780 or GTX 780 Ti can manage FXAA at 2560×1600, but adding MSAA impairs fluid performance that a 6GB TITAN can handle – but don't even think about 4K with a 3GB card. A GTX 980 can handle 4K with mostly ultra settings with FXAA, but adding MSAA tanks performance. It takes a TITAN X or GTX 980 SLI to handle 4K with ultra settings with FXAA on; but adding 4xMSAA to GTX 980 SLI will cause chugging and swapping to disk that the TITAN X doesn't have issues with, although a single TITAN X' performance is too low for fluidity.
IQ comparisons of Anti-aliasing at 1920×1080 with maxed out settings
GTA V is a real challenge to benchmark while at the same time to show near-identical IQ settings. Fortunately, we found a very nice workaround which lets us compare the IQ in motion as well as benchmark the game very accurately using the last (long) benchmark.
We will show Fraps captured screenshots from the game. Unfortunately, due to the dynamic nature of the game, they are not identical although they illustrate the differences in AA methods. And since MFAA cannot be imaged perfectly in a Fraps screenshot (the MFAA screens posted here use Fraps which miss the last bit of temporal filtering, so they will look slightly better on the actual display).
Fortunately ShadowPlay can capture the differences between the AA settings accurately, including MFAA and even DSR. Here is a YouTube video which illustrates the varying AA levels in GTA V, including FXAA, MSAA, TXAA, and MFAA. When we look at our performance, we see that FXAA is almost "free" performance-wise and we enable it for all of our IQ testing except for "No FXAA" as the blur is quite mild yet it can effectively combine with other forms of AA including with MFAA.
Please note the Fraps frame rate counter in the upper left corner of the video as different levels of AA are applied. You can see that FXAA takes a small hit over no AA, and that MSAA takes a proportionally larger hit than anything else. 4xMFAA takes about the same performance hit as 2xMSAA but it looks better, much like 4xMSAA; and 8xMFAA takes a smaller performance hit than 4xMSAA, but it looks arguably better.
All below Fraps captured screenshots are at 1920×1080 with completely maxed-out Ultra settings including PCS Shadows and Ultra Grass. We even enable 2xMSAA "Reflections". It might be a crime for a hardware enthusiast to see aliased reflections of buildings in your Mammoth's polished exterior as you flee from police.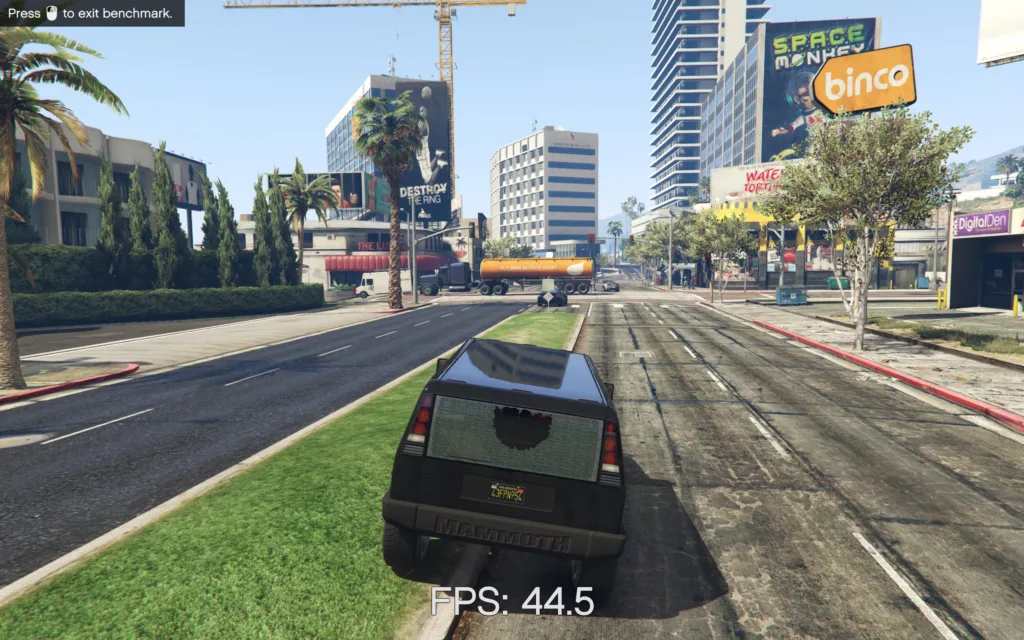 Here are two similar shots – one with MSAA reflections off, and the other is set to 8X;


Make sure to open each screenshot up in a separate window to compare them to each other at full size. First up, with no anti-aliasing, it is pretty easy to pick out the jaggies. Focus in on the fence and also on the mailbox door.
No AA
FXAA
2xMSAA (FXAA on)
4xMSAA (FXAA on)
4xMFAA *(FXAA on) 8xMFAA* (FXAA on)
2xTXAA (FXAA on)
4xTXAA (FXAA on)
* MFAA cannot be captured perfectly by a Fraps screenshot as it misses the last filter which is applied after the capture. Please see the comparison video for a ShadowPlay comparison at 1920×1080 which will capture it as it goes to the display output.
From viewing the screenshots, TXAA looks the best as far as eliminating jaggies (and aliasing in motion), but at a cost of significantly more blur than FXAA. However, with the camera in motion, it appears that 2xTXAA is sufficient to provide a similar amount of anti-aliasing to 4xMSAA but with less of a performance hit and with much less crawling and shimmering.
FXAA is a solid improvement over no AA. 2xMSAA takes a big performance hit but does little for the jaggies. Using 2xMSAA plus MFAA (4xMFAA) gives the performance hit of 2xMSAA, but improves the jaggies almost much as 4xMSAA does. And using MFAA with 4xMSAA (8xMFAA) gives a very nice anti-aliasing effect almost equal to TXAA, but without much of the blur! And playing with 8xMSAA loses fluidity.
Let's wrap it up and head for our our conclusion
Hardware Requirements, Performance & Conclusion
The Rockstar website gives the range of tested PCs for GTA V:
GTA V PC System Requirements
Minimum specifications:
OS: Windows 8.1 64 Bit, Windows 8 64 Bit, Windows 7 64 Bit Service Pack 1, Windows Vista 64 Bit Service Pack 2* (*NVIDIA video card recommended if running Vista OS)
Processor: Intel Core 2 Quad CPU Q6600 @ 2.40GHz (4 CPUs) / AMD Phenom 9850 Quad-Core Processor (4 CPUs) @ 2.5GHz
Memory: 4GB
Video Card: NVIDIA 9800 GT 1GB / AMD HD 4870 1GB (DX 10, 10.1, 11)
Sound Card: 100% DirectX 10 compatible
HDD Space: 65GB
DVD Drive
Recommended specifications:
OS: Windows 8.1 64 Bit, Windows 8 64 Bit, Windows 7 64 Bit Service Pack 1
Processor: Intel Core i5 3470 @ 3.2GHZ (4 CPUs) / AMD X8 FX-8350 @ 4GHZ (8 CPUs)
Memory: 8GB
Video Card: NVIDIA GTX 660 2GB / AMD HD7870 2GB
Sound Card: 100% DirectX 10 compatible
HDD Space: 65GB
DVD Drive
Nvidia has their own optimization suggestions which may be quite helpful, or a player can just use the GeForce Experience included with the latest recommended 350.12 GeForce drivers. The GeForce Experience will, at the touch of a button, set near-ideal custom settings for any PC and for more than 100 games including for GTA V.
Performance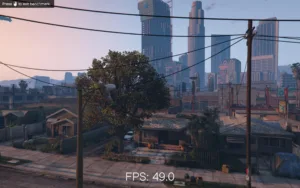 Nvidia suggests that a GTX 980 can max out GTA V at the highest settings, including using 4xMFAA at 1920×1080. Our own results with maxed out settings suggest that this is correct. It is just a really demanding game.
And you will need at least 3GB of vRAM to max out your settings and 4GB or 6GB – or even more – are preferred if you game above 1920×1080 resolution. TITAN X is not overkill with its 12GB of vRAM if you are running maxed out 4K resolution settings, preferably with TITAN X SLI. You will not get the performance issues and stuttering that we found with GTX 980 SLI running 4K with MSAA.
Conclusion
After enabling FXAA, MFAA is the logical choice for GTA V if you are playing with a Nvidia card and have the performance to enable MSAA. TXAA definitely blurs the scene, but gives a cinematic look and removes most of the shimmering and crawling in motion. 4K DSR is incredible at 1920×1080 but takes a hit as severe as using native 4K. The overall IQ using 4K DSR is better in our opinion than using native 2560×1600 resolution!
GTA V comes recommended and it is a certain hit for Grand Theft Auto fans. The graphics are extraordinary, the gameplay is enhanced over the earlier games, and while the story is acceptable, the voice acting and gameplay are absolutely top-notch. We feel it is worth the $60 asking price for an excellent long single player adventure with good multiplayer action also.
GTA V has become BTR's latest benchmark. Stay tuned as we have many more reviews and evaluations coming up. This weekend, you can expect a full review of the HyperX Cloud gaming headset And we are working on our next overclocking review using GTX 980 SLI versus R9 290X CrossFire versus TITAN X in a 30-game Showdown at high resolution.
Happy Gaming!