As regularly featured by BabelTechReviews, this evaluation charts the performance of 26 games using the latest GeForce WHQL 355.82 driver that was released August 31, shortly before Metal Gear Solid V: The Phantom Pain and Mad Max were released. We are comparing WHQL 355.82 versus the Geforce WHQL 353.62 driver that was released July 29. We skipped the performance analysis of the interim WHQL 355.60 driver that was released August 13 because of time constraints updating our platform to Windows 10.
We want to document the performance changes of this current WHQL 355.82 driver on Windows 10. We are also benching for an upcoming evaluation of the new AMD Windows 10 15.8 beta driver to be published here this week using the R9 390X and 290X versus the GTX 980 and the GTX 970 on their latest drivers.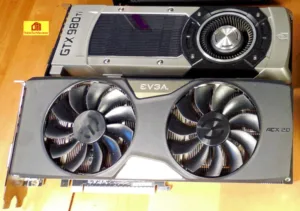 This driver performance analysis features Nvidia's top Maxwell gaming GeForce card, the GTX 980 Ti, and we also benchmark GTX 980 Ti SLI. Our results should be proportionally similar for the TITAN X, the GTX 980, and other Maxwell cards. We are going to give you the performance results of the GTX 980 Ti and 980 Ti SLI at 1920×1080, 2560×1440, and at 3840×2160 resolutions. This driver performance evaluation will chart a natural comparison of the performance changes since Nvidia's late-July WHQL driver set.
We are going to test GeForce WHQL 355.82 using our current benchmark suite of 26 games plus 3 synthetic benchmarks. We have added the "Kite Demo" on Unreal Engine 4 at 1920×1080 and Batman: Arkham Knight after it has been "Interim" patched. Our testing platform is Windows 10 Home 64-bit, using an Intel Core i7-4790K at 4.00GHz which turbos to 4.4GHz for all cores, an ASUS Z97E motherboard, and 16GB of Kingston "Beast" HyperX RAM at 2133MHz. The settings and hardware are identical except for the drivers being tested.
At GTX 760 and above, we test at higher settings and resolutions generally than we test midrange and lower-end cards. Although all of our games are now tested at three resolutions: 3840×2160, 2560×1440 and 1920×1080 at 60Hz, and we use DX11 whenever possible with a very strong emphasis on the latest games. For our next GeForce performance analysis, we will add Max Max and Metal Gear Solid V: The Phantom Pain to our benching suite.
Let's get right to the test configuration, the driver release notes, and then to the results.
Test Configuration & Driver Release Notes
Test Configuration – Hardware
Intel Core i7-4790K (reference 4.0GHz, HyperThreading and Turbo boost is on to 4.4GHz; DX11 CPU graphics), supplied by Intel.
ASUS Z97-E motherboard (Intel Z97 chipset, latest BIOS, PCOe 3.0 specification, CrossFire/SLI 8x+8x)
Kingston 16 GB HyperX Beast DDR3 RAM (2×8 GB, dual-channel at 2133MHz, supplied by Kingston)
GeForce GTX 980 Ti, 6GB reference clocks, supplied by Nvidia
EVGA GTX 980 Ti, 6GB, at reference clocks, supplied by EVGA
2TB Toshiba 7200 rpm HDD
EVGA 1000G 1000W power supply unit
Cooler Master 2.0 Seidon, supplied by Cooler Master
Onboard Realtek Audio
Genius SP-D150 speakers, supplied by Genius
Thermaltake Overseer RX-I full tower case, supplied by Thermaltake
ASUS 12X Blu-ray writer
Monoprice Crystal Pro 4K
Test Configuration – Software
Nvidia GeForce 353.62 WHQL drivers and GeForce 355.82 WHQL drivers for the GTX 980 Ti including for SLI. High Quality, prefer maximum performance, single display.
VSync is off in the control panel.
AA enabled as noted in games; all in-game settings are specified with 16xAF always applied; 16xAF forced in control panel for Crysis.
All results show average, minimum and maximum frame rates except as noted.
Highest quality sound (stereo) used in all games.
Windows 10 64-bit Home edition, all DX11 titles were run under DX10 render paths. Latest DirectX
All games are patched to their latest versions at time of publication.
PrecisionX, latest version.
The 26 Game benchmarks & 3 synthetic tests
Synthetic
Firestrike – Basic & Extreme
Heaven 4.0
Kite Demo, Unreal Engine 4

DX11

STALKER, Call of Pripyat
the Secret World
Sleeping Dogs
Hitman: Absolution
Tomb Raider: 2013
Crysis 3
BioShock: Infinite
Metro: Last Light Redux (2014)
Battlefield 4
Thief
Sniper Elite 3
GRID: Autosport
Middle Earth: Shadows of Mordor
Alien Isolation
Assassin's Creed Unity
Civilization Beyond Earth
Far Cry 4
Dragon's Age: Inquisition
The Crew
Evolve
Total War: Attila
Wolfenstein: The Old Blood
Grand Theft Auto V
ProjectCARS
the Witcher 3
Batman: Arkham Origins
Since Batman: Arkham Knight has had its settings revamped by the Interim patch, the settings we use are completely maxed-out, with every setting on, and at the highest settings. Since GameWorks Interactive Smoke/Fog as well as Interactive Paper Debris depend on GPU PhysX and CUDA, they cannot be run on Radeons, we are now benching with those two settings Off.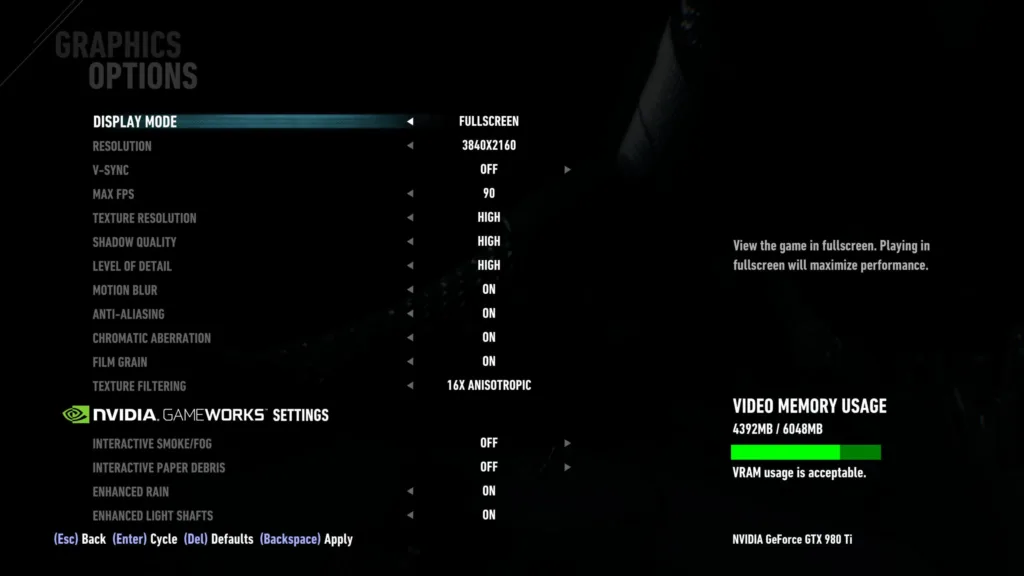 Batman: Arkham Knights was released early this Summer, and shortly afterward, sales were halted due to bugs and performance issues that have not affected our PC. The game itself is outstanding and we hope to have a performance/IQ evaluation of it when the game is finally re-released, hopefully soon.
The "Kite demo" is an Unreal 4 demo based on a custom dev version allowing use of the console that was put together by psolord at AnandTech VC&G forums. We run it at its default settings at 1920×1080 and use Fraps to measure its frame rates.
Lets look at Nvidia's release highlights regarding the GeForce 355.82 WHQL driver before we head to performance testing.
Release Notes Highlights for GeForce 355.82
This is a really short list highlighting the fact that Nvidia's WHQL driver release schedule is tied to the release of AAA games.
The latest GeForce Game Ready driver, release 355.82 WHQL, ensures you'll have the best possible gaming experience for Metal Gear Solid V: The Phantom Pain and Mad Max.

Game Ready
Best gaming experience for Metal Gear Solid V: The Phantom Pain and Mad Max
For the comprehensive release notes, you will need to download the .pdf
Let's head to the chart and compare the driver progress with the GTX 980 Ti and with the GTX 980 Ti SLI since we tested the last time.
Benchmarks & Performance Analysis
Here are our results of 26 games and 3 synthetics compared between GeForce 355.82 WHQL drivers, and GeForce 353.62 WHQL drivers using GTX 980 Ti and GTX 980 Ti SLI. Each set of WHQL drivers is compared against the other in adjoining results column and the higher performance number is in bold. If there is a tie, both results are given in bold type.

We note mostly real improvements with Nvidia's new GeForce 355.82 over the older 353.62 drivers, including a few standouts in some games. We generally see improvements and a possible rebalancing of GTX 980 Ti SLI for improvement at the lower resolutions.
ProjectCars got some nice performance increases with the latest driver for GTX 980 Ti although there was a big decrease in performance at the highest resolution with GTX 980 Ti SLI in the Witcher 3. Several games had rather large patches applied between driver revisions, including the Witcher 3, GTA V, and Batman Arkham Knight which may skew the results.
Conclusion:
We would recommend upgrading to the latest GeForce 355.82 driver because there are generally incremental advantages, and no large performance-impacting negatives that we have encountered. It is Nvidia's latest WHQL driver for Windows 10, and we will be using it next to compare performance of AMD's R9 390X and 290X with the GTX 970 and the GTX 980.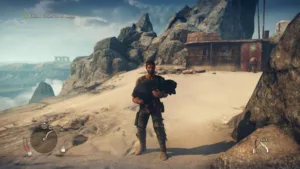 It is also the driver to use for the latest really fun games that we are playing, including Mad Max, Metal Gear Solid V: The Phantom Pain, and Killing Floor 2. It appears that Nvidia intends to release a WHQL driver with each new major PC release and we are looking forward to evaluating the next one. Mad Max is a lot of fun and we are using the latest GeForce 355.82 drivers now to play it with no issues.
Stay tuned, next up we are benching for an upcoming driver performance evaluation of AMD's newest Catalyst 15-8 Windows 10 driver, due this week.
Happy gaming!