This editor was privileged to attend E3 2017 last Wednesday. E3 is a huge video gaming-related event held every year at the Los Angeles Convention Center that for the first time this year was opened to 15,000 gamers and members of the public. More than 68,000 people attended E3 2017 and millions more watched the events online. More than 2,000 products were showcased by nearly 300 exhibitors of which more than 120 exhibitors were featuring VR (Virtual Reality).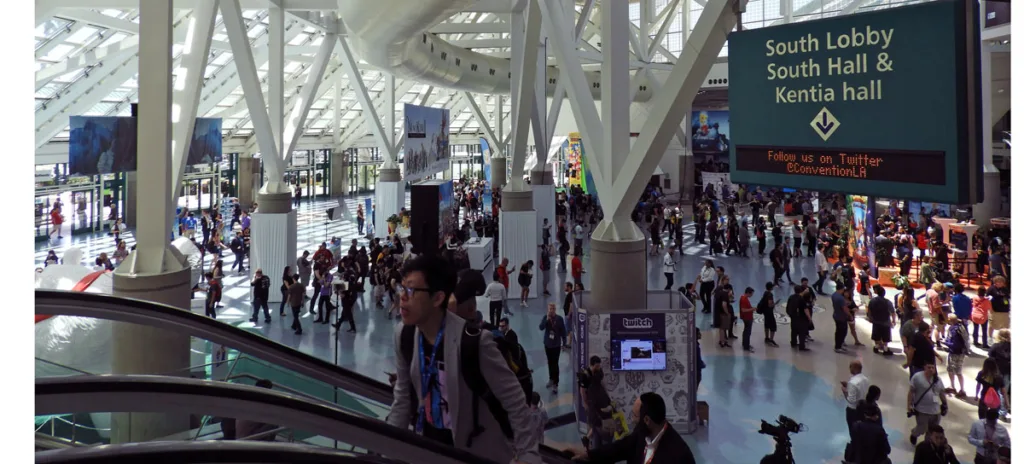 It is impossible for anyone to cover more than a small part of E3, so this report highlights meeting with NVIDIA to play and capture Destiny 2's first mission in 4K as well as to demo Star Trek: Bridge Crew's new voice recognition using IBM's Watson; demoing Project CARS 2 with Bandai Namco; as well as checking out the new gaming peripherals from Alienware, Bloody Gaming, and Logitech G.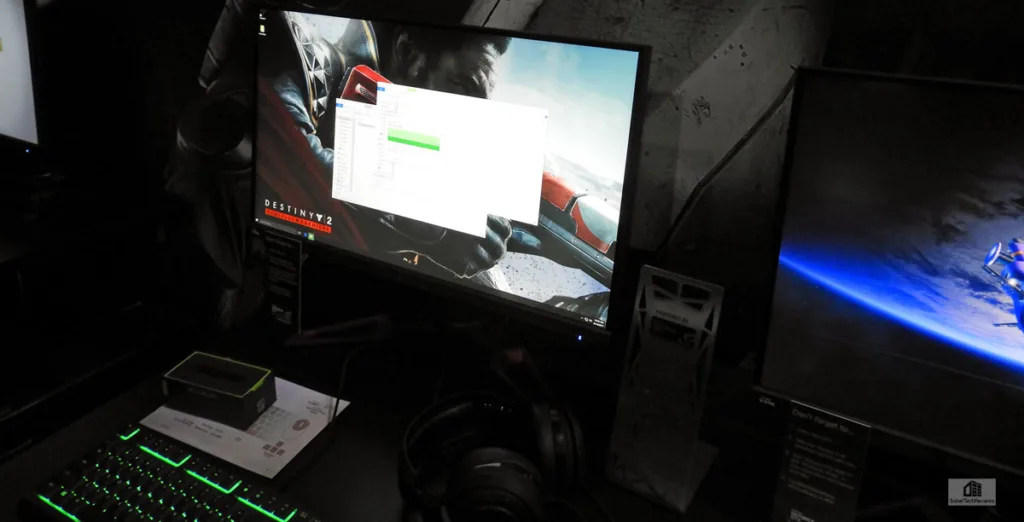 E3 is absolutely huge and there are long lines for every highly anticipated game. Unless, you are a member of the media that has made appointments long in advance, you may stand in line for hours just to experience a single popular game demo for a few minutes.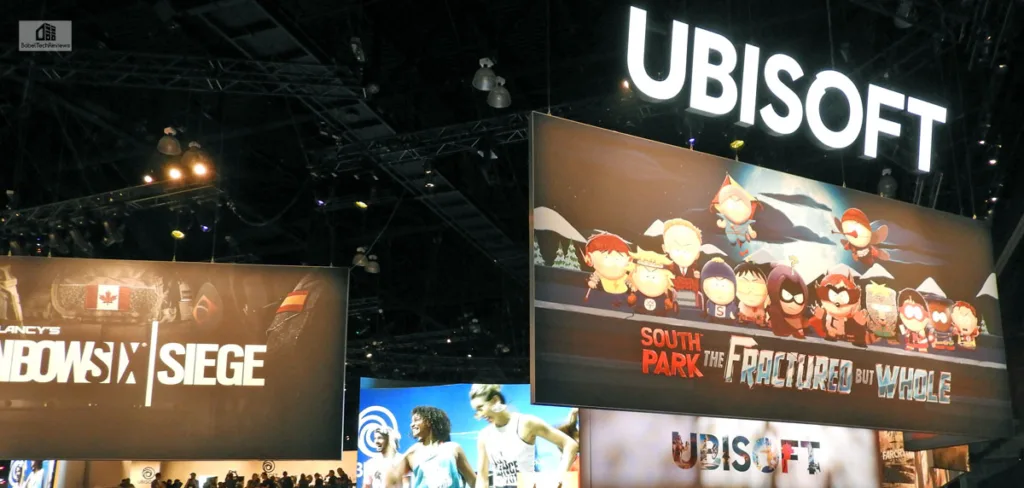 Ubisoft showed several eagerly anticipated upcoming titles including: Beyond Good and Evil 2 (we know they are still committed to it at least; no date announced), Assassin's Creed Origins, the Crew 2, Far Cry 5, and a new IP combining Rabbids and Mario with Xcom-like gameplay called Mario + Rabbids Kingdom Battle for the Switch. If you liked playing as a Pirate in Assassin's Creed: Black Flag as much as we did, then you may really like Skull & Bones.


One of this editor's favorite games of 2015 was Shadows of Mordor. For the upcoming sequel, Shadow of War, the developer Monolith added more features to the Nemesis system allowing the player to form alliances and develop rivalries with different orc warlords which leads to army building. We are looking forward to playing and reviewing this game.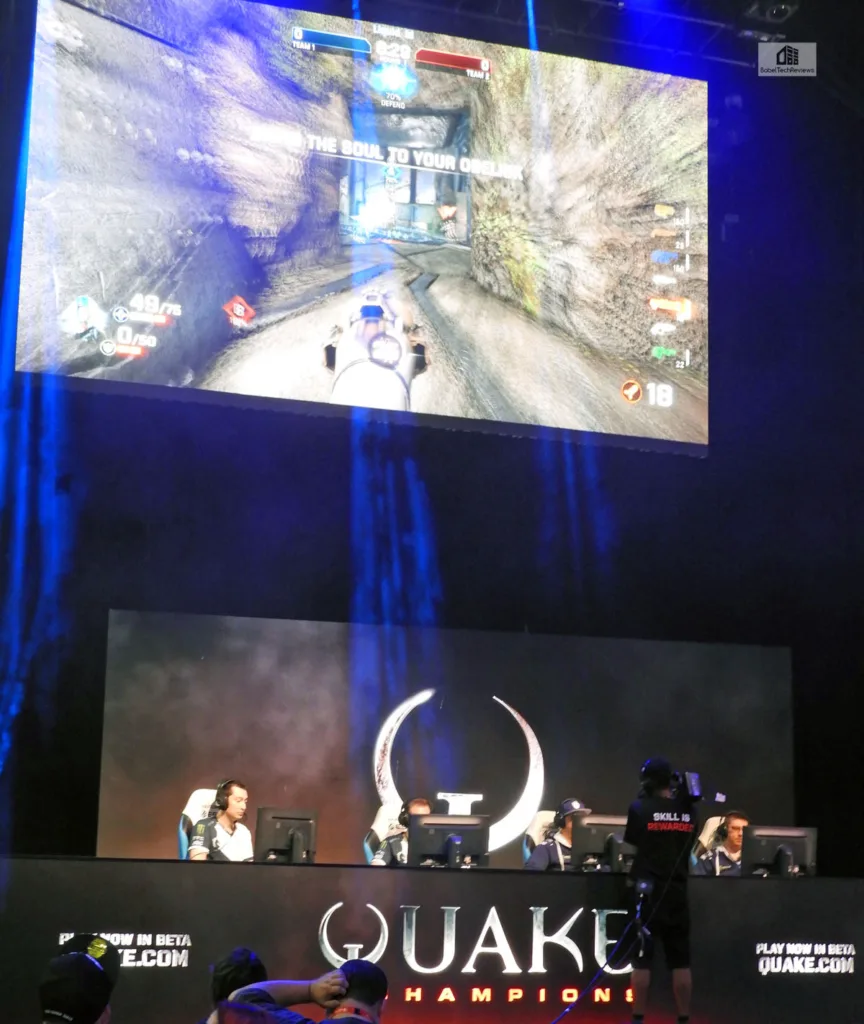 Quake Champions was featured live and can be played in beta now.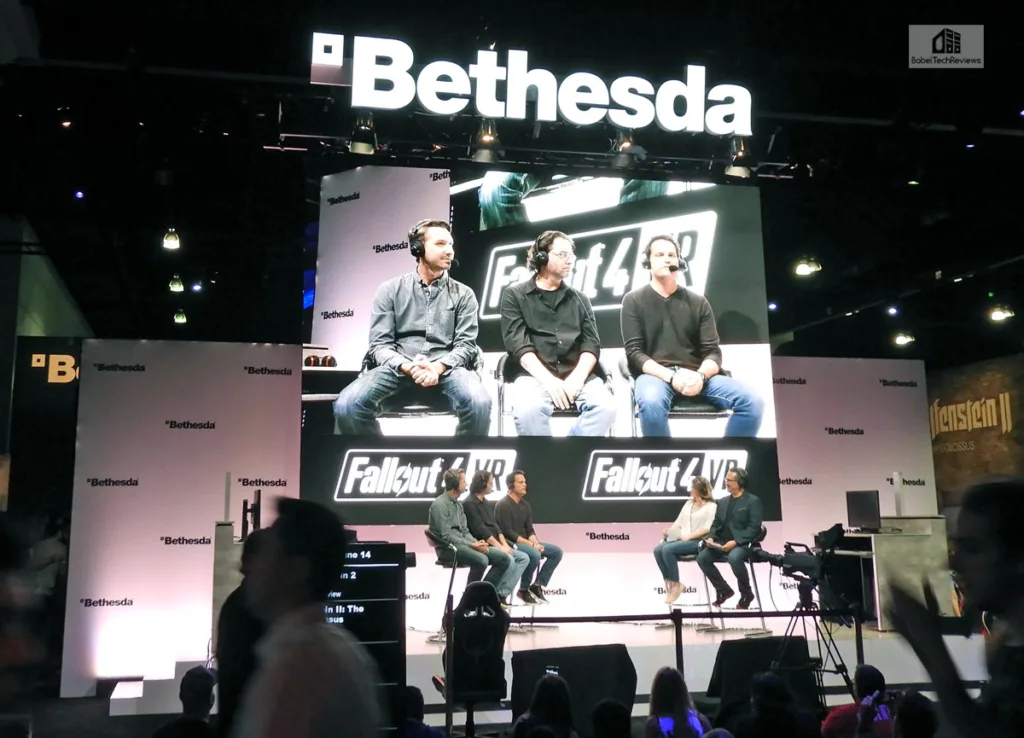 Bethesda featured Fallout 4 VR and DOOM VFR, and they debuted sequels to Wolfenstein (II The New Colossus),The Evil Within, and even Dishonored 2 is getting a standalone expansion called Death of the Outsider.
NVIDIA Showcases Destiny 2 and Star Trek Bridge Crew
We were invited to NVIDIA's booth where they featured dozens of PCs powered by GTX 1080 Tis running many demos including Destiny 2, an eagerly anticipated shooter that will probably be played by millions of gamers when it releases on September 6 for PS4 and Xbox One, and on October 24 for PC. Gamers who pre-order Destiny 2 will get access to the beta later this Summer.



What is impressive is that Destiny 2 can run at a locked-on 60 FPS with maxed out settings using a GTX 1080 Ti as we found out when we were given access to the first mission and the first 20 minutes of the game. Courtesy of NVIDIA, each member of the media who played Destiny 2 at their booth received a 64-GB replica GTX 1080 USB flash drive with a ShadowPlay capture of his gameplay.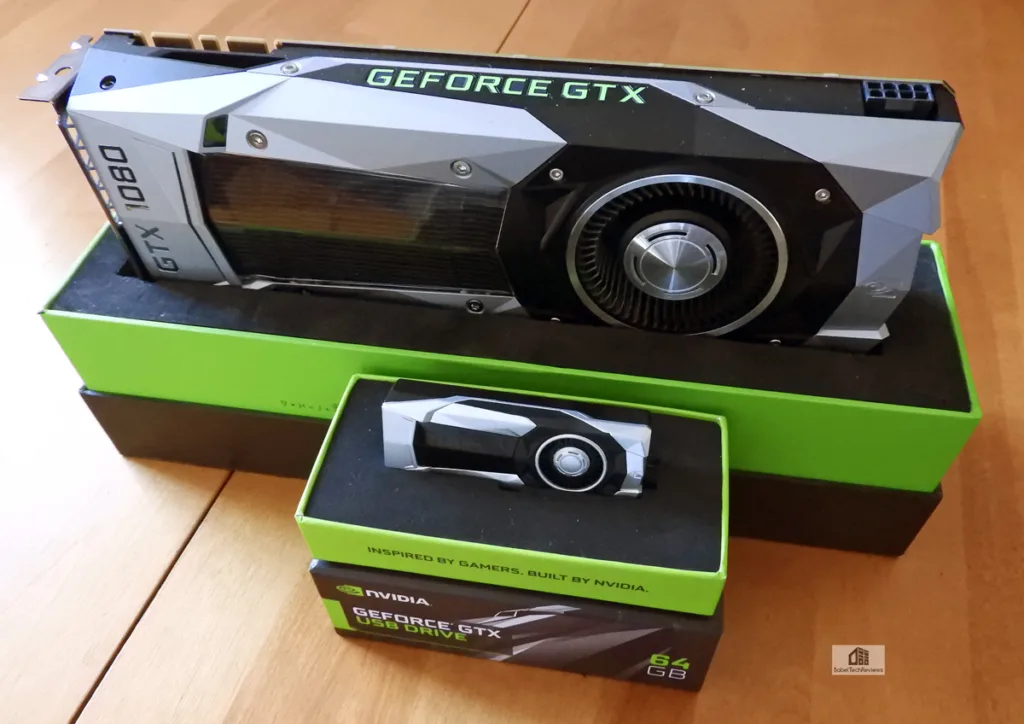 H ere is our own YouTube video of Destiny 2 in 4K including deaths and respawns and all the errors one could make from playing a game 'cold' with only a cursory glance at the keyboard chart.
Everywhere one looked at E3, the emphasis was on VR. Just about everyone publicly believes that VR will be the "next big thing" in gaming, but privately some insiders appear doubtful that mass acceptance will happen immediately or even within the next few years. In this editor's opinion, the HMD cord has got to go, and the next generation of wireless HMDs should support a higher resolution and lower pricing for mass acceptance to begin. Also, the issue of player locomotion in virtual reality should be solved whether by teleportation or by other means.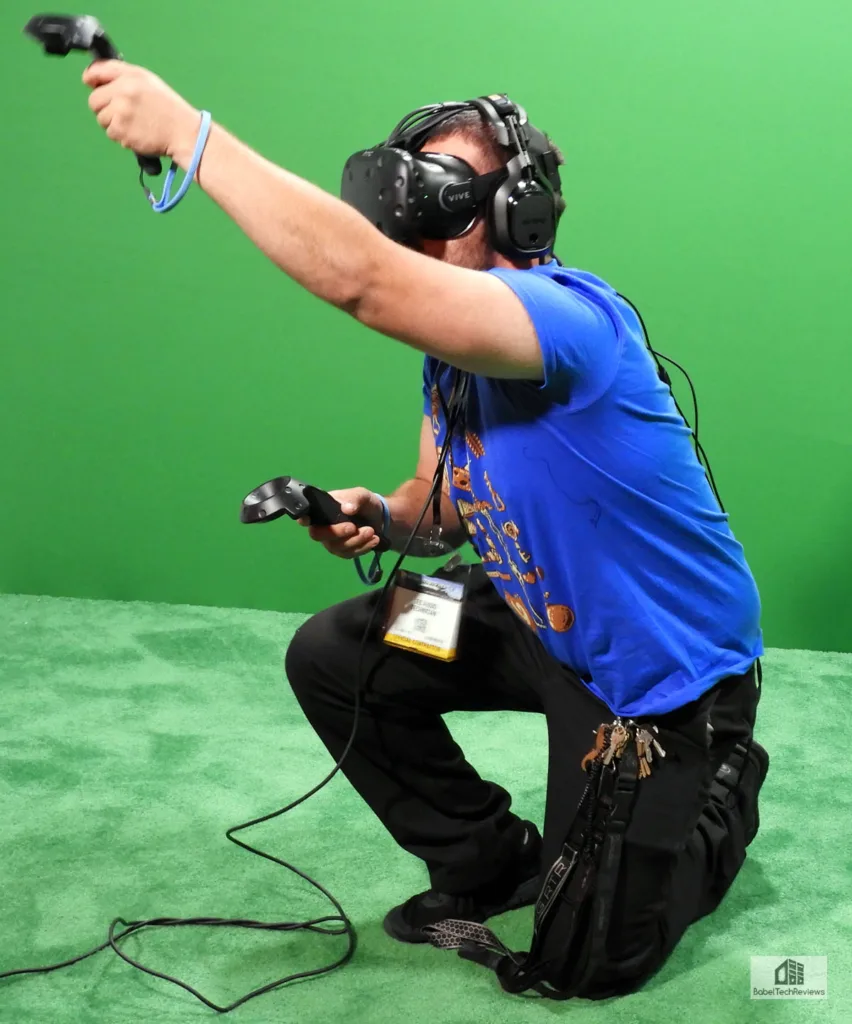 We also got to demo using voice commands in Star Trek: Bridge Crew, a VR simulation of missions carried out on board different Starfleet vessels with up to 4 players paying cooperatively. It's a detailed simulation that also includes commanding the bridge of the classic USS Enterprise from the original series and it involves becoming intimately familiar with the controls in a fairly steep learning curve.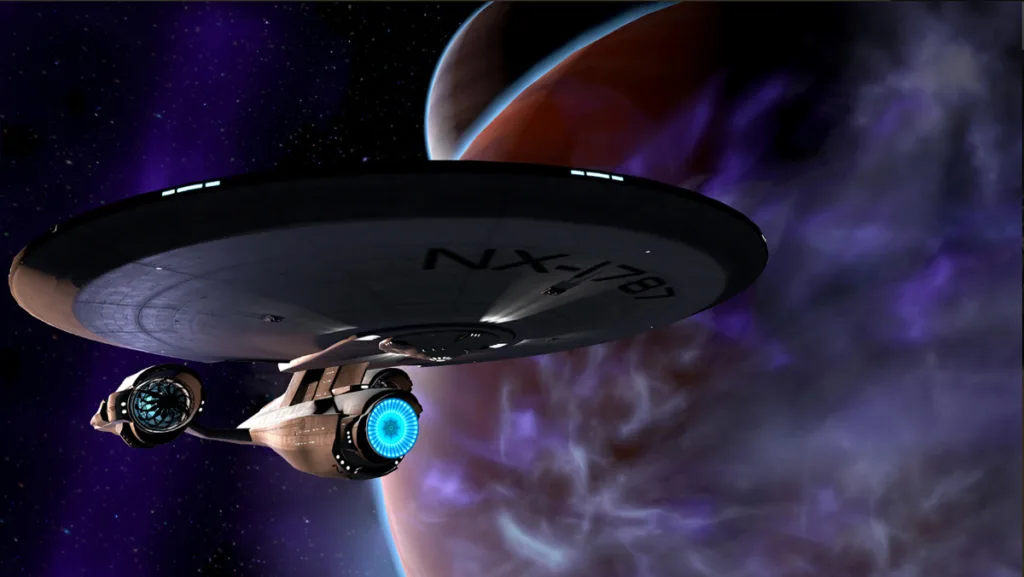 A partnership between IBM's cloud-based Watson AI and Star Trek: Bridge Crew publisher Ubisoft gave us the choice of using our voice to interact with the AI controlled characters in the game. Using ones own voice naturally adds to the immersion by giving voice commands just like Captain Kirk interacted with the ship's computer in the TV series, and we are looking forward to reviewing Star Trek: Bridge Crew in the next week or so.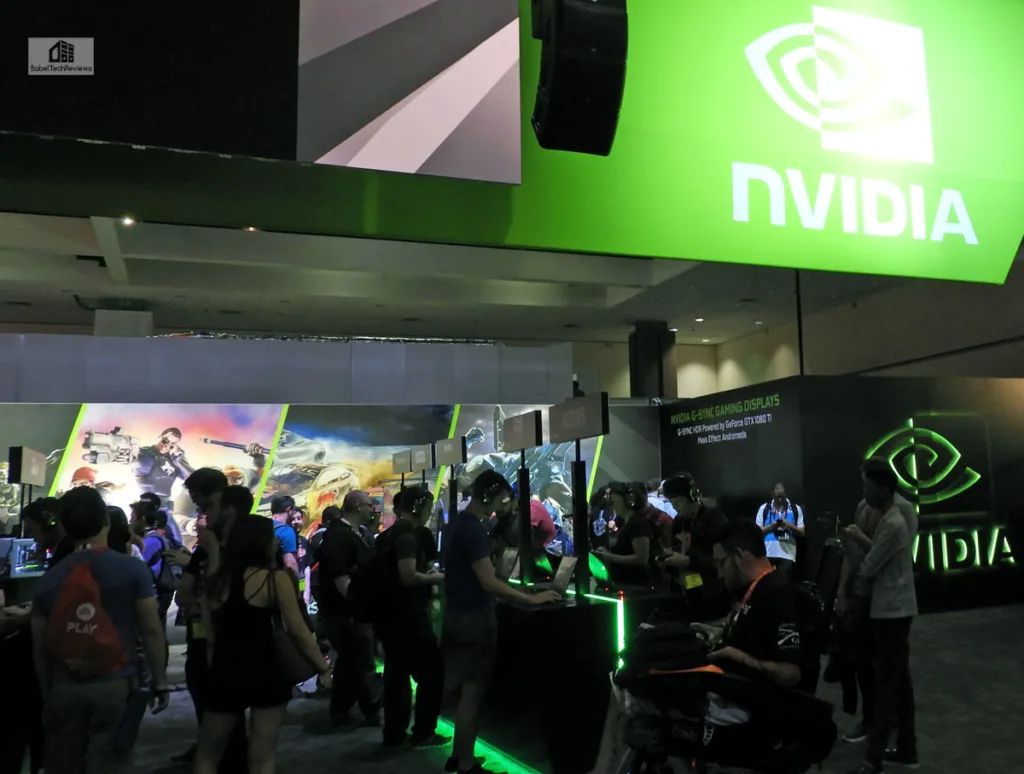 Everywhere we looked, gamers were playing unreleased games and demos on NVIDIA's GeForce GPUs.
Bandai Namco featuring Project CARS 2 and DragonBall Fighter Z
We stopped by the Bandai Namco booth and got to check out some as then undisclosed information about DragonBall Fighter Z and Project CARS 2. DragonBall Fighter Z is scheduled as a early 2018 fighting game for Xbox One, PlayStation 4, and for PC. It's being developed by Arc System Works to deliver an action-packed game combining 2D fighting visuals with advanced character models that appear to be right out of the Dragon Ball anime series. If you are into fighting games, DragonBall Fighter Z appears to be an excellent upcoming choice.
Project CARS 2 promises a much higher level of realism and physics interaction than the original. It will be available September 22, 2017 for the PC as well as for the XBox One and the PS4. Project CARS 2 is described as a realistic racing sim having "dynamic everything" including realistic tire wear, and it will also be available in VR for the Oculus Rift and for the HTC Vive.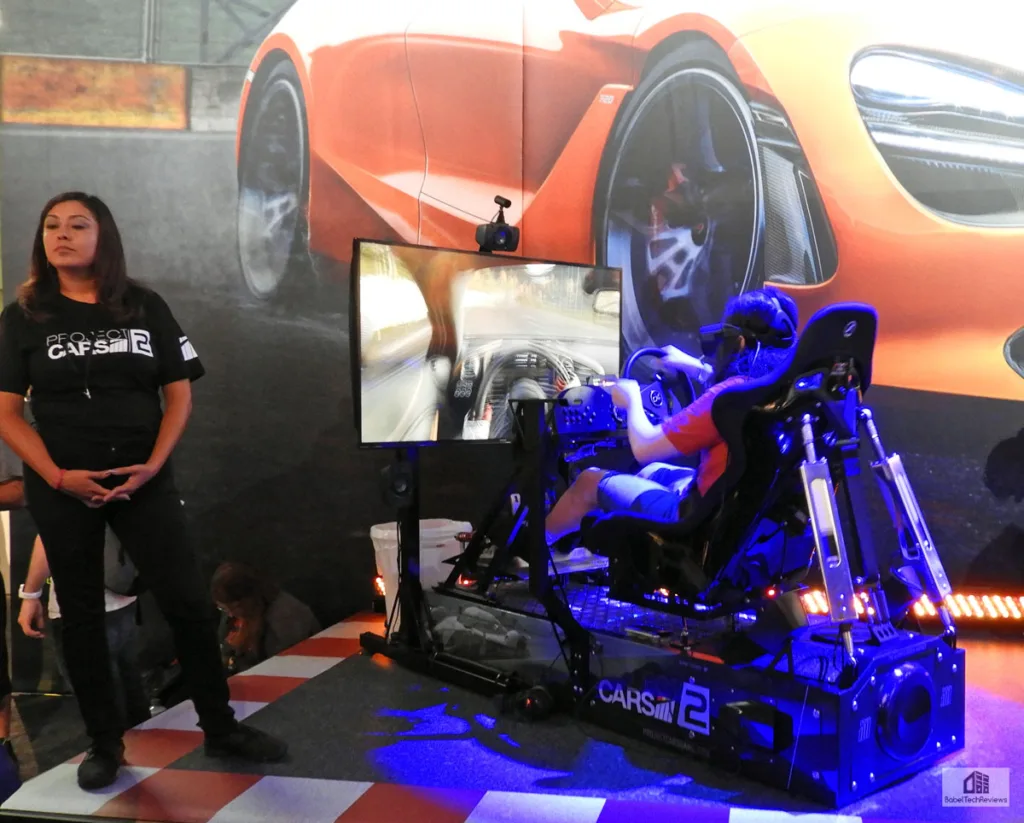 Project CARS 2 as the next installment features more iconic cars racing under totally dynamic conditions including changing weather and advancing seasons to deliver the most realistic racing experience outside of actually driving a race car. Project CARS 2 is claimed to be the most technically advanced racing game ever released. Project CARS 2 features rally, GT, touring cars, endurance prototypes, and exotic hypercars using even more advanced physics than in the original and there will also be online ranking and a good matchmaking system.
Alienware showcases new peripherials
We got to check out Alienware's new peripherals which now include displays, mice, and keyboards.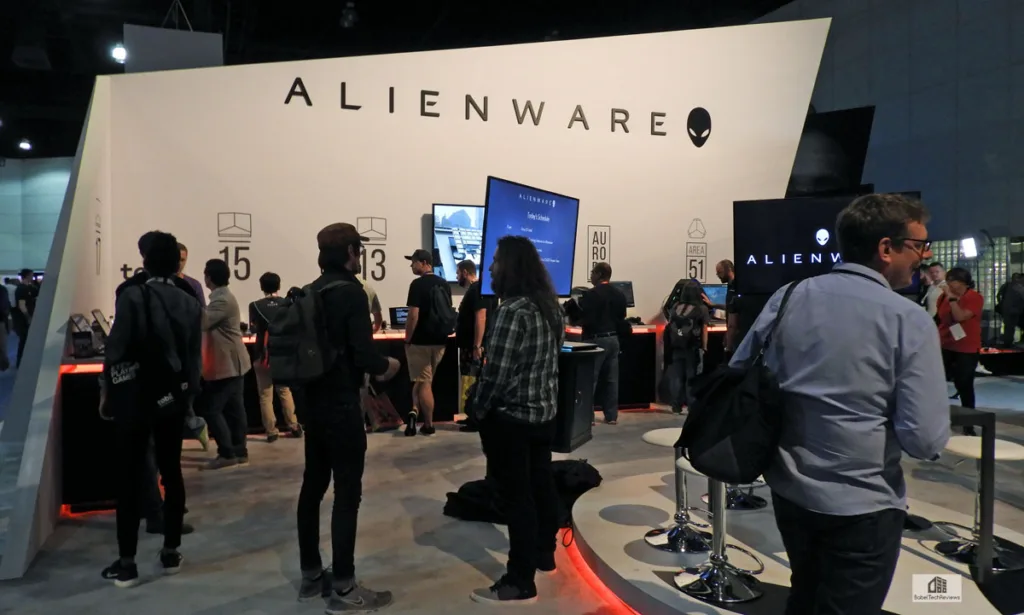 Alienware has released two new gaming mice including Alienware's Advanced Gaming Mouse –AW558 (price: $49.99) and Alienware Elite Gaming Mouse –AW958 (price: $89.99).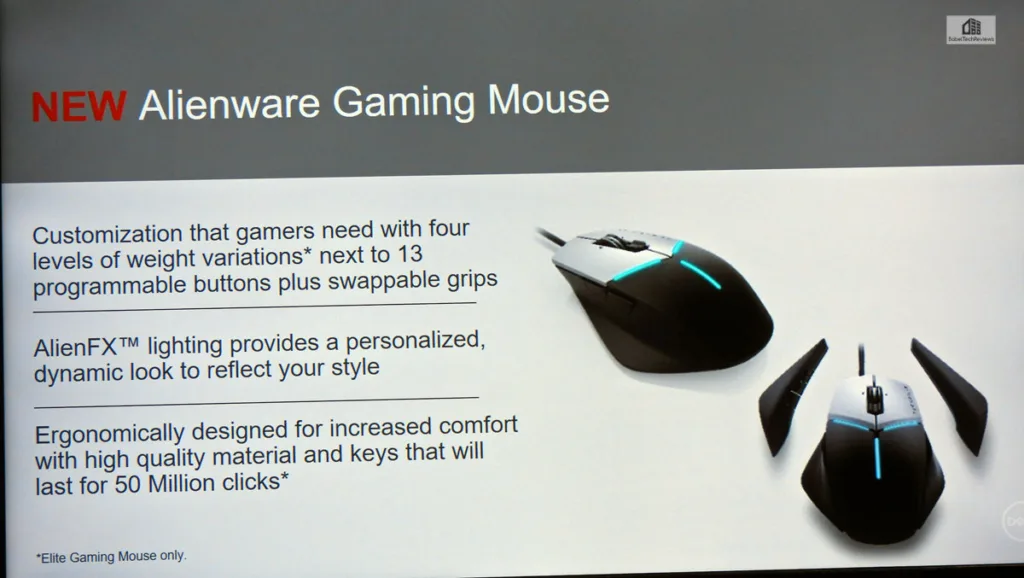 Alienware also released two new gaming keyboards for $89.99 and $119.99 which use KaiHua mechanical brown switches.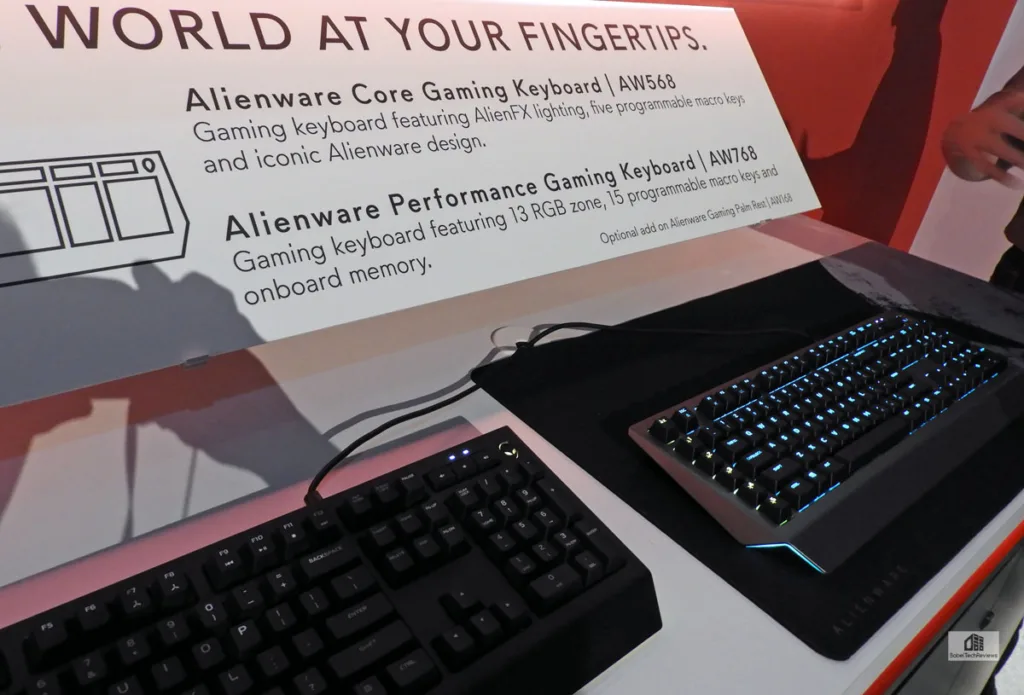 The Alienware Area 51 can be configured with AMD's Threadripper or with Intel's Core i9.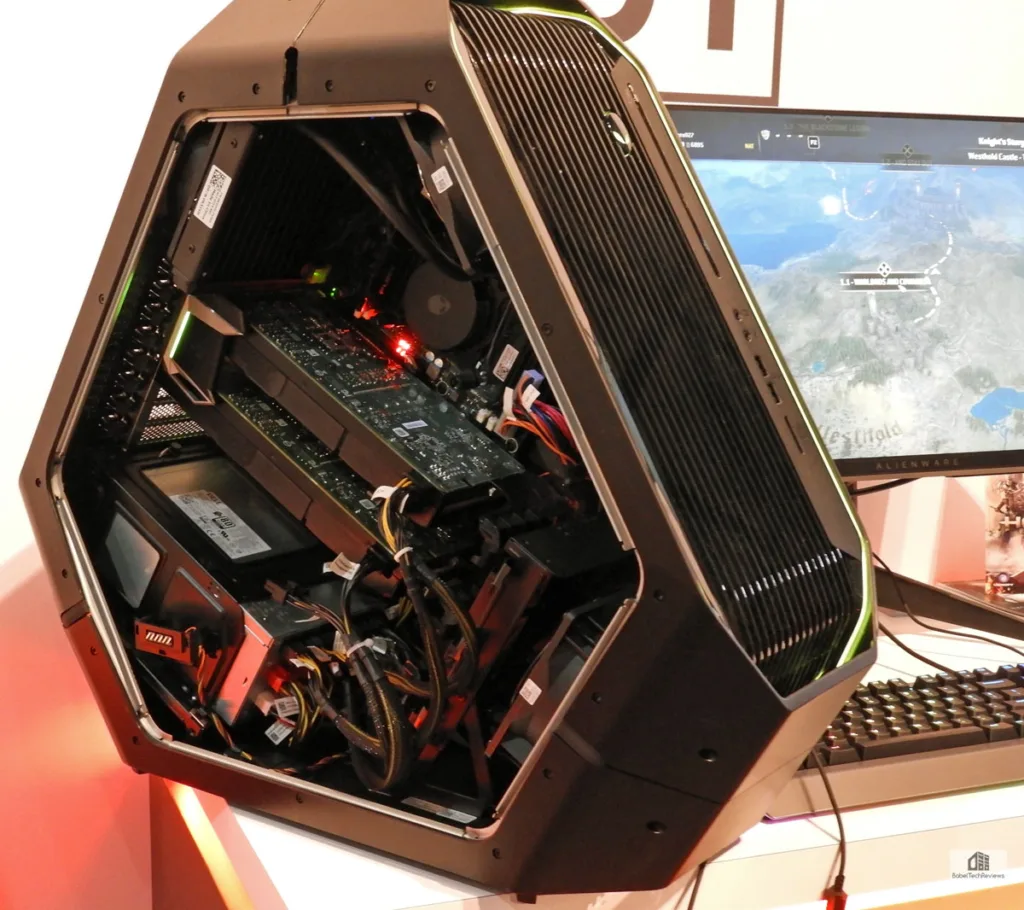 Here's a thin and light Alienware notebook using NVIDIA's GTX 1080 in the Max-Q configuration below.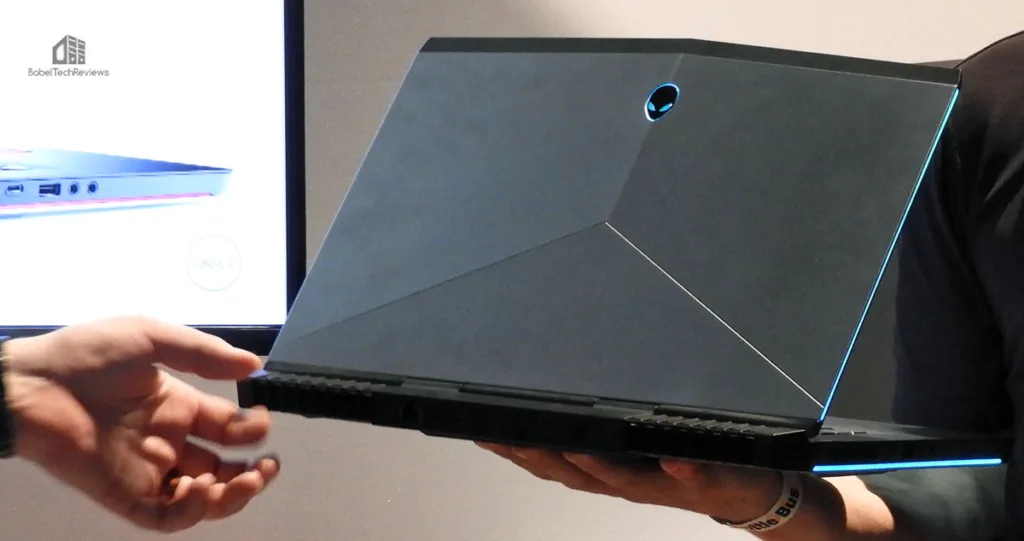 Bloody Gaming
Bloody Gaming had a booth that featured their latest PC gaming accessories including keyboards, mice, headsets and mousepads. Their keyboards feature mechanical switches with a .2ms response time!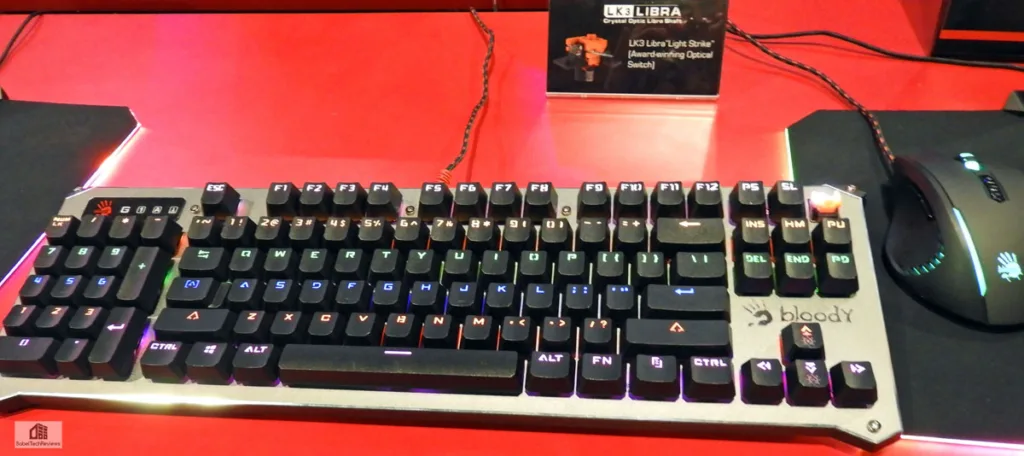 Their mouse had a very nice feel to it and they are available as wired or wireless. They also feature smooth scrolling using metal feet that will not wear out after 300 kilometers – teflon feet usually last about 3 kilometers.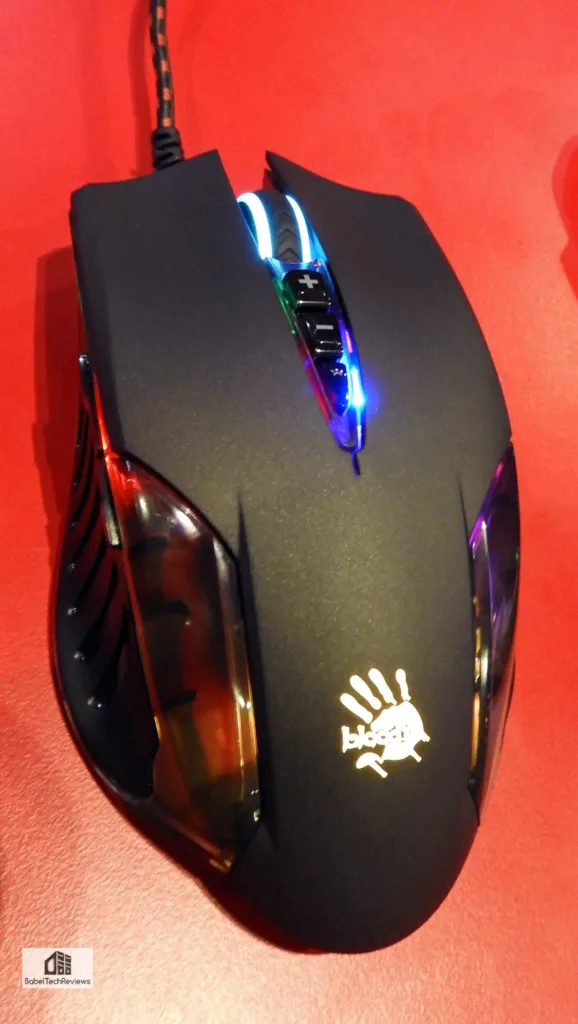 Bloody's V-series mouse features some really cool innovations including a N-setting switch that activates continuous shooting as long as the left button is depressed.
Logitech G
Logitech G announced two new wireless technologies: Logitech G POWERPLAY ($99.99) and Logitech G LIGHTSPEED. Logitech G POWERPLAY is the world's first wireless charging system for gaming mice that provides continuous charging while both gaming and at rest and it is expected in August. Logitech G LIGHTSPEED technology is an end-to-end system optimization of wireless development emphasizing low latency and also high signal strength.
Logitech G also introduced two new flagship gaming mice which are compatible with the POWERPLAY wireless charging system: the Logitech G903 LIGHTSPEED Wireless Gaming Mouse (($149.99) and the Logitech G703 LIGHTSPEED Wireless Gaming Mouse ($99.99). The G903 had a really good feel to it, and we hope to be able to review it for BTR readers.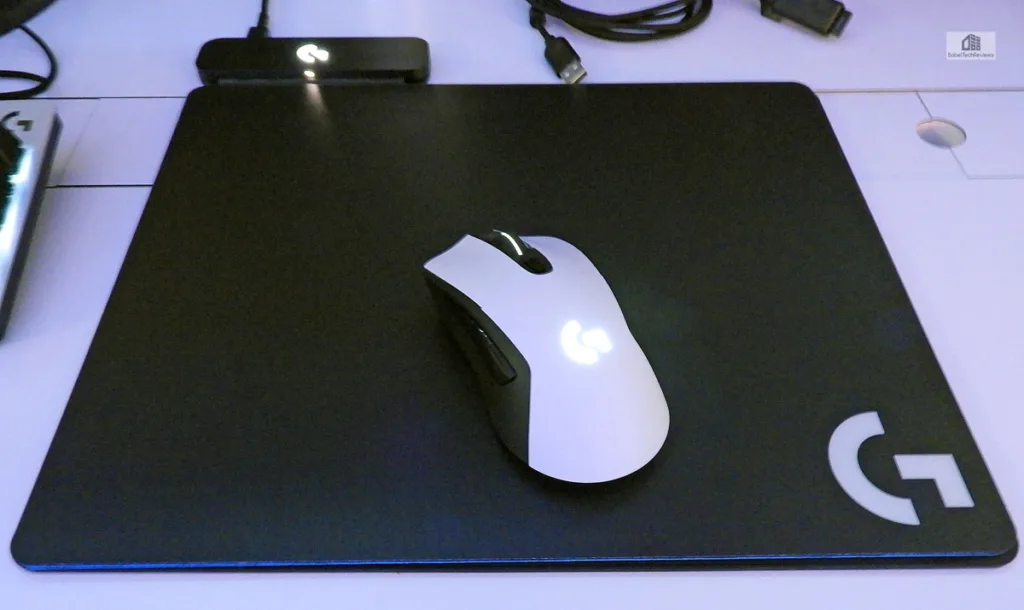 Logitech G, also announced the launch of the Logitech G433 7.1 Gaming Headset and the Logitech G233 Prodigy Gaming Headset.
After walking for literally miles on the convention floor, we were glad to see a comfortable AKRacing gaming chair to "test" out for awhile. It was quite comfortable, but we wished that it rolled more easily for seated VR gaming.
Both Microsoft and Sony spent no expense in publicizing their upcoming hardware and software. Nintendo had a major presence at E3 2017 also.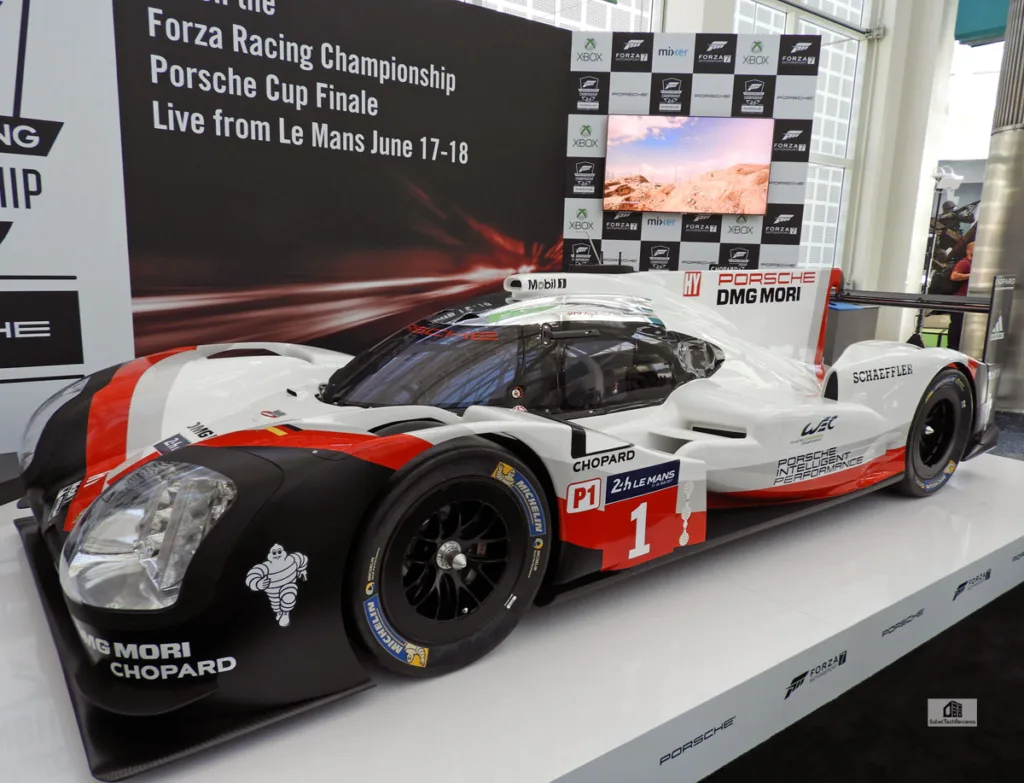 Of course there was a lot more that we saw that we won't cover here, but it was soon time to head home through the peak of LA's traffic. Next year, we hope to spend more than one day at E3 which will take place June 12-14, 2018, at the Los Angeles Convention Center. In the meantime, we hope to bring you reviews of PC and VR games and also of gaming hardware that we previewed at E3.
Happy Gaming!