E-Win Flash Series XL Gaming Chair Review
I spend almost 10 hours a day working at home sitting in an office chair so comfort and reliability are a must. One of my biggest hurdles has been finding a durable chair that remains comfortable throughout my entire workday and through long sessions of evening gaming. This is our second chair from E-Win Racing as we already reviewed the Flash series chair. The E-Win Flash Series has one flaw – insufficient size and room for those with larger bodies and those who want more space to breathe in a chair. The solution is the E-WIN Flash Series XL Gaming chair, which is a larger version of the Flash series chair that is identical in looks but has some considerable upgrades.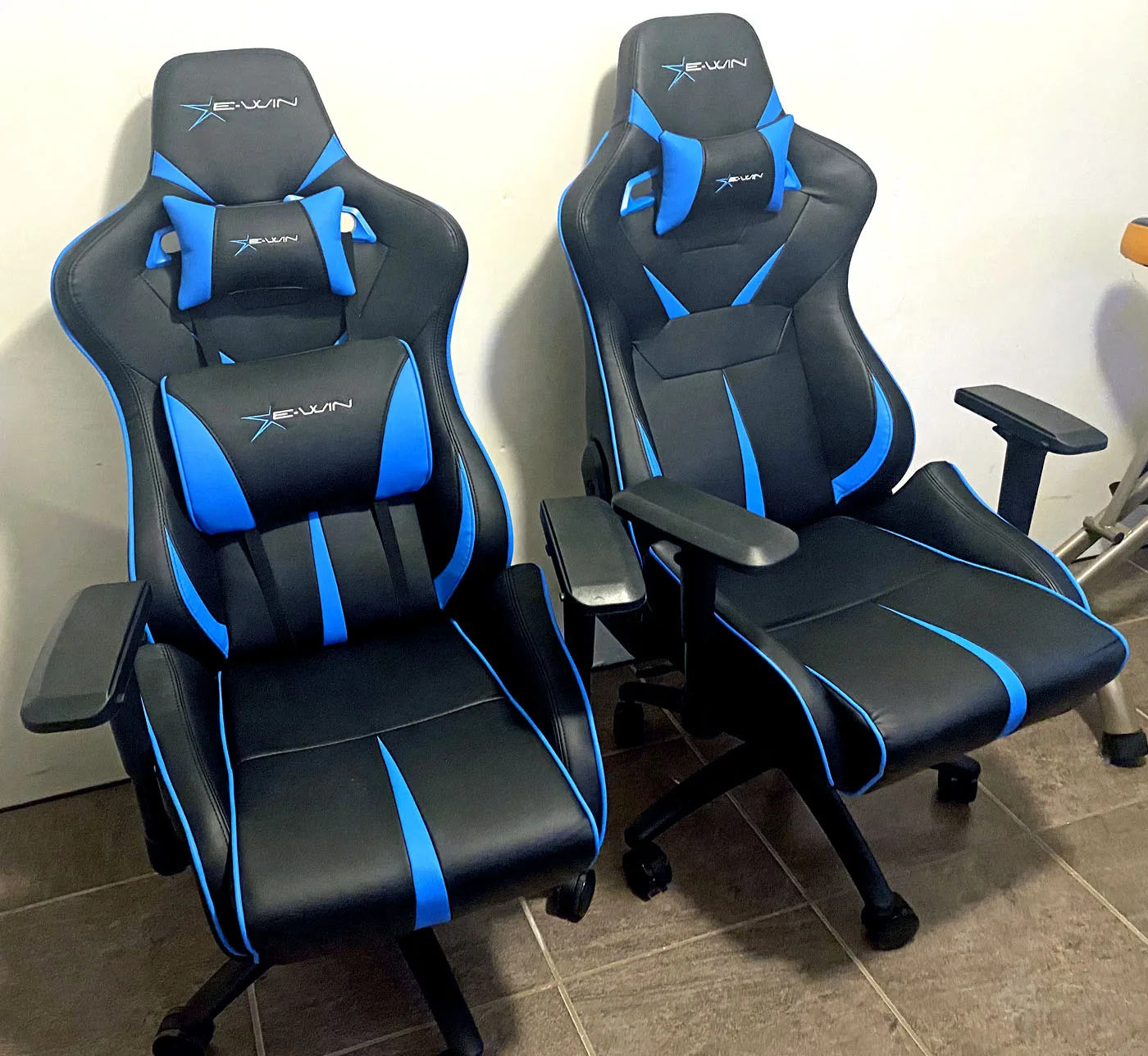 The standard Flash series chair, seen to the left above, is really comfortable but has little room to spare, so we wanted to compare it to its larger counterpart, the E-Win Flash Series XL Gaming Chair. If you are unfamiliar with the brand, E-WIN Racing has been around since 2016 and they focus mostly on gaming desks, gaming chairs, and other accessories. So today we are going to be looking at the E-Win Flash Series XL gaming chair in black with blue trim. Let's take a closer look at it.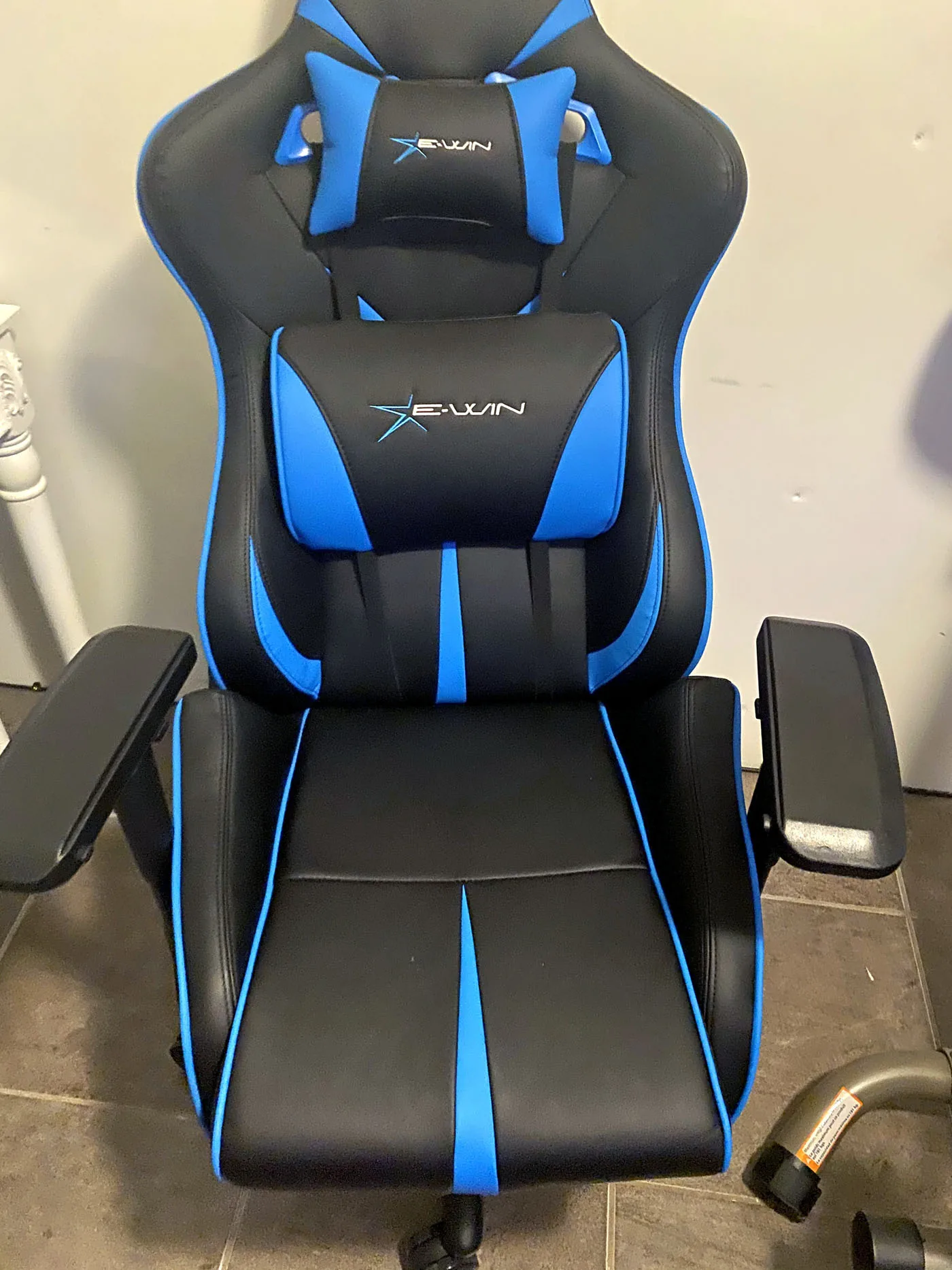 Assembly is rather straightforward and simple and it took about 20 minutes. Although, we would recommend having two people install the chair to the base as it is rather large and it might be hard to align them, but I was able to do it on my own.
Everything else about the assembly is simple and we finished in less than 20 minutes. As a bonus, E-win even includes some gloves to help you install the chair as seen below in a picture from the included brochure: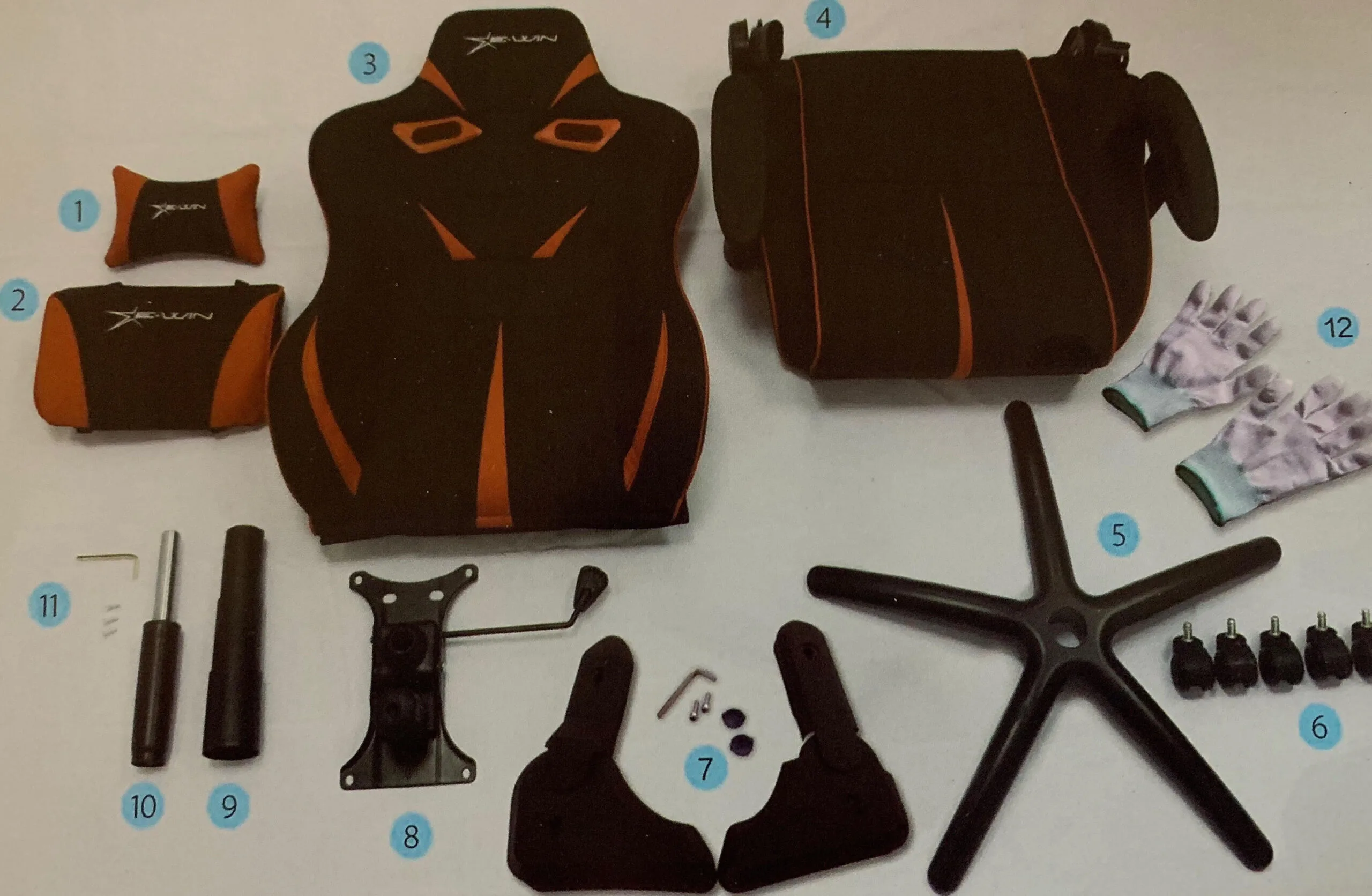 Design
The E-Win Flash Series has a very nice upgraded E-WIN stain resistant 2.0 PU leather wrapped around a Cold-Cured high-density foam. This material allows it to be cleaned repeatedly without damage. The leather is also an upgrade from the regular Flash Series chair we reviewed that had faux leather which was still a great material.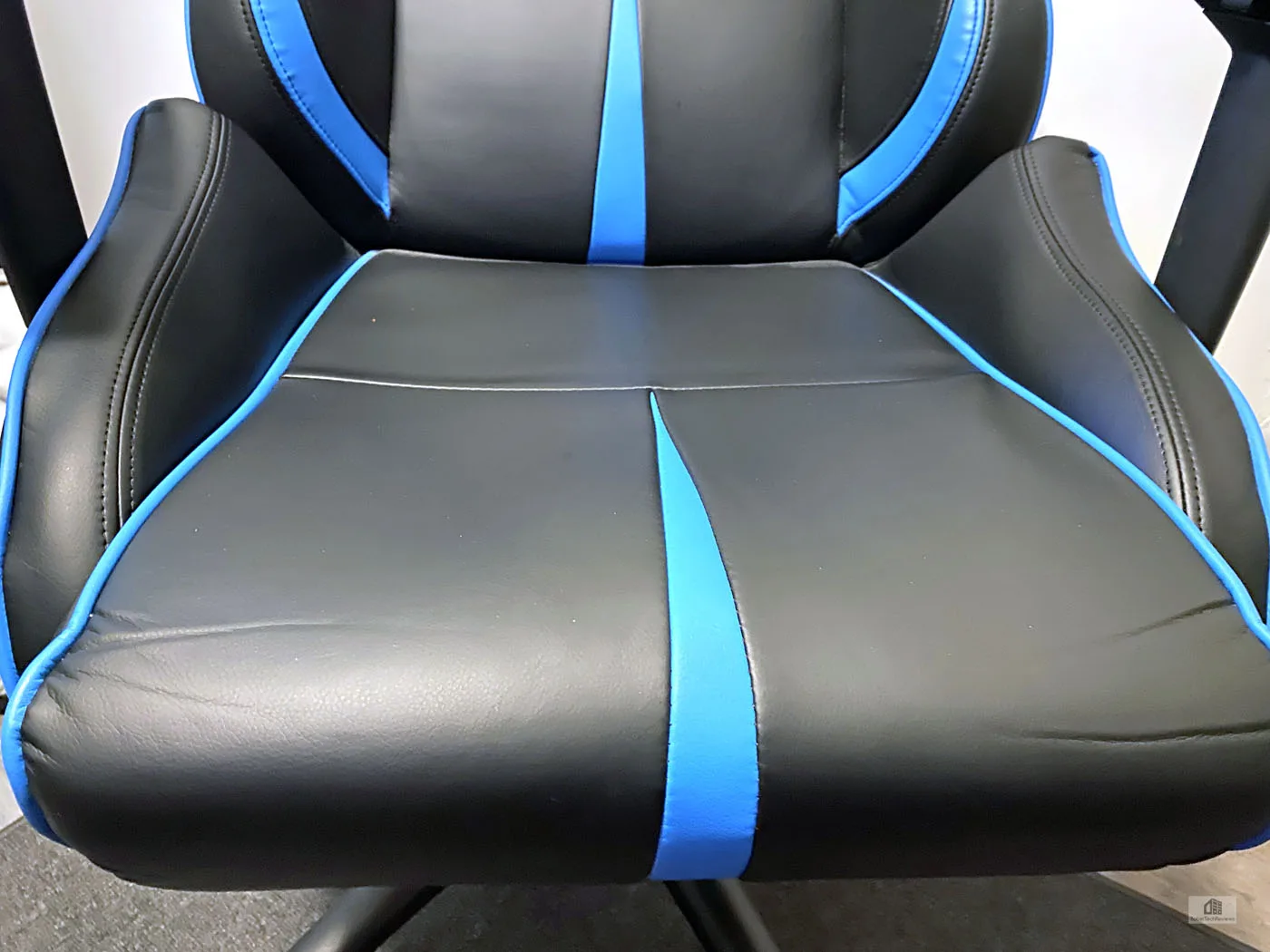 Quality materials are a major benefit to someone like me who is on the heavier side as many chairs lose their original comfort level disappointingly fast. My most recent chair before the E-WIN Flash Series was a standard office chair that cost between $100-$200 and which began to degrade in less than a year. It has been a repeating cycle of having to replace cheap chairs more often than I was willing to do.
Both the Flash Series and Flash Series XL feature a memory foam body wrapped around a steel frame. The regular series sports a 120mm Class 4 gas lift that supports up to 150kg/330lbs and an aluminum 5-star base. They also include a lumbar support pillow and a headrest pillow as well.
The Flash Series XL chair needs a superior base to support its larger frame and heavier body types, so it has a 5cm wider base and is 1cm taller. The XL chair supports up to 550 pounds, a full 220 pounds more than the non-XL Flash Series chair. The result is a chair that will last longer and retain its comfort level for a longer period of time. Both chairs are a great choice in regards to build quality and design.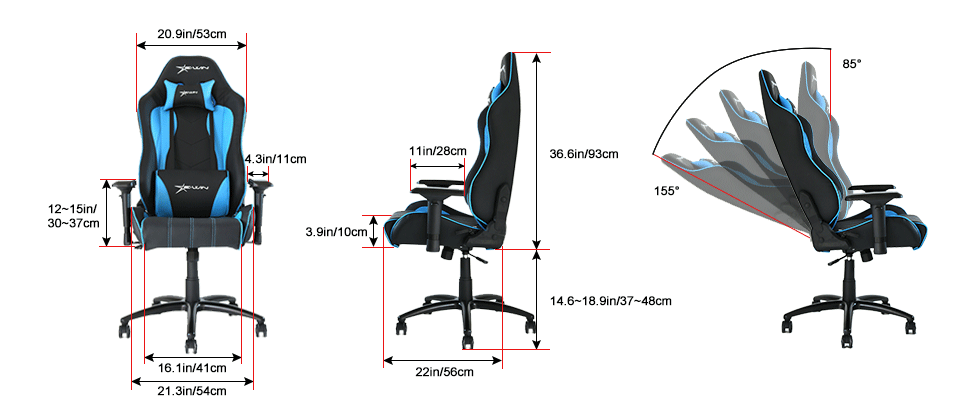 Nearly everything on the chairs are adjustable, and as a person with some minor back issues, the added supporting pillows are a nice touch. The pillows have not deformed over the months that we have used them and they have retained their shapes well. They can be fully removed if you do not like them but I highly recommend using them as they enhance the chair.
The armrests are "4D" and can be moved back and forward, from left to right, in or out, or up and down. Our only complaint about the armrests is they should have some extra cushioning as befits a premium chair. Even many $100 dollar chairs have cushioned armrests and this is sorely lacking in the XL since the armrests are just hard plastic.
These armrests for the Flash Series and the XL are the same and a little cushioning would go a long way to providing additional comfort. While they are reasonably comfortable, padding would have made them much better.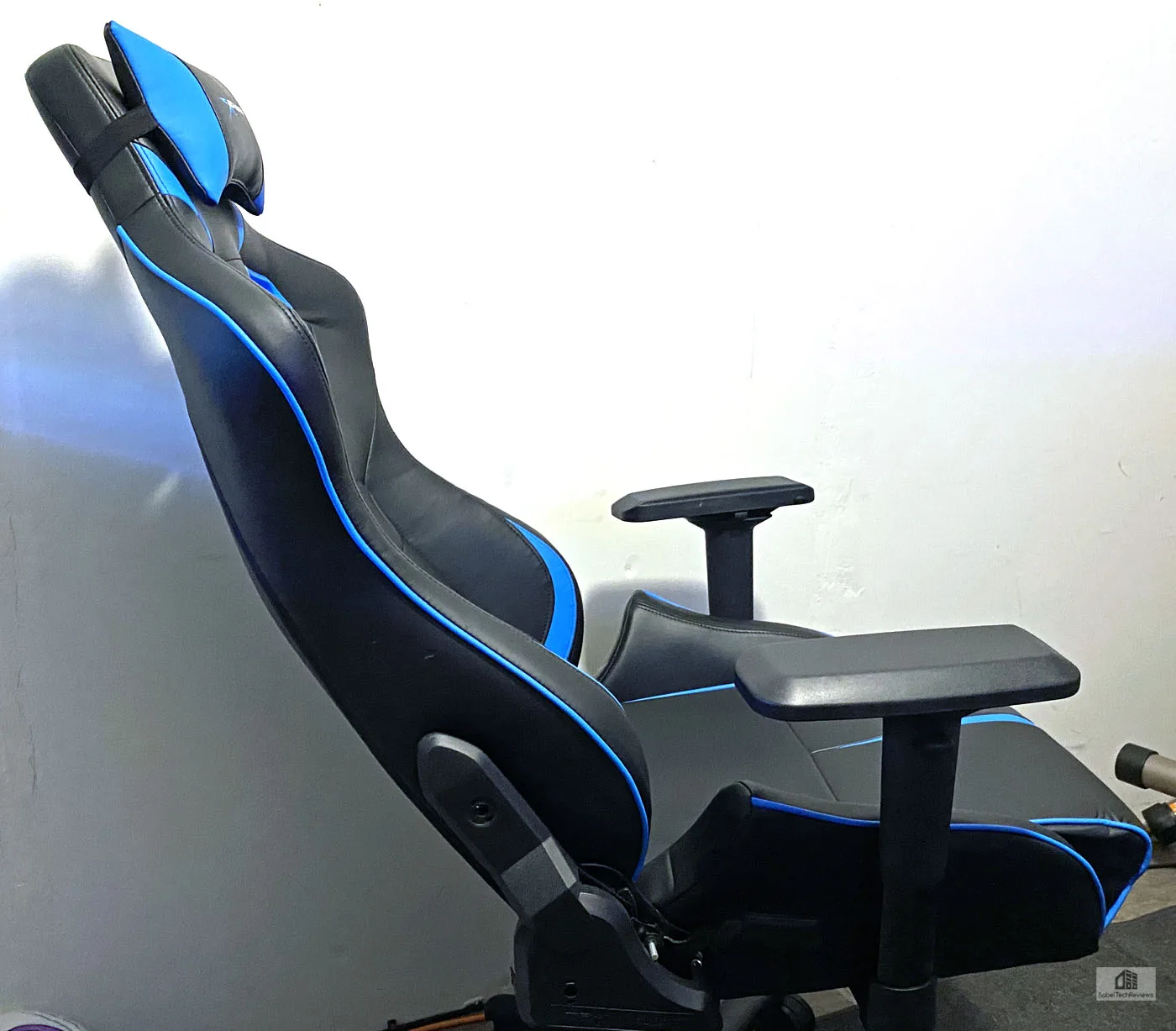 One of my favorite features of the chair is its tilting ability – it can recline pretty far back – and it is a really nice feature to have. I have a desk hammock to rest my feet on, and having the ability to lean all the way back while still being able to enjoy the content at my desk in a reclining position is amazing. This is a feature I never knew I needed but now regularly use.
Comfort
Nothing matters more in a chair than its ability to remain comfortable over time. The durability of the steel frame makes a chair uncomfortable even with memory foam cushions if it fails to retain its shape over time. In our experience, other chairs have become very uncomfortable after some extended use. In contrast, E-Win's chair oozes a premium feel and we thoroughly enjoy it. As mentioned before, I work from home and such long sessions in my office chair can lead to aches and pains, especially with the low-quality budget chairs I used before.
We have had the Flash Chair for over 6 months, and the XL version for about 3 months. Both still feel brand new and show little to no deterioration.
Fabric breathability is a major issue for some chairs especially in an area like South Texas where the humidity is relentless and heat builds up quickly. I can comfortably sit in the Flash Series XL chair for 10-12 hours a day at work with little to no sweat or heat caused by the chair thanks to the breathable material of the chair.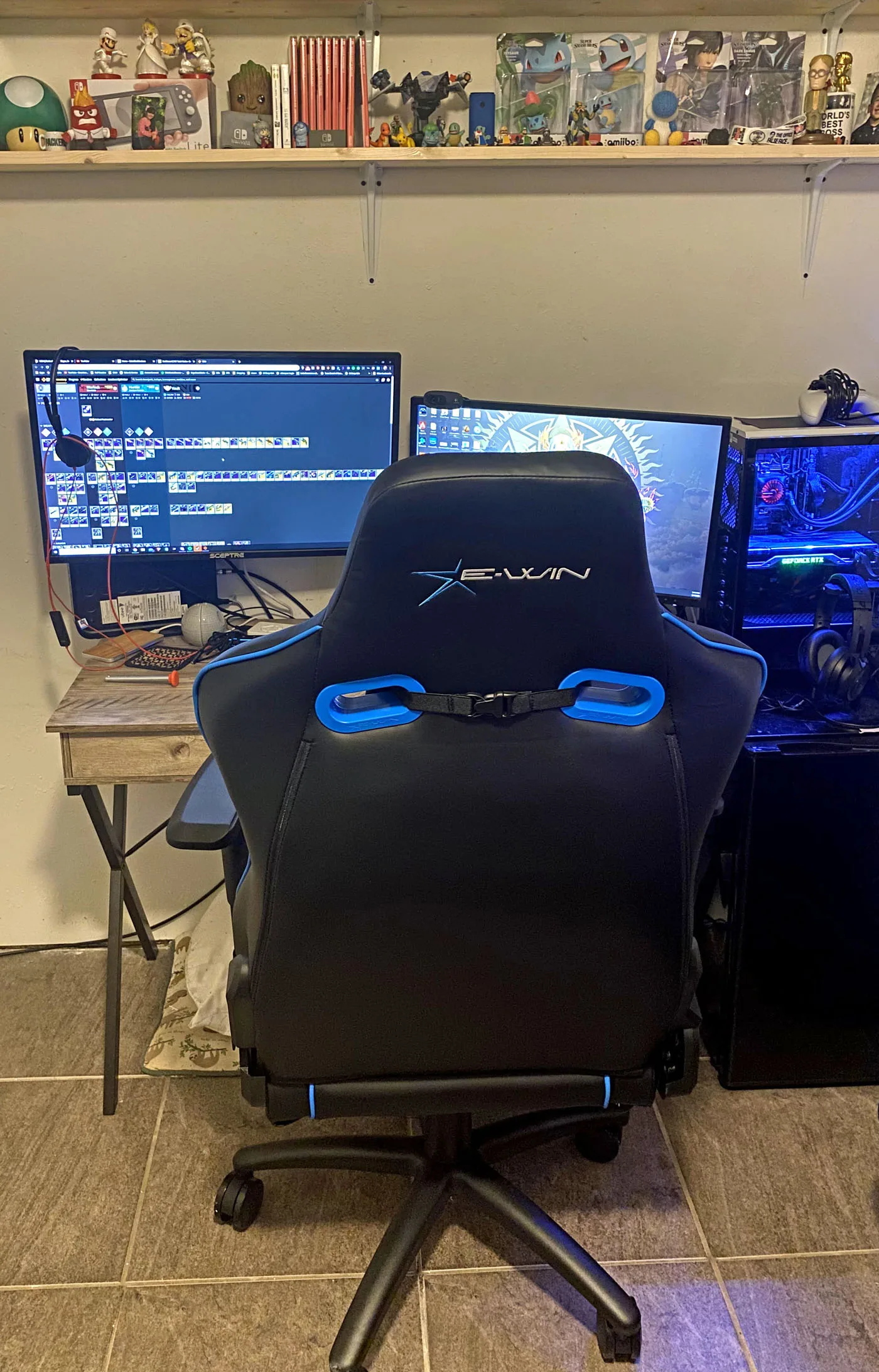 My initial impressions were very positive as the chair tends to mold to your body and feels somewhat like a bucket seat found in many expensive sports cars. I am a bigger person, and the sides near my hips were the only problem area in the Flash Series chair. The E-WIN Flash Series XL is the perfect solution as I needed a little more room to improve my experience. There is now enough cushion to keep me feeling good and enough width to hold even the heaviest of individuals.
I only felt comfortable recommending the Flash Series to thinner people as a friend who tried the chair, who weighs around 170lbs, mentioned that it felt slightly tight around the hips. The XL series chair solves this issue and it adds to the luxury of the series. At $429, the XL chair is only $30 more than the normal Flash Series Gaming Chair. Both Flash Series Gaming Chairs have a premium price tag so it does cause some hesitation as to whether or not they are worth the price. We can safely say they both are well worth their asking prices.
For $30 dollars more we cannot ignore that the Flash Series XL Gaming Chair is the superior model in every way. We would highly recommend picking up a larger model for anyone who is concerned with the fit.
Just a few tweaks to the chair and it would be nearly perfect. The headrest pillow still remains a common nitpick from those who tried it, but we love it as it perfectly compliments long work, gaming sessions, or media consumption.
There are other chairs that feature a pop-out a leg rest when reclined but that would likely increase an already hefty price tag. Still, the E-Win Flash Series XL serves me well all through my long work week and intense nights of gaming, and it would be hard to convince me to return to my office chairs of old.
Conclusion
We never accept any product for review that offers us to pay us to be positive. E-Win sent us this chair with this understanding although they have also allowed us to give BTR's readers a 20% discount using the code "BTR". There is no way I can recommend a chair that is not high-quality to anyone. Sitting in a poorly designed chair can ruin your entire day. Joint pain and other issues require me to have the best chair possible, and we recommend this chair to those who also want to invest in their health.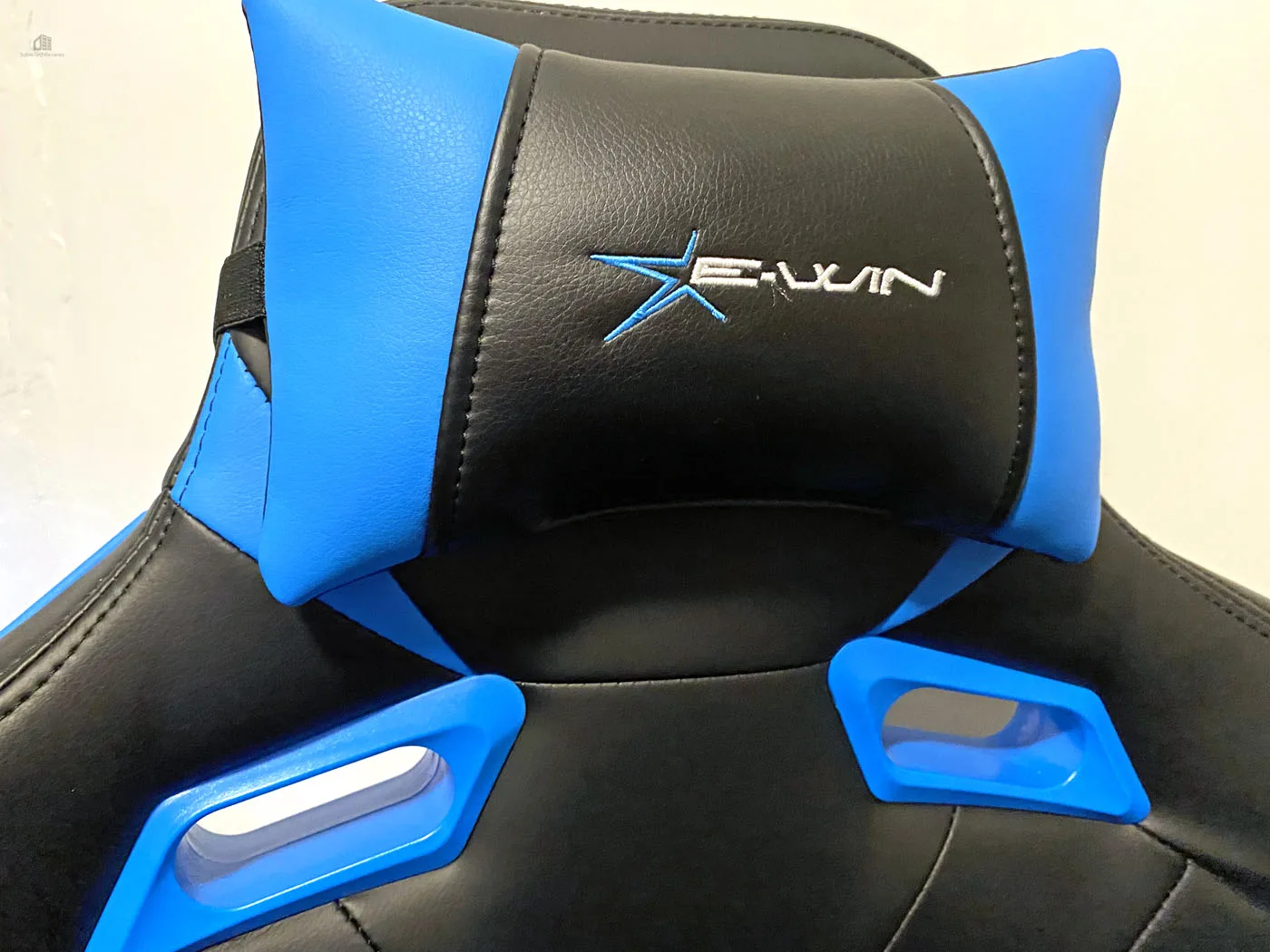 The Flash Series XL is a tool that helps me focus on my work and its a great resource to have at my disposal, and not just another chair I need to replace almost yearly. It is like buying a cheap pair of shoes knowing they may be great at first but will require another replacement very soon.
E-Win's Flash series racing chair in the XL size for my bigger body is the most comfortable chair I have ever used, and it truly feels premium but it also comes with a price tag that may be hard to swallow at $399, and the XL model is priced at $429. Entire budget PC builds can be built for under $500 for comparison.
Pricing is our only caveat. As a hardcore gamer, reviewer, and remote worker: comfort is everything. Feeling good at work or while gaming is well worth it. Before, I would get off work after a long day with an aching back and with no energy left. For good health and well being, I believe the investment in a gaming chair is a must for anyone who must spend long sessions at a desk.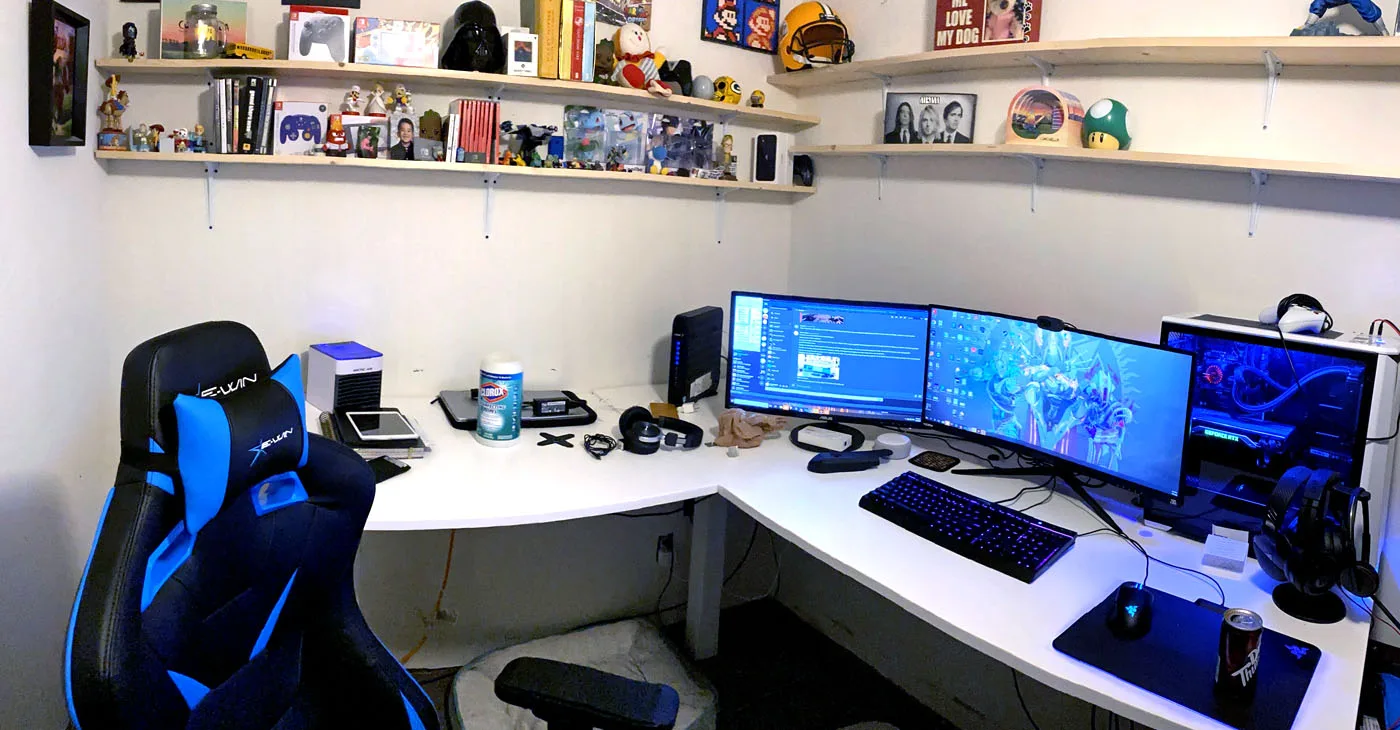 Over the years, I have purchased many midrange office chairs at Walmart, Staples, Office Depot, and online. However, after experiencing a truly premium E-Win chair, from now on, I will only consider high-quality chairs. The Flash Series was already a major upgrade and the XL model is superior in every way that counts. E-Wn offers chairs at similar prices compared with other premium chairs like those by Noblechairs or DXRacer and we believe E-Win is a better option.
BTR gives E-Win's Flash Series XL Gaming Chair our Editors Choice Award for its comfort, quality construction, and durability.
BTR's Texas office is now complete!