Intro
BTR has changed our review platform from Devil's Canyon i7-4790K to Skylake i7-6700K and we have had a chance to test the brand new RX 480 on both platforms.  This is a very short evaluation as we will also be comparing other video cards on both platforms, but we wanted to bring our readers a taste of what is coming with the GTX 1080 and with the Fury X.
Our older Devil's Canyon testing platform uses i7-4790K with all 4 cores turboed to 4.4 GHz by its ASUS Z97-E motherboard, versus the Skylake i7-6700K with all of its 4 cores also turboed to 4.4GHz by the ASRock Z7170M motherboard.  The Devil's Canyon motherboard uses 16GB of Kingston Predator DDR3 at 2133MHz versus the Skylake motherboard's 16GB of Kingston Predator DDR4 at 3200MHz, so it should prove to be an interesting comparison.
We are testing both platforms with the new Radeon RX-480 using 26 modern DX11/DX12 games and 1 synthetic benchmark at 1920×1080, 2560×1440, and at 3480×2160 resolutions on Windows 10 Home 64-bit.  However, we do want to point out that we have encountered some potentially serious issues with overclocking the RX 480 on both platforms.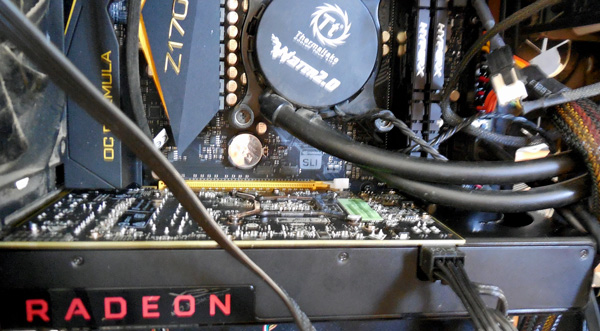 Beware, the reference RX 480 may have issues with power draw and overclocking!
In our original evaluation of the RX 480 on Devil's Canyon that BTR published last Wednesday, we noted that overclocking caused our PC to crash and it corrupted the operating system, and we had to restore from a disk image.  When we tried to overclock on our Skylake platform, our PC again crashed, but this time it was much more serious as the motherboard's BIOS got corrupted, and it took some extensive troubleshooting to restore our system.
AMD has acknowledged that there may be RX 480 issues with an excessive power draw over the PCIe slot and they promise a fix on Tuesday.  Since AMD opted to only put one 6-pin PCIe connector on their reference card, we would like to suggest to our readers that own a RX 480 to skip overclocking for now, and definitely do not increase the Power Limit in WattMan!  Until a fix is released, RX 480 users might be wise to lower the Power Limit slightly or undervolt.
Let's look over our test configuration on the next page.