NVIDIA at CES 2020 – CES Game Ready Driver 441.87 New Features & 26-game Performance Analysis
Today's 441.87 driver is NVIDIA's CES Game Ready driver and it brings improved performance and new features including Max Frame Rate, a new Freestyle filter, Image Sharpening updates, and virtual reality Variable Rate Supersampling (VRSS). We got a preview copy and have updated this review to reflect that we have been using 441.77 Press/441.87 Public drivers.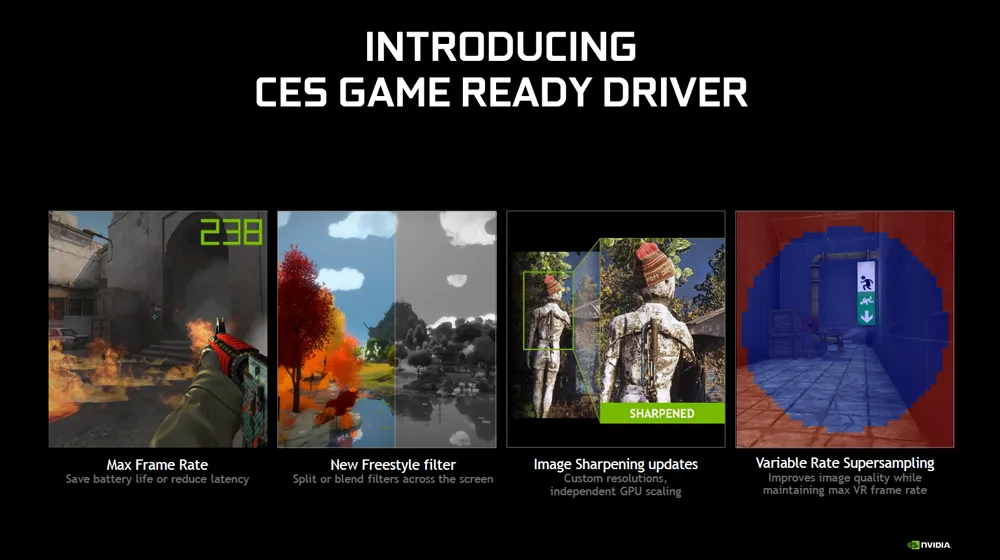 Besides outlining the new features, this 441.81 driver review will showcase the performance changes of 26 PC games from the January, 2019 417.71 RTX 2060 launch drivers as well as from February 2019's 418.11 driver. NVIDIA claims significant year-over-year performance increases for several games including a recent 46% improvement for World War Z and 18% improvement for Battlefield V.
New Products & Driver Features Introduced at CES
At CES 2020, NVIDIA is touting two new ray traced games including Deliver Us the Moon and Wolfenstein: Youngblood, and increased increase in eSports and in VR, as evidence that PC gaming is thriving. They point to their strengths of G-SYNC as the most rigorously tested adaptive Variable Refresh Rate (VRR) displays in the industry, and they also have certified many other VRR displays including LG's new OLED TVs as being G-SYNC compatible.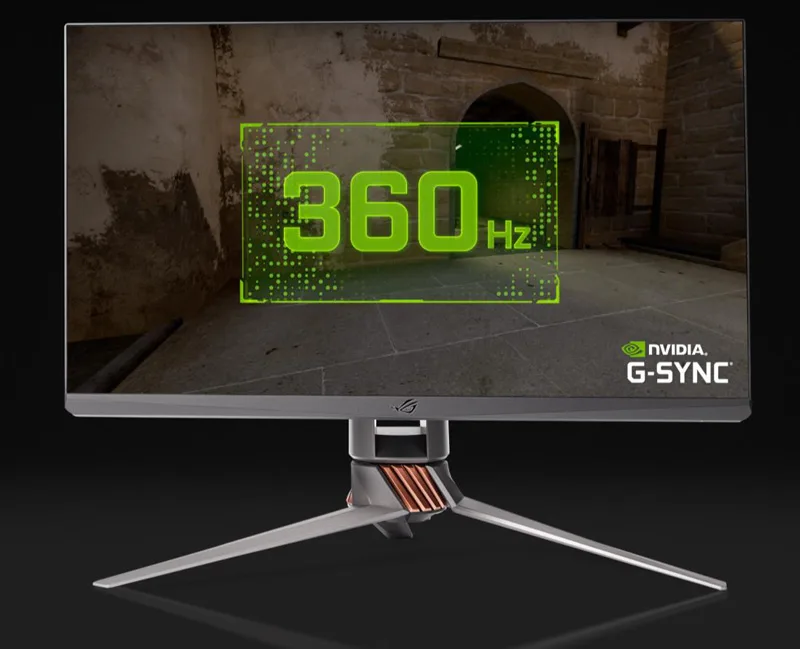 In addition at CES, NVIDIA has announced that ACER and ASUS are both bringing out G-SYNC 32″ 144Hz 4K displays with 1400 NITS brightness, and ASUS is bringing a 1080P 24.5″ ROG 360Hz G-SYNC display for professional gamers. At 360Hz, frames are displayed once every 2.8ms which is up to 6X faster than 60Hz gaming displays and TVs and could give pro gamers a competitive edge. These new displays will all be available this year but no firm date was announced. In addition, we also have the news that Wolfenstein Youngblood is getting a patch this week to enable ray traced reflections and DLSS.
Creative enthusiasts are not getting left out as six new creative apps are being launched this year that focus on RTX and GPU accelerated AI features. At CES, NVIDIA and their partners announced new RTX Studio systems built for creativity and supported with NVIDIA Studio Drivers. Qualifying RTX Studio purchases will come with a complimentary 3-month Adobe Creative Cloud membership which is valued around $240.
HP is launching the ENVY 32 All-in-One powered by up to a GeForce RTX 2080 GPU as the first AiO with RTX graphics.
Acer is introducing three new RTX Studio Systems: the ConceptD 7 Ezel, ConceptD 7 Ezel Pro and ConceptD 700 workstation.
Lenovo has announced their Creator series for digital content creators which includes the Legion Y740 Studio Edition and RTX Studio laptop.
System builders are now offering RTX Studio PC including CyberPowerPC, MainGear, Origin PC and NZXT.
VRSS (Variable Rate Supersampling) included in the CES 441.87 driver!
One big announcement from NVIDIA at CES is for VR. Variable Rate Supersampling has been included in the 441.77 driver for 24 VR titles. We were fortunate to have a preview of this driver and cover it in more detail here.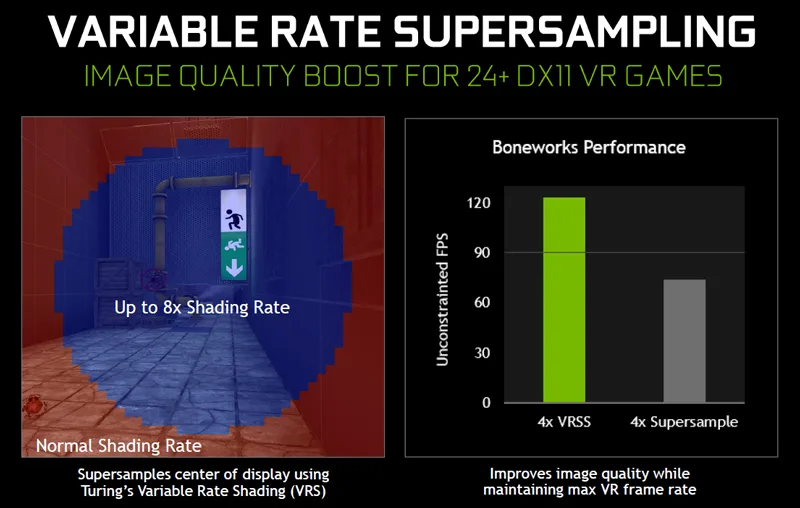 However, VRSS isn't Supersampling in the traditional sense where a game's images are rendered at a resolution above what the monitor can display and then scaled back down to the monitor's native resolution. In the case of VRSS, it refers specifically to Supersampling MSAA.
Below is an enlarged comparison of the Intel Logo in the center of the Spiderman Homecoming title screen where its 4X maximum MSAA is applied or Supersampled in the center of the screen (on the right side). The screenshot of the VRSS image has smoother and less jagged text and lines thanks to 4xMSAA compared to the image without VRSS/MSAA.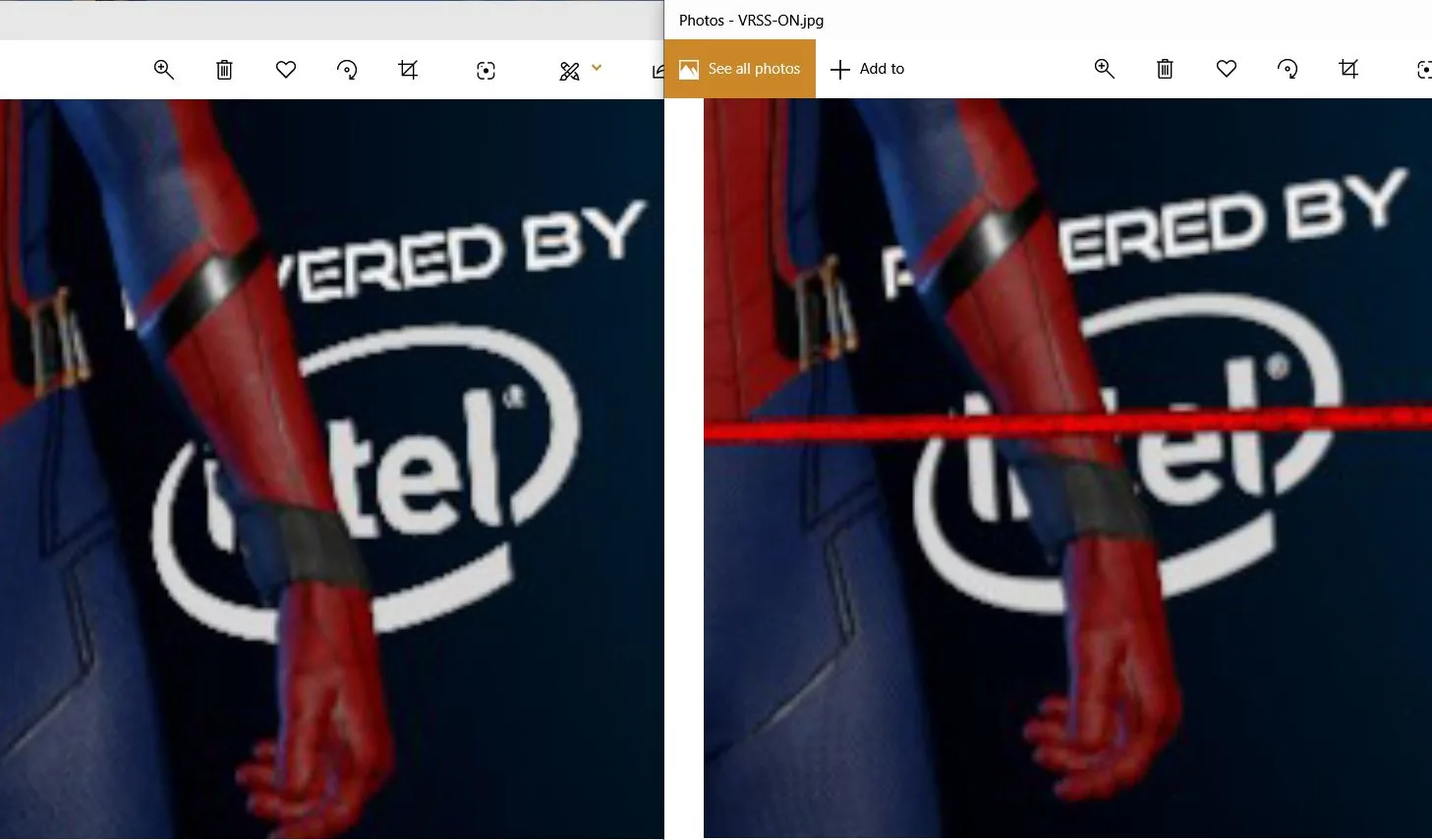 VRSS uses Turing architecture to leverage DX11 forward rendered VR games that already implement MSAA to improve the image quality at the center of the screen (where the player is looking) depending on the headroom of the video card. In this way, a VR gamer doesn't have to worry about having enough headroom to display the best image when he sets in-game AA to maximum. Refer here to BTR's separate article about VRSS.
We test driver performance at 1920×1080 and at 2560×1440 using a recent install of Windows 10 64-bit Home Edition with a Core i7-8700K which turbos all 6 cores to 4.8GHz, an EVGA Z370 FTW motherboard, and 16GB of T-FORCE DDR4 at 3866MHz. The games tested, settings, and hardware are identical except for the drivers being compared.
Test Configuration – Hardware
Intel Core i7-8700K (HyperThreading and Turbo boost is on to 4.8GHz for all cores; Coffee Lake DX11 CPU graphics).
EVGA Z370 FTW motherboard (Intel Z370 chipset, latest BIOS, PCIe 3.0/3.1 specification, CrossFire/SLI 8x+8x), supplied by EVGA
T-Force XTREEM 16GB DDR4 (2x8GB, dual channel at 3866MHz), supplied by Team Group
RTX 2060 6GB Founders Edition, stock Founders Edition clocks, on loan from NVIDIA
480GB L5 LTE Team Group SSD
1.92TB San Disk enterprise class SSD
2TB Micron 1100 enterprise class SSD
T-FORCE Vulcan 500GB SSD, supplied by Team Group
EVGA 1000G 1000W Gold power supply unit
Cooler Master 240mm CPU water cooler
EVGA Nu Audio stereo PCIe sound card, supplied by EVGA
Edifier R1280T active desktop speakers
EVGA DG-77, mid-tower case supplied by EVGA
Monoprice Crystal Pro 4K
Test Configuration – Software
GeForce 441.77 Press/441.87 Public drivers, January, 2019 417.54/417.71 Press/Launch Drivers, and February, 2019 418.81 WHQL drivers
VSync is forced off
AA enabled as noted in games; all in-game settings are specified
Gaming results show average frame rates in bold including minimum frame rates shown on the chart next to the averages in a smaller italics font
Highest quality sound (stereo) used in all games
Windows 10 64-bit Home edition. All DX11 titles were run under DX11 render paths. DX12 titles are generally run under the DX12 render path unless performance is lower than with DX11. Three games use the Vulkan API
Latest DirectX
All 26 games are patched to their latest versions at time of publication.
MSI Afterburner, latest beta.
OCAT, latest version
Fraps, latest version
26 PC Game benchmark suite & 3 synthetic tests
Synthetic
Firestrike – Basic & Extreme
Time Spy DX12
Superposition
DX11 Games
Grand Theft Auto V
The Witcher 3
Fallout 4
Rainbow Six Siege
Resident Evil 7
For Honor
Mass Effect: Andromeda
Prey
Project CARS 2
Middle Earth: Shadow of War
Total War: Warhammer II
Kingdom Come: Deliverance
Final Fantasy XV
Assassin's Creed: Odyssey
Hitman 2
Resident Evil 2
DX12 Games
Ashes of the Singularity: Escalation
Rise of the Tomb Raider
Civilization VI
Sniper Elite 4
Forza 7
Total War: Warhammer II
Shadow of the Tomb Raider
Battlefield V
Just Cause 4
Strange Brigade
Vulkan Games
DOOM
Wolfenstein: The New Colossus
Strange Brigade
NVIDIA Control Panel settings
Here are the NVIDIA Control Panel settings.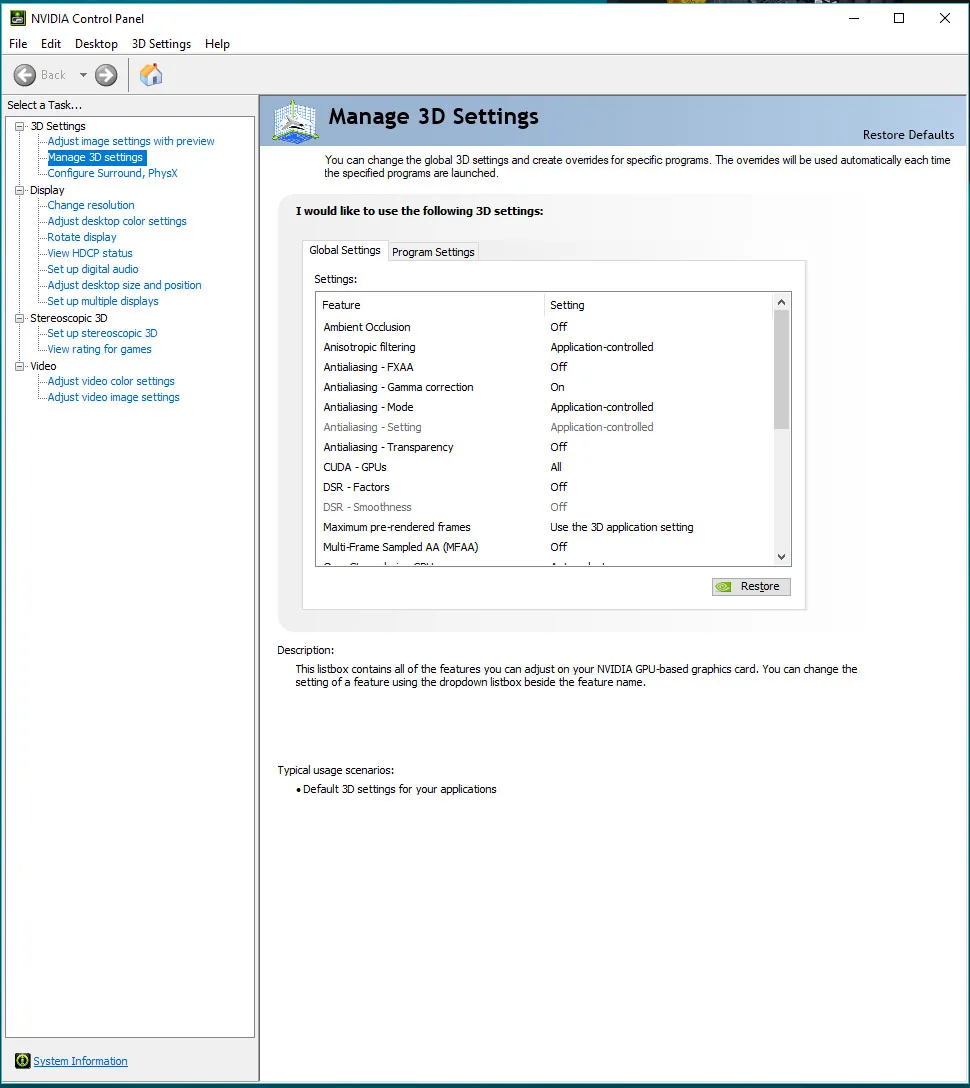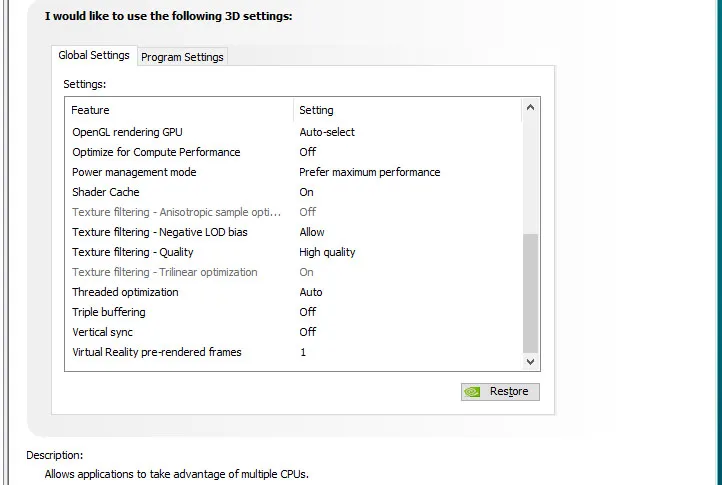 We used MSI's Afterburner to set the RTX 2060's highest Power and Temperature targets. By setting the Power Limits and Temperature limits to maximum, it can maintain its maximum clocks without throttling.
Game Ready GeForce 441.87 WHQL Drivers
The download links for the new GeForce 441.87 drivers can be found starting here. Here are the release highlights:
Game Ready Drivers provide the best possible gaming experience for all major new releases. Prior to a new title launching, our driver team is working up until the last minute to ensure every performance tweak and bug fix is included for the best gameplay on day-1.
Game Ready for Wolfenstein: Youngblood with Ray Tracing
The new Game Ready Driver provides the latest performance optimizations, profiles, and bug fixes for Wolfenstein: Youngblood including the introduction of ray tracing. In addition, this release also provides optimal support for Monster Hunter World: Iceborne, Bright Memory: Infinite, and the latest version of Quake II RTX.
Maximum Framerate
In response to overwhelming demand from the community, we have introduced a new Maximum Framerate Setting into the NVIDIA Control Panel. Use the maximum frame rate setting to set the max framerate a 3D application or game can render. This feature is particularly helpful when trying to save power, reduce system latency or paired with your NVIDIA G-SYNC display to stay within variable refresh rate range.
Image Sharpening Improvements
Leveraging gamer feedback over the last few months, we have been continually improving the new image sharpening feature. With this latest version, you have the ability to toggle GPU scaling independent of whether image sharpening is enabled or disabled.
Variable Rate Super Sampling
We introduced a new VRSS feature…
Variable Rate Super Sampling (VRSS) is a new technique to improve image quality in VR games which uses NVIDIA Variable Rate Shading (VRS) to dynamically apply up to 8x super sampling to the center of the VR display when GPU headroom is available. In doing so, VRSS can improve image quality at the focal point of the eye while always maintaining the 90 FPS needed to deliver a smooth VR experience.
Share Freestyle Filters
Gamers can now import and export Freestyle/Ansel filters and take advantage of a new split screen filter to help showcase their improvements!
Learn more in our Game Ready Driver article here.
###
Let's head to the charts to compare the performance driver changes from the GeForce 417.54/417.71 drivers which were the RTX 2060 launch drivers from a year ago to the latest GeForce 441.81 drivers.
The Performance Changes Summary Chart
Below are the summary charts of 26 games and 3 synthetic tests. These games are used to compare the performance changes for the RTX 2060 FE from its launch 417.71 GeForce drivers a year ago to the most recent 441.87 drivers. The highest settings are always chosen and the settings are listed on the charts. The benches were run at 1920×1080 and at 2560×1440. Open each chart in a separate window or tab for best viewing.
Most results show average framerates and higher is better. Minimum framerates are next to the averages in italics and in a slightly smaller font. A few games benched with OCAT show average framerates but the minimums are expressed by the 99th percentile frametimes in ms where lower numbers are better.
The first column shows the RTX 2060 FE's performance on the latest 441.87 driver – we are using the press preview driver, 441.77. Columns two shows February 2019's 418.81 driver performance and column three represents the performance of the RTX 2060 January 2019 launch drivers. An "X" means the benchmark was not run.
Please note that the results for the older two sets of drivers were actually run back in 2019, but 418.81 games marked by ** were run recently. Game patches will usually cause much larger performance impacts than will driver updates as especially shown by Rainbow Six Siege that gets regular makeovers.
We see mostly incremental performance improvements between the latest 441.87 drivers and the older drivers although the increases are generally as minor as any regressions. However, in a few cases such as World War Z and Strange Brigade, and to a lesser extent, Battlefield V, we see some significant performance increases with the newest drivers compared to when the RTX 2060 first launched.
Conclusion
We would recommend upgrading to the latest Game Ready 441.87 WHQL driver from any older driver set because there are generally stability or performance advantages for the newest games, depending on which game you are playing. Our findings agree with NVIDIA's claims that the latest driver has brought some large performance increases to several games. We found the latest drivers to be very stable overall, and we experienced no major performance issues while benching or playing any of our 26 tested games.
The new features of the CES Game Ready 441.87 driver are welcomed including Max Frame Rate, a new Freestyle filter, Image Sharpening updates, and VR Variable Rate Supersampling (VRSS) which is covered in much more detail here.
Happy gaming!