Direct-toConsumer Entertainment is Packed with Uncertain Growth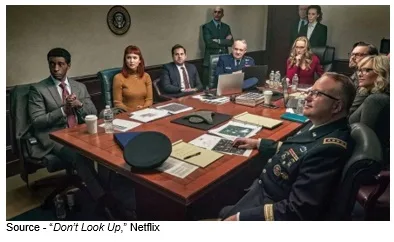 Since the first of the year, and increasingly throughout the summer, analysts have been wringing their hands about the problem with churn … subscribers who cancel or don't renew a streaming service subscription.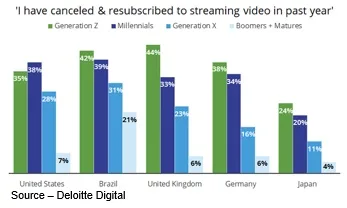 The Netflix subscription dip early this year was relatively minor – 220K out of 220M – not good, but then they did drop an entire country's subscribers and they guessed they would add 2.5M.
Suddenly, the viability of the entire streaming industry was in question and the shares of every entertainment firm cratered.
Churn is nothing new.
Churn with cable/pay TV was very low but:
trying to get out of your cable agreement was "a challenge"
you seldom had a choice of another option with 500+ choices
Mobile phone operators spend about $340 +/- million annually to get you as a customer with a "free" phone and long-term plan (again, tough to escape). The longer you stayed, the more their profits rise.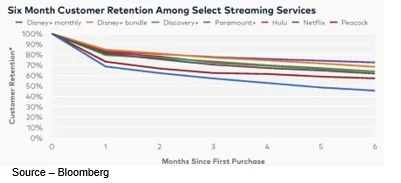 Netflix started the streaming trend – sign up and cancel when you want. It worked beautifully until 2019 when everyone jumped in – Disney, WBD (Warner Bros Discovery), ViacomCBS (Paramount), Comcast NBC (Peacock)–200+ services around the globe
Those that followed the subscription route with Netflix had the same type of contract (no contract).
Some – Pluto, Tubi, IMDb TV (now Amazon Freevee), Xumo and Vudu took the modified pay TV route – no monthly fee but you pay by looking at ads.
We didn't include Amazon and Apple in the SVOD list because they're following a different approach similar to mobile services.
Amazon bundled its Prime Video with its e-commerce services and gave customers access to games, reading material, MGM/new content, stuff.
Apple entered the market and Hollywood laughed.
The company focused on the 1B + Mac, iPad, iPhone devoted users with good content, games, health/exercise monitoring, reading material, security/privacy and other stuff in their beautiful, protected, profitable walled garden.
No one talked much about churn because the market was going to be huge – 85 percent of US households had at least one SVOD service and there will be 1.7B subscribers around the globe by 2027, according to Digital TV Research.
Then Netflix sneezed and suddenly industry/Wall Street analysts said the SVOD industry was sick … very, very sick.
Churn in the UK, Germany, Brazil, Japan is close to 30 percent.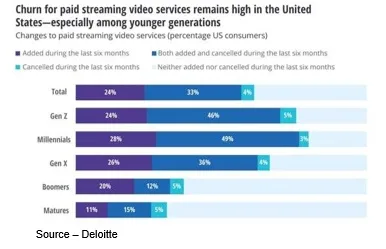 The Americas have remained fairly constant with 85 percent of households having at least one SVOD service and an annual churn of about 37 percent.
Neither number was good but folks sorta glossed over it until they didn't.
Despite the hand wringing, global SVOD subscriptions are about 1.2B this year and there is still plenty of growth potential.
China and the US will account for 48 percent of the world's total viewers by 2027.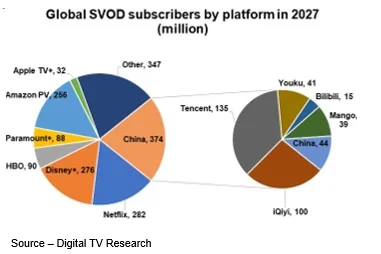 China leads the world in population (1.4B+) but the market is "reserved" for Chinese streamers – iQiyi, Youku, Tencent – controlled by the country's internet companies – Baidu, Alibaba, Tencent.
European and American early adopter/majority consumers – especially GenZs and millennials – rapidly adopted the idea of anytime, anyplace, any screen viewing, meaning that wining the older late adopters would be slow and expensive.
However, the second and fourth largest population areas – India (1.38B) and SEA (Southeast Asia – 700M) offer excellent growth potential.
The big challenge for SVOD services is that the majority of the households have Pay TV entertainment and its very inexpensive – about $2US/mo.
India currently has 102M SVOD subscribers and is projected to grow to 224M by 2026.
Netflix has dropped prices three times in as many years to increase its subscription base and currently has 29 percent of the market followed by Disney+ Hotstar, 25 percent, and Amazon Prime, 22 percent.
Local free-to-air and subscription service Vidio is slightly ahead of Disney+ Hotstar in the SEA market with 28 percent of the market while WeTV, Netflix, Viu trail Disney.
In other words, the SVOD market everywhere is getting tough.
Most consumers said they "prefer" services with no ads, but a constant stream of new, unique content costs money and consumers have clearly shown that rather than add yet another SVOD service to their entertainment budget they'll replace services and come back for more new stuff later … maybe.
However, Netflix is maintaining its position with the global subscription base as people agree that the company has the depth and breadth of content they want to watch.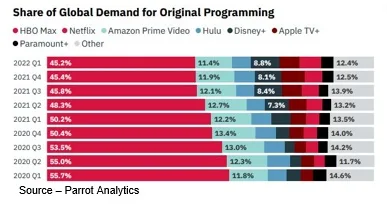 The company and the SVOD arena are reaching a pivotal stage in growth, moving from an appreciated entertainment "benefit" to a transformational industry mainstay.
Explosive growth forever isn't sustainable for any industry, especially one where disposable time and disposable budget are key aspects of service selection.
Most steady streaming subscribers have said the cost is high, but they don't really want to leave the service(s) they watch regularly because they are aware of the quality titles that will be available with their regular services and are looking forward to watching them.
But…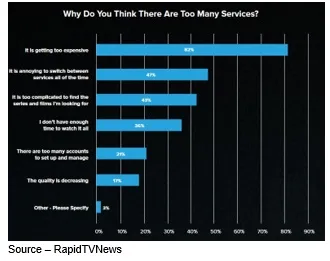 While they want to retain access to their services for their compelling, conversation worthy content; household necessities could override the retention decision.
In other words, the time is right to offer the consumer options so they can choose the plan that is right for them … and the service.
Some consumers will be willing to pay more for their entertainment, understanding that they are paying a slight premium to eliminate storyline interruptions.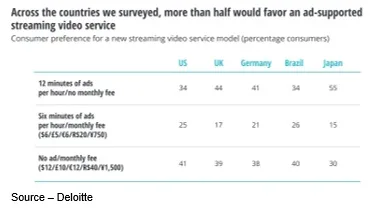 Other subscribers will prefer to trade some of their time for a discount in their monthly/annual at home entertainment bill.
The subscription fee difference doesn't represent a loss to the streaming service because there will be long-term advertising revenues and, if the advertising schedule and topics are carried out properly, it could lead to churn reduction.
Even as WarnerBrosDiscovery (WBD) works to complete the overhaul of the entire "new" organization, they have already given lip service to tiered subscription options that are being considered.
ComcastNBC's Paramount+ has to move quickly to become a must-have steaming service that could include the organization's Showtime OTT, BET+ and Noggin/Nick+ to achieve its goal of 100M by 2024.
Tiered pricing could be a major factor in achieving that goal and could put it on sound footing for long-term profitability.
ViacomCBS's Peacock is well on its way to becoming an established SVOD/AVOD service.
The two subscription leaders – Disney+ and Netflix – have announced plans to introduce their ad-supported options by the end of the year. The result of the shift of viewing options could stimulate a second surge in service subscriptions.
One of the keys to this new growth won't simply be a strong increase in new content development but cleaning up the consumer's constant complaints.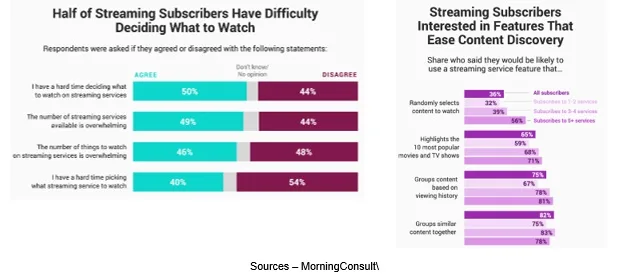 Acquiring subscribers is a manageable challenge – combining all of the inputs people provide when they watch "their" shows with the creative talent to deliver the kind and genre of films/shows they prefer.
That will partially reduce churn but what will significantly reduce it is streamlining and simplifying the UI and search/recommendation tools to make it easy – and maybe even fun – for people to find the video stories they want or maybe even discover content they didn't even know they wanted.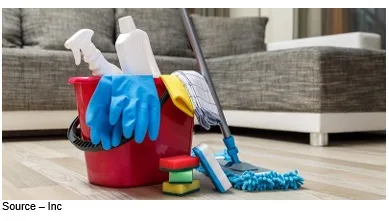 Streaming services rushing to roll out their service with enticing content is a lot like producing a great film. There's always that stuff folks glossed over or skipped, saying to themselves, "We'll fix it in post."
Now is the time for streaming services that want to be major content services regionally and/or globally to make it easy for the at-home viewing public to get what they're paying for.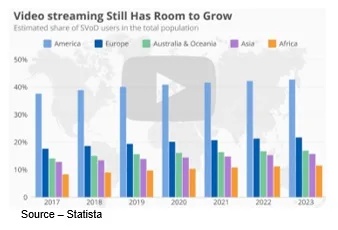 While there is a pent-up interest in seeing a film the way it was supposed to be seen in a dark room, in a cushy seat, with the audio rocking you from everywhere and surrounded by 100+ folks.
Good but…
Morning Consult found 66 percent of the people they surveyed had no interest in going to the movie house because:
They had no interest in the stuff being shown
They had some excellent video story options at home
They didn't like their popcorn or price
There are more than 1.72B TV households on the planet; and with their extended time at home, a large number had increased the size/quality of their big screen and upgraded their sound system.
Presently, there are about 645M SVOD subscribers worldwide and the number is projected to increase to 1.1B by 2025.
No one will have just one subscription service for all of their entertainment. It will be more like three plus a couple of ad-supported services.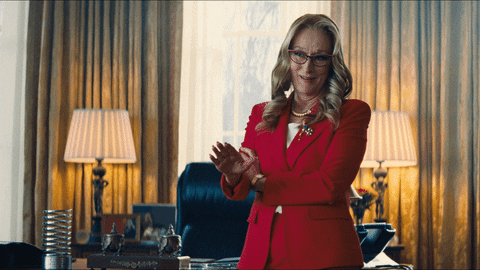 That means there's plenty of room for growth – and profit – for the content developers, producers and distributors who are willing to ignore Wall Streeters who make money when you buy … and sell.
Churn will never be zero percent. It's part of the cost of doing business, and the folks who can manage the ups and downs without getting too happy or too depressed will find the ride fun.
All you have to do is remember what Dr. Randall Mindy said in Don't Look Up, "Everything is theoretically impossible, until it is done."
# # #
Andy Marken – [email protected] – is an author of more than 700 articles on management, marketing, communications, industry trends in media & entertainment, consumer electronics, software, and applications. An internationally recognized marketing/communications consultant with a broad range of technical and industry expertise especially in storage, storage management and film/video production fields; he has an extended range of relationships with business, industry trade press, online media, and industry analysts/consultants.