This evaluation is the third in our Pascal TITAN X series. We have just compared it with the GTX 1080 and found that the TITAN X was generally 20-30+% faster, depending on the resolution. This time we want to compare the last generation 28nm Maxwell TITAN X with the new 16nm Pascal version. Nvidia claims that the Pascal TITAN X is at least 60% faster than the Maxwell TITAN X, and we want to see how much improvement that Nvidia has made since March 17, 2015 when the Maxwell TITAN X launched.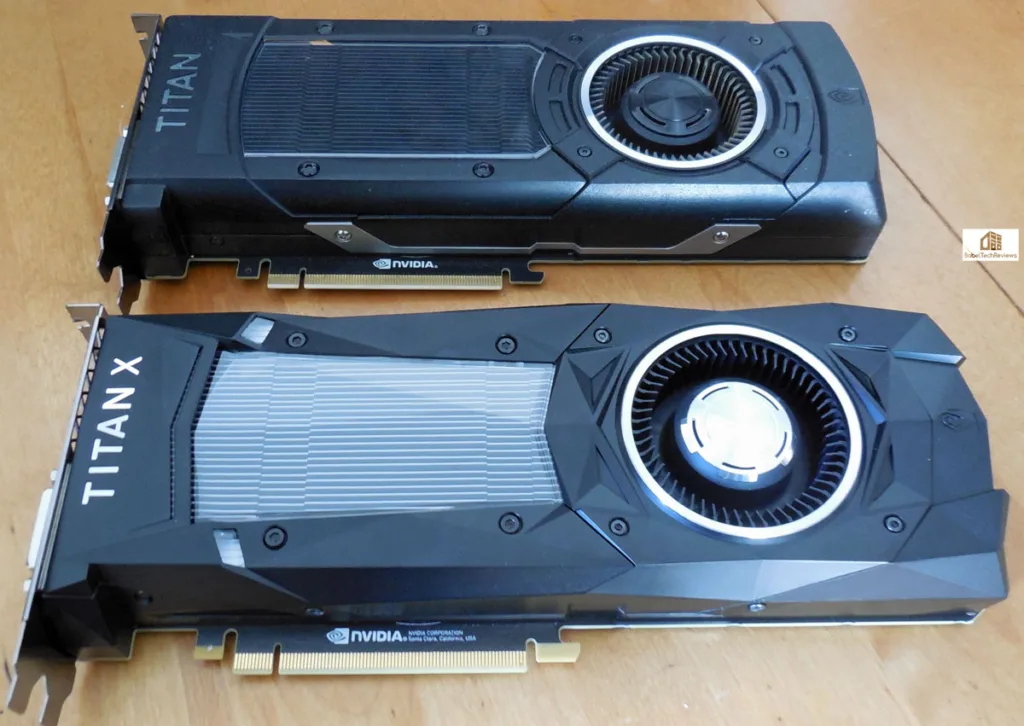 We will include all 25 games of our benchmark suite, and we have added a new 3440×1440 WQHD resolution to our standard 3840×2160 and 2560×1440 benching resolutions. We have dropped 1920×1080 as it is meaningless for such powerful cards as the TITAN X.
The new TITAN X is Nvidia's fourth GeForce GPU based on 16nm Pascal architecture. It is much faster than the GTX 1080 – formerly the world's fastest video card. The TITAN X is premium-priced starting at $1200, $200 more than the Maxwell TITAN X, and it is only available directly from Nvidia. Besides being the world's fastest video card, the Pascal TITAN X is also a hybrid card like the Maxwell version that are well-suited for Single Precision (SP) and Deep Learning compute programs.
We received a TITAN X for evaluation from Nvidia together with a 3440×1440 ACER Predator X34 (2K/21:9) G-SYNC display. The Predator X34 is a top-rated 34″ WQHD S-IPS display, and it is an excellent match for the TITAN X. Popularly called "2K", super-widescreen WQHD displays are rightly becoming popular, and we are going to bench top gaming video cards regularly at this resolution instead of at 1920×1080.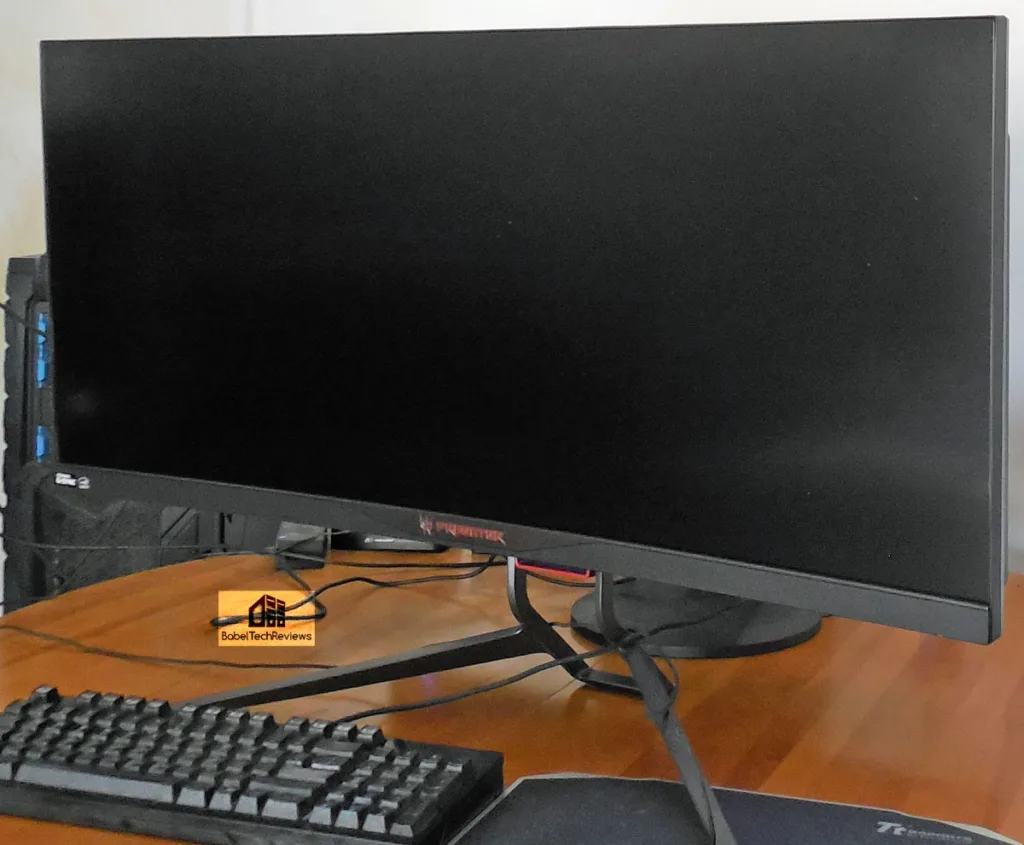 Part 4 of our TITAN X mini-series will be posted by this weekend, and it will also use our entire 25 game benchmark suite devoted to overclocking the new Pascal TITAN X, and Part 5 will be devoted to Compute and to Deep Learning TITAN X benchmarks. If we can get another GTX 1070, we will compare the TITAN X with GTX 1070 SLI.
Instead of repeating all of the same information in last week's TITAN X introduction, we are going to highlight the differences between the Pascal and the Maxwell TITAN X. The Pascal TITAN X is based on GP102 whereas the Maxwell version is based on GM220. The Pascal TITAN X has a total of 12 billion transistors and 3584 CUDA cores, and it comes equipped with 12GB of GDDR5X whereas the Maxwell TITAN X has 8 billion transistors, 3072 CUDA cores, and 12GB of GDDR5. Pascal's CUDA Cores have evolved over Maxwell's to become more efficient, and you can check out our Nvidia GTC 2016 wrap-up article for the details in our Pascal Deep Dive.
The Pascal TITAN X also features Peak Single Precision performance – 11 TFLOPs FP32 (32-bit floating point) – and also has a new instruction set for deep learning inference that the Maxwell TITAN X lacks, 44 TOPS INT8. Both cards feature 12GB of memory for scientific applications and also for extreme resolutions in gaming. Here are the key differences between the Maxwell and the Pascal TITANs.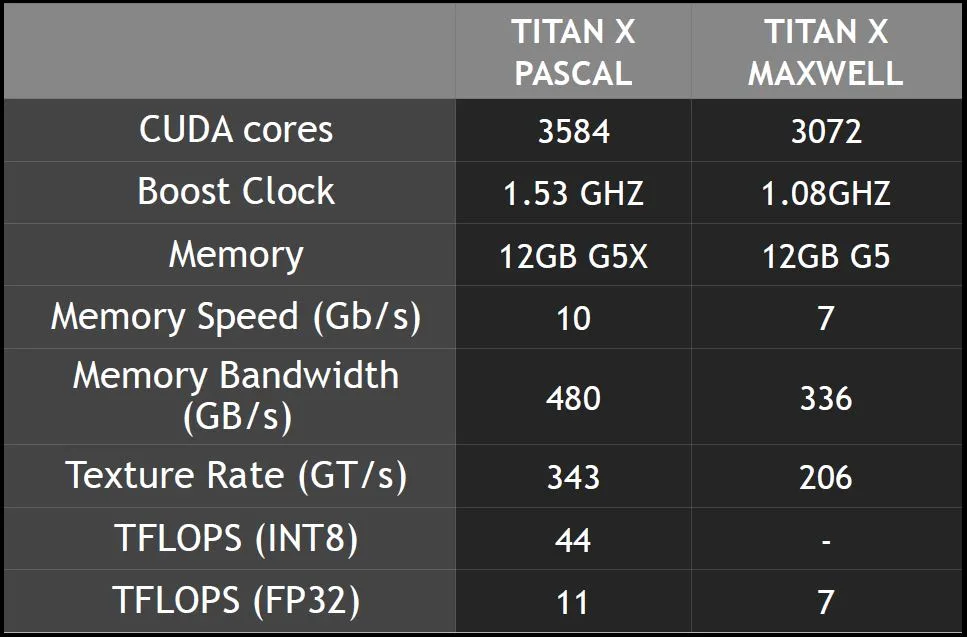 Even though they are both aimed at scientists and researchers, both of the TITANs are still gaming cards, and the new TITAN X supports all of the same new features that Nvidia's Pascal architecture brings. Pascal delivers high clock speeds while using relatively little power – the new TITAN X runs over 1.5 GHz with a TDP of 250W. Pascal's 16nm manufacturing process allows the TITAN X to perform faster than Maxwell generation GPUs giving it a huge performance lead over the older TITAN X.
Our testing platform is Windows 10 Home 64-bit, using an Intel Core i7-6700K at 4.00GHz which turbos to 4.4GHz for all cores as set in the ASRock Z7170 motherboard's BIOS, and 16GB of G.SKILL DDR4 at 3000MHz. The settings and hardware are identical except for the cards being tested. Today, we are featuring all 25 games of our benchmark suite, and we are also including four DX12 games – Ashes of the Singularity, Hitman, Rise of the Tomb Raider, and Total War Warhammer – plus Futuremark's recently released DX12 benchmark, Time Spy.
Specifications
Here are the specifications for the Maxwell TITAN X: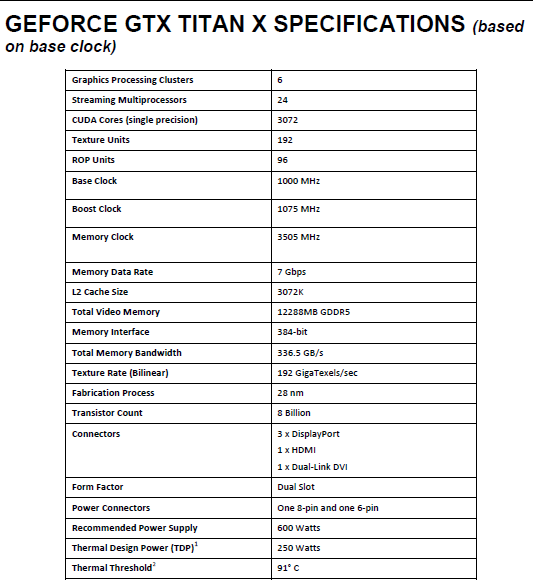 Here are the full specifications for the Pascal TITAN X: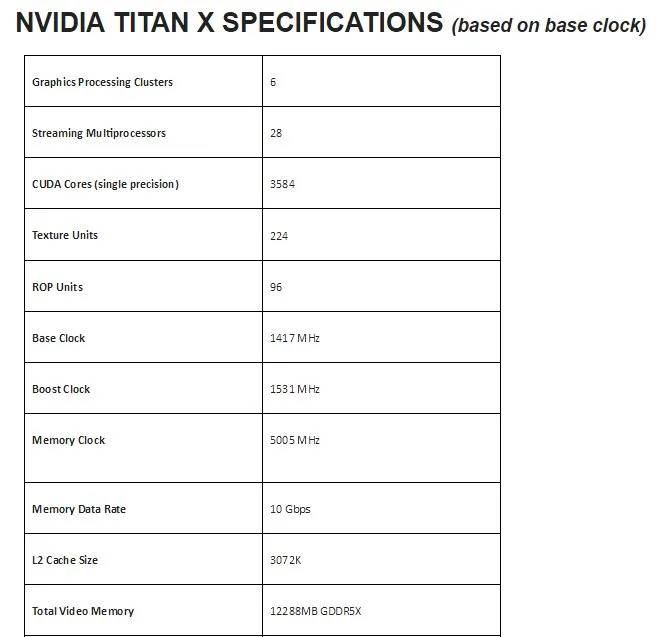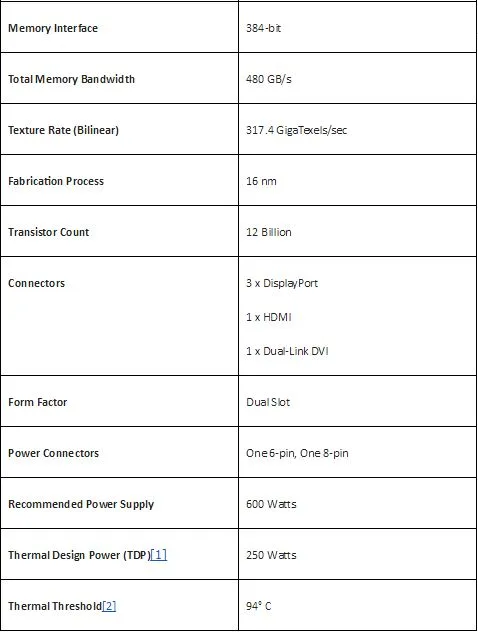 How does the Maxwell TITAN X compare with its predecessor?
From the specifications alone, we see that the Pascal TITAN X is considerably faster than its Maxwell predecessor. To confirm this and to show how much faster, we are going to look at 25 games to compare the performance of the GTX 1080 with the TITAN X. We are also adding a new feature to BTR's reviews – percentages of increase between the two video cards. We will explain how we calculate our percentages in the "Test Configuration".
For this evaluation, we are going to concentrate on comparing the performance between the two TITAN Xes. AMD's flagship, the Fury X, is generally slower than the Maxwell TITAN X, and it is consistently beaten by the GTX 1080 in all the benchmarks that we have run. AMD is pinning their hopes on next year's big chip, Vega.
Let's check out the test configuration.
Test Configuration – Hardware
Intel Core i7-6700K (reference 4.0GHz, HyperThreading and Turbo boost is on to 4.4GHz; DX11 CPU graphics).
ASRock Z7170M OC Formula motherboard (Intel Z7170 chipset, latest BIOS, PCIe 3.0/3.1 specification, CrossFire/SLI 8x+8x)
G.Skill Ripjaws V 16GB DDR4 (2x8GB, dual channel at 3000MHz)
TITAN X (Pascal), 12GB, stock clocks, supplied by Nvidia
TITAN X (Maxwell), 12GB, stock clocks, supplied by Nvidia
2TB Toshiba 7200 rpm HDDs
EVGA 1000G 1000W power supply unit
Thermaltake Water2.0, supplied by Thermaltake
Onboard Realtek Audio
Genius SP-D150 speakers, supplied by Genius
Thermaltake Overseer RX-I full tower case, supplied by Thermaltake
ASUS 12X Blu-ray writer
Monoprice Crystal Pro 4K (3840×2160)
ACER Predator X34 – 34″ WQHD 2K G-SYNC display (3440×1440), supplied by Nvidia
Test Configuration – Software
Nvidia's GeForce 368.98 (TITAN X launch drivers) were used for both Nvidia cards. High Quality, prefer maximum performance, single display.
VSync and G-SYNC are off in the control panel.
AA enabled as noted in games; all in-game settings are specified with 16xAF always applied
All results show average frame rates including minimum frame rates shown in italics on the chart next to the averages in smaller font. Percentage differences are shown in a separate column.
Highest quality sound (stereo) used in all games.
Windows 10 64-bit Home edition, all DX11 titles were run under DX11 render paths. DOOM is run under the OpenGL API. Our four DX12 titles are run under the DX12 render path. Latest DirectX
All games/SW are patched to their latest versions at time of publication.
MSI's latest beta version of Afterburner was used to set the Power and Temperature targets to their maximum.

The 25 PC Game benchmark suite & 2 synthetic tests
Synthetic
Firestrike – Extreme & Ultra
Time Spy DX12
DX11* Games
Crysis 3
Metro: Last Light Redux (2014)
Middle Earth: Shadows of Mordor
Alien Isolation
Dragon's Age: Inquisition
Dying Light
Grand Theft Auto V
ProjectCARS
the Witcher 3
Batman: Arkham Origins
Mad Max
Fallout 4
Star Wars Battlefront
Assassin's Creed Syndicate
Just Cause 3
Rainbow Six Siege
DiRT Rally
Far Cry Primal
Tom Clancy's The Division
DOOM (*OpenGL)
Mirror's Edge Catalyst
DX12 Games
Ashes of the Singularity
Hitman
Rise of the Tomb Raider
Total War: Warhammer
Nvidia's Control Panel settings:

We used MSI's Afterburner to set the TITAN X Power and Temperature targets to their maximum.
Calculating Percentages
There are two methods of calculating percentages. One is the "Percentage Difference" that we used to compare the GTX 1080 versus the TITAN X, and the other is "Percentage Change" which we are using now to show the improvements of the Pascal TITAN X over the Maxwell TITAN X.
For the percentage change, we mean the change in frame rates between Maxwell and Pascal, divided by the absolute value of the original Maxwell value in fps, multiplied by 100.
Percentage change may be expressed by the algebraic formula: ( ΔV / |V1| ) * 100 = ((V2 – V1) / |V1|) * 100
Let's check out our Performance Summary chart followed by our conclusion.
Performance summary chart
Here are the summary charts of 25 games and 2 synthetic tests. The highest settings are always chosen and it is usually DX11; DX12 is picked above DX11 where available, and the settings are ultra or maxed. Specific settings are listed on the performance charts. The benches were run at 2560×1440, 3840×1440, and at 3840×2160.
All results, except for FireStrike and Time Spy, show average framerates and higher is always better. Minimum frame rates are shown next to the averages when they are available, but they are in italics and in a slightly smaller font. In-game settings are fully maxed out and they are identically high or ultra across all platforms. The Maxwell TITAN X performance results are in the first column (in white) and the Pascal TITAN X results are shown in the second column (in black). The 3rd column shows the percentage increase of Pascal over Maxwell.
The Pascal TITAN X wins every game benchmark by a significant margin of at least 60% at 4K over it's predecessor, the Maxwell TITAN X except in Hitman where the increase is 59.5%. Generally the percentage increaase is even higher which is very impressive considering that the Maxwell TITAN X was released less than 17 months ago. Nvidia's claim of "at least 60% faster" has been substantiated in 25 games.
UPDATED 08/11/16. Check out Tech of Tomorrow's video using our benchmarks!
Let's head for our conclusion.
Conclusion
This has been quite an enjoyable exploration for us in evaluating the new Pascal TITAN X. It did extraordinarily well performance-wise comparing it to its Maxwell predecessor in 25 games, and we look forward to running our benchmark suite again in Part 4 when we overclock the new TITAN X.
We are totally impressed with this top performing 6-pin plus 8-pin PCIe cabled Pascal TITAN X chip. Priced at $1200, it is certainly expensive but it stands alone as the world's fastest gaming GPU. On top of that, it is a hybrid card well suited for Single Precision Compute and for scientific applications. And compared to its predecessor, it is definitely at least 60% faster. It would be an excellent upgrade for a gamer or for a scientist/researcher who is running the older Maxwell TITAN X, and it is well worth $200 more compared with the $1000 the older card recently cost.
Unlike the Maxwell card, the Pascal TITAN X is an ideal card for 4K and it may well be the first video card to be able to handle maxed out settings at that extreme resolution. There are only a couple of games at 4K where settings might have to be dialed back a bit for a fluid gaming experience, and a G-SYNC display is the perfect gaming complement to the TITAN X.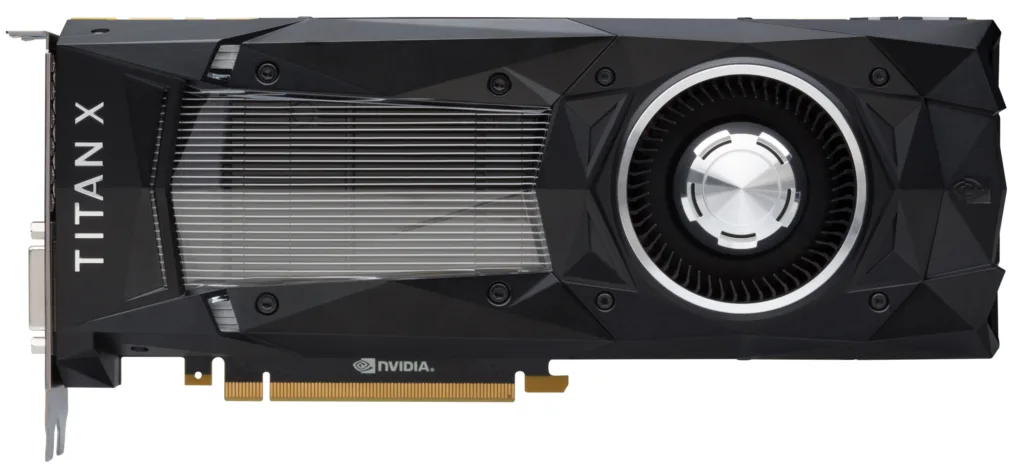 The Verdict:
If you want the fastest video card available today, the TITAN X at $1200 is in a class completely by itself, easily topping the performance of the older Maxwell TITAN X which launched in March, 2015 at $1000 by at least 60%. However, you may have to wait awhile as the TITAN X is still sold out at Nvidia's store.
Stay tuned, there is a lot coming from us at BTR. Next, in our continuing TITAN X series, we will test the TITAN X with our full benchmark suite and overclock it as far as it can go. We expect to post the overclocking evaluation by the weekend.
Happy Gaming!