Conclusion
The Chakram Mice in Action & the Conclusion
Both of these Chakram mice have a  premium feel to them, and they each worked equally well with our super-fast monitors – the ASUS ROG 1080P 360Hz display as well as the Samsung 1440P Odyssey G7 240Hz display.  Will I be a competitive gamer again because of these mice?  No.  But these mice have definitely improved my game and accuracy, especially in defeating the Borderlands 3 'Bounty of Blood' DLC final bosses that I previously had trouble with, and with excellent results playing the new Call of Duty: Black Ops Cold War.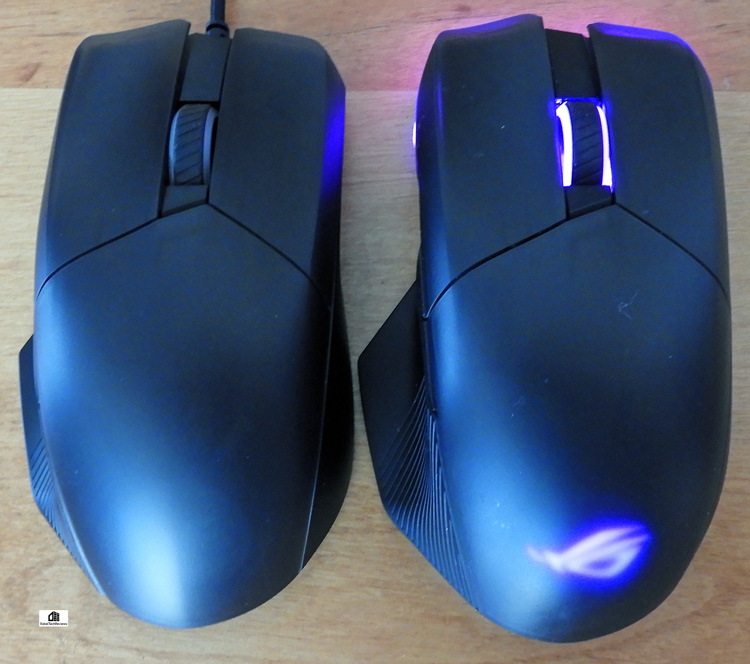 If you are a competitive gamer who also likes a low-latency, good-looking, premium, and responsive RGB wireless mouse with a ton of features and customization options, the Chakram Wireless mouse may be for you.  If you are more traditional and only want a wired mouse with low latency and the same premium features, then Core may be a perfect choice.  But if you want to take your mouse with you wherever you go, the wireless Chakram may provide the best options.  There is no perceptible latency difference between wired and the 2.4GHz wireless mode that we could discern, although we would not recommend using Bluetooth except for casual games.  Both mice are ultra-responsive and may make the difference between winning and losing for a competitive or eSports gamer.
We are not impressed with the analog joystick.  To be fair, we did not spend a lot of time practicing with it for Star Wars: Squadrons or for Elite Dangerous.  We found that using the joystick with our thumb was somewhat awkward.  But if someone is willing to spend the time to make its use automatic, it may take the place of a dedicated joystick, and its shorter length option may be useful for those who prefer using it as a disk.  Instead, we recently purchased a Gladiator NXT HOTAS and CH Pro throttle for hundreds of dollars.  At the very least, the Chakram joystick digital option gives 4 extra keys for remapping which may prove very useful for many games and applications.
The MSRP of $159.99 puts the Wireless Chakram at the very top of the price range for premium mice, but the current pricing of $129.99 makes it more affordable.  The Qi charging is a great feature for those who don't want to plug in the Wireless Chakram, and the extremely long battery life is appreciated for those who don't use it.  We went days before recharging it, and ASUS suggests it will work for 48 hours with RGB on with a single full charge in about 1 hour and 20 minutes. And $102.64 seems reasonable for a wired mouse that is just as fully featured since it only lacks a single RBG strip but compensates by having an adjustable weighting system.
With up to 16,000 DPI, 400 IPS, 40g physical acceleration, low per click latency, and up to a 1,000 Hz polling rate, both Chakrams are premium mice in every regard.  And if you have a charging mousepad, there's no reason you should ever have to manually charge the Chakram Wireless mouse.  It even comes with a zip-up carrying case to protect it from damage while on the go. The only minor flaws that we can find for both mice are that there aren't a lot of buttons to customize, the plastic cover is a bit too dark to display the logo properly, they are pricey, and only for right-handed gamers.
We give each of these mice a big thumbs-up and they share BTR's "Editor's Choice Award".
Next up, we are working on a top secret VR review that will post next week.  We are hoping to add Star Wars: Squadrons, Into the Radius, and Assetto Corsa Competizione to our VR benching suite by then.
Happy Gaming!