Unboxing
Unboxing & Functionality
The ASUS ROG Chakram Wireless Mouse
The ROG Chakram Wireless mouse comes in a small box that advertises dual wireless connectivity, AURA Sync for RGB, and Qi wireless charging.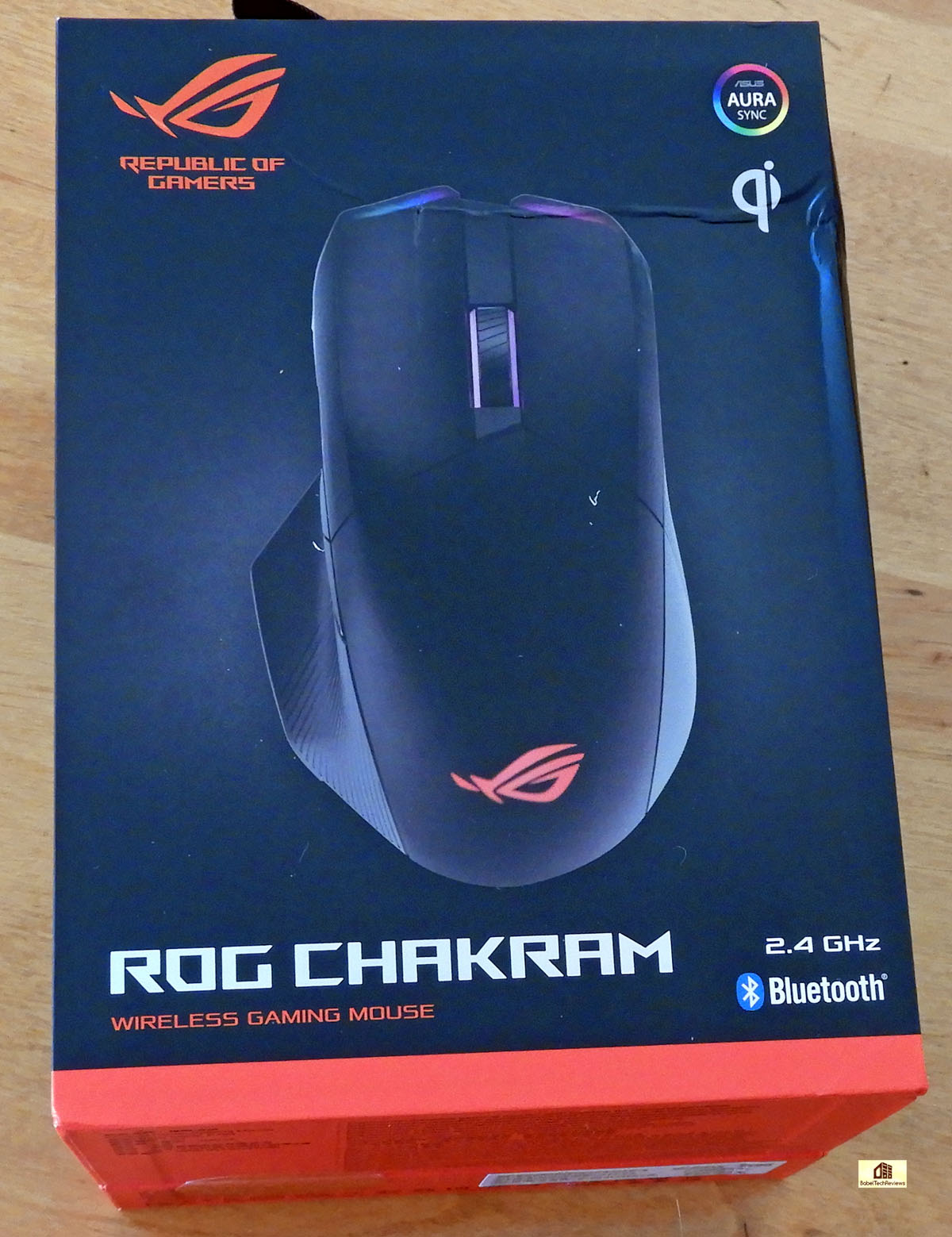 The back of the box, below, goes into much more detail boasting a quick 15 minute wired charge that will last for 12 hours.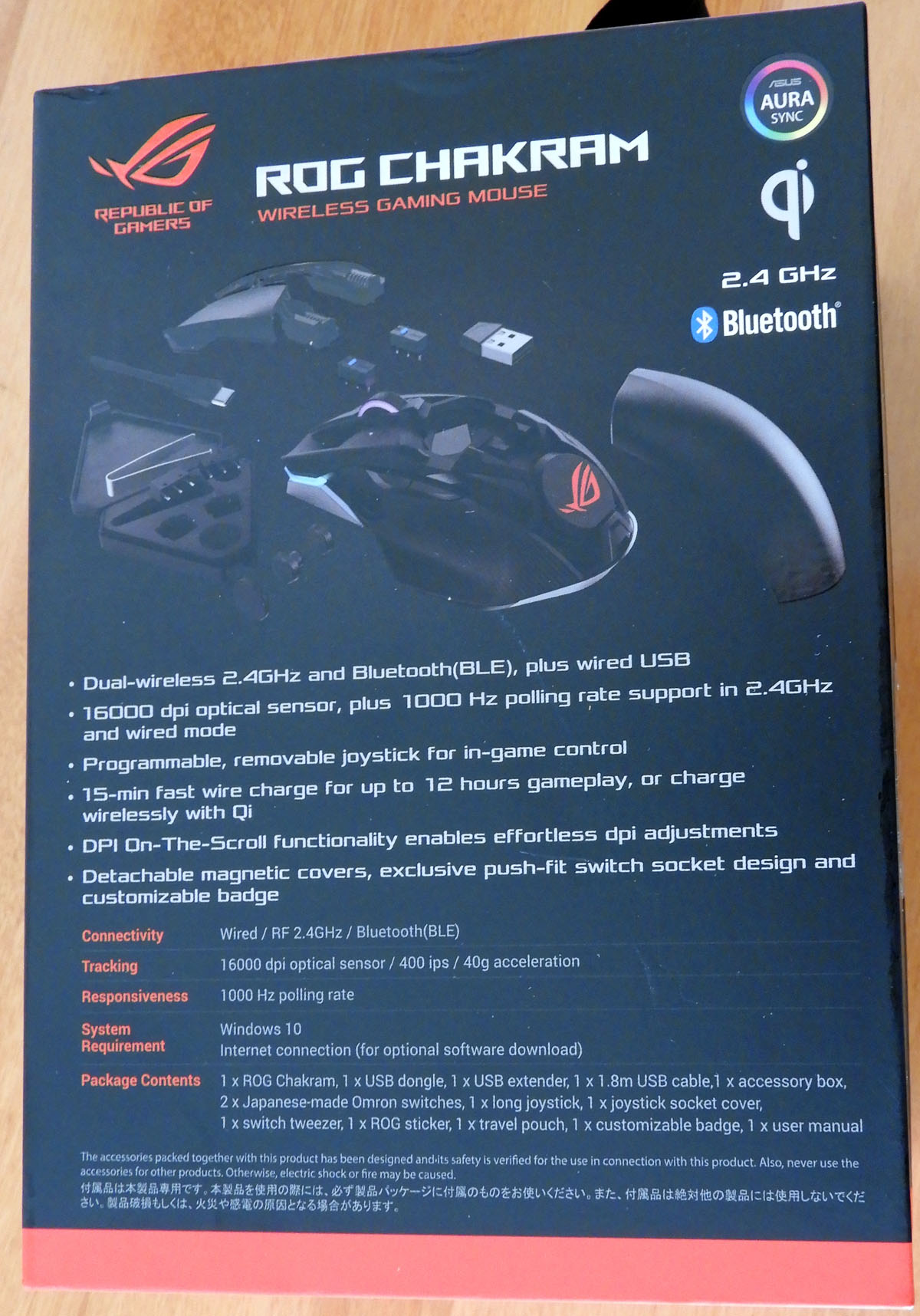 The features of the ROG Chakram Wireless mouse are on the box.  It features a 16000 dpi optical sensor with a 1000Hz polling rate, extra Omron switches rated to last for 50 million clicks, and even a travel pouch (below, right).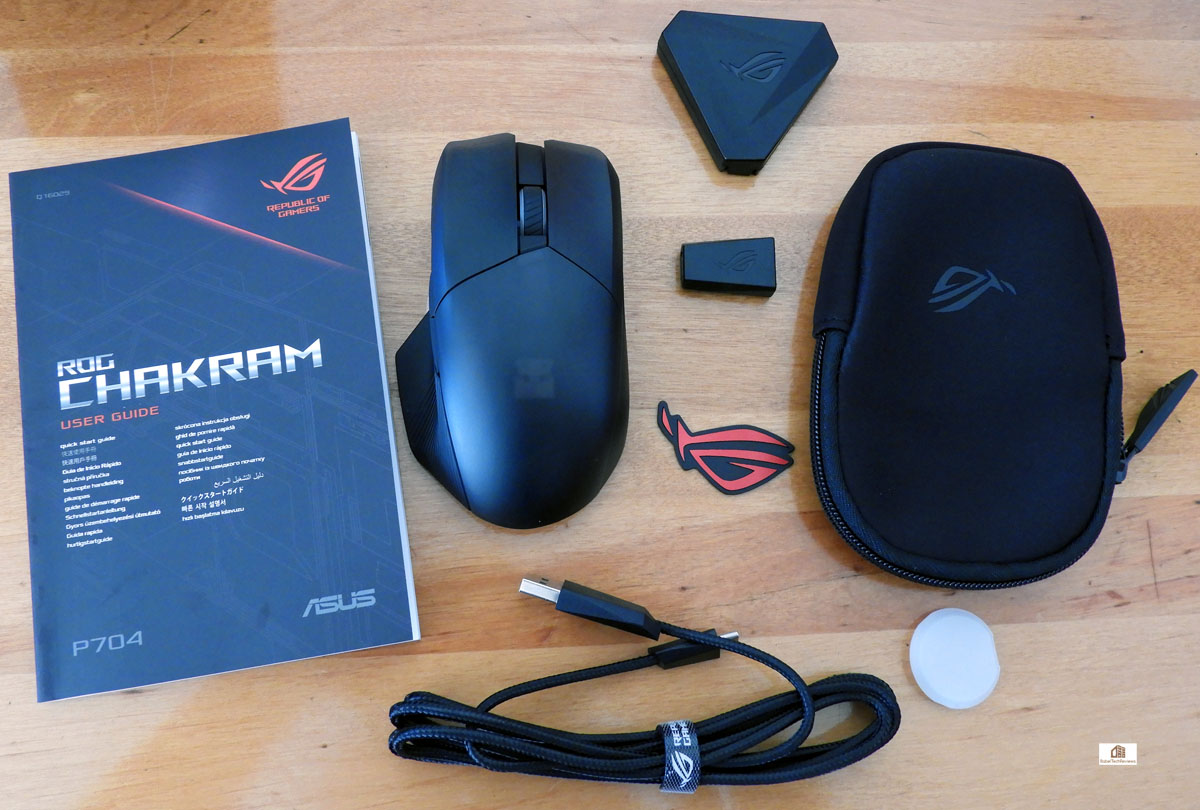 Here is the basic equipment and the user guide above.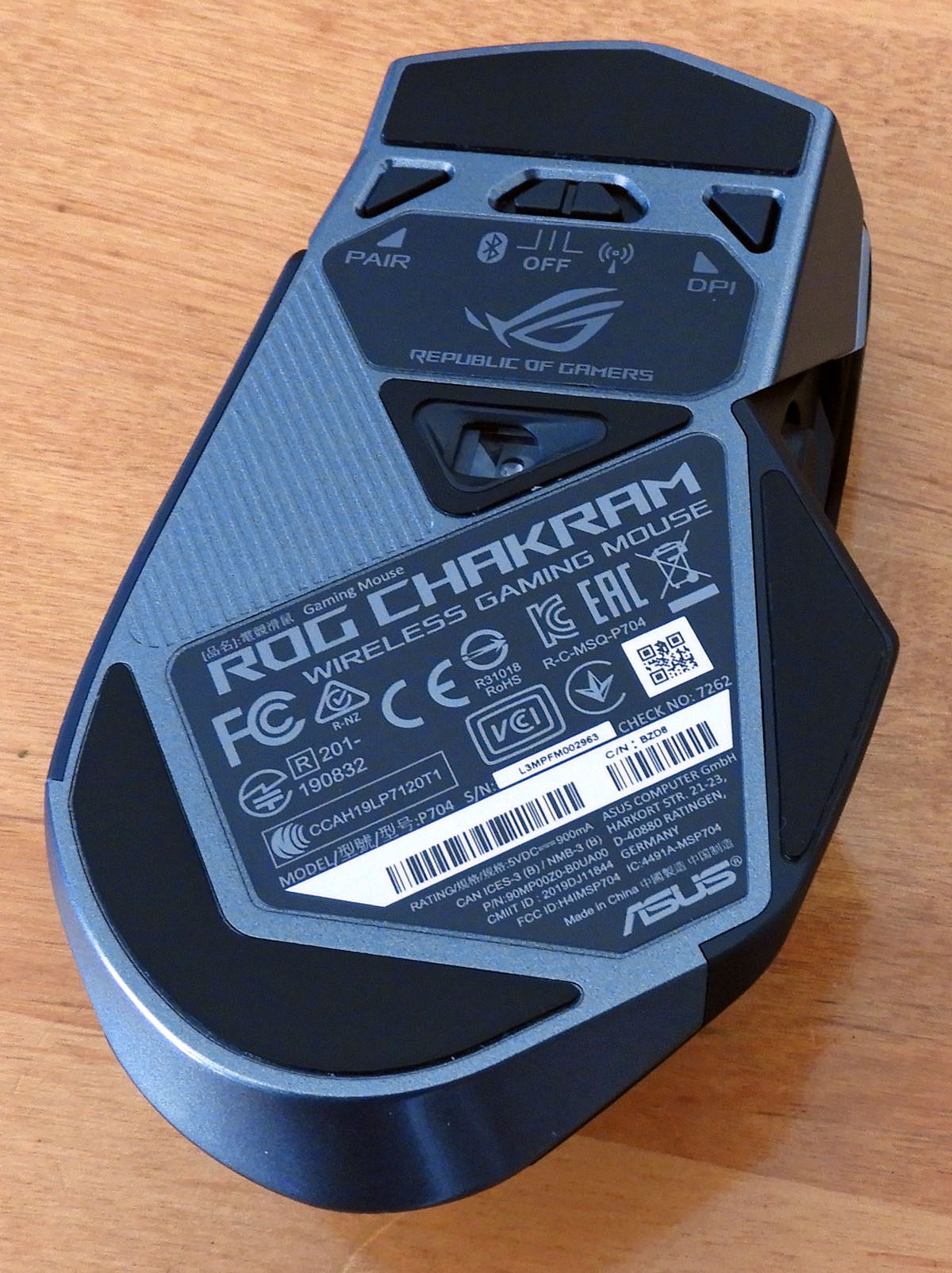 The Teflon mouse feet are well aligned and they offer a nearly frictionless experience on a variety of surfaces.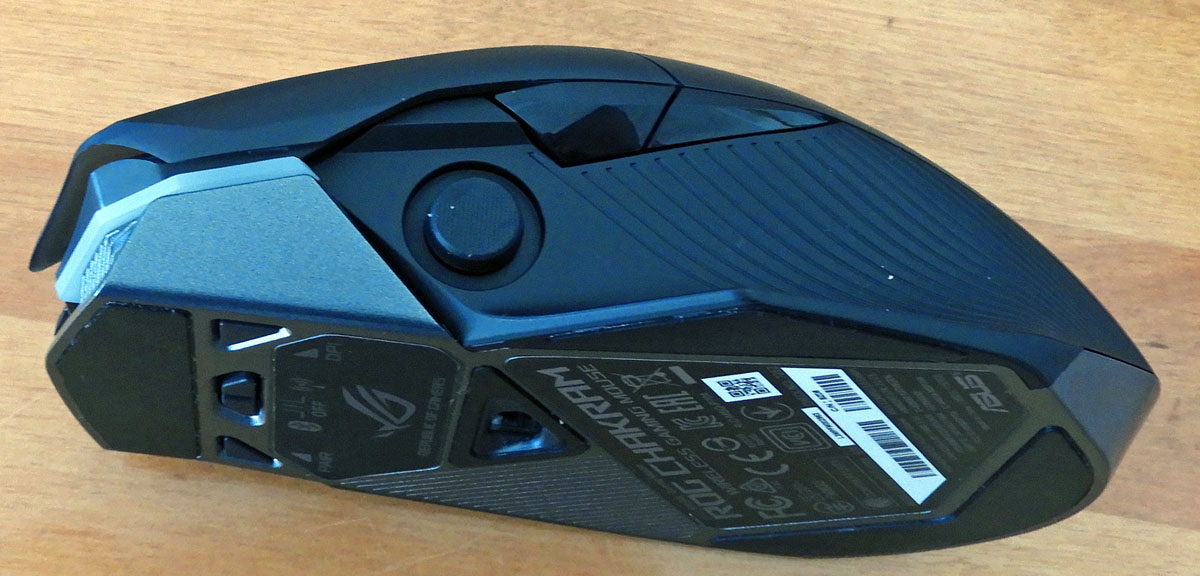 Both Chakram mice feature a joystick that can also be key-mapped or removed entirely.  Let's look at the wired Chakram Core mouse next.
The ASUS ROG Chakram Core Wired Mouse
The ROG Chakram Core mouse is almost identical to the Wireless mouse with the same push-fit socket design, but with an adjustable weighting system not found in the Wireless mouse.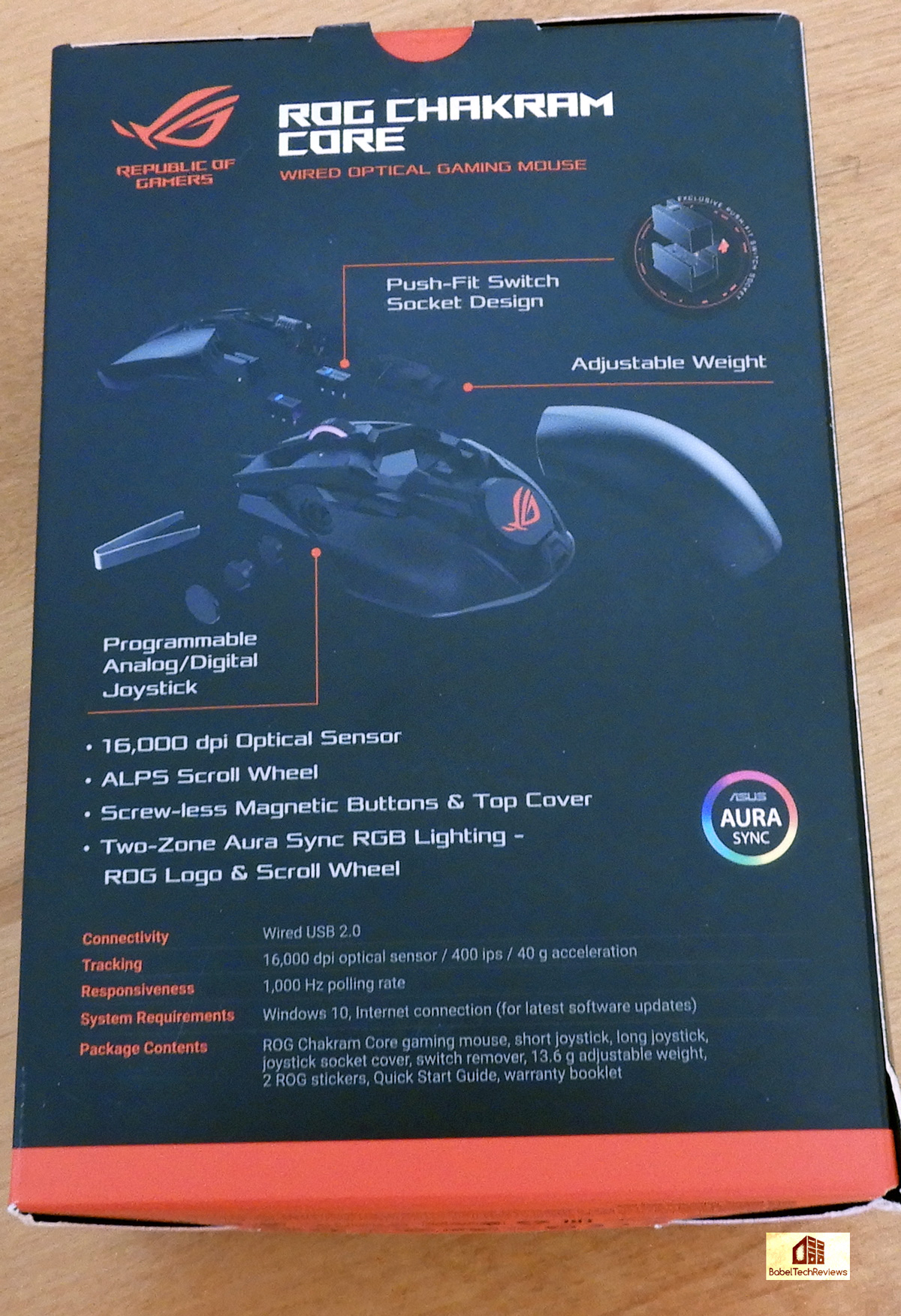 Although the Core Chakram lacks wireless, it also offers most of the same features, the same Alps wheel and Omron switches, and it shares identical specifications when both mice are wired.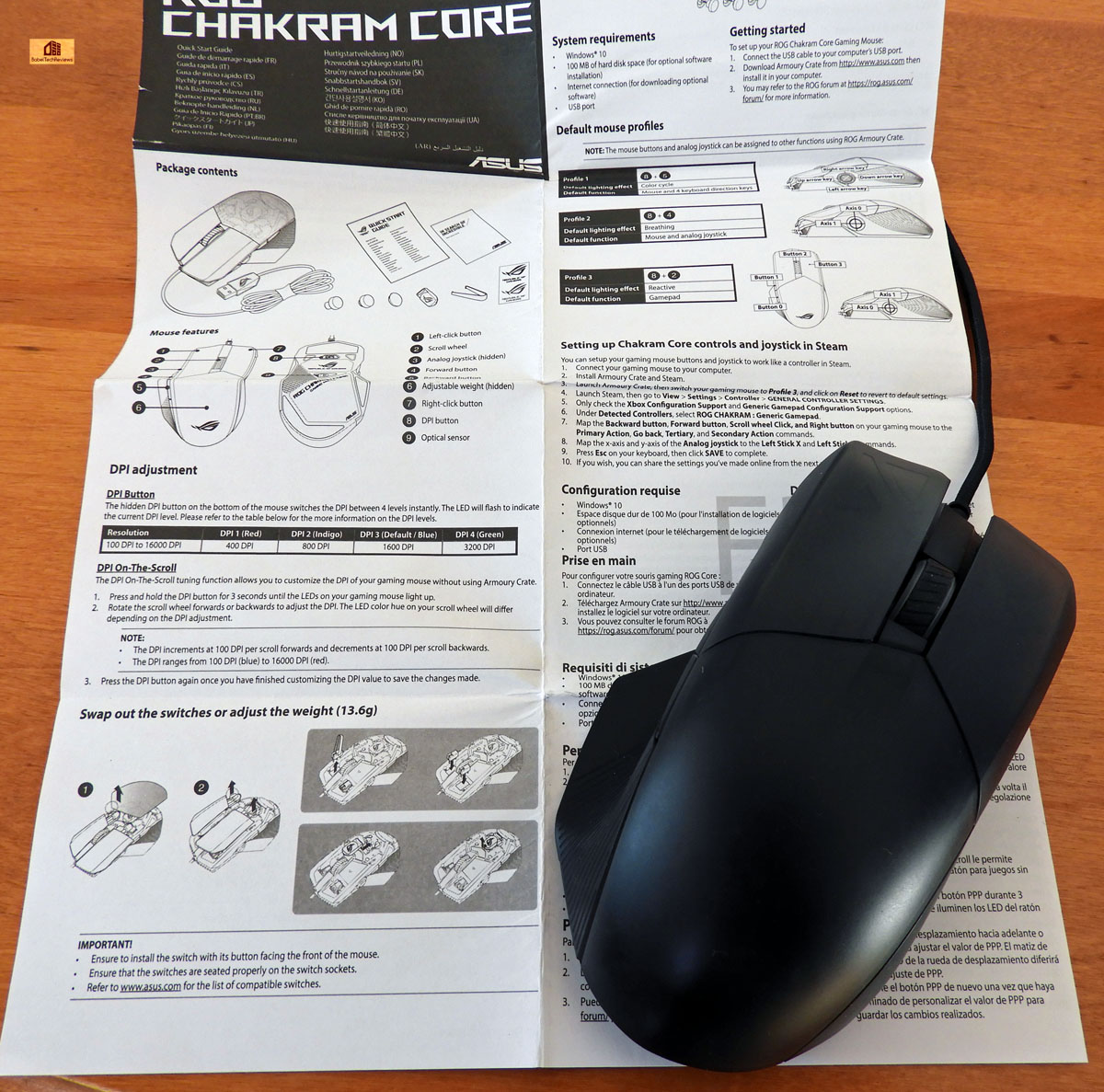 The instructions are just as clearly written, simple, and easy to follow.  But if you want the details, visit the ASUS ROG site to download drivers, the manual, the FAQ, and a link to the Armoury Crate software for either mouse's complete flexibility.  It also offers a link for instructions to set up the joystick and controls with Steam.
Common to Both Mice & Differences
Both mice are nearly identical except that one is wireless and the other must be connected by its attached USB 2.0 cable.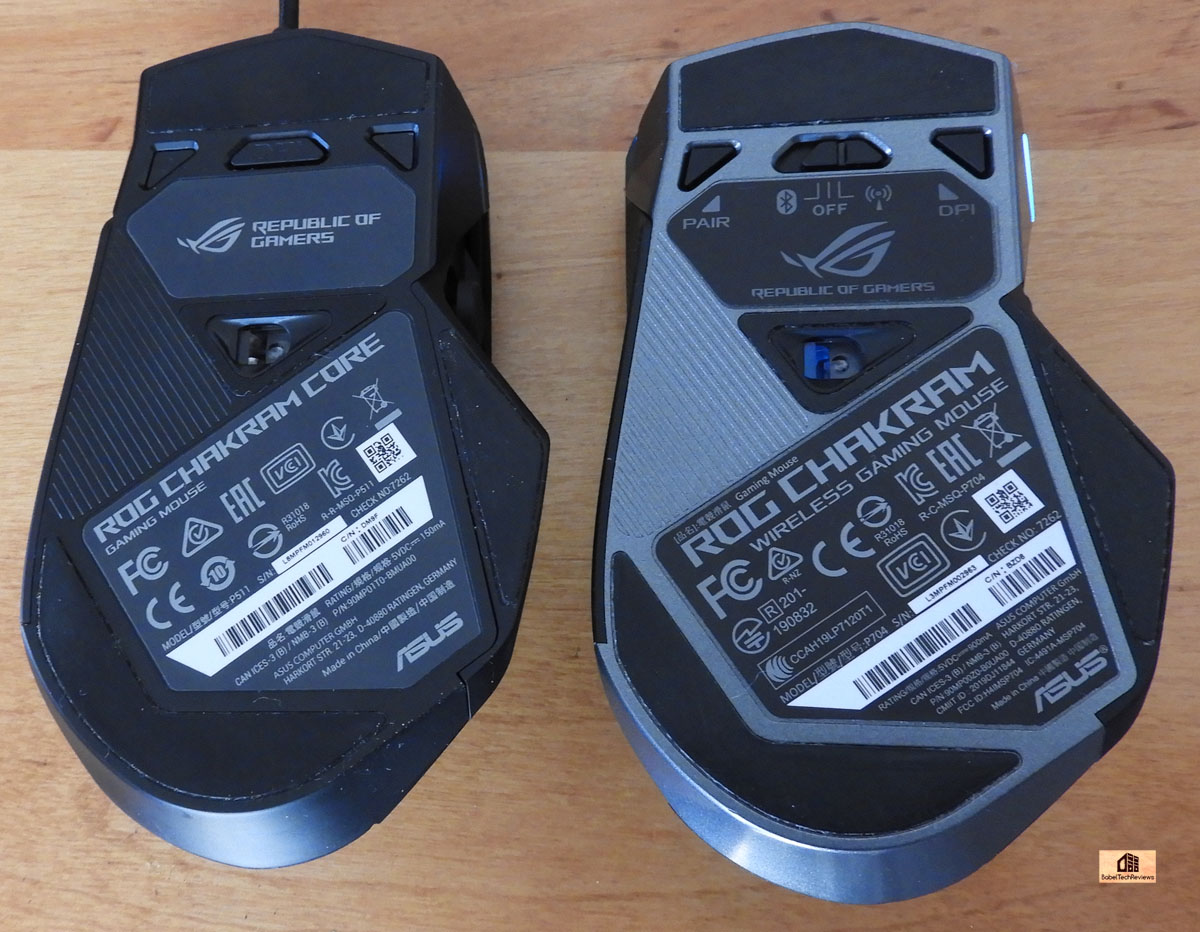 The wireless mouse can use either Bluetooth for devices that support it or 2.4GHz by using a USB adapter that plugs into the PC.  Pairing only takes a few seconds. 

In addition, although both mice support customizable RGB with logos and mouse wheels that light up, the wireless mouse has an extra RGB lighting strip on its front that the Core mouse lacks, and it adds a nice touch for those who like RGB.  One thing we are not particularly happy with is the rather dark translucent plastic used over the logo – it makes the logo somewhat muted and blurry – but that is a minor nitpick.

Both mice show off their RGB lighting in a darkened room best.  The lighting can be customized or synchronized using ASUS ROG's Armoury software or AURA Sync as discussed in the software section.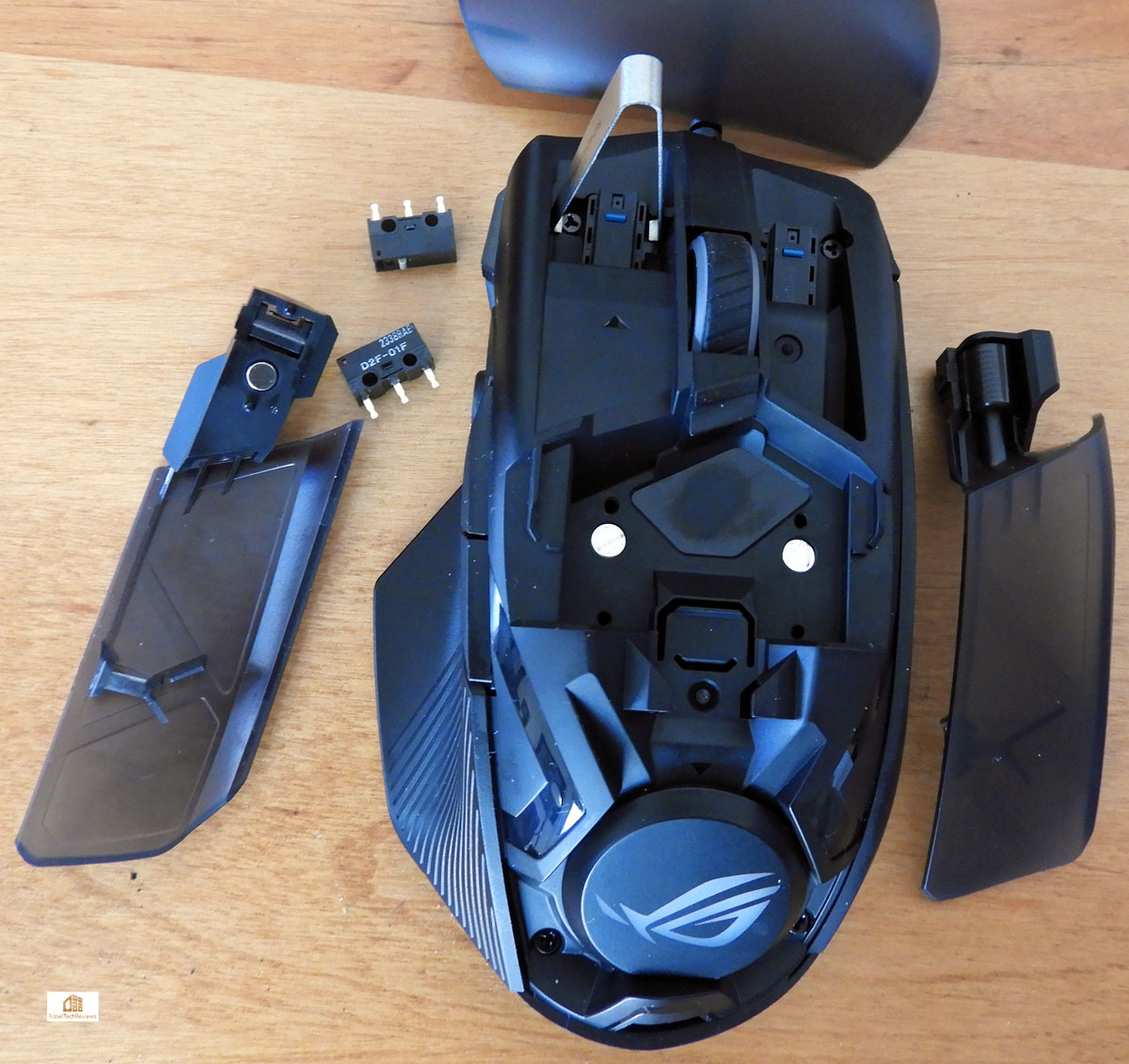 Both mice come with replaceable switches which add to their longevity, but only the Wireless Chakram comes with a 2.4GHz wireless adapter that plugs into a USB port on your PC – the Core mouse has the same internal bracket, but of course, it is empty.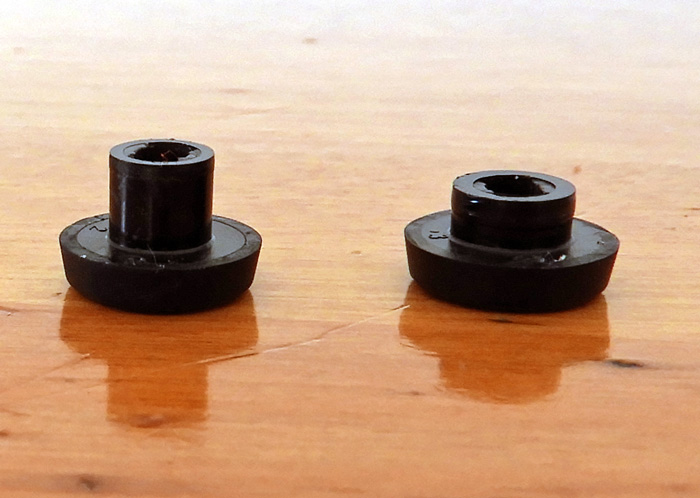 Each mouse comes with two joysticks.  One has a longer stem and acts more like a joystick, while the shorter one acts as a disk as seen below.
The joystick can be used as analog to simulate a sim joystick, or it can be used digitally to map four programmable directions in an FPS or for any other application.  In analog mode, we found it rather difficult to get used to as our thumb did not work naturally with it.  However, for Elite Dangerous or Star Wars: Squadrons players who eschew a flight stick, HOTAS, or a traditional joystick and who become proficient with it, it can add some value to either game.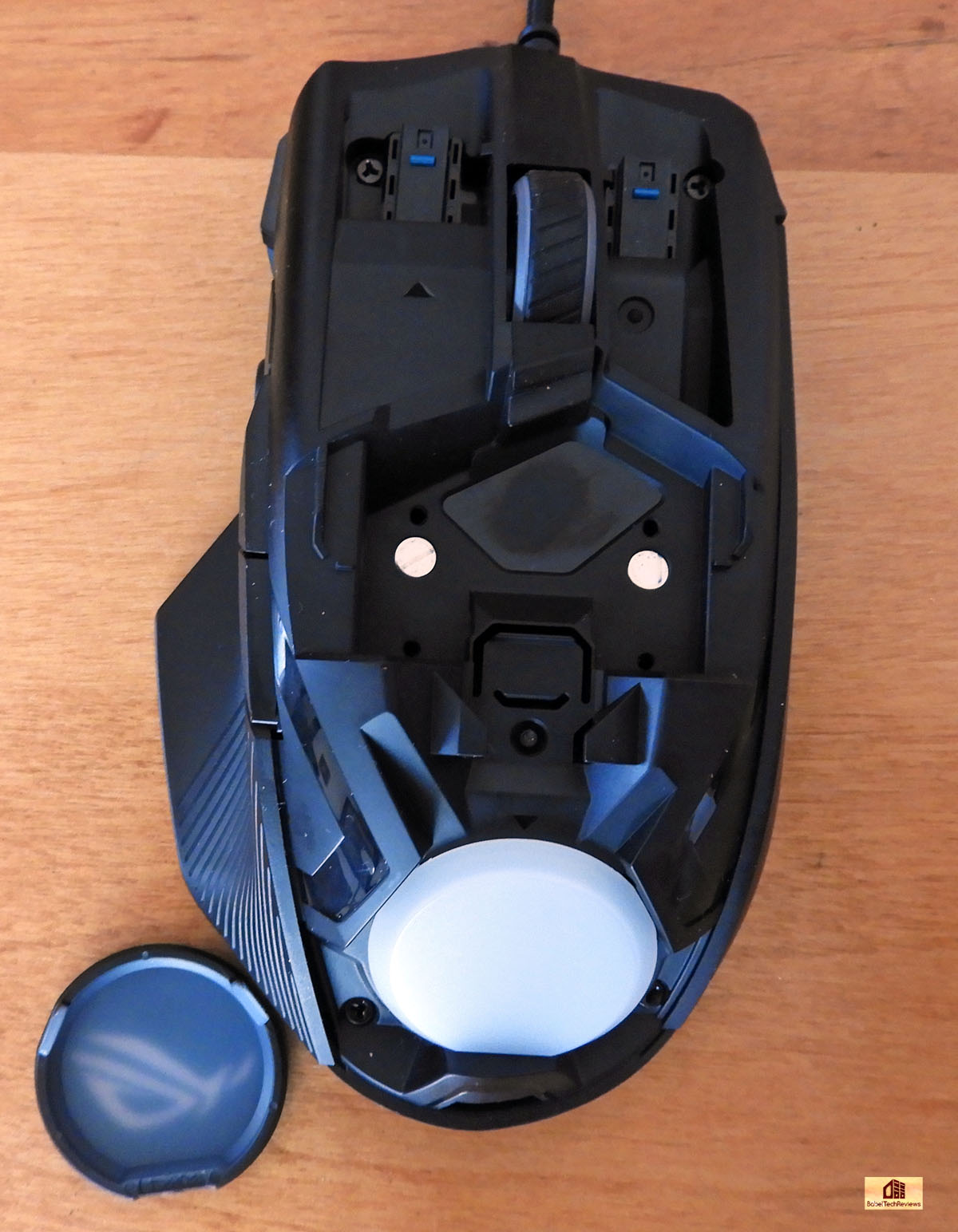 There is even an opportunity to uniquely personalize your mouse by removing the ASUS logo and creating your own custom logo on a provided translucent white blank.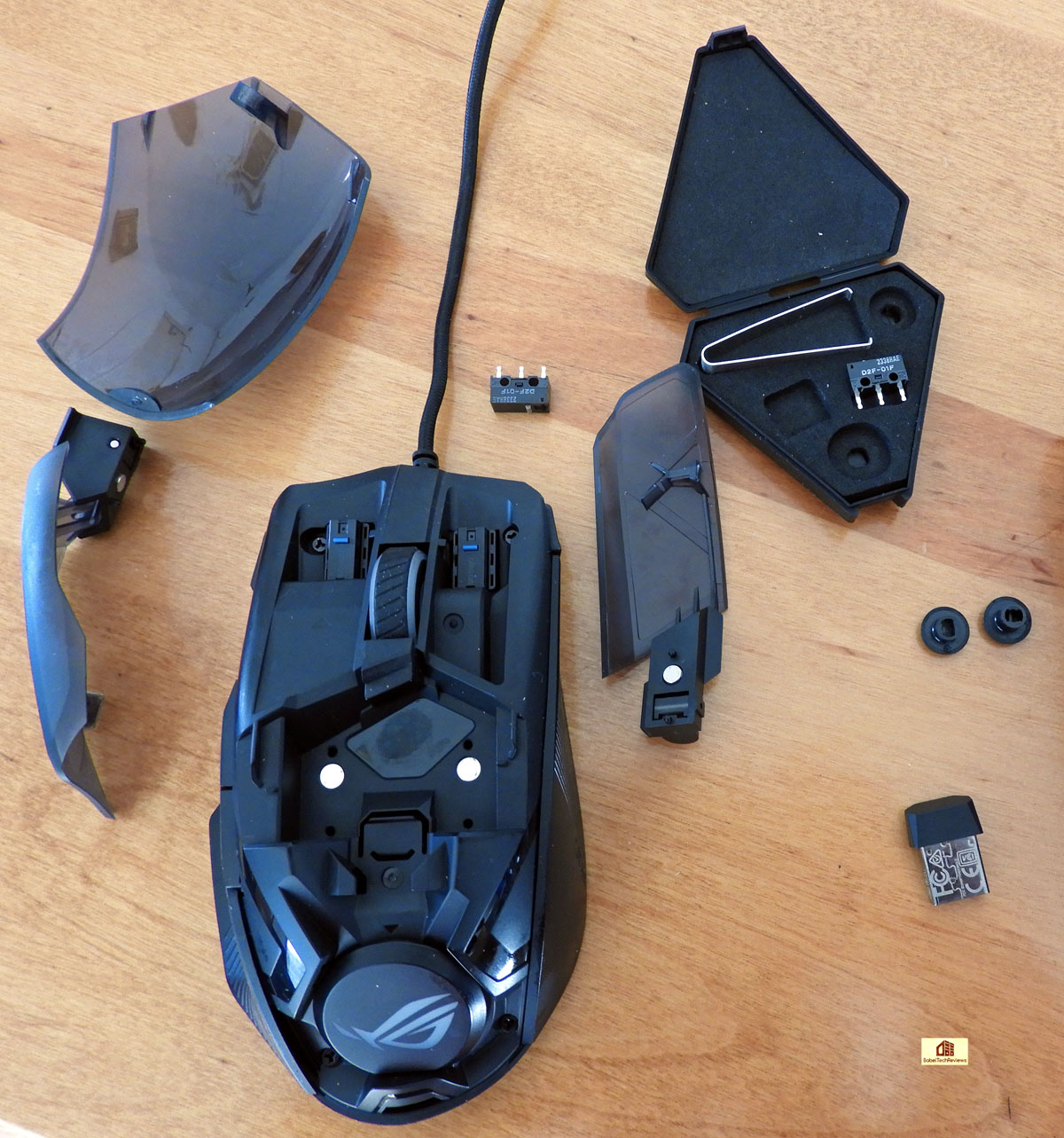 The mice can be easily taken apart, and they either snap back together and/or use strong magnets to hold themselves together.  Customizability is a keyword that describes either ASUS ROG Chakram mouse.  The plastic appears to be breakable if stepped on, but it is probably tough enough for normal use.
Both mice are beautiful, they fit my hand perfectly and grip well, and I like being able to rest my thumb on the flair instead of dragging it on the mouse surface.  However, what about playing games with these mice – and what about the joystick?  Before we cover that part of the review, let's look at the software that ASUS provides.