ASUS ROG Wireless Chakram & Wired Core Mouse review – A tale of two Premium Mice
We received a ROG Wireless Chakram mouse from ASUS in September, and by sheer coincidence we received a ROG Core Chakram wired mouse from NVIDIA a few weeks ago as part of their Reflex Analyzer kit which pairs the Core mouse with a 360Hz ASUS ROG display to measure PC components' latency. We have been using the wireless Chakram for more than 2 months and it is our first high-end premium mouse since we used a Razer Mamba about 10 years ago that we did not particularly like.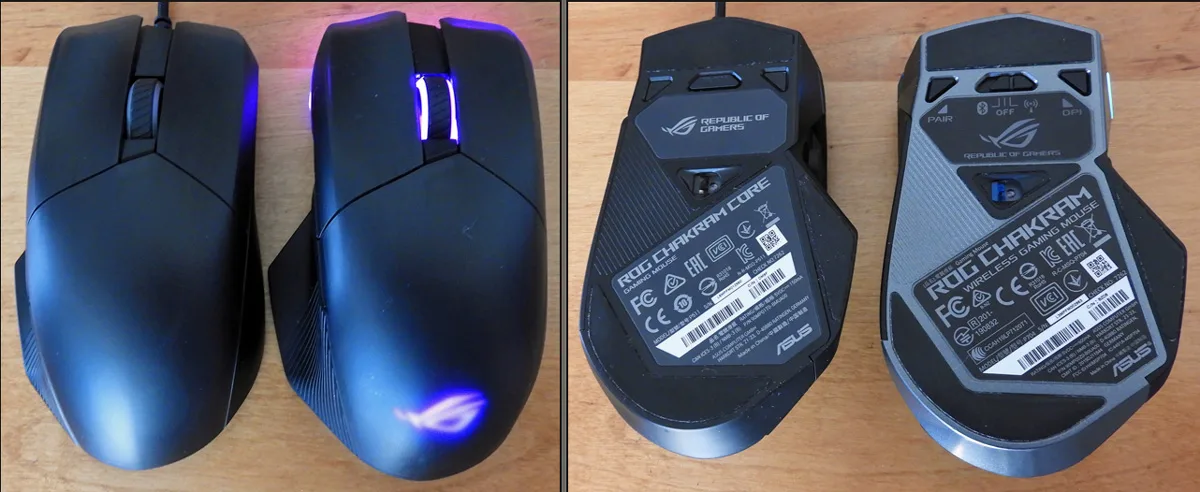 We have not been a competitive player since our arcade days of the early 1980s, and we don't usually give a lot of attention to our choice of mouse. Normally we choose a Logitech mouse because it "fits" our hand well, and we use a G1. So we present this review to give our impressions of these premium customizable RGB mice. The ROG Chakram Wireless has a MSRP of $159.99 which can now be found on Amazon for $129.99, and it sports everything including dual-wireless, RGB, and even a joystick. The only differences are that the ROG Chakram Core only connects via a wired USB connection, it lacks a single RGB strip, and it can now be purchased for $102.64 (MSRP $109.99).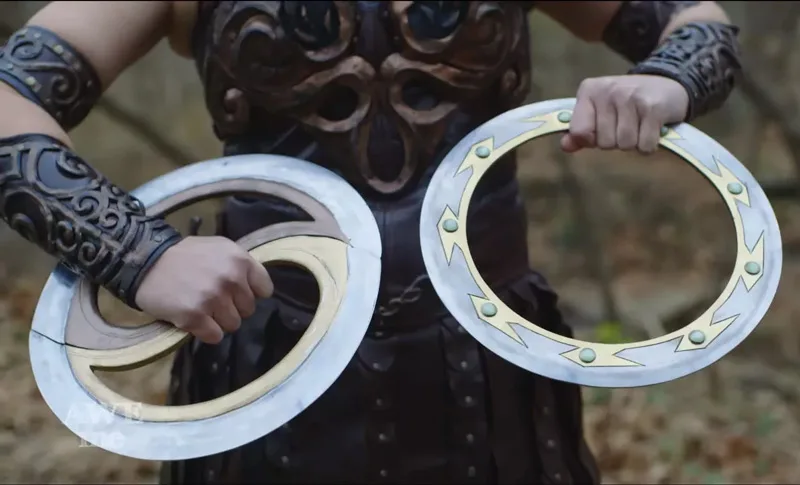 The Chakram is a throwing weapon from India. One of its other purposes is also to protect a warrior's head from sword or melee attacks. It is circular with a sharpened outer edge and a diameter of about 5 to 12 inches. It has been made popular by 'Xena Warrior Princess'. The ASUS ROG Chakram mouse is referred to as a 'weapon for gamers' and it is also features a multipurpose design to make right-handed gamers more competitive – left-handed gamers need not apply.
Here are the Chakram ROG Wireless mouse features and specifications as presented by ASUS:
RGB wireless gaming mouse with Qi charging
Tri-mode connectivity includes dual-wireless 2.4GHz and
Bluetooth(BLE), plus wired USB
Industry-leading 16000 dpi, 400 ips optical sensor, plus
1000 Hz polling rate support in 2.4GHz and wired mode
Programmable, removable joystick allows personalized
settings and superior in-game control
Fast charge for 15 minutes by wire for up to 12 hours of
gameplay, or use Qi technology for wireless charging
Screw-less magnetic buttons and cover, ROG exclusive
push-fit switch socket design and customizable badge for
effortless DIY
Pivoted button mechanism offers rapid response and
accurate performance with a clean, tactile feel
DPI On- The-Scroll manipulation for effortless accuracy
adjustments
Mouse latency isn't mentioned in the above ASUS specs, but NVIDIA's reviewers guide gives the per click latency of the wired ROG Chakram Core as 0.6ms, and our own observations using the Reflex Latency Analyzer place it at 1-2ms. This is outstanding and better than most premium mice.
The features and specifications look great, but how do they handle while playing games? Besides playing fast-paced first person shooters (FPS), we were particularly interested in the built-in joystick feature and used it to play Elite Dangerous and Star Wars: Squadrons since they benefit from using one. Of course, mouse reviews are highly subjective and your own experience may vary. But read on for our experiences with these two mice over the past two months.
First, the unboxing.
Unboxing & Functionality
The ASUS ROG Chakram Wireless Mouse
The ROG Chakram Wireless mouse comes in a small box that advertises dual wireless connectivity, AURA Sync for RGB, and Qi wireless charging.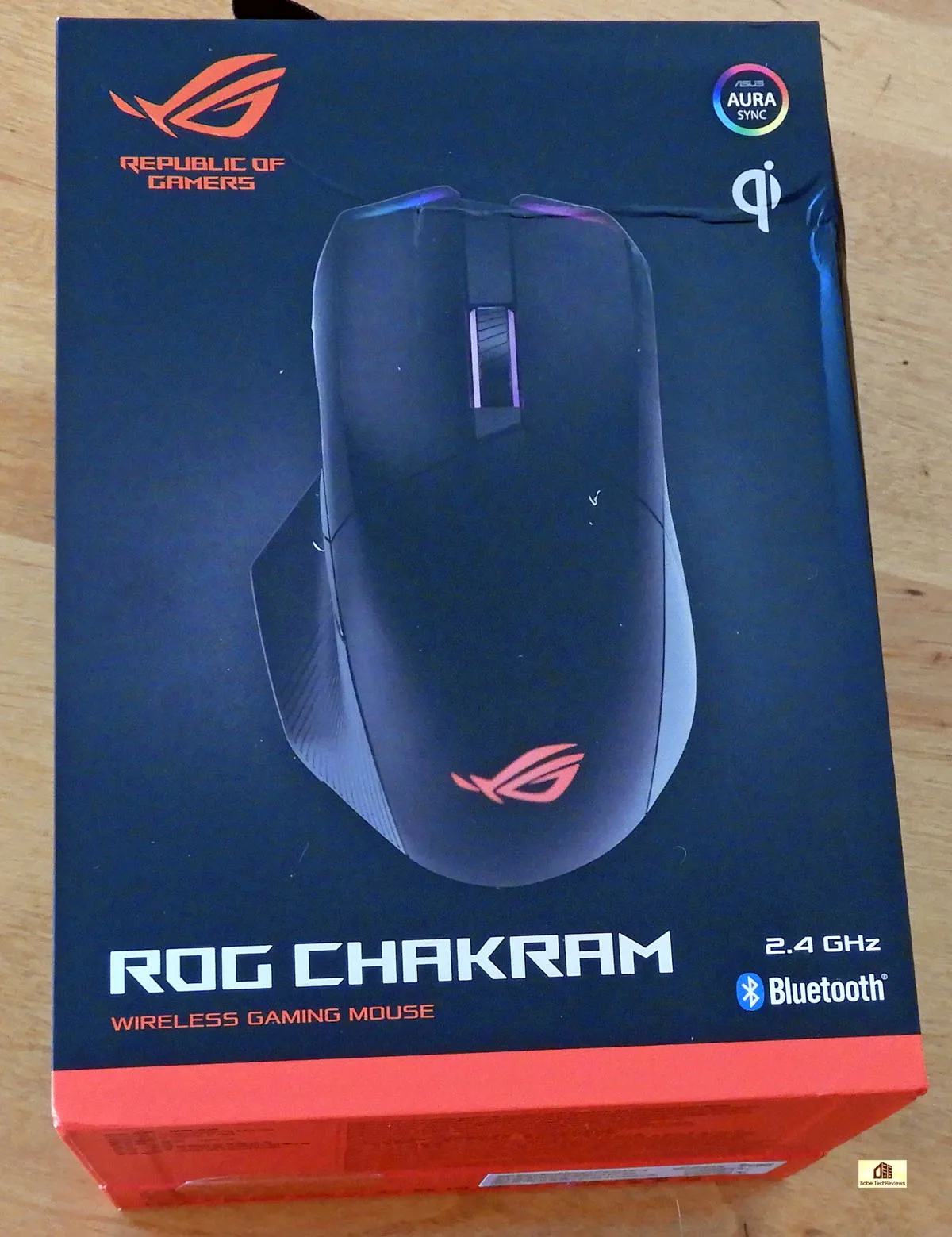 The back of the box, below, goes into much more detail boasting a quick 15 minute wired charge that will last for 12 hours.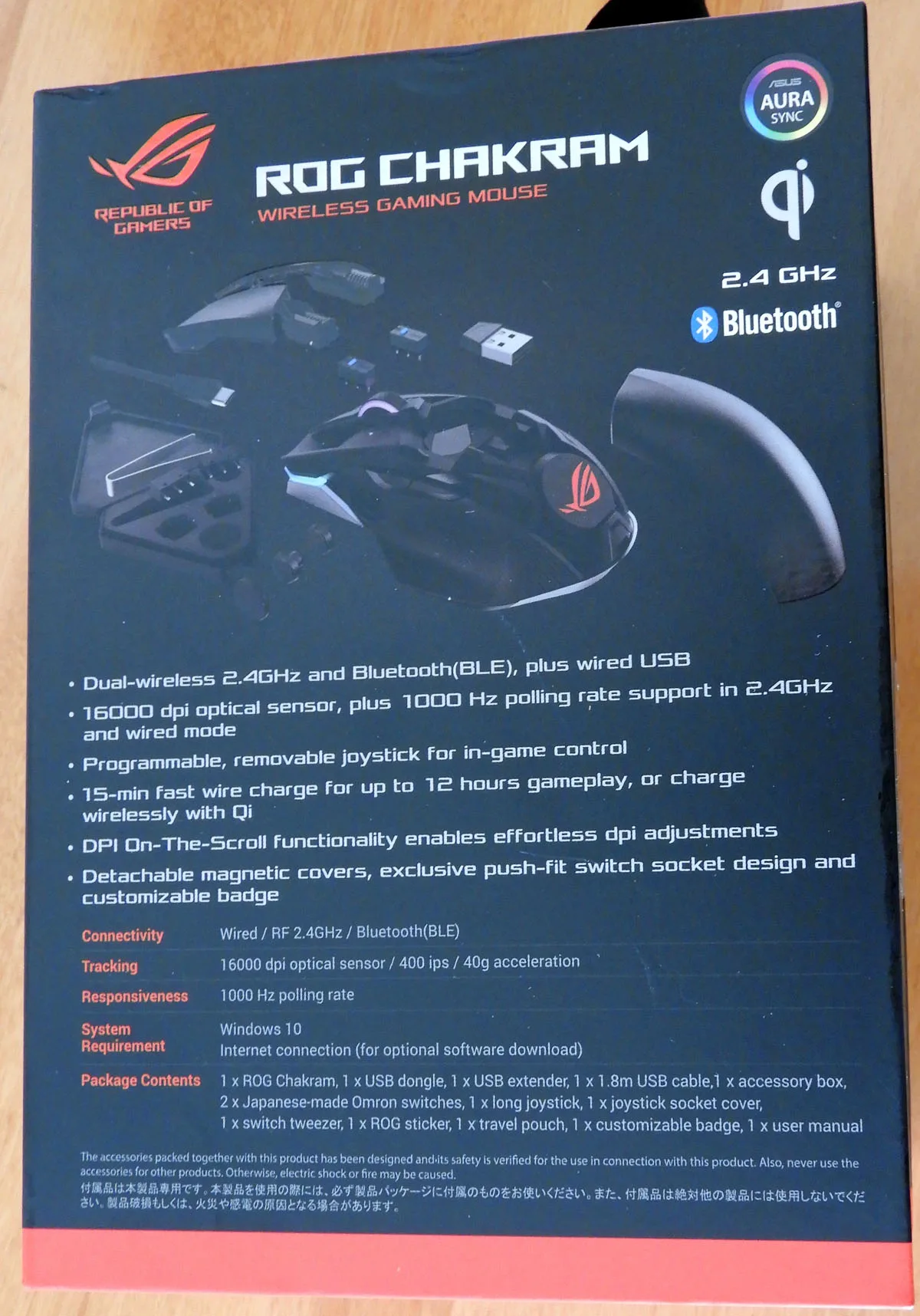 The features of the ROG Chakram Wireless mouse are on the box. It features a 16000 dpi optical sensor with a 1000Hz polling rate, extra Omron switches rated to last for 50 million clicks, and even a travel pouch (below, right).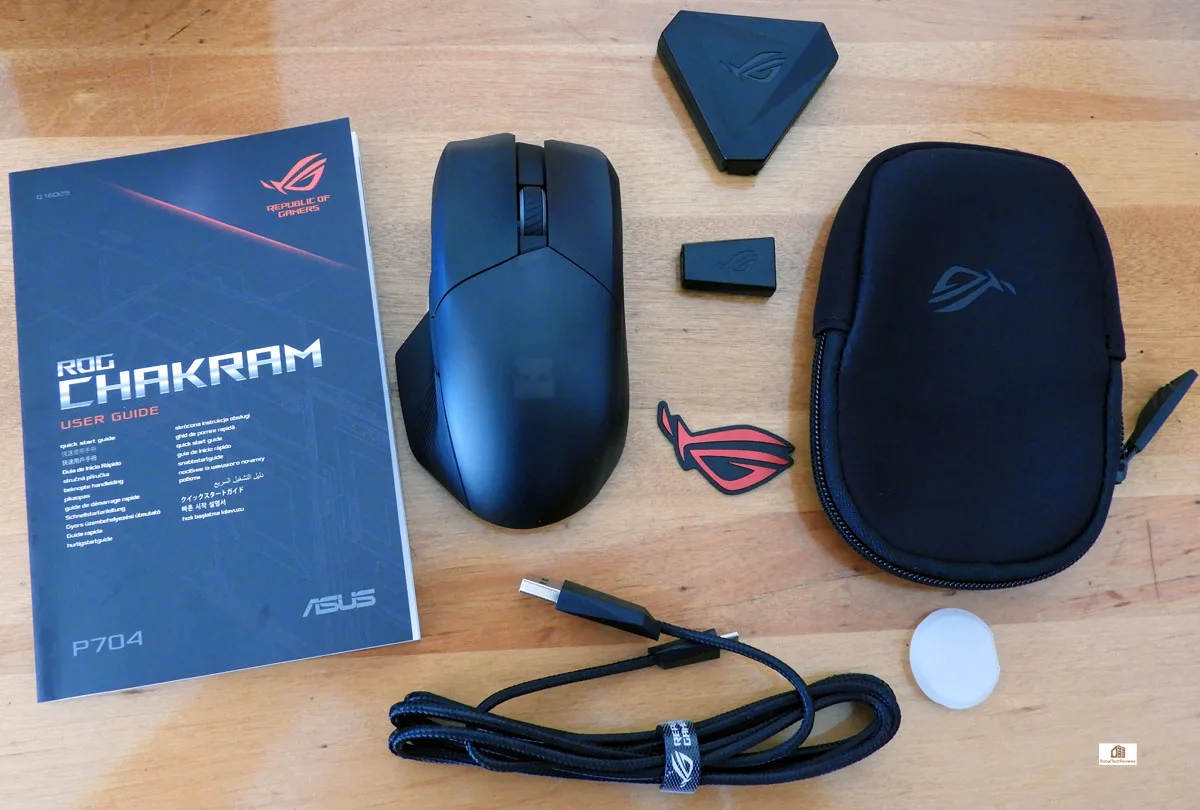 Here is the basic equipment and the user guide above.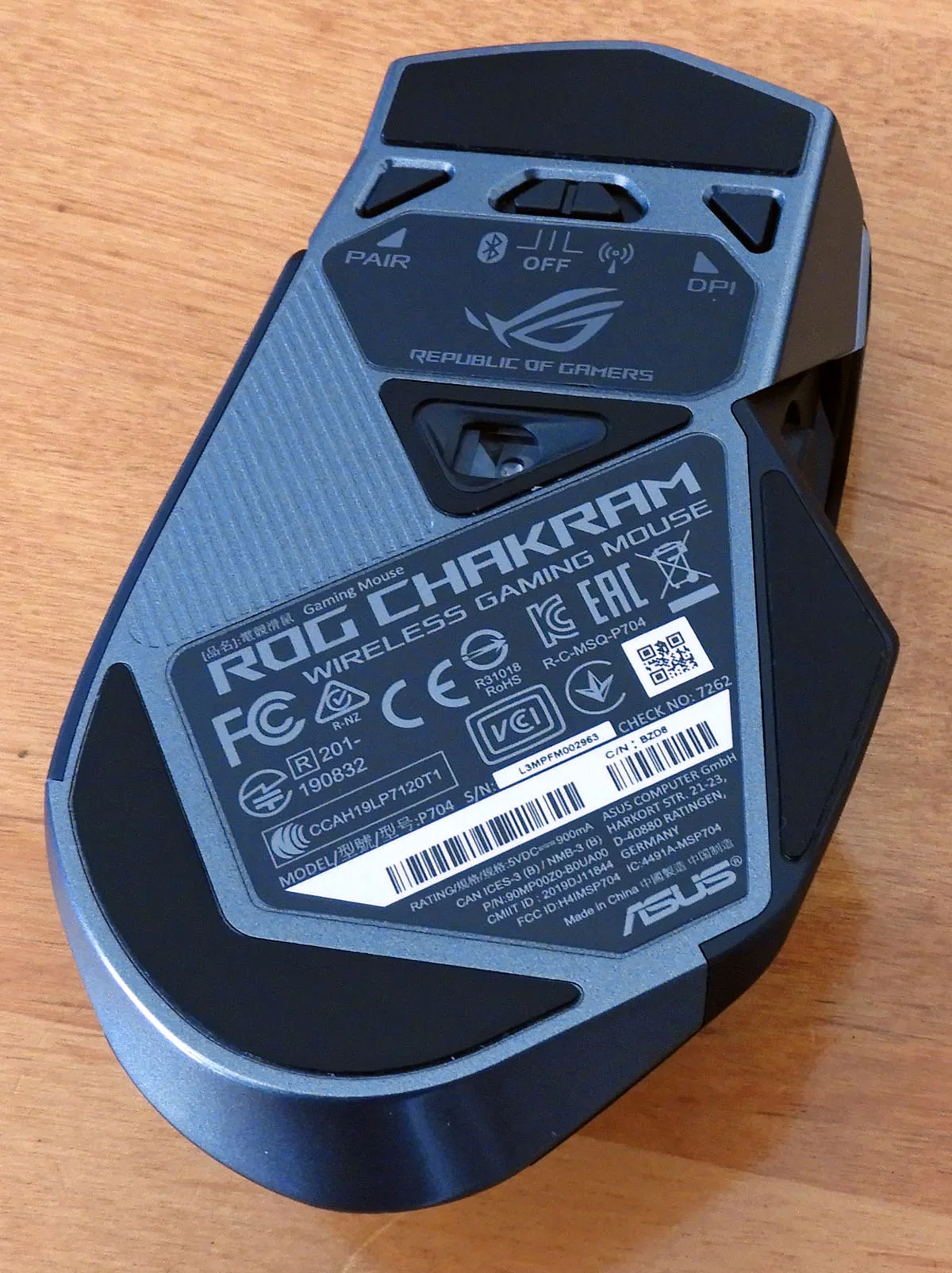 The Teflon mouse feet are well aligned and they offer a nearly frictionless experience on a variety of surfaces.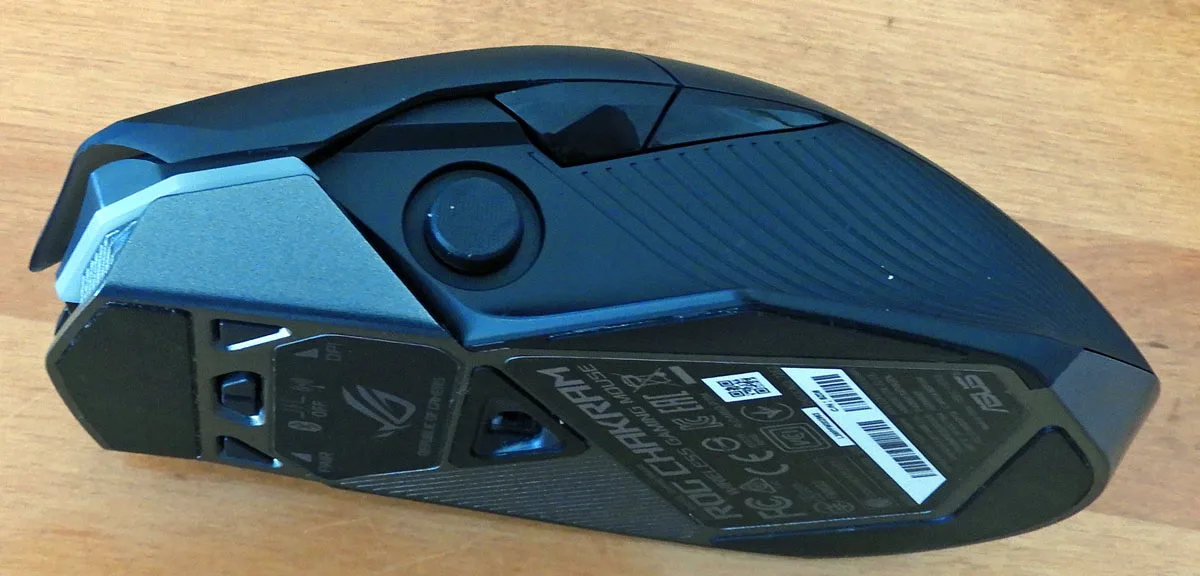 Both Chakram mice feature a joystick that can also be key-mapped or removed entirely. Let's look at the wired Chakram Core mouse next.
The ASUS ROG Chakram Core Wired Mouse
The ROG Chakram Core mouse is almost identical to the Wireless mouse with the same push-fit socket design, but with an adjustable weighting system not found in the Wireless mouse.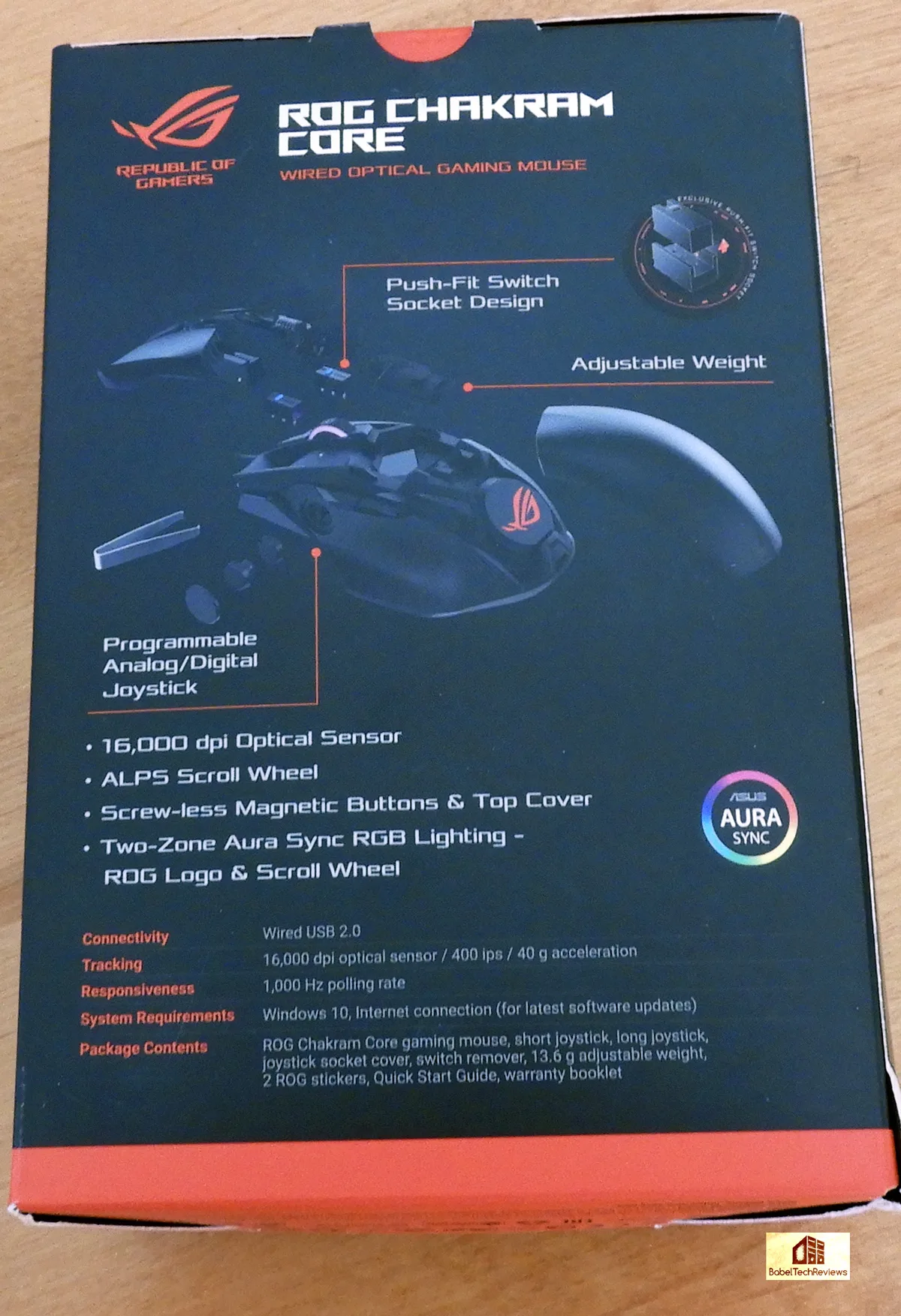 Although the Core Chakram lacks wireless, it also offers most of the same features, the same Alps wheel and Omron switches, and it shares identical specifications when both mice are wired.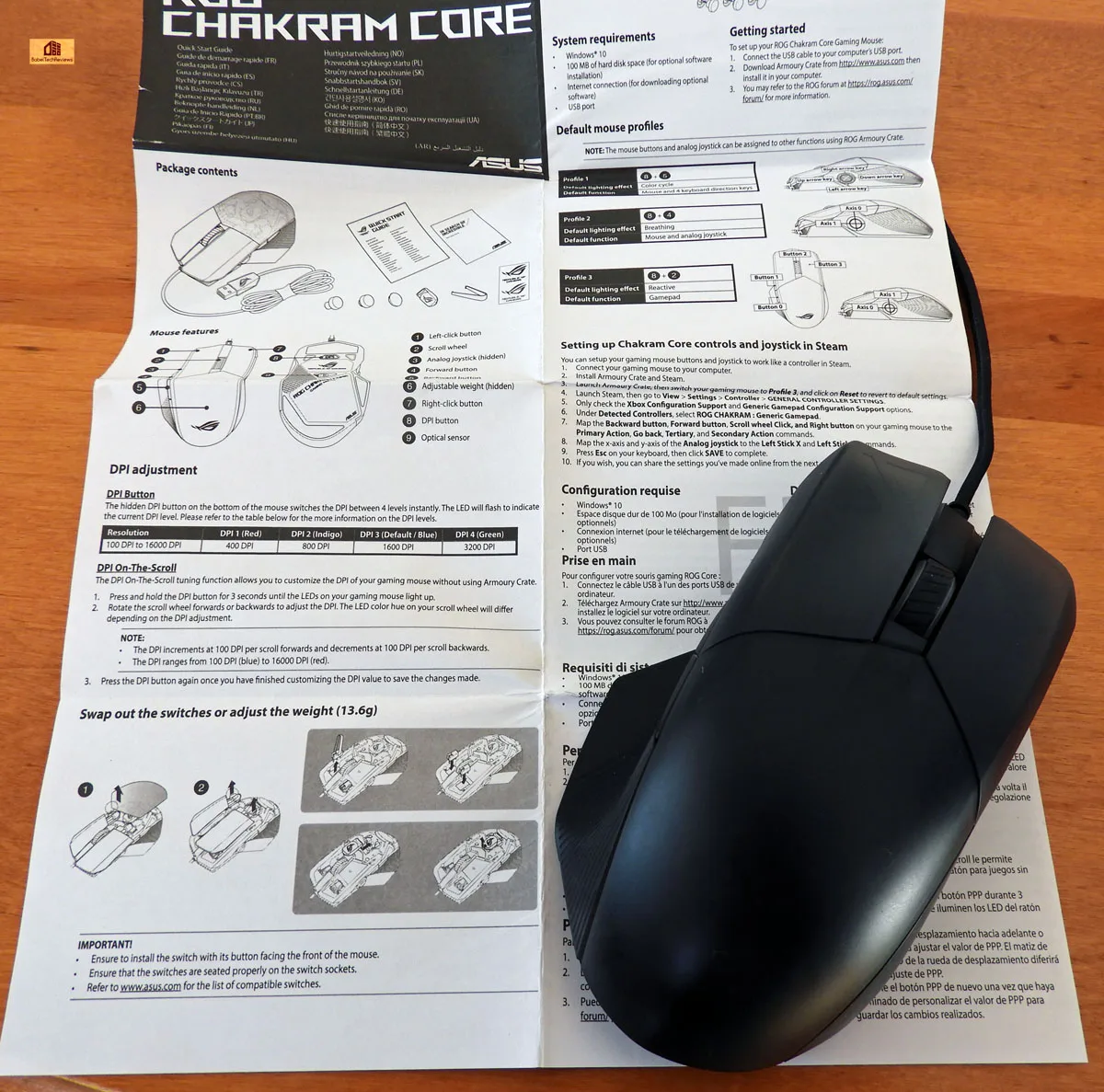 The instructions are just as clearly written, simple, and easy to follow. But if you want the details, visit the ASUS ROG site to download drivers, the manual, the FAQ, and a link to the Armoury Crate software for either mouse's complete flexibility. It also offers a link for instructions to set up the joystick and controls with Steam.
Common to Both Mice & Differences
Both mice are nearly identical except that one is wireless and the other must be connected by its attached USB 2.0 cable.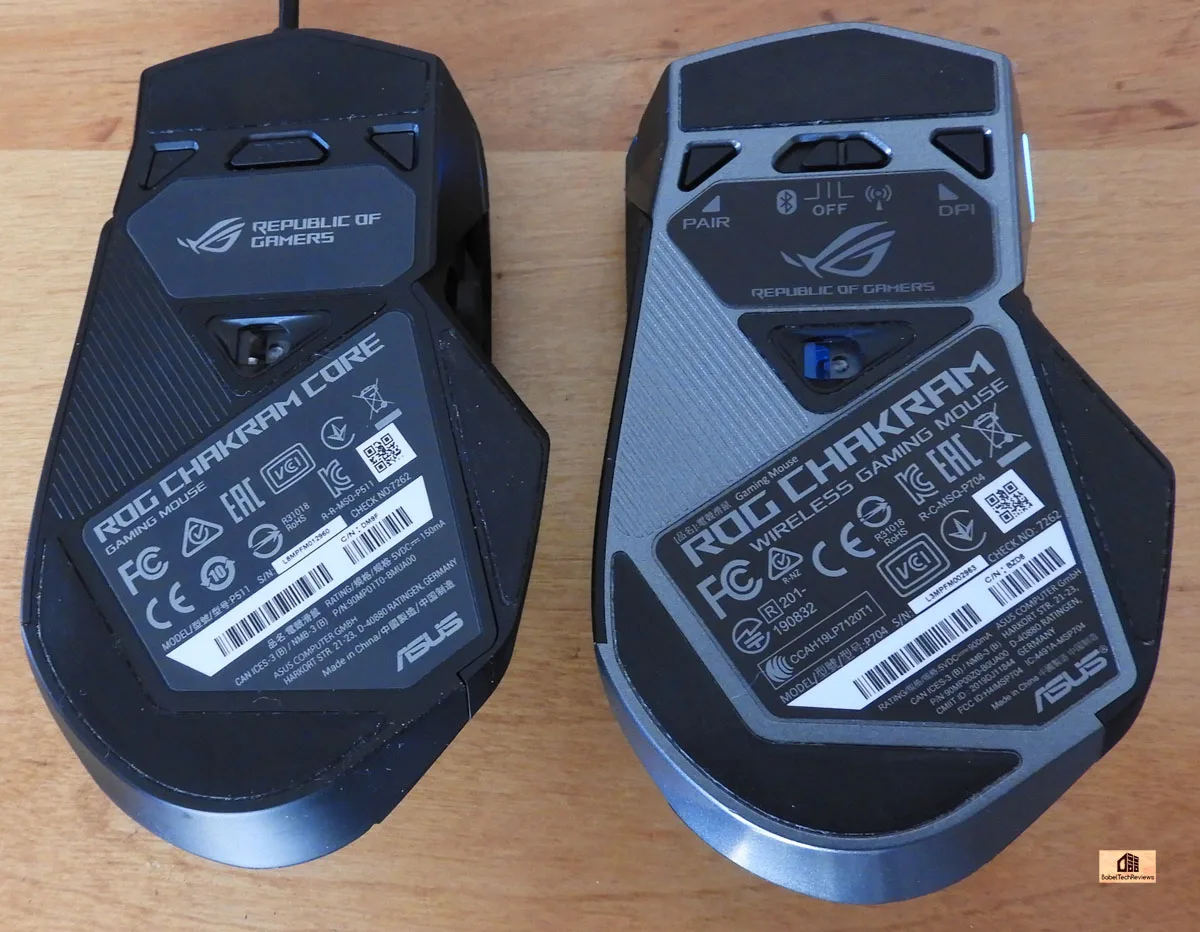 The wireless mouse can use either Bluetooth for devices that support it or 2.4GHz by using a USB adapter that plugs into the PC. Pairing only takes a few seconds.

In addition, although both mice support customizable RGB with logos and mouse wheels that light up, the wireless mouse has an extra RGB lighting strip on its front that the Core mouse lacks, and it adds a nice touch for those who like RGB. One thing we are not particularly happy with is the rather dark translucent plastic used over the logo – it makes the logo somewhat muted and blurry – but that is a minor nitpick.

Both mice show off their RGB lighting in a darkened room best. The lighting can be customized or synchronized using ASUS ROG's Armoury software or AURA Sync as discussed in the software section.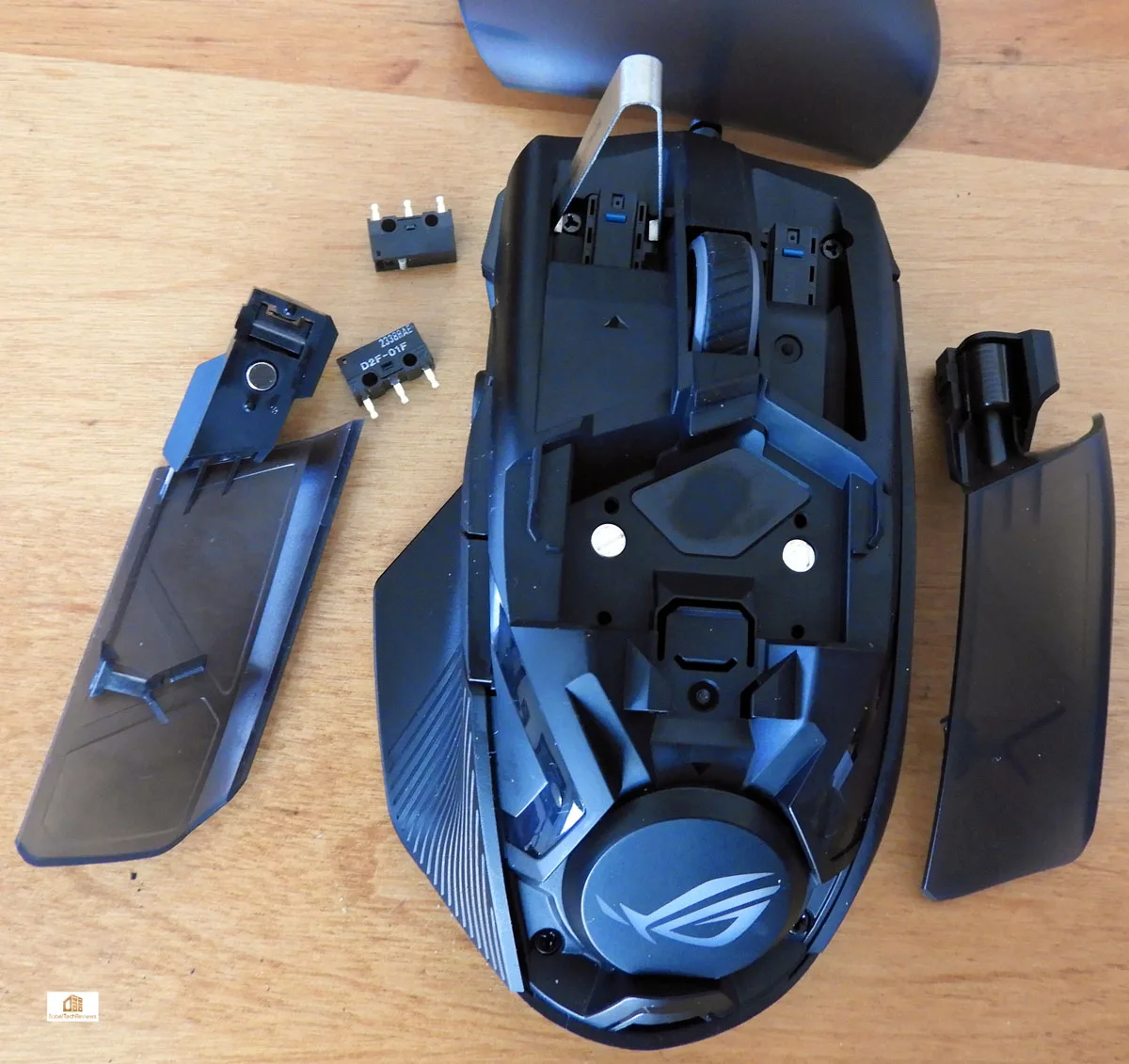 Both mice come with replaceable switches which add to their longevity, but only the Wireless Chakram comes with a 2.4GHz wireless adapter that plugs into a USB port on your PC – the Core mouse has the same internal bracket, but of course, it is empty.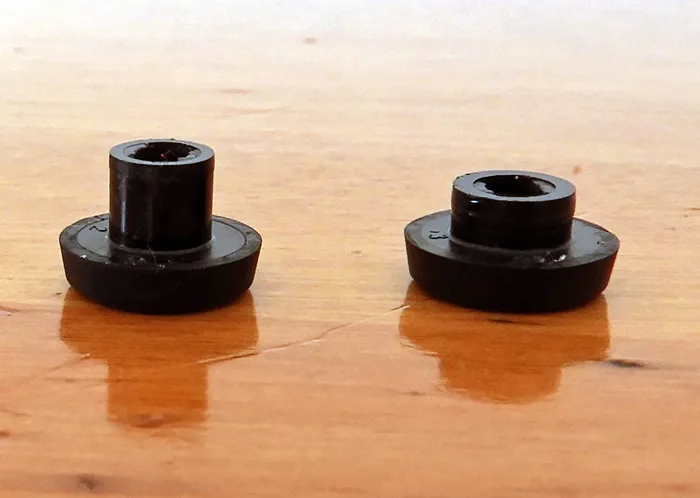 Each mouse comes with two joysticks. One has a longer stem and acts more like a joystick, while the shorter one acts as a disk as seen below.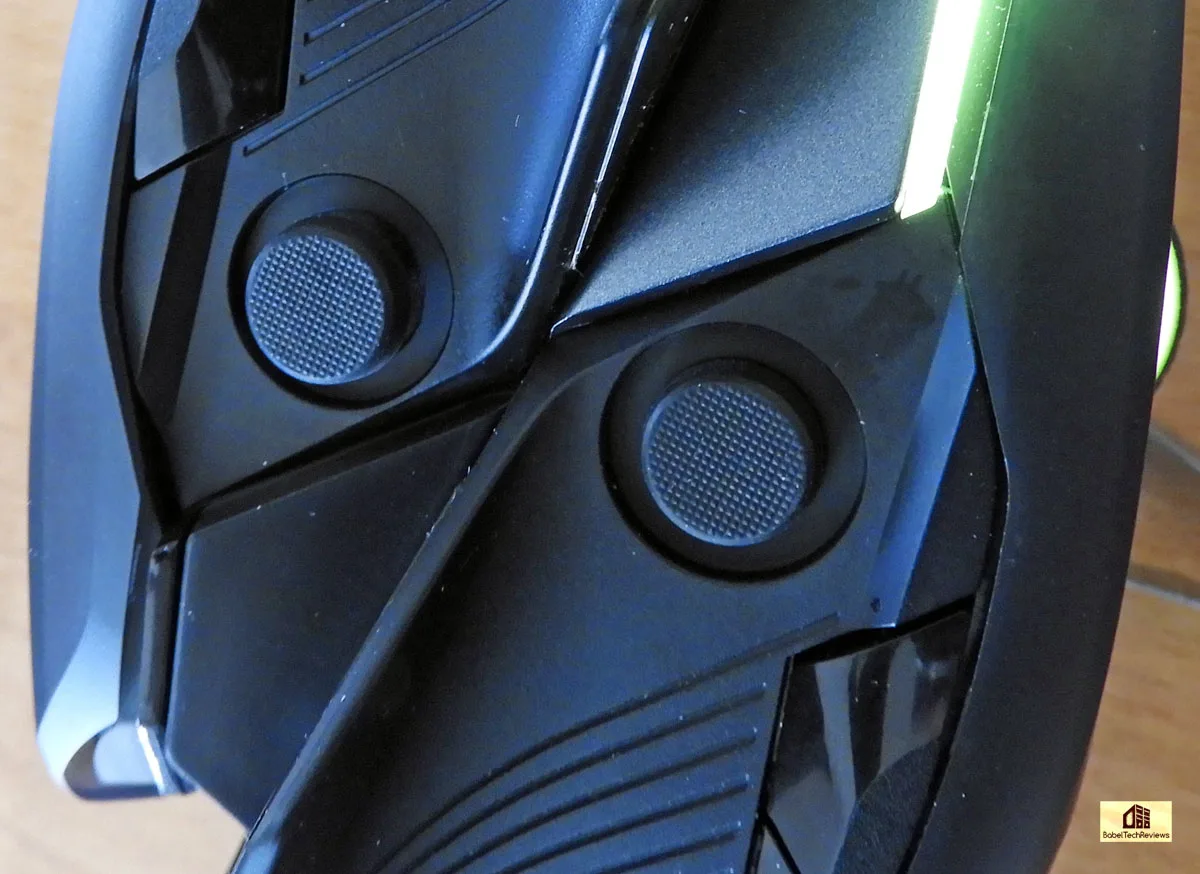 The joystick can be used as analog to simulate a sim joystick, or it can be used digitally to map four programmable directions in an FPS or for any other application. In analog mode, we found it rather difficult to get used to as our thumb did not work naturally with it. However, for Elite Dangerous or Star Wars: Squadrons players who eschew a flight stick, HOTAS, or a traditional joystick and who become proficient with it, it can add some value to either game.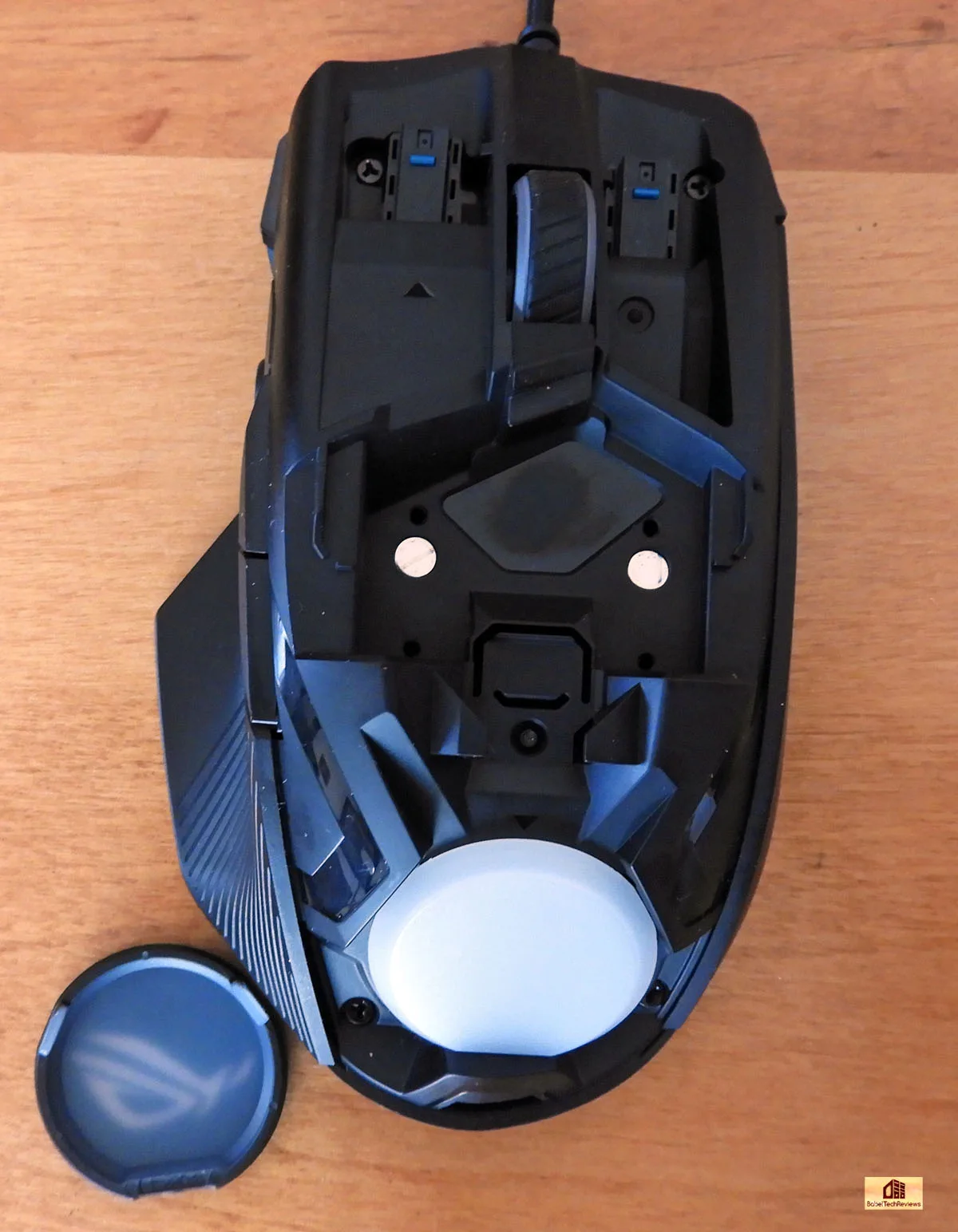 There is even an opportunity to uniquely personalize your mouse by removing the ASUS logo and creating your own custom logo on a provided translucent white blank.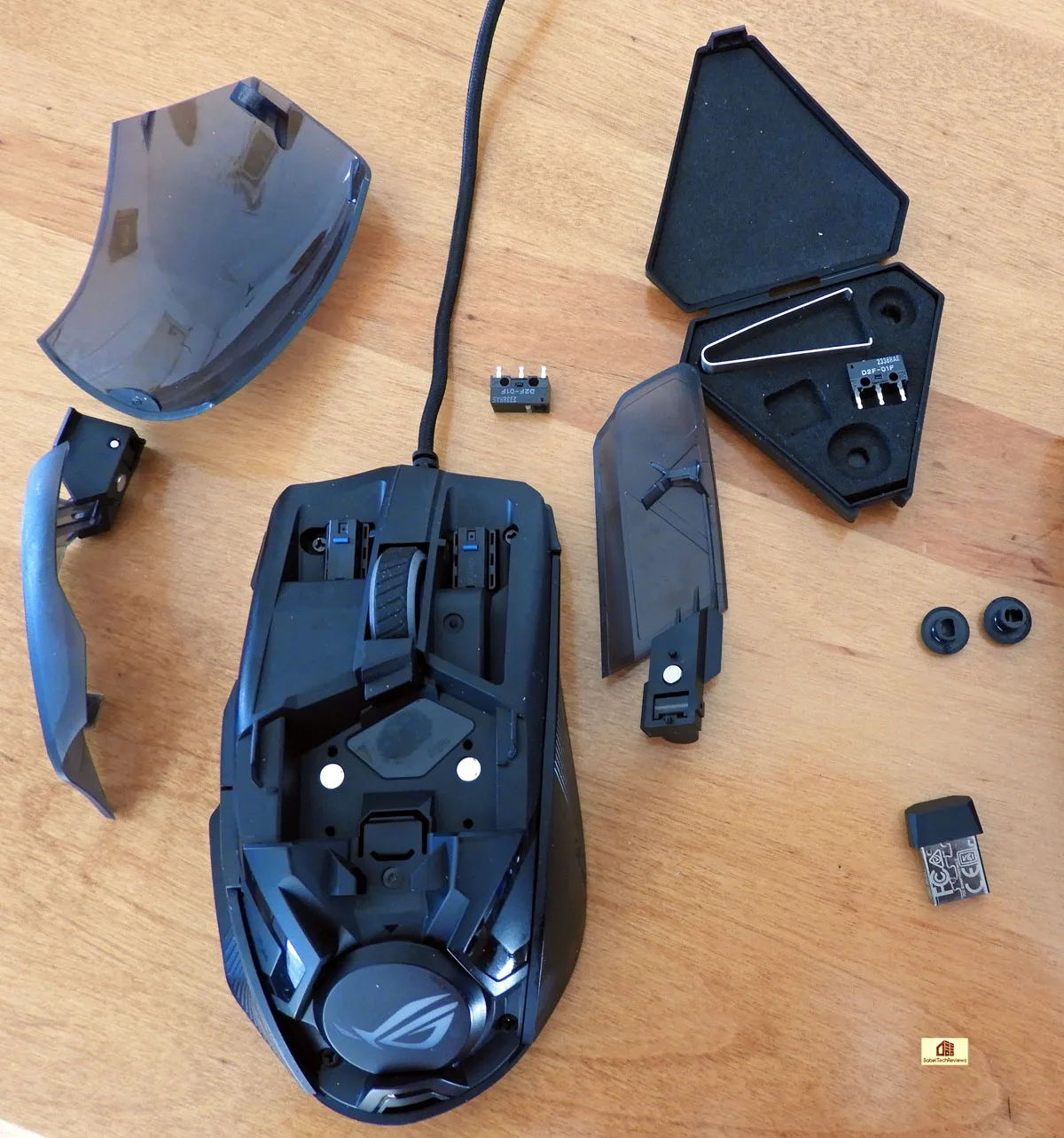 The mice can be easily taken apart, and they either snap back together and/or use strong magnets to hold themselves together. Customizability is a keyword that describes either ASUS ROG Chakram mouse. The plastic appears to be breakable if stepped on, but it is probably tough enough for normal use.
Both mice are beautiful, they fit my hand perfectly and grip well, and I like being able to rest my thumb on the flair instead of dragging it on the mouse surface. However, what about playing games with these mice – and what about the joystick? Before we cover that part of the review, let's look at the software that ASUS provides.
The Software
The ROG Armoury software allows for customization of either mouse. By clicking on Device, we were able to customize the mice and were able to even sync them and their color patterns. Both mice have similar options although some are specific to each mouse.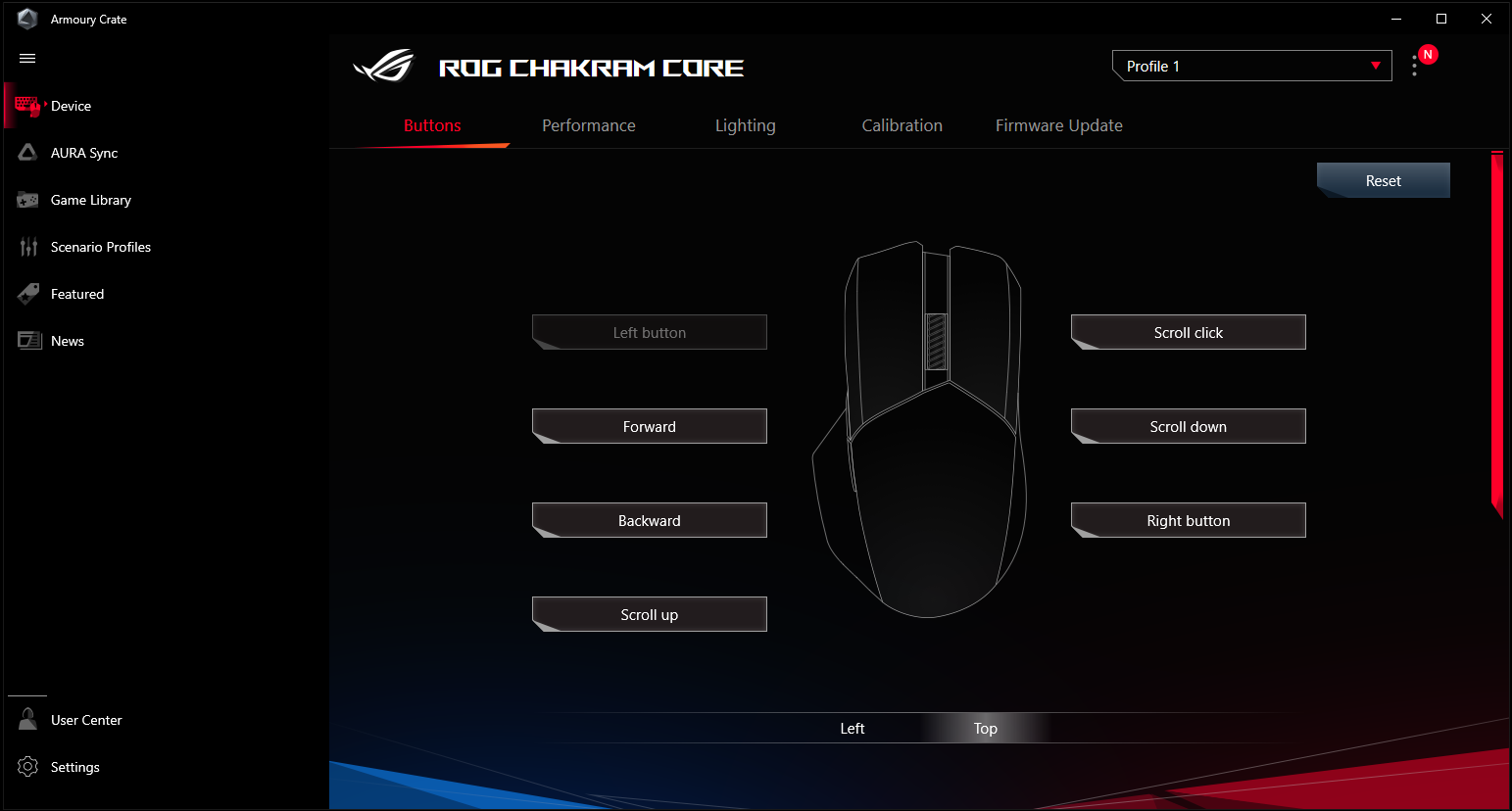 The buttons can be individually customized and even the joystick can be mapped.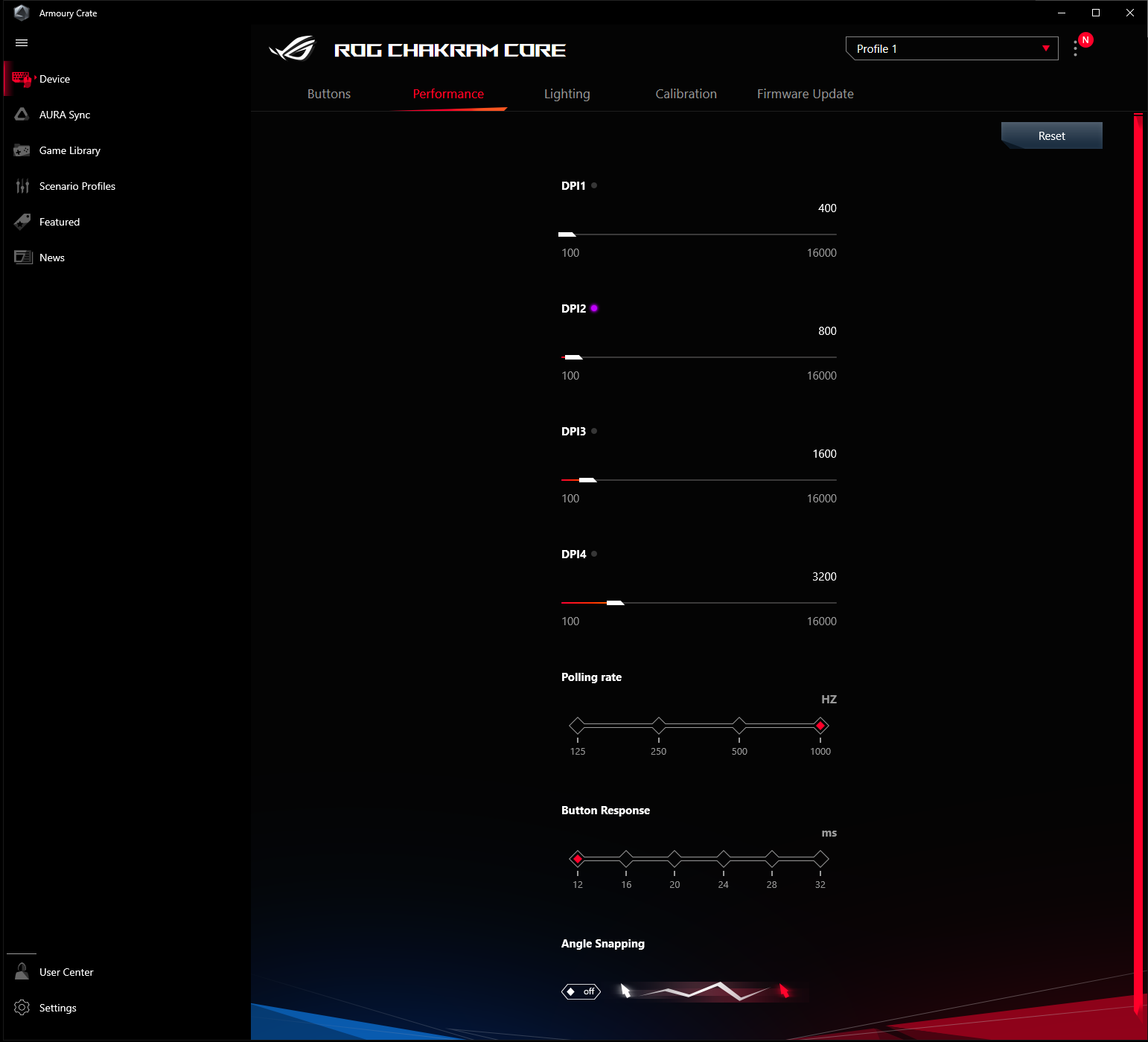 All of the performance options can be changed to suit the style of each gamer.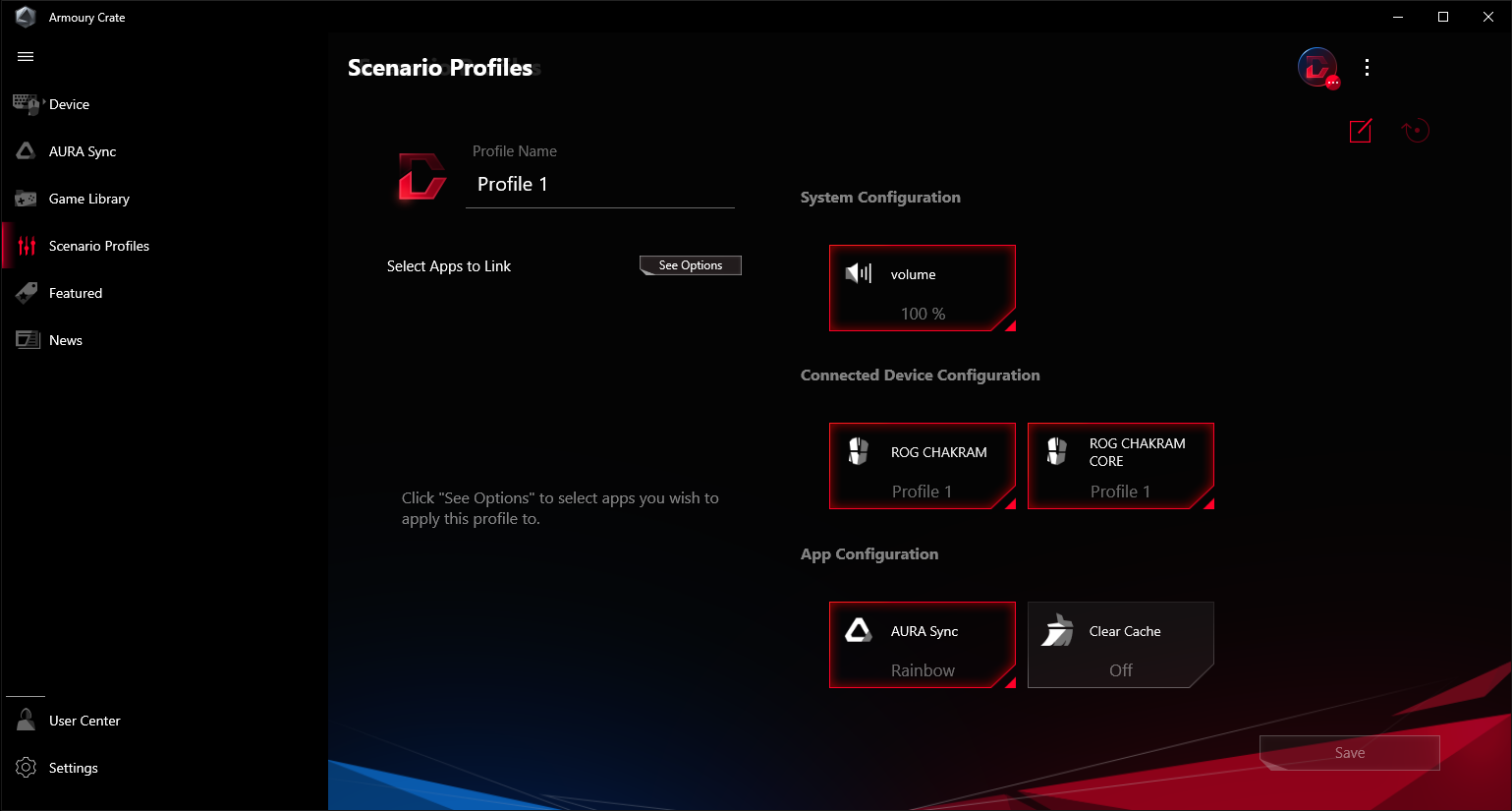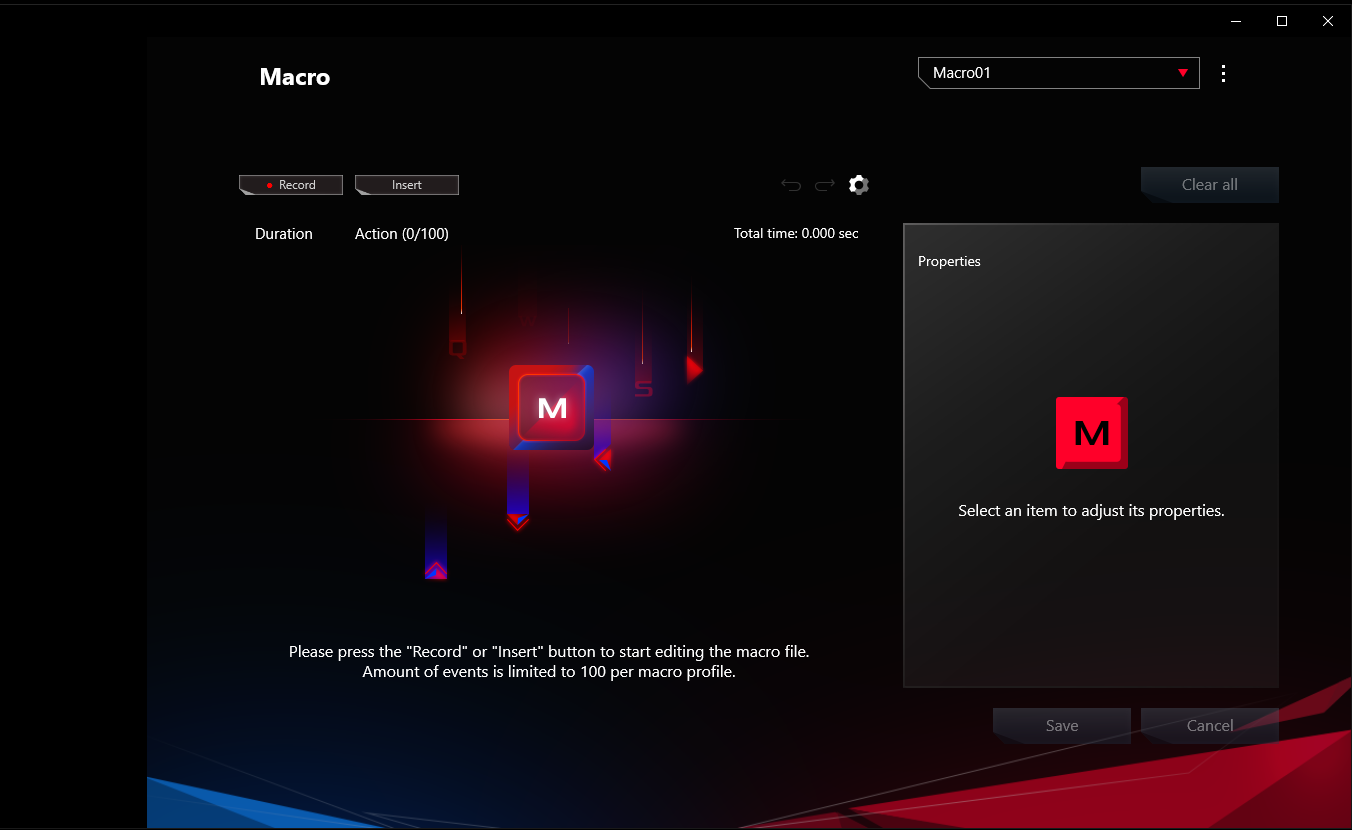 Scenario profiles and macros can be individually customized to suit each gamer's style and preference.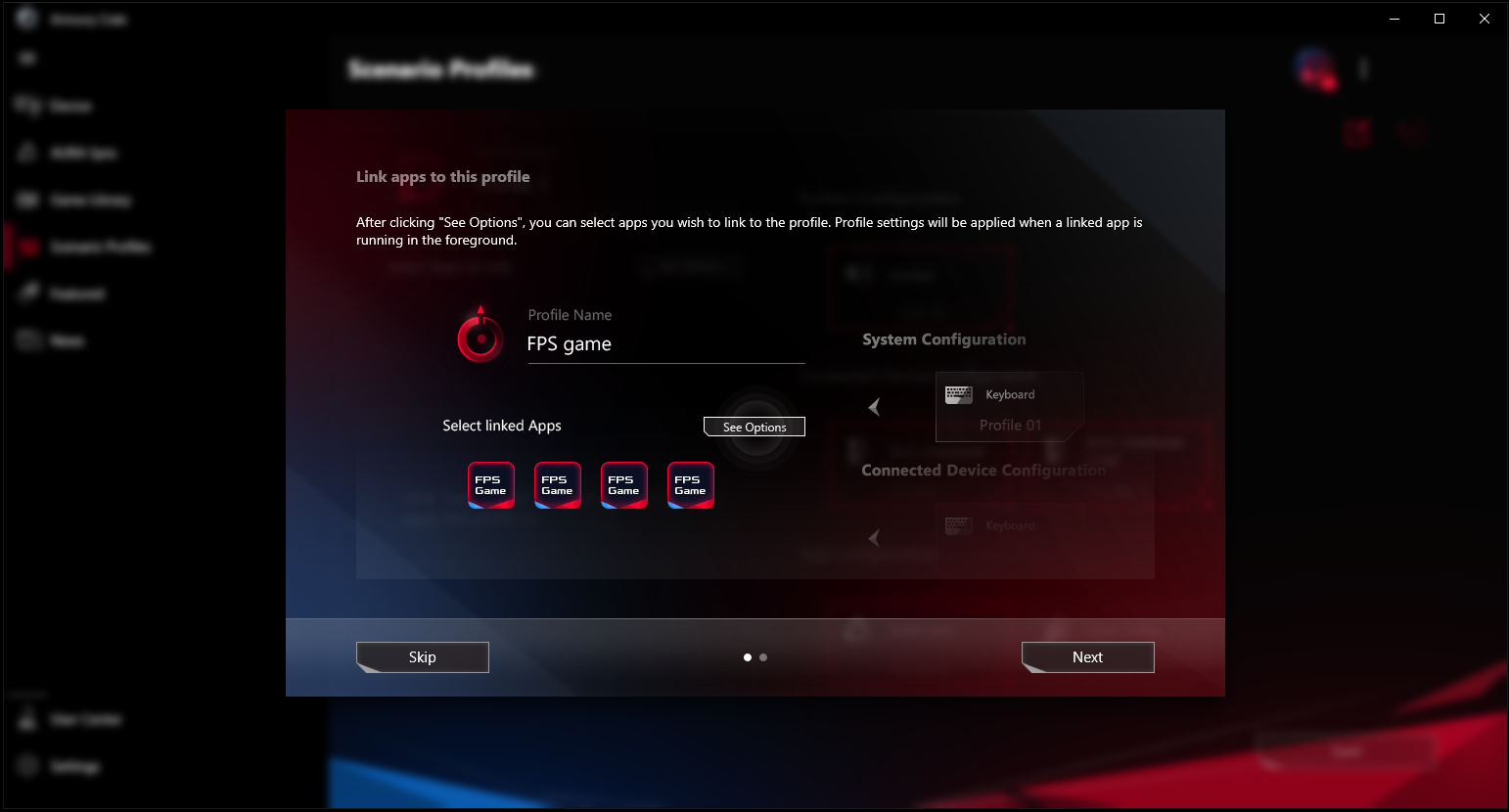 Apps may be individually linked to games.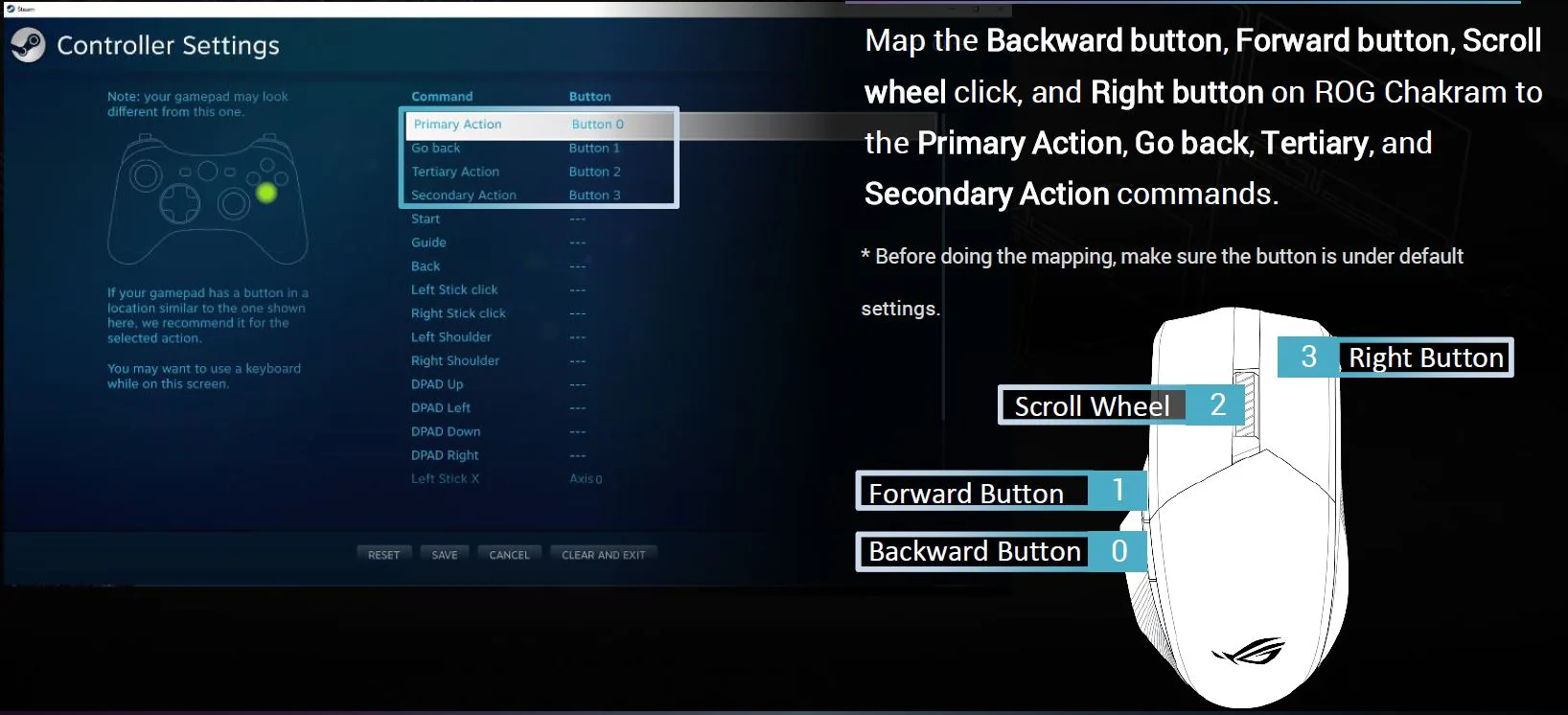 There is also an option to map either mouse as a gamepad for Steam games.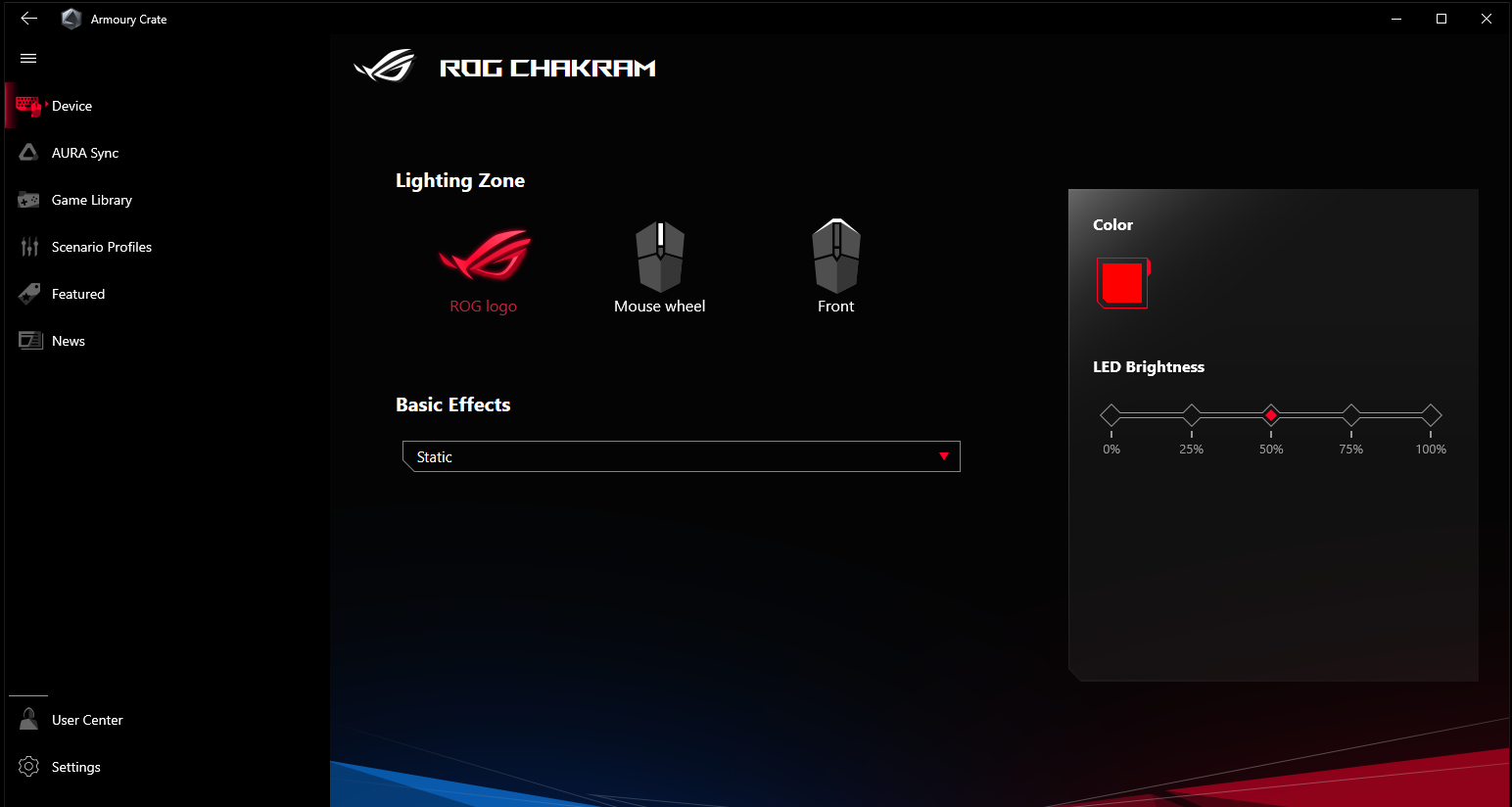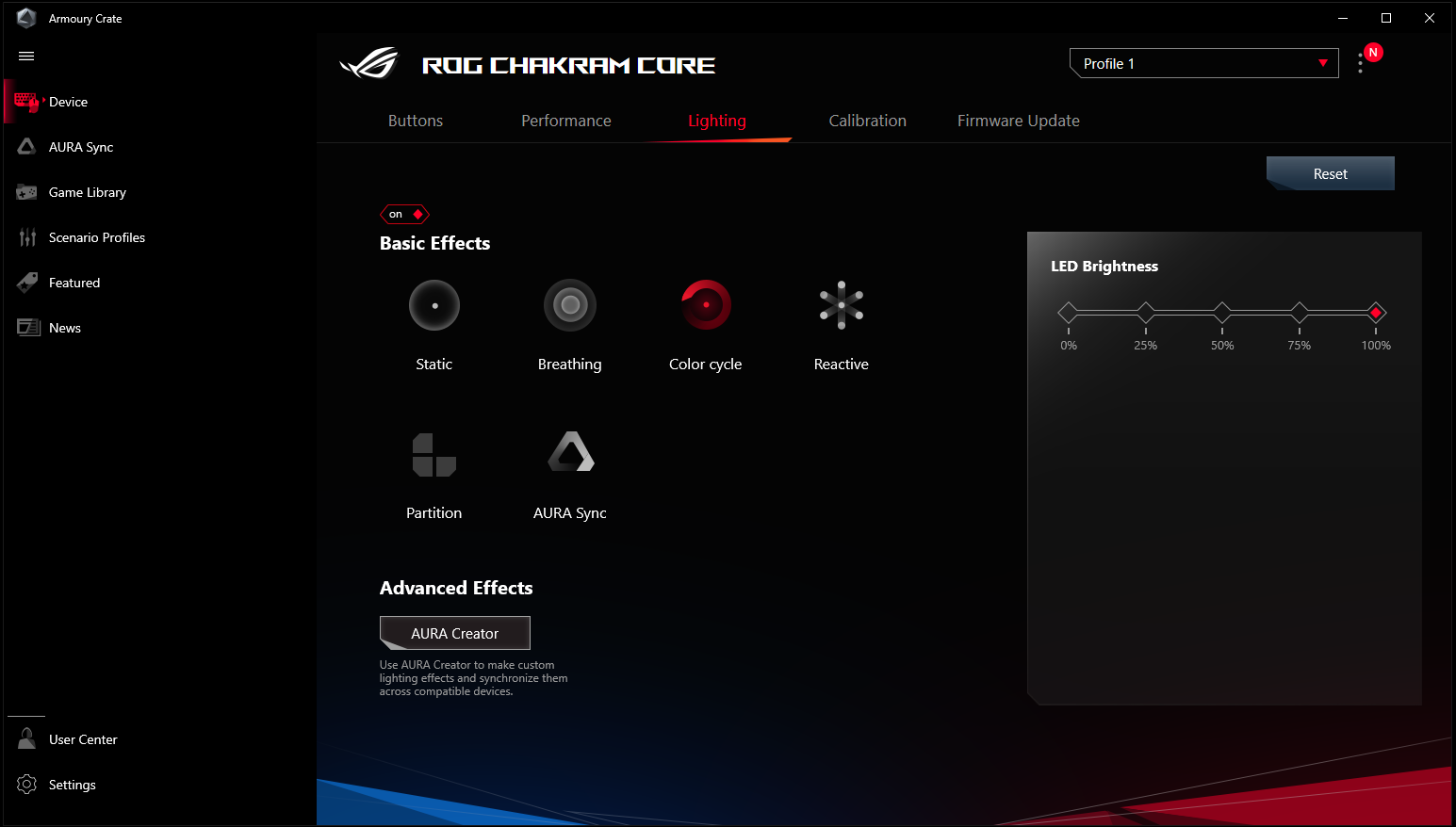 Color and lighting offer a high degree of customization and personalization and the logo, mouse wheel, and the front lighting (for the wireless Chakram) can be individually addressed.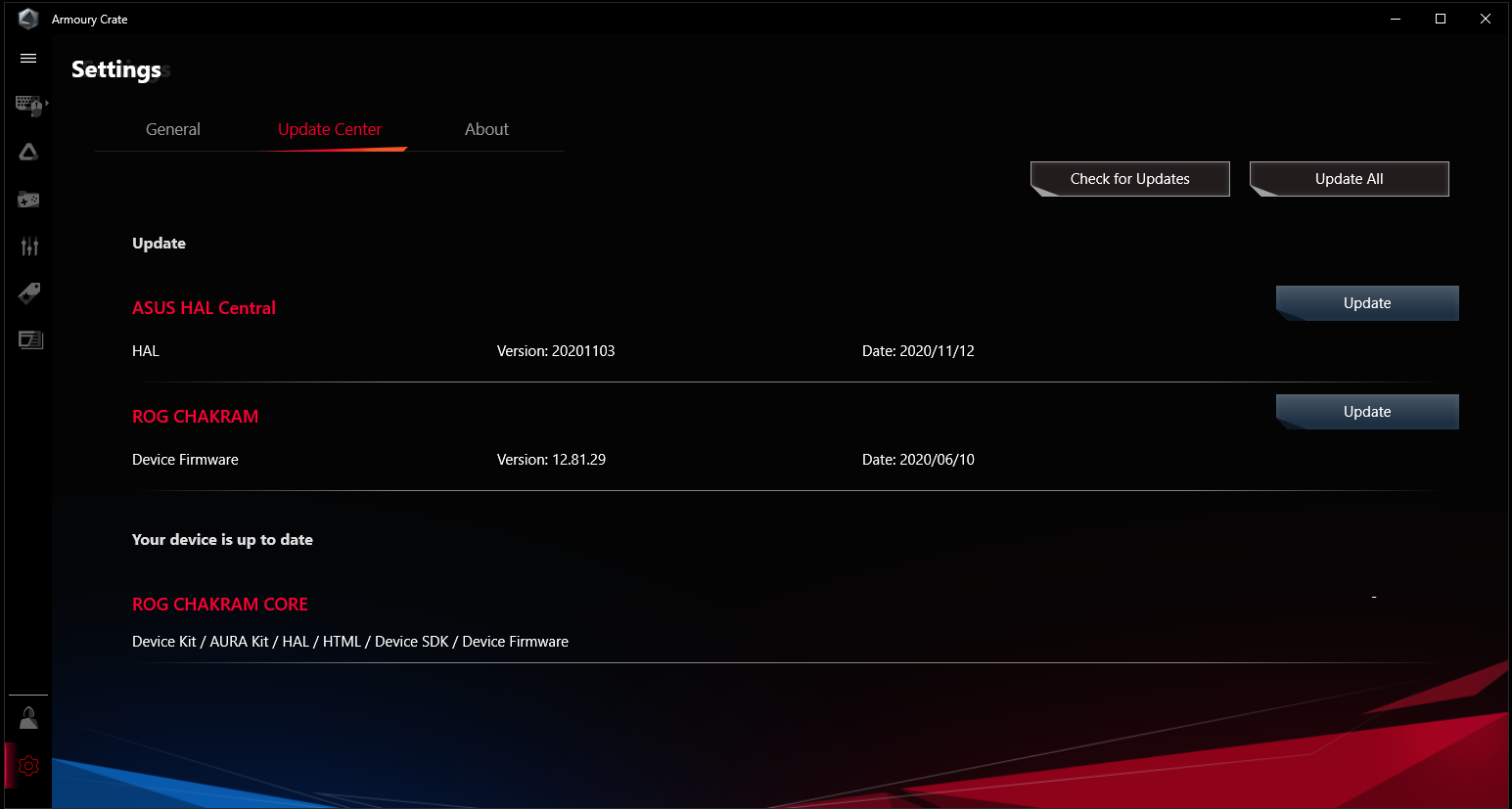 Updating the Chakram firmware takes just a click, and it is easy to check for updates.
The Armoury software is robust and full-featured, and there is an almost unlimited amount of options for personalization and customization that will suit most gamers. The lighting software is excellent, and if you have other ASUS hardware, it is easy to sync your Chakram to your other devices using AURA Sync.
Let's head for our game playing experiences and the conclusion.
The Chakram Mice in Action & the Conclusion
Both of these Chakram mice have a premium feel to them, and they each worked equally well with our super-fast monitors – the ASUS ROG 1080P 360Hz display as well as the Samsung 1440P Odyssey G7 240Hz display. Will I be a competitive gamer again because of these mice? No. But these mice have definitely improved my game and accuracy, especially in defeating the Borderlands 3 'Bounty of Blood' DLC final bosses that I previously had trouble with, and with excellent results playing the new Call of Duty: Black Ops Cold War.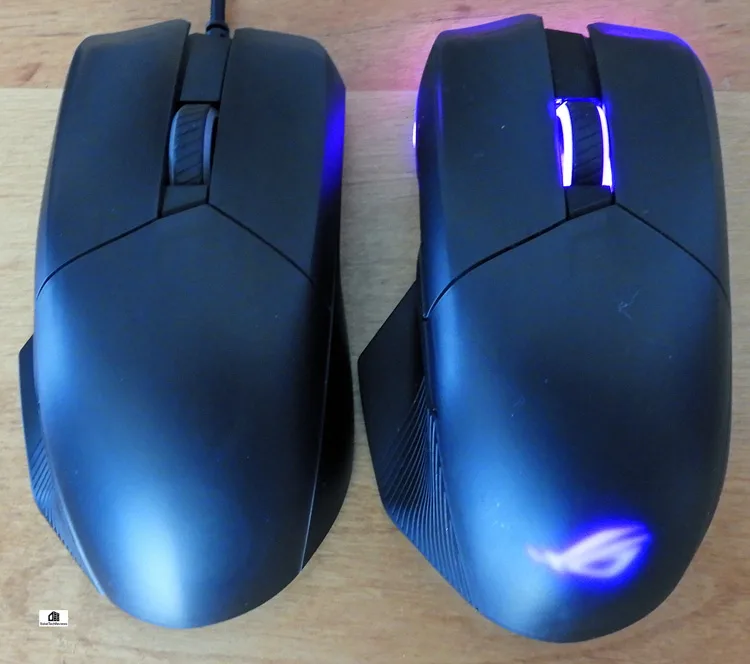 If you are a competitive gamer who also likes a low-latency, good-looking, premium, and responsive RGB wireless mouse with a ton of features and customization options, the Chakram Wireless mouse may be for you. If you are more traditional and only want a wired mouse with low latency and the same premium features, then Core may be a perfect choice. But if you want to take your mouse with you wherever you go, the wireless Chakram may provide the best options. There is no perceptible latency difference between wired and the 2.4GHz wireless mode that we could discern, although we would not recommend using Bluetooth except for casual games. Both mice are ultra-responsive and may make the difference between winning and losing for a competitive or eSports gamer.
We are not impressed with the analog joystick. To be fair, we did not spend a lot of time practicing with it for Star Wars: Squadrons or for Elite Dangerous. We found that using the joystick with our thumb was somewhat awkward. But if someone is willing to spend the time to make its use automatic, it may take the place of a dedicated joystick, and its shorter length option may be useful for those who prefer using it as a disk. Instead, we recently purchased a Gladiator NXT HOTAS and CH Pro throttle for hundreds of dollars. At the very least, the Chakram joystick digital option gives 4 extra keys for remapping which may prove very useful for many games and applications.
The MSRP of $159.99 puts the Wireless Chakram at the very top of the price range for premium mice, but the current pricing of $129.99 makes it more affordable. The Qi charging is a great feature for those who don't want to plug in the Wireless Chakram, and the extremely long battery life is appreciated for those who don't use it. We went days before recharging it, and ASUS suggests it will work for 48 hours with RGB on with a single full charge in about 1 hour and 20 minutes. And $102.64 seems reasonable for a wired mouse that is just as fully featured since it only lacks a single RBG strip but compensates by having an adjustable weighting system.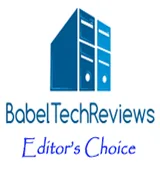 With up to 16,000 DPI, 400 IPS, 40g physical acceleration, low per click latency, and up to a 1,000 Hz polling rate, both Chakrams are premium mice in every regard. And if you have a charging mousepad, there's no reason you should ever have to manually charge the Chakram Wireless mouse. It even comes with a zip-up carrying case to protect it from damage while on the go. The only minor flaws that we can find for both mice are that there aren't a lot of buttons to customize, the plastic cover is a bit too dark to display the logo properly, they are pricey, and only for right-handed gamers.
We give each of these mice a big thumbs-up and they share BTR's "Editor's Choice Award".
Next up, we are working on a top secret VR review that will post next week. We are hoping to add Star Wars: Squadrons, Into the Radius, and Assetto Corsa Competizione to our VR benching suite by then.
Happy Gaming!