Intro
ASUS ROG Wireless Chakram & Wired Core Mouse review – A tale of two Premium Mice
We received a ROG Wireless Chakram mouse from ASUS in September, and by sheer coincidence we received a ROG Core Chakram wired mouse from NVIDIA a few weeks ago as part of their Reflex Analyzer kit which pairs the Core mouse with a 360Hz ASUS ROG display to measure PC components' latency.  We have been using the wireless Chakram for more than 2 months and it is our first high-end premium mouse since we used a Razer Mamba about 10 years ago that we did not particularly like.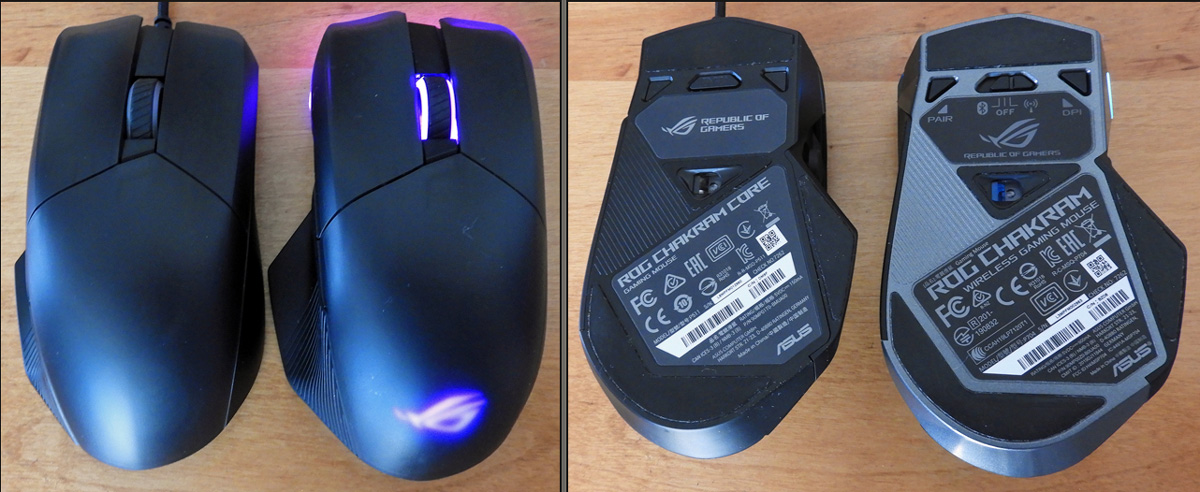 We have not been a competitive player since our arcade days of the early 1980s, and we don't usually give a lot of attention to our choice of mouse. Normally we choose a Logitech mouse because it "fits" our hand well, and we use a G1.  So we present this review to give our impressions of these premium customizable RGB mice.  The ROG Chakram Wireless has a MSRP of $159.99 which can now be found on Amazon for $129.99, and it sports everything including dual-wireless, RGB, and even a joystick.  The only differences are that the ROG Chakram Core only connects via a wired USB connection, it lacks a single RGB strip, and it can now be purchased for $102.64 (MSRP $109.99).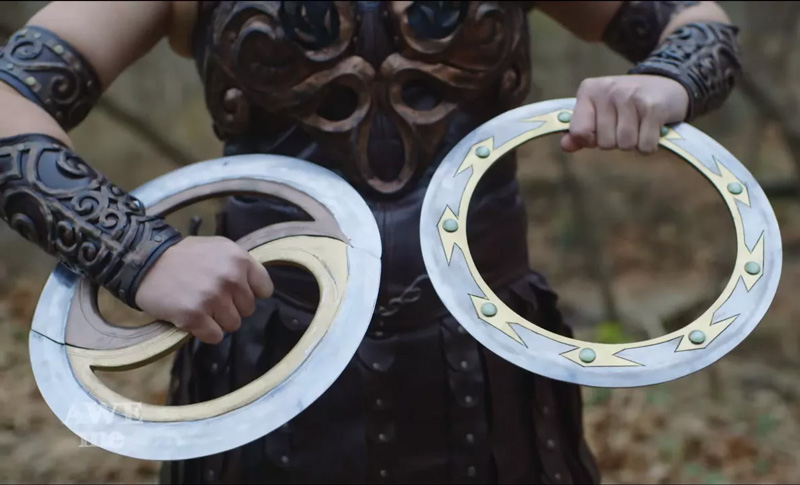 The Chakram is a throwing weapon from India. One of its other purposes is also to protect a warrior's head from sword or melee attacks. It is circular with a sharpened outer edge and a diameter of about 5 to 12 inches.  It has been made popular by 'Xena Warrior Princess'.  The ASUS ROG Chakram mouse is referred to as a 'weapon for gamers' and it is also features a multipurpose design to make right-handed gamers more competitive – left-handed gamers need not apply.
Here are the Chakram ROG Wireless mouse features and specifications as presented by ASUS:
RGB wireless gaming mouse with Qi charging
Tri-mode connectivity includes dual-wireless 2.4GHz and
Bluetooth(BLE), plus wired USB
Industry-leading 16000 dpi, 400 ips optical sensor, plus
1000 Hz polling rate support in 2.4GHz and wired mode
Programmable, removable joystick allows personalized
settings and superior in-game control
Fast charge for 15 minutes by wire for up to 12 hours of
gameplay, or use Qi technology for wireless charging
Screw-less magnetic buttons and cover, ROG exclusive
push-fit switch socket design and customizable badge for
effortless DIY
Pivoted button mechanism offers rapid response and
accurate performance with a clean, tactile feel
DPI On- The-Scroll manipulation for effortless accuracy
adjustments
Mouse latency isn't mentioned in the above ASUS specs, but NVIDIA's reviewers guide gives the per click latency of the wired ROG Chakram Core as 0.6ms, and our own observations using the Reflex Latency Analyzer place it at 1-2ms.  This is outstanding and better than most premium mice.
The features and specifications look great, but how do they handle while playing games? Besides playing fast-paced first person shooters (FPS), we were particularly interested in the built-in joystick feature and used it to play Elite Dangerous and Star Wars: Squadrons since they benefit from using one.  Of course, mouse reviews are highly subjective and your own experience may vary.  But read on for our experiences with these two mice over the past two months.
First, the unboxing.