Exclusive Interview with AMD on the Future of PC VR
As part of BTR's continuing VR series, we have reached out to multiple HMD and video card manufacturers to get their views regarding the future of VR. We just heard back from AMD who answered our questions for an exclusive interview.
One of the factors limiting what PC VR manufacturers can do are strongly influenced by video card manufacturers. Last year, AMD's fastest gaming video card was the RX 5700 XT and it was generally slower in VR than its GeForce counterparts. This year, the RX 6800 and RX 6800 XT are much better suited for high-end PC VR. The AMD flagship, the RX 6900 XT, is an impressive card that allows for significantly higher VR performance over their first generation Navi cards.

AMD uses LiquidVR which aims to reduce latency to deliver a consistent frame rate. AMD's VR technology delivers several key benefits that make this possible. Asynchronous Shaders provide a subset of the async compute functionality which helps to increase performance and decrease latency. In addition, it provides the ability to update data asynchronously from the CPU to reduce input or sensor latency.
LiquidVR's Direct-to-Display function bypasses the operating system and sends the result of VR rendering directly to the headset for lower latency and better compatibility. These technologies are supported via AMD's GPUOpen initiative to deliver frames smoothly and efficiently to the HMD. AMD's Asynchronous Compute Engine (ACE) uses async shaders to provide flexibility to command scheduling with the ability to run both compute and graphics work simultaneously.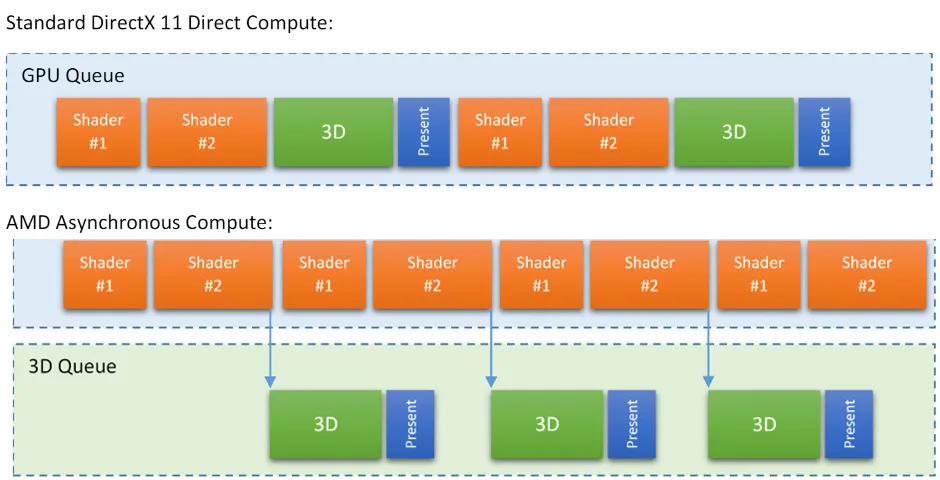 AMD's use of async shaders make it easier and more efficient to do certain VR tasks including implementing motion smoothing and to reduce latency. VR needs to sustain a fixed framerate target locked to 90 FPS for many HMDs. And if a PC can't meet that target, the frame rate is halved to make sure that there is no judder causing motion sickness. 90Hz/90 FPS are the premium experience standard for Vive and HP Reverb HMDs. A game cannot exceed 90 FPS otherwise the player will see tearing in the HMD, and a game cannot drop below 90 FPS or the player will get VR sick. So it is crucial that framerates are locked to an exact cadence.
LiquidVR comes into play as Motion Smoothing is seen as a compute shader that can be scheduled right along with all the other graphics tasks. The GPU needs access to the latest head position information when it is rendering each frame. Even if the information is fresh when rendering begins, it may already be stale by the time the frame completes. Motion Smoothing rotationally compensates for dropped frames. When framerate are below the ideal (90Hz) threshold, it drops the app to half the framerate (45 FPS) and synthesizes every 2nd frame by extrapolating the motion of past frames.
Motion smoothing requires fresh head tracking information after each frame finishes rendering and uses it to synthesize a new frame as if it was rendered from a new viewpoint. Executing it asynchronously avoids context switching and pre-emption overhead. Data Latch is a related technique to reduce latency while the Direct-To-Display feature is designed to prevent Windows from interfering with HMD updates.
AMD continues to tout Premium VR for the Radeon 6000 series and AMD has introduced Type-C connectors primarily for VR HMDs this year. However, AMD's LiquidVR SDK and web page haven't been updated in 5 years, so we want to know if AMD will continue to support VR.
BTR asked AMD's Ritche Corpus – Sr. Director, ISV SW Alliances, Radeon Technologies Group – about VR's future. Here are his responses:
Q: What is AMD's VR prognosis for the next 5-10 years? Since the pandemic, VR has experienced increasing growth, and enthusiasts tend to buy the fastest video cards.
AMD is excited about all technologies which enhances the gaming experience. We will continue to work with our industry partners to ensure to deliver optimized experiences with AMD graphics cards. AMD 6800 series and 6900 XT cards support USB-C support to offer easy one wire connection to HMDs.
Q: Will AMD continue to support VR, and are you looking to bring further innovations? AMD's LiquidVR SDK and web page haven't been updated in 5 years although the new Type-C connector is useful. What do you consider important when designing a video card that supports premium PC VR?
The ability to render 90 FPS per eye is essential for a smooth VR experience. This requires significant performance from the GPU as developers create more detailed VR experiences with larger textures and effects . The Radeon RX 6900 XT and the Radeon 6800 series graphics cards deliver this performance and more to our users who want the best VR experience. We also have USB-C available to offer easy one wire connection HMDs.
While there are no plans to update it, the Liquid VR SDK delivers a smooth experience to HMDs that have integrated it and continues to be supported on our newest products. In addition, AMD fully supports DX12 and Vulkan for VR implementations.
Q: As pandemic-weary gamers turn to VR, high end hardware has been very hard to acquire. When do you expect the Radeon 6000 video cards to become more widely available, and do you expect this demand to continue post pandemic? What are the biggest current challenges to getting hardware into the hands of enthusiasts?
Based on the response to our AMD Radeon RX 6800 Series and Radeon RX 6900 XT reference design graphics cards, we are extending production to make them available to as many gamers as possible on AMD.com at SEP. Additional reference cards are expected to be available in the first quarter of 2021. We will also continue supporting our partners in the development of their custom AMD Radeon™ RX 6000 Series graphics card designs.
Q: New powerful Radeon video cards have dropped the high price entry-level barrier for PC VR and new HMDs are planned for 2021. How will future Radeons provide support for the next generation of even more demanding consumer VR hardware?
AMD doesn't comment on unannounced products.
We want to thank AMD for their responses. Clearly they plan to continue to support VR and Radeon gamers. It's also good to see that they will continue to make reference RX 6800/6900 XT cards and sell them at their recommended prices at AMD.com.
A new generation of improved HMDs, no doubt with wireless options, are coming to VR this year and it will only get better and more accessible. We believe that VR has a very bright future and BTR will continue to review and benchmark VR games regularly as we have done for the past 4 years.
BTR has also reached out to HTC and HP for their comments, and we will continue to keep our readers apprised of the latest VR tech and news. We recently received a Reverb G2 from HP and will compare it and its performance with the G1, the Vive Pro, and the Valve Index in our upcoming HMD VR Performance Series beginning on Wednesday. Stay tuned!
Happy VR Gaming!