Adrenalin 20.4.2 Driver Performance Analysis with an ASUS RX 5600 XT EVO OC Benching 49 Games
We chart the performance of 49 PC games using the latest Radeon Software Adrenalin 2020 Edition 20.4.2 which released last week. We will compare the performance of these new drivers with January's 20.1.3 RX 5600 XT launch drivers using the ASUS RX 5600 XC EVO OC.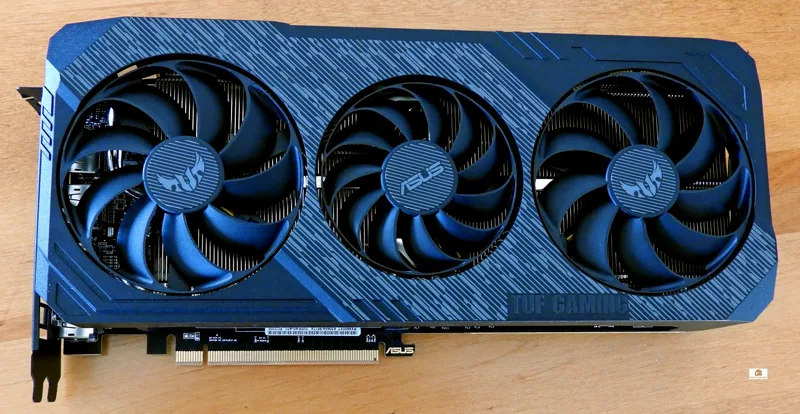 We document the performance changes of the current Software Adrenalin 20.4.2 Edition on Windows 10 at 1920×1080 and at 2560×1440 resolutions. Our testing platform is a recent install of Windows 10 64-bit Home Edition, and we are using an i7-8700K which turbos all 6 cores to 4.8 GHz, an EVGA Z370 FTW motherboard, and 16GB of T-FORCE DDR4 3866MHz. The games tested, settings, and hardware are identical except for the drivers being compared.
AMD Radeon Software Adrenalin 20.4.2 Edition is available now from www.amd.com/en/support. For more details on AMD Radeon Software Adrenalin 2020 Edition, start here.
Test Configuration – Hardware
Intel Core i7-8700K (HyperThreading and Turbo boost is on to 4.8GHz for all cores; Coffee Lake DX11 CPU graphics).
EVGA Z370 FTW motherboard (Intel Z370 chipset, latest BIOS, PCIe 3.0/3.1 specification, CrossFire/SLI 8x+8x), supplied by EVGA
T-FORCE 16GB DDR4 (2x8GB, dual channel at 3866 MHz), supplied by Team Group
TUF Gaming X3 ASUS RX 5600 XT EVO OC 6GB, at factory settings, on loan from ASUS/AMD (New BIOS)
1.92TB San Disk enterprise class SSD
2TB Micron 1100 enterprise class SSD
500GB Vulkan SSD, supplied by TeamGroup
EVGA 1000G 1000W Gold Focus power supply unit
Cooler Master 240mm CPU water cooler
EVGA Nu Audio PCIe soundcard, supplied by EVGA
Edifier R1320T Active speakers
EVGA DG-77, mid-tower case supplied by EVGA
LG 43? HDR 4K TV
Monoprice Crystal Pro 4K
Test Configuration – Software
Adrenalin 20.4.2 Software Edition compared with 20.1.3
AA enabled as noted in games; all in-game settings are specified with 16xAF always applied
Gaming results show average frame rates in bold including minimum frame rates shown on the chart next to the averages in a smaller italics font where higher is better. Games benched with OCAT show average framerates but the minimums are expressed by the 99th percentile frametime in ms where lower numbers are better.
Highest quality sound (stereo) used in all games.
Windows 10 64-bit Home edition. DX11 titles are run under DX11 render paths. DX12 titles are generally run under the DX12 render path unless performance is lower than with DX11, and Borderlands 3, Total War Warhammer II and Hitman 2 are tested on DX11 and on DX12. Five games use the Vulkan API.
Latest DirectX
All 49 games are patched to their latest versions at time of posting.
OCAT, latest version
Fraps, latest version
49 PC Game benchmark suite & 3 synthetic tests
DX11 Games
Grand Theft Auto V
The Witcher 3
Fallout 4
Rainbow Six Siege
Overwatch
For Honor
Mass Effect: Andromeda
ARK: Survival Evolved
Prey
Project CARS 2
Total Wars: Warhammer II
Star Wars Battlefront II
Middle Earth: Shadow of War
Star Wars: Battlefront II
Monster Hunter: World
Kingdom Come: Deliverance
Final Fantasy XV
Far Cry 5
Conan Exiles
Assassin's Creed: Odyssey
Call of Duty: Black Ops 4
Hitman 2
Just Cause 4
Resident Evil 2
Anthem
FarCry New Dawn
Devil May Cry 5
Borderlands 3
Destiny 2 Shadowkeep
Ghost Recon Breakpoint
Star Wars: Jedi Fallen Order
Mech Warrior 5: Mercenaries
DX12 Games
Ashes of the Singularity Escalation
Civilization VI
Sniper Elite 4
Forza 7
Total War: Warhammer II
Warhammer: Vermintide 2
Shadow of the Tomb Raider
Hitman 2
Battlefield V
Metro Exodus
Tom Clancy's The Division 2
Anno 1800
F1 2019
Control
Gears 5
Borderlands 3
Call of Duty Modern Warfare
Vulkan Games
DOOM
Strange Brigade
World War Z
Wolfenstein: Youngblood
Star Control Origins
Red Dead Redemption 2
AMD Adrenalin Control Center Settings
All AMD settings are set so that all optimizations are off, Vsync is forced off, Texture filtering is set to High, and Tessellation uses application settings. These settings are used across all drivers so that the performance of each driver edition can be compared more accurately.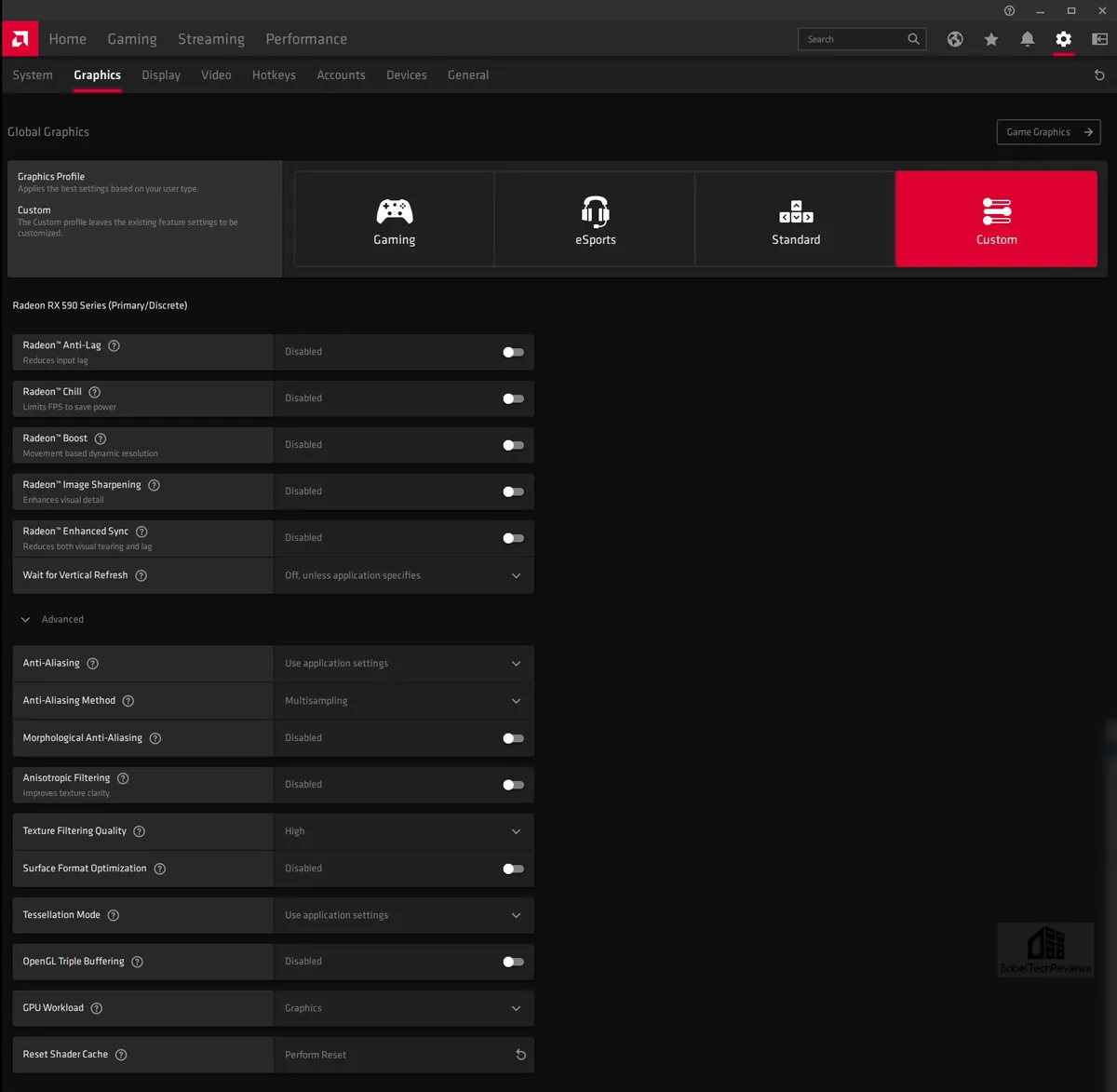 Anisotropic Filtering is disabled by default but we always use 16X for all game benchmarks.
Adrenalin Software Edition 20.4.2
Adrenalin Software Edition 20.4.2 also supports the RX 5600 XT and can be downloaded starting here. The release notes are found here. The included highlights below are quoted directly from AMD:
Radeon Software Adrenalin 2020 Edition 20.4.2 Highlights
Support For
Gears Tactics™
Predator: Hunting Grounds™
Fixed Issues
Radeon RX Vega series graphics products may experience a system hang or black screen when running Folding@Home while also running an application using hardware acceleration of video content.
A system crash or hang may be experienced when using Edge browser to play Netflix™ content.
XSplit™ may experience an application hang or freeze when performing a scene switch.
Minor stuttering may occur when performing a task switch with performance metrics overlay open in some games.
Overwatch™ may experience an intermittent crash while entering a game or during extended gameplay sessions.
Radeon RX 5700 series graphics product system configurations may intermittently experience a display loss or black screen while gaming or on desktop with a limited number of displays.
Radeon Software may experience an application crash when playing games with non-alphanumeric characters in the game title.
Radeon RX Vega series graphics products may experience an application crash with Microsoft® Teams when hardware acceleration is enabled.
An 'Unable to get requirements' error message may intermittently occur when viewing the Upgrade Advisor tab in Radeon Software.
Radeon RX Vega series graphics products may experience a system crash or TDR when playing games with Instant Replay or Record Desktop enabled.
Resolved an install issue where Error 1603 could occur when an installation prerequisite for Visual C++ was not correctly detected as installed.
Known Issues
Enhanced Sync may cause a black screen to occur when enabled on some games and system configurations. Any users who may be experiencing issues with Enhanced Sync enabled should disable it as a temporary workaround.
Using Edge™ web browser to playback video content with a multi display system configuration may cause a system hang or crash after extended periods of use.
Performance Metrics Overlay and Radeon WattMan incorrectly report higher than expected idle clock speeds on Radeon RX 5700 series graphics products. Performance and power consumption are not impacted by this incorrect reporting.
Modifying the HDMI Scaling slider may cause FPS to become locked to 30.
Some games may exhibit stutter intermittently during gameplay on Radeon RX 5000 series graphics products.
Radeon RX Vega series graphics products may experience a system crash or TDR when performing multiple task switches using Alt+Tab.
Desktop or In-game corruption may occur intermittently when HDR is enabled.
Direct ML Media Filters are currently unavailable in Radeon Software Media gallery for video or image content.
Some users may still experience black screen or system hang issues during extended periods of gameplay. AMD will continue to monitor and investigate reports of these issues closely.
Some laptops may encounter a BSOD when installing Radeon™ Software Adrenalin 2020 Edition over an existing OEM graphics driver. To work around this issue, first uninstall the OEM graphics driver using Programs and Features within the Control Panel. Once complete, install the Radeon Software Adrenalin 2020 Edition package and select the Factory Reset option during setup.
Important Notes
AMD Ryzen™ Mobile Processors with Radeon™ Vega Graphics FAQ for Radeon Software Adrenalin 2020 Edition can be found here.
###
Let's head to the charts to compare the driver changes from the January 20.1.3 Adrenalin Software Editions to the new Adrenalin 2020 Software 20.4.2 Edition which released last week.
The Performance Summary Charts with 49 Games
Below are the summary charts of 49 games. The games' performance are charted to compare the RX 5600 XT driver's performance progression from its launch drivers (20.1.3) in January to the current 20.4.2 drivers. The highest settings are chosen and the settings are listed on the charts. The benches are run at 1920×1080 and at 2560×1440. Open each chart in a separate window or tab for best viewing.
Results give average framerates and higher is better. Minimum framerates are next to the averages in italics and in a slightly smaller font. Games benched with OCAT show average framerates but the minimums are expressed by frametimes in ms where lower numbers are better.
Column one shows the latest Adrenalin 2020 20.4.2 driver performance and column two represents January's 20.1.3 performance results. Performance 'wins' are denoted by yellow text, and if there is a tie both sets of numbers will be given in colored text.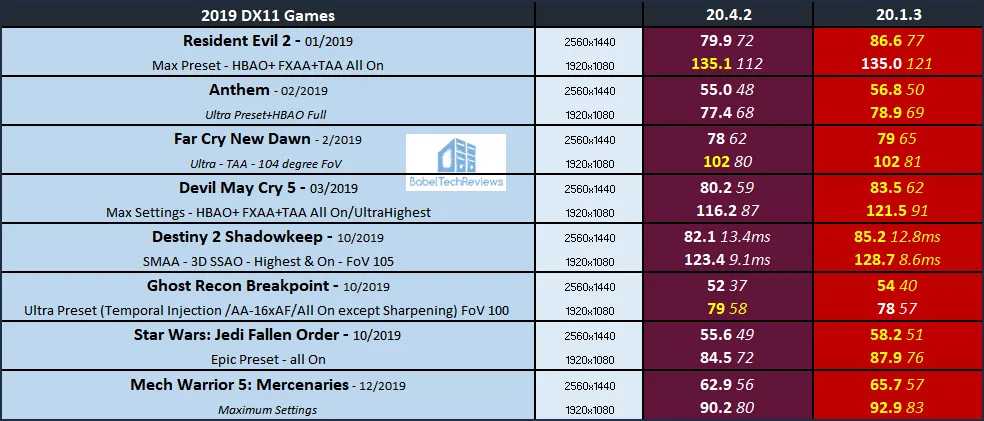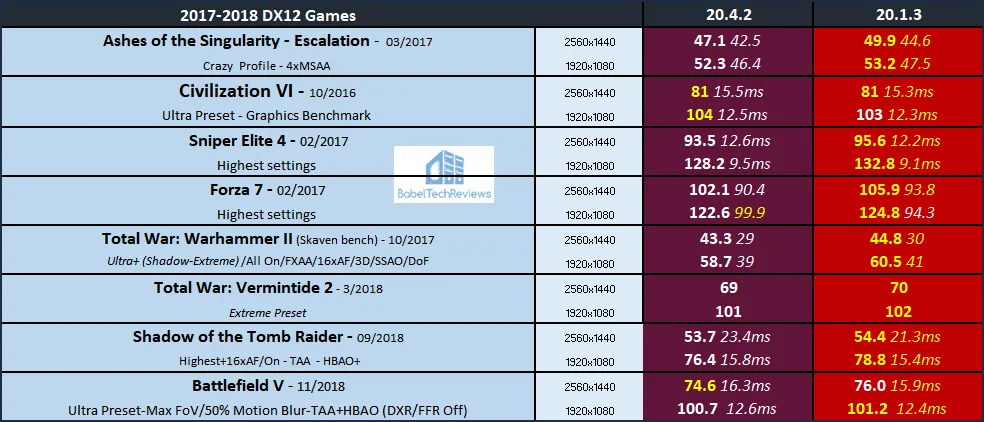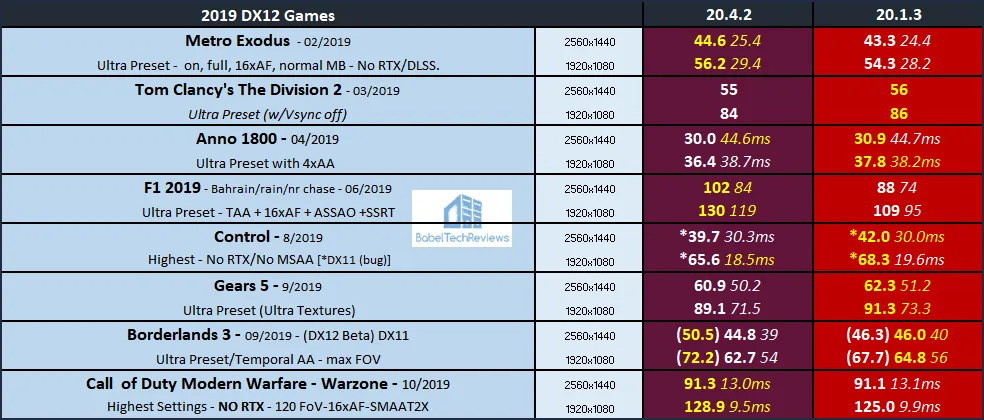 The RX 5600 XT shows performance regression with some of the games since its January launch to the most recent 20.4.2 driver. Some regression may be explained by major patches and/or expansions but we couldn't explain the Assassin's Creed Odyssey steep performance drop or the large improvement with F1 2019. However, we mostly see minor performance improvements or some regressions with the 49 benchmarked DX11, DX12 and Vulkan games. The overall stability of the drivers has improved although we have noted some RX 5600 XT VR game issues.
Let's head to our conclusion.
Conclusion
We would recommend upgrading to the latest Radeon Software 20.4.2 Adrenalin Edition from previous driver sets because the new features are welcome and impressive. The overall 49 PC Game performance has slightly regressed over the past 3 months since the RX 5600 XT launched, but we have noticed that stability has improved. The new features the Radeon Software Adrenalin 2020 Edition annual update brings are welcome and are well worth exploring, and the stability advantages generally outweigh the performance regressions.
Next up, we'll review and thoroughly performance test a Red Devil RX 5600 XT. On deck is an Autonomous standing desk review, and you can expect a 2x16GB T-Force DDR4-3000MHz kit review, as well as a return to the RTX Indie series with AMID EVIL and Stay in the Light. We'll update BTR's benching suite with Doom Eternal and Resident Evil 3, and then back to VR.
In the meantime, feel free to comment below.