Time for the M&E Industry to Earn its Keep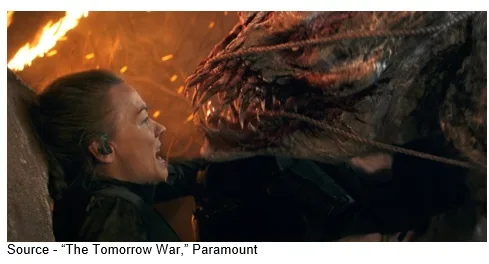 Since the beginning, the creative video story industry has been fantastic at predicting the future and doing a good job of ensuring right conquers over evil … everyone is a sucker for a happy ending.
French filmmaker Georges Méliès captured the first trip to the moon – Le Voyage dans la Lune – in 1902.
In 1962, the Jetsons had a robot maid, flying cars and voice-activated everything and yes, he still had to go to the office every day.
Dr Who has been whipping around the globe and back and forth in time forever (O.K., 863 episodes).
Spock and Kirk regularly used communicators (mobile phones) since 1966 and they were far from the first.

In recent months/weeks, Legendary Pictures and Apple TV + have been showing us what future generations will have to deal with here on Earth respectively with Dune and Foundation.
And they're just the recent films to show that companies and governments have done their best to screw up the planet, leaving ordinary people to clean up the mess and correct the mess.
The industry has already taken steps to minimize its environmental impact with the BFI (British Film Institute) and BAFTA (British Academy of Film and Television Arts) with their joint report late last year – A Screen New Deal – a Route Map to Sustainable Film Production (arup.com) – but it should be only the beginning.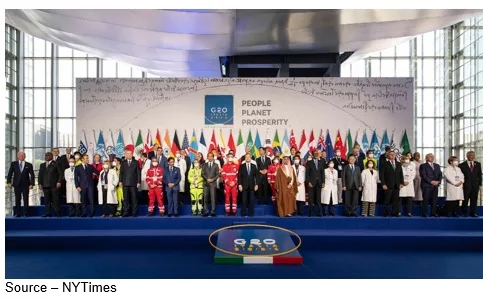 Now we appreciate global politicians from have/have not countries getting together once a year listening to environmentalists and climatologists tell them the obvious that forest burning, wildfires, crazy weather, harmful emissions are clogging our skies and lungs and global warming aren't really good things.
Every time they hold one of these fun little "now's the time for action" events, kids and protesters gather to say hey dude/dudette, get off your behind and really do something.

The people who must inherit and clean up the mess keep telling the politicians what they need to do act instead of pontificate.
The "leaders" go home knowing they achieved their mission (met fellow politicians, wrote some nice sounding words, and got favorable press).
But the most ah-ha idea and easily actionable (our opinion) wasn't a long-winded 5–10-year plan or protest.
It was a presentation by Dana Strong, Group Chief Executive of Sky, the European cable/satellite businesses owned by Comcast, the third largest broadband service provider in the world.
It is such a logical and actionable concept that every M&E industry association, guild, union, studio, streamer, network and filmmaker/game developer can actively contribute with one hand tied behind their back.
Ms. Strong's presentation was based on a Sky/BIT report The power of TV: nudging viewers to decarbonise their lifestyles (https://bit.ly/3pYzz1w).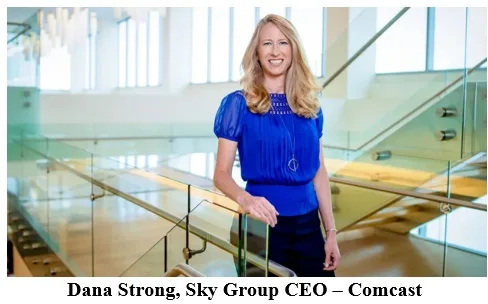 During her presentation, Ms. Strong stated the obvious–visual stories (movies, TV shows, video games) have the unique power to suck people into the storyline, get them involved and leave a lasting impression…positive and negative.
"At Sky, we have set out our pathway to achieve net zero carbon, but we know this alone will not be enough." she noted. "Through the content that we bring into our customers' homes we believe broadcasters have a clear role and responsibility to encourage lifestyle changes that address the climate crisis."
She added that the research report is designed to be (and it is, grab a copy) an open tool for content creators and broadcasters.
It provides empirical evidence that shows how our creative industries can work together to help make behavioral changes that will consciously and subconsciously enable the global community to meet its goals of reversing the climate impact.
Industry players have a direct connection with every man, woman and child on the planet:
203 thousand cinema screens
3B TV viewers
37B smartphone users, 80.69 percent of population
49B VOD users, 14.3 percent of population
We average 2 hours, 54 minutes a day watching the content; and if you add the content on Instagram, TikTok and other social media, we spend even more time being entertained, informed, and subtly educated.
In the past – and today – the content industry has created superb and convincing projects to raise individual country's population pride in people's herculean efforts in the face of adversity.

Admit it, you felt good or at least better when you left the theater, switched shows, ended the game.
Ms. Strong noted that the great thing BIT found in its European study was that 80 percent of the Europeans included in the study said they liked the idea of content creators, producers and distributors using content and advertising to encourage people to adopt more environmentally positive habits.
And all the tools, talent is in place around the globe to make it happen … BAM!

No, we're not suggesting that studios, filmmakers and game developers immediately start pumping out films, shows and games that preach how folks jump in with both feet and make changes in the ways they work, live, act.
That seldom, if ever, works and certainly doesn't have a lasting effect.
If you've never seen the 1936 U.S. propaganda film Refer Madness, you should. It's pretty easy to see that preaching at folks and trying to scare them straight just doesn't happen.
Even though they don't run ads, Reed and Ted could drop positive climate idea spots in front of/behind their Netflix shows. They would be nice little breaks as the kids binge.
Chapek could add some slick messages (they have a helluva creative team for it) in their Disney + shows.
Cinemark's Zoradi and IMAX's Gelfond could slip in some quick environmentally positive ideas with their trailers and folks would get the message(s) along with their popcorn.
Electronic Arts and Activision Blizzard could slip some great positive environmental activities that players could do to recycle more zombies, turn monsters into clean/fresh oxygen or save a partner from a raging forest fire.
Where would the content come from?
India has great studios including Yash Raj and Studio Utv; Hengdian and Shanghai Film are major studios in China; Universal and Warner have lots of creative room in the U.S. and around the globe; Rok Studios and Jungle Filmworks have solid operations in Nollywood and there are major creative locations in every country around the globe.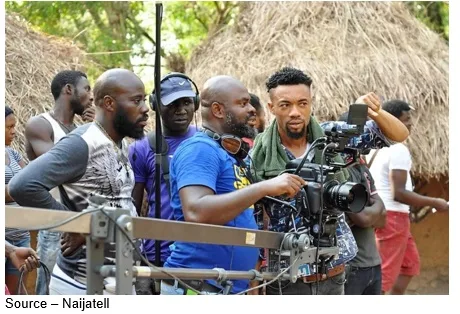 There are creative talents (writers, producers, editors, art directors, costume designers, directors, producers, cinematographers, grips, FX specialists, editors, coders, mixers, and post folks) in almost every city, town, hamlet, village and hilltop on the planet who know how to put together the visual stories people will want to watch and gain something from.
So, how does the industry take the steps needed to turn Ms. Strong's vision and the BIT report roadmap into reality?
Comcast-owned Sky is already taking steps to show their 23M subscribers how they can reduce their carbon impact and make changes that will slowly but surely meet their net zero ambitions.
But the real key to turning a great idea into reality means the industry players around the globe must take ownership of the problem/solution because well, politicians are just politicians while M&E organizations are used to delivering entertainment to screens and eyeballs.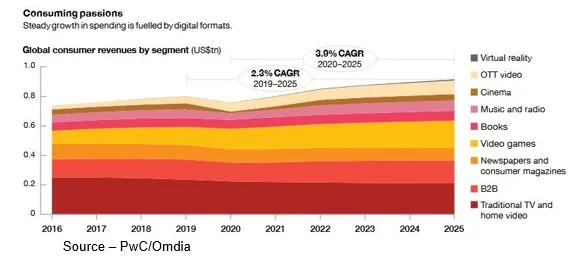 The best way to turn the tide is for the M&E industry organizations (Google the acronyms) – AMPAS, AMPTV, SMPTE, MPAA, IFTA, DGA, AIB, IAMB, DGA, WGA, and others – to get their companies and individuals involved.
To help fund and drive the initiative, companies and organizations that participate in and benefit from the content industry like CTA, MESA, MMA, WMA and other marketing organizations need to help drive and keep the initiatives alive and moving forward.
Hopefully France's astronaut, Tomas Pesquet, gave the politicians and video content industry an idea of how bad things are when he called in to the climate conference from the International Space Station and said the devastating effects of human activity have become more and more visible.
"We see the pollution of rivers, atmospheric pollution, things like that," the astronaut said. "What really shocked me on this mission were extreme weather or climate phenomena."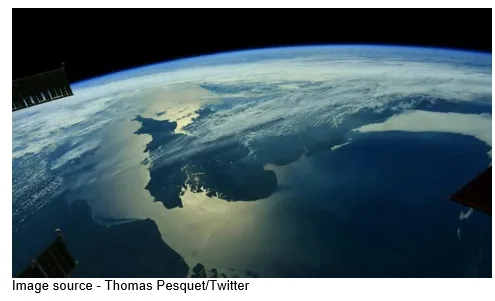 "We saw entire regions burning from the space station, in Canada, in California," he continued. "We saw all of California covered by a cloud of smoke and flames with the naked eye from 400 kilometers (250 miles) up."
The world has a lot of work to do to avoid catastrophic climate outcomes and the M&E industry is in the best position to turn the tide because it has all to tools, expertise and … reach.
The most promising solutions are not a mystery, and no industry is in a better position to help people make the changes that are needed.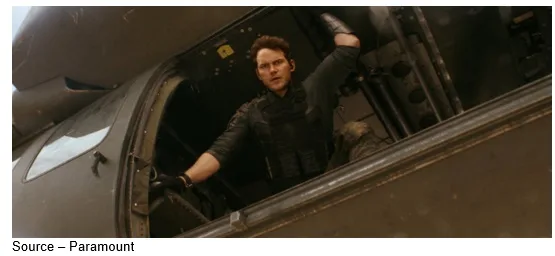 People's attitudes and actions are shaped by the media they consume.
We all know that content creation, production and distribution folks are experts in educating and inspiring people.
And here's a great afterthought. Send the locally produced environmental messages around the globe to other distributors.
The industry has proven that a good film/show there attracts an audience here and there and there.
We'd like to see how creatives in Laos, Croatia, Mexico, Dubai, Maldives, New Zealand or other countries show people how to do little things to make a big difference.
As Dan Forester said in Paramount's The Tomorrow War, "Second chances are really hard to come by."
If that doesn't make the industry get off it's collective behind and do what global politicians can't/won't do, just remember what Pogo said…
Sure the industry is part of the problem but implementing the BFI/BAFTA study – A Screen New Deal:­ A Route Map to Sustainable Film Production – and creating content to educate people how they can be proactive could be just the solution the planet needs right now.
# # #
Andy Marken – [email protected] – is an author of more than 700 articles on management, marketing, communications, industry trends in media & entertainment, consumer electronics, software, and applications. An internationally recognized marketing/communications consultant with a broad range of technical and industry expertise especially in storage, storage management and film/video production fields; he has an extended range of relationships with business, industry trade press, online media, and industry analysts/consultants.