All's Quiet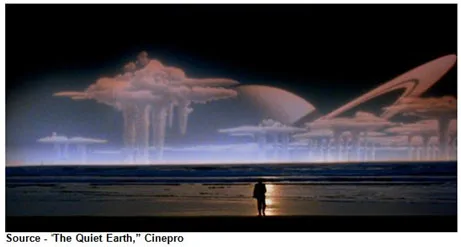 The Internet has to be one of the best 10 wonders of the world.
Think about it … you can reach out to and communicate with anyone, any time, from anywhere.
You can watch stuff any time and increasingly, on any device.
Now that it's faster and more reliable (your performance may vary), it's awesome!
The second best thing is email.
Imagine you can send someone a note, question, request or a report asking for inputs/feedback and wait for hours … days … weeks even for a response.
Isn't that neat?
They're repeating Zac, "Look, I haven't got time to talk to you, I'm a very busy man!"
Imagine constant reinforcement that:
a) They're doing something really important like watching cat videos, heavy MMOGing (massively multiplayer online games).
b) There was a worldwide disaster wiping out everyone on the planet … but you
c) They simply don't give a rat's behind about your thoughts, concerns, questions
d) It really is all about them
It has to be one of those reasons because more than 204 million emails are sent every minute. You'd think one of them could be yours in the last 24 hours – 4,896,000,000 emails.
Instead, all of those people are sitting around waiting for a response so they can get work done. So they resort to looking at unbelievable marketing, deals stuff or playing games, watching videos and wait.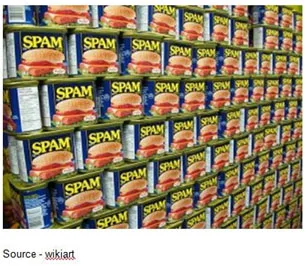 Biggest Share – eMail, malware, unbelievable offers, catalog offers, ill/dying folks in Nigeria and unique opportunities for you account for about 80 percent of the email traffic, maybe more. But the remaining volume is still enough to swamp most of our inboxes on a daily basis.
Oh sure, you're going to say all of that is spam and doesn't need an answer/action, doesn't need to be touched. Or, that all that spam made you miss the message from the person.
But according to ExactTarget (obviously involved in interactive marketing) they found folks preferred being contacted by email over the other options (Facebook, Twitter, Pinterest, LinkedIn).
They found:
96 percent of online consumers use email at least weekly.
66 percent have made a purchase after receiving an email marketing message.
76 percent prefer email over all other channels for customer service messages.
66 percent of teens (ages 15-17) prefer email over all other channels for permission-based marketing.
Email has got to be important because its way ahead of everything else people do first thing.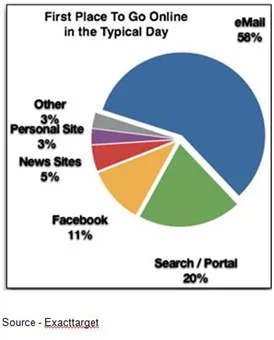 Waking Up Online – While some kids check their social media status before they even roll out of bed, most people leap out and grab their whatever device to see who is contacting them, who needs/wants what or just who beat them out of bed.
In fact, now that we have so many different devices, people are looking at the stuff more with the device at hand.
They just don't want to – or are afraid – respond!
Or, as Joanne wisely observed, "The other thing is, you tend to like people that like you."
Sure, plain old webmail still has most of the traffic, followed by desktop access and then the ever-popular, always-on mobile device.
Desktop/notebook viewing is most common during weekdays. However, early morning hours and weekends see a great uptick in mobile viewing (tablets and smartphones).
What's Handy – People have become addicted to tapping into their online communications throughout the day (and night). The device they use is the one that is most convenient because it's the content/communications not the device they depend on.
I don't know about you, but I've found people who don't spend much time in front of a computer screen are actually more responsive … even if it's a short response.
I guess there's just not enough places to hide the stuff that streams onto the small screen so it's easier to give a quick answer and wait until later – bigger screen, bigger keyboard – for more detailed follow up.
I envy folks who can use those little devices because:
You have to have been born with one in your hands and know nothing else
Really have to be patient, concentrate to get the response right
The smartphone tries to help by finishing words for you and the quick response that is sent can be … awkward!
Despite those mistakes, mobile email is increasing because it's just too convenient to monitor your correspondence no matter where you are.
The problem is that by definition, a conversation is a two-way thing and when you get a response – especially in a timely manner – it surprises the hell out of you (pleasantly).
Folks have no problem firing off a flaming anonymous response to an article they read.
They have no problem blowing out a stupid tweet.
They have no problem bragging on their Facebook page or liking/unliking something/someone.
But a direct response … that's way too personal, too formal.
British linguist David Crystal said that his wife got a reply to an e-mail she sent in 2006, "It was like getting a postcard from the Second World War."
At least she got a response.
Judith Kallos, who runs netmanners.com on netiquette says the No. 1 complaint is that "people feel they're being ignored."
There is a business courtesy you learn in college – respond right away – and it seems to diminish after you've been hired/fired a few times.
Maybe too many people take Abraham Lincoln's quote too seriously, "Better to remain silent and be thought a fool than to speak out and remove all doubt."
That's never been one of my problems.
If I don't know … I say so, and add that I'll get back with an answer, or let me do a little research on it and be back to you in a few hours – or whatever is reasonable.
It's true, human error happens today with the volume of email we each receive and sometimes we're too quick with the delete button.
Hey, stuff happens.
Others automatically send a response that says, "Hey I will try to respond in a timely manner but…"
Sometimes they even mean it!
Computer/communications technology was supposed to speed actions.
According to a study by BBC, technology both helps us and hurts us.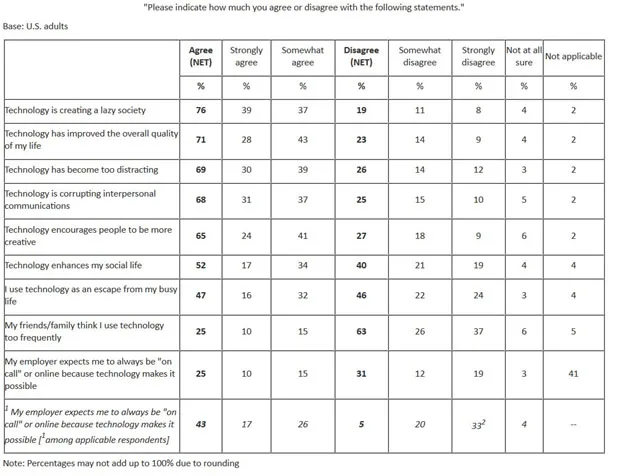 Help or Hurt – Everyone has his/her opinion as to which of our advances in technology and our ability to be in constant contact is good or bad. It's really up to you.
The key is to force yourself to philosophically separate the relevant from the irrelevant, the real from the surreal.
The key is to respond, not react or simply tell them you're suffering from being hyperconnected.
Why make them feel as though the world was destroyed and they didn't get the email?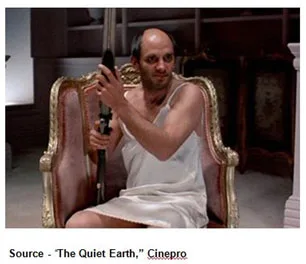 Do it and you might find out as Zac did, "We might find all manner of horrors. Politicians…transvestites…"
But at least they'll know … and you'll know.
#