The Kionte Storey Journey — Tragedy Brings Opportunity
Editor's Comment: If you would like to help bring this project, "Kionte Storey, Athlete", to completion, please visit its GoFund Me page. You can help finish this film so Kionte can travel with it and inspire other wounded heroes! They need finishing funds for the edit, war footage, music, sound mix, color correction, etc. The production is complete except for one trip to Madison, Wisconsin to visit one of Kionte's Marine brothers who was with him in the hallway in Afghanistan when the IED went off.
Here is part of the Kionte Storey journey with an introduction by its author, Andy Marken:
The production of the attached film is a project I've come to know and understand more than many. Too many men and women who return are pushed aside leaving them to fend for themselves in ways most of us can only imagine in our worst nightmare. Cirina Catania an excellent filmmaker friend has made the telling of Kionte's a priority in her life and we'd like to help her, him and the thousands of his military brothers and sisters who try to adjust to the world they left behind.–Andy Marken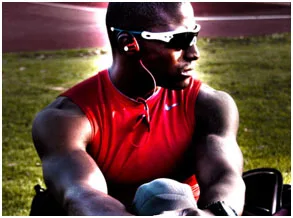 As you watch Corporal Kionte Storey running windsprint after windsprint, it's easy to see that he's a retired marine with a goal.
If you watched an hour of the documentary-in-progress, as we did, that Cirina Catania, founder/lead creative of The Catania Group, has been working on for several months, you quickly realize he has dozens of goals and will probably achieve all of them.
On the track nearly every day, he's determined to prove that he has what it takes to not only participate but to win in a future Paralympics and will hopefully even represent his country in the 100, 200 and 400m sprint events in the 2016 International Paralympics.
It's almost impossible to watch the film footage of him today and understand the toll the loss of his lower right leg to an IED (improvised explosive device) in Afghanistan in September of 2010 took on him and the mental scars he carries with him even today.
Like so many men and women who return home wounded, recovery was a long and painful (physically and mentally) process.
With his mom constantly by his side, he recovered at Bethesda Naval Medical Center before being transferred to San Diego.
He seldom shared the depression that was weighing on him, instead telling others (and reminding himself), "It could have been worse. It is what it is and there's nothing you can do but move forward."
He's delighted that Cirina is doing his documentary; not for himself, but to encourage the thousands of wounded service men and women who also experience the physical/mental trauma and to help others have a better understanding.
During his early recovery, he would wear his "happy face" everywhere except his barracks room. There, he'd swing from guilt for not being there for his Marine brothers and depression so deep, dark he frightened even himself (www.kiontestorey.com).
Knowing he was going into a deep hole he might never climb out of, he went cold turkey on the prescription pain/depression pills and started attending Paralympics sports camps.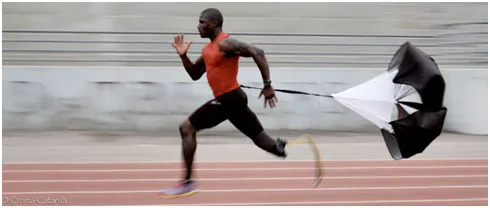 Driven to Win – Almost every day, you'll find Kionte Storey on the track pushing himself to be at the peak of his performance for the 100, 200 and 400m sprint aiming for the 2016 International Paralympics. In the evenings, he works for the FBI; and in his spare time, he and Koja speak to adult and children's groups on overcoming adversity.
Today, he shrugs off the pain he experienced when he began to walk a few minutes, a few hours and finally all day on his new prosthetic.
But it wasn't until he got his first running prosthetic, cheetah leg, that he found sports made him happy and felt he had found his "new life."
After his three years of service and recovery, he still had a hard time being around people; suffered the symptoms of many other men/women who had experienced battle – anxiety, nervousness, high sense of alertness, forgetting where he was.
A year after his injury, the 25-year-old Marine met his new best friend and training partner, Koja.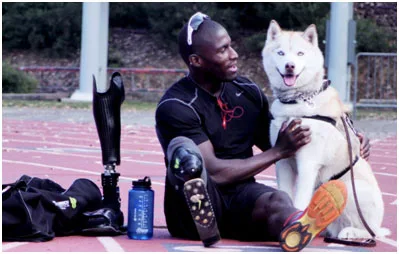 Buddy Time – Kionte takes a break from practice to spend some quality time with his best friend, Koja. Since 2011, Kionte and Koja, a Siberian Husky service dog, have been almost inseparable. Kionte says Koja helps him through the rough periods and celebrates with him with each achievement.
His constant companion, the Siberian Husky not only gives Kionte a whole new sense of joy and happiness, he brings a smile to everyone he meets.
In addition to his daily training aimed towards the 2016 International Paralympics, Kionte also works his "night job" with the FBI, is active in community service helping other wounded men/women gain their own New Life and is preparing for next Fall as a motivational speaker at schools to help youngsters understand that there isn't anything too small or too large that they can't accomplish.
The Marines call it "Adapt and Overcome," and to the groups he speaks to Kionte emphasizes that, "Our injuries don't define or make us. We make the best of our injuries."
Even before Cirina met Kionte and convinced him to let her produce a documentary on his New Life, he was achieving goal after goal, including becoming the first African American and first amputee to reach the summit of Antarctica's Mt. Vinson. He has also learned to snowboard, skateboard, ski; has medaled in Warrior Games track and swimming events and is now focusing on the International Paralympics.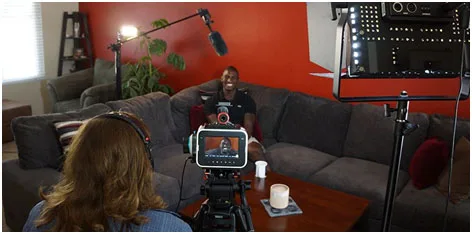 On Set – The one-person cinematography crew, Cirina Catania, captures Kionte's thoughts, experiences and New Life using a Blackmagic Cinema Camera and OWC's Pro 6G SSD. Kionte and Cirina both hope the documentary will become a series of films focused on helping others returning from combat and to help friends/family members understand and assist returning service men and women overcome their physical/mental challenges.
While she has an extensive background with major studio and independent film work, Cirina said that Kionte inspired her to finally develop a positive documentary series on the challenges and successes of wounded returning military personnel.
She notes that doing documentaries like her current one, which is called "Kionte Storey – Athlete," is the type of project that The Catania Group intends to continue producing.
She explains that for projects like Kionte's documentary – the first of many she hopes to produce, you have to be invisible during the shooting and quickly but accurately capture the action and emotion with great sensitivity.
While she has had some volunteer assistance from Philip Hodgetts and Gregory Clark's Lumberjack System, used for logging the segments, Cirina does all of the shooting/production herself because there is no crew budget.
To capture the Kionte's/Koja's story and action she uses Blackmagic Cinema Cameras, Blackmagic Pocket Camera, GoPro, NEX7 and their respective kits. All of the content is quickly, and reliably stored on Other World Computing 6G Pro SSD cards.
Cirina hopes to have at least the first "installment" of Kionte's documentary available on the web probably at www.TheCataniaGroup.com and on Kionte's site.
Her goal is to raise awareness of Kionte's and other veterans' challenges and achievements.
Whether through crowdsourcing or the sale of the web or TV rights, she wants her work to help raise funds to help others who don't have the support of a mother like his and an unflinching friend/partner like Koja.
# # #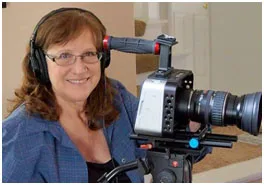 Cirina Catania is the founder and lead creative of The Catania Group. The former VP of United Artists has written/directed/produced and/or marketed hundreds of feature length films, TV series, music videos and documentaries. Today, she donates her time and creative talent to build awareness of the challenges and successes of physically and mentally disabled military personnel and the people who reach out and assist them in reentering the world they left behind to serve their country.