DLSS Benchmarks
DLSS Benchmarks
In this section, we compare the performance in some games with Quality DLSS on and off, and also compare performance with Quality DLSS 2 with our RTX 3080 and 2080 Ti cards versus Quality DLSS 3 (DLSS 2 + Frame Generation) using our RTX 4070 Ti TUF GAMING OC to check if the massive performance improvements advertised by Nvidia are real.
No DLSS vs. Quality DLSS 2

Looking at the chart above, we see substantial performance improvements in all tested games using Quality DLSS 2 with our three cards compared to not using DLSS.
At 2160p and using Quality DLSS, the 4070 Ti TUF GAMING OC is the only card of our three we compare to exceed the 30FPS barrier in Cyberpunk 2077 (DXR), to reach the 60FPS one in Hitman 3 (DXR), and to exceed 60FPS avg in Metro Exodus PC Enhanced Edition (DXR).
No DLSS vs. Quality DLSS 2 & 3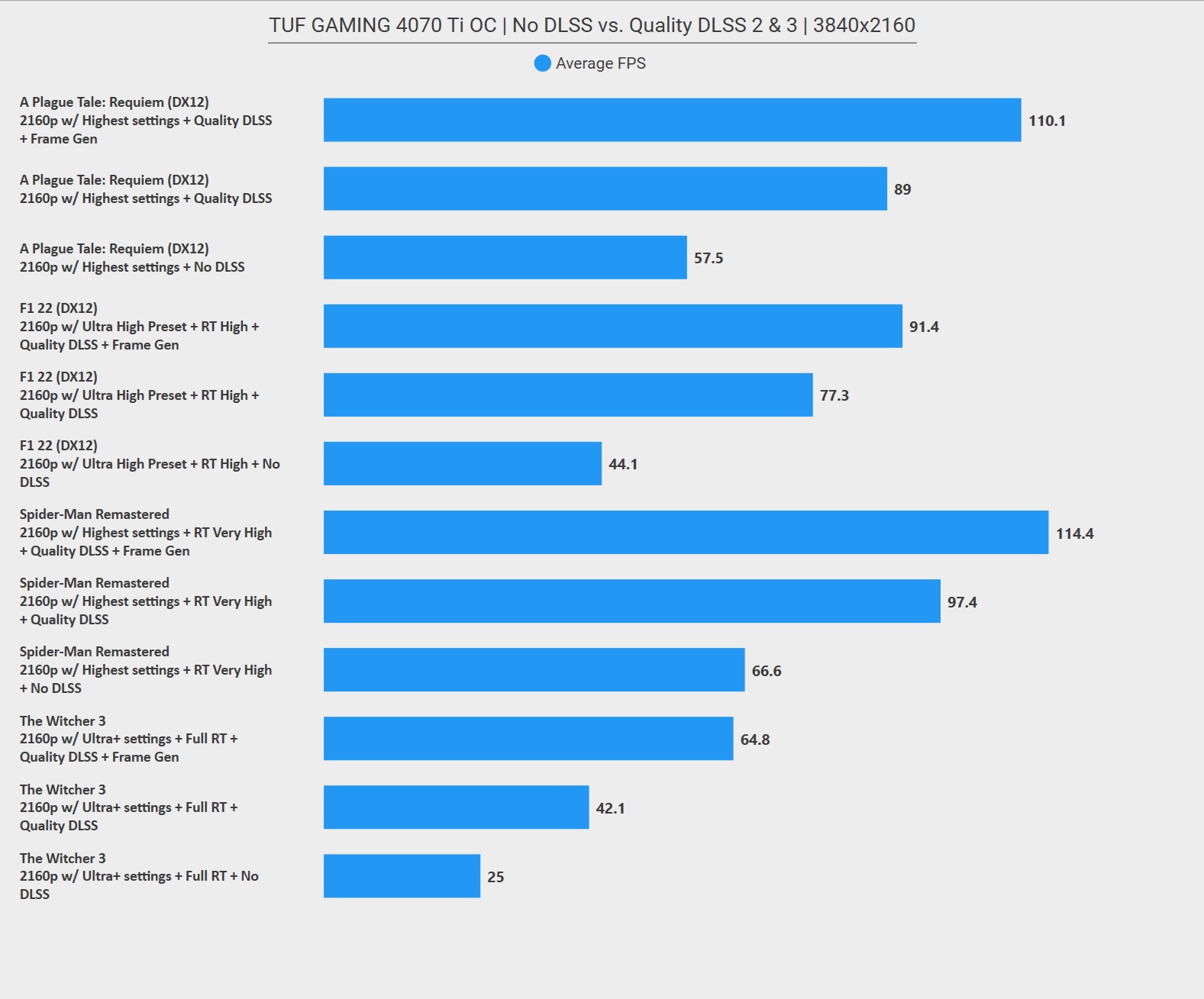 Nvidia talks about 2x and up to 2.4x performance improvements when using DLSS 3 in games supported by the RTX 4070 Ti. In our case, we saw that their promo ads are consistent with reality.
We see an impressive +159% (2.6X) performance improvement between having DLSS 3 on and off in The Witcher 3 (DXR) v4.0, another +107% (2.1X) in F1 22 (DXR), +72% (1.7X) in Spider-Man: Remastered (DXR), and +91% (1.9X) in A Plague Tale: Requiem.
The previous results using DLSS 3 show us the notable advantage and performance leap in the most demanding and current ray-traced games, which comes from having an Ada Lovelace graphics card, especially in the case of the RTX 4070 Ti TUF GAMING OC.
Considering the image quality results from a 2160p native resolution, we saw that overall, Quality DLSS 3 looks just as good as Quality DLSS 2 in all games we tested, with only some minor artifacts visible in certain situations. From a 1440p native resolution, we see similar results, except The Witcher 3 v.4.0, as the game with DLSS 3 enabled showed a blurrier image than Quality DLSS 2 in this scenario.