Test Configuration, Noise, Temperatures & Power Consumption
Test Configuration
Benching Methodology
Test Configuration – Hardware
12th Gen Intel Core i9-12900K (Hyper-Threading/Turbo boost on; stock settings)
ASUS PRIME Z690-P D4 motherboard (Intel Z690 chipset, v.1008 BIOS)
T-FORCE XTREEM ARGB WHITE 32GB DDR4 (2×16GB, dual-channel at 3600 MHz CL14 XMP), supplied by TeamGroup
ASUS TUF GAMING GeForce RTX 4070 Ti OC Edition 12GB, stock clocks; supplied by Nvidia
Gigabyte AORUS GeForce RTX 3080 MASTER 10GB (rev. 1.0); v.F4 VBIOS, stock clocks
EVGA GeForce RTX 2080 Ti BLACK EDITION GAMING 11GB, stock clocks
1 x Samsung 500GB SSD 960 EVO NVMe M.2
2 x WD Blue 1TB SATA SSD
1 x TeamGroup MP33 M.2 PCIe 1TB SSD
Corsair RM850x, 850W 80PLUS Gold power supply unit
ASUS TUF Gaming VG289Q 28″ IPS UltraHD (3840×2160) 60Hz 5ms FreeSync Monitor for testing games at 2160p resolution.
ASUS ROG Swift PG279Q 27″ IPS QuadHD (2560 x 1440) 165Hz 4ms G-Sync Monitor for testing games at 1440p resolution.
Test Configuration – Software
NVIDIA GeForce 527.62 press drivers; 'Prefer maximum performance' (on a per-game profile basis); Shader Cache Size 'Unlimited' (globally); fixed refresh rate (globally).
We enable Resizable BAR (disabled with RTX 2080 Ti due to the lack of full support).
'V-Sync application controlled' in the control panel; V-Sync off in-game.
We note and specify the main in-game display, graphics, AA, and scaling settings in the performance summary charts.
Windows 11 64-bit Pro edition, latest updates v22H2, High-performance power plan, HAGS & Game Mode are enabled, Game DVR & Game Bar features off, Control Flow Guard (CFG) off on a per-game basis, Hypervisor and Virtualization-based security are disabled.
We do not install GIGABYTE or ASUS tools.
Latest DirectX
All 19 games are patched to their latest versions at the time of publication.
3DMark suite and UNIGINE Superposition benchmark, the latest version
Basemark GPU benchmark, v.1.2.3
UNIGINE Superposition, v.1.1
CapFrameX (CX), the latest version
RivaTuner Statistics Server (RTSS), the latest version
FrameView, the latest version
Display Driver Uninstaller (DDU), the latest version; always uninstall drivers using DDU in safe mode, clean, and restart.

ISLC (Purge Standby List) before each benchmark.
GeForce Driver Suite-related
We use DCH Game Ready drivers.
The display driver is installed.
We install the latest version of PhysX.
Hybrid & Non-Synthetic Tests-related
Game Benchmarks-related
We use the corresponding built-in or custom benchmark sequence.
Frametimes Capture & Analysis tool-related
We use CapFrameX for capturing frametimes and analyzing the relevant performance numbers obtained from each recorded built-in or custom benchmark sequence.
We use FrameView for capturing purposes only when DLSS 3 is enabled for maximum reliability.
We always perform consecutive runs until detecting three usable runs (no outliers) that can be aggregated by CapFrameX using the following method:

Aggregate excluding outliers:

Outlier metric: Third, P0.2 (0.2% FPS percentile).
Outlier percentage: 3% (the % the FPS of an entry can differ from the median of all entries before counting as an outlier).

We compare and evaluate the results and aggregated records in terms of percentages of gain/loss and set the following thresholds to consider a % value as significant (not within the margin of error) for our benchmarking purposes:

Score/Avg FPS > 3% when valuing hybrid and non-synthetic benchmarks;
Avg FPS > 3% when evaluating raw performance.
Benchmark Suite: 19 Games, 6 Hybrid & 3 Non-Synthetic Tests
PC Games
DX11 Games
Days Gone (DX11)
God of War (DX11)
Total War: Warhammer III (DX11)
DX12 Games
A Plague Tale: Requiem (DX12)
Assassin's Creed: Valhalla (DX12)
Call of Duty: Vanguard (DX12)
Cyberpunk 2077 v.1.61 (DX12)
F1 2021 (DX12)
Far Cry 6 (DX12)
Forza Horizon 5 (DX12)
Hitman 3 (DX12)
Horizon Zero Dawn (DX12)
Metro Exodus PC Enhanced Edition (DX12)
Spider-Man: Remastered (DX12)
The Callisto Protocol (DX12)
The Witcher 3: Wild Hunt v.4.00 (DX12)
Vulkan Games
DOOM Eternal (VK)
Quake 2 RTX (VK; v.1.6.0)
Wolfenstein: Youngblood (VK)
Synthetic Tests
AIDA64 GPGPU benchmarks
Blender 3.4.0 benchmark
Geekbench 5
Sandra 2021 GPGPU Benchmarks
Hybrid Tests (3DMark)
DirectX Raytracing feature test
Fire Strike Extreme
Fire Strike Ultra
Port Royal
Time Spy
Time Spy Extreme
Non-Synthetic Tests
Basemark GPU
GPUScore: Relic of Life
UNIGINE Superposition
NVIDIA Control Panel settings
Here are the global NVIDIA Control Panel settings: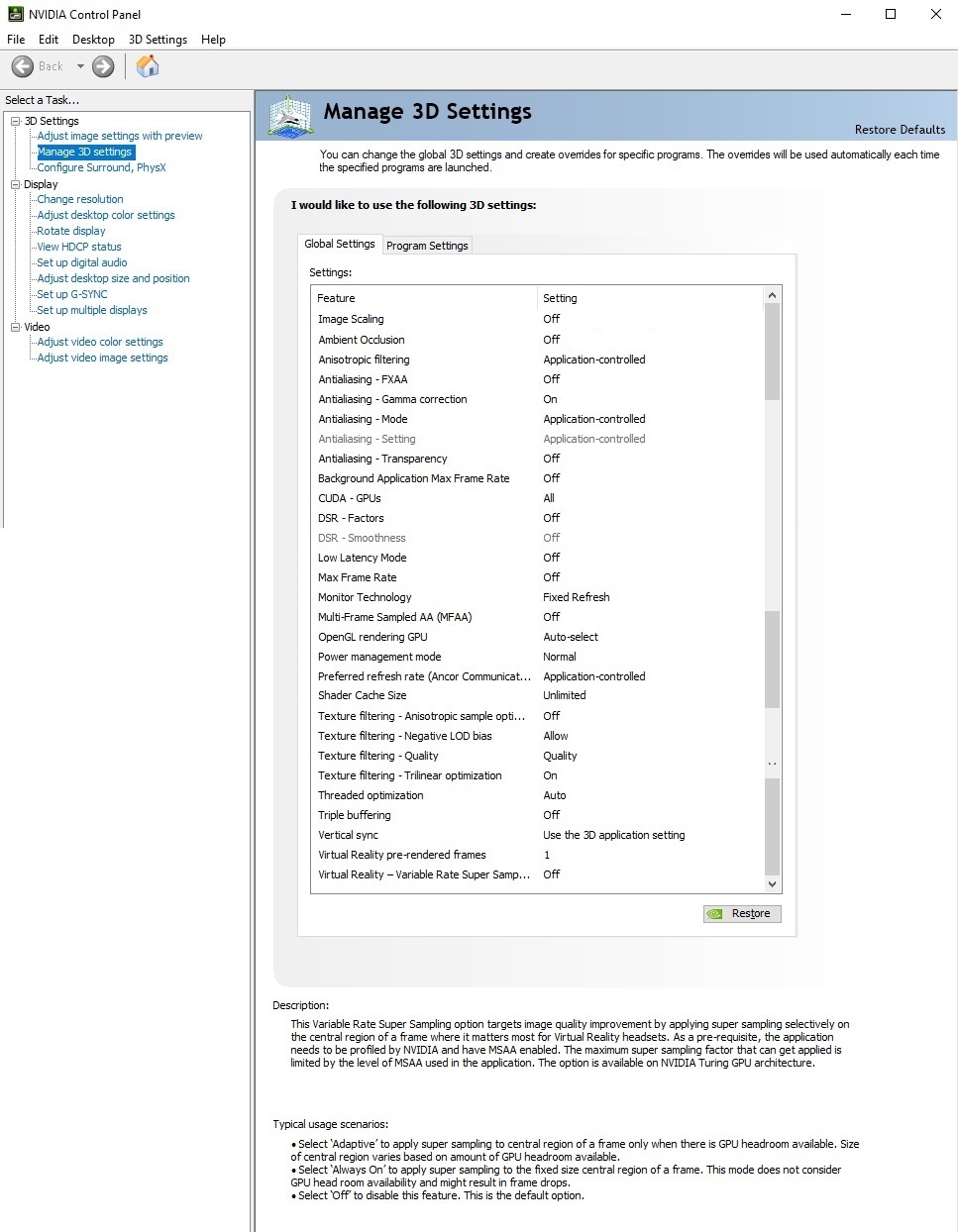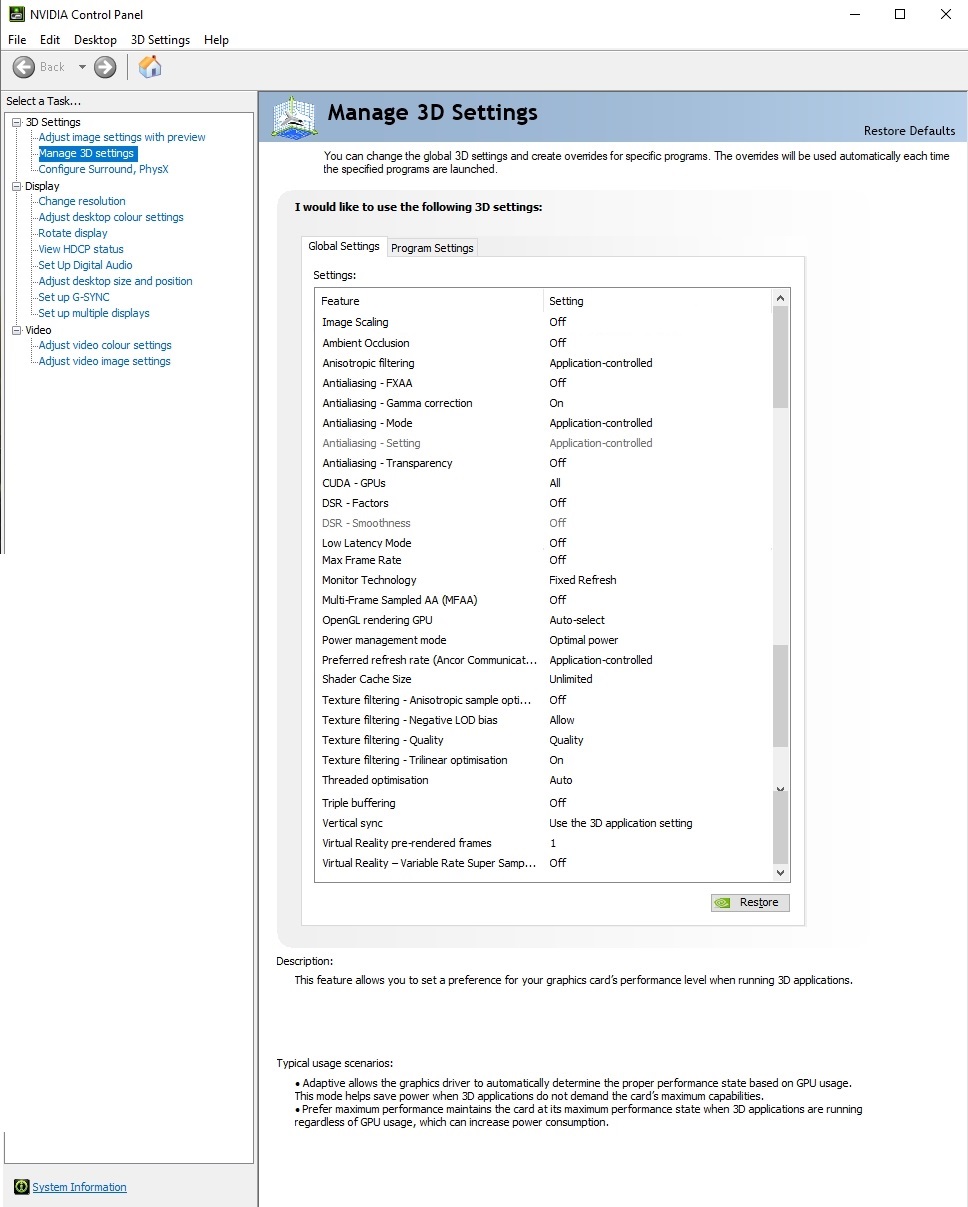 Noise, Temperatures, and Power Consumption
Unfortunately, we did not have time to check out the overclocking potential, but temperatures were slightly higher than the AORUS RTX 3080 MASTER. So BTR plans to follow this review up with a VR review – conducted by Mark Poppin, BTR's PC VR specialist – and an overclocking and creative and pro apps performance analysis – done by the author of the current article.
The RTX 4070 Ti TUF GAMING OC is quiet, and its fans never spin up, even under a heavy or full load, to be irritating or noticeable. It is as silent as the AORUS RTX 3080 MASTER. This model also supports a 0RPM fan mode on idle or light load conditions.
This card is factory clocked 120MHz higher than the reference version at 2610MHz using both BIOS modes. According to its specifications, the RTX 4070 Ti TUF GAMING OC boost can clock up to 2730MHz out of the box. From our testing, we generally see it boosting even higher and typically settling in 2820MHz with peaks above 2850MHz under full or heavy load conditions.
Below is our thermal and approximate power consumption analysis on idle (Windows desktop, no user interactions) and full-load (UNIGINE Superposition Stress Test, 2160p resolution, highest settings, 10 minutes).
Idle conditions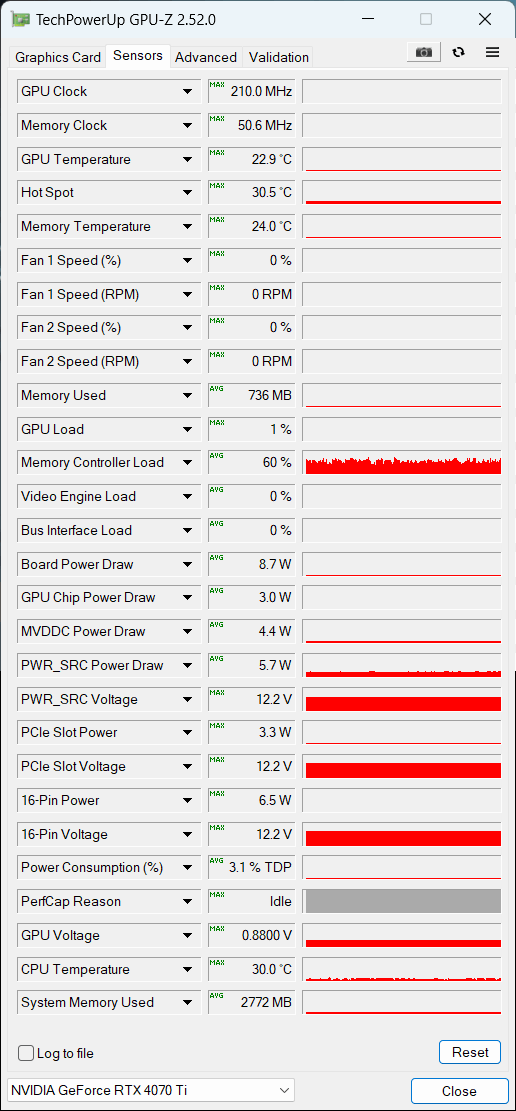 On idle conditions, we see a maximum GPU clock of 210MHz, a Memory Clock of 50.6MHz max, a GPU temperature of 23 Celsius degrees (room temp at 19 Celsius degrees) max, an average board power draw of approximately 9.0W, average power consumption of 3%, and a maximum GPU voltage of 0.88V.
Full-load conditions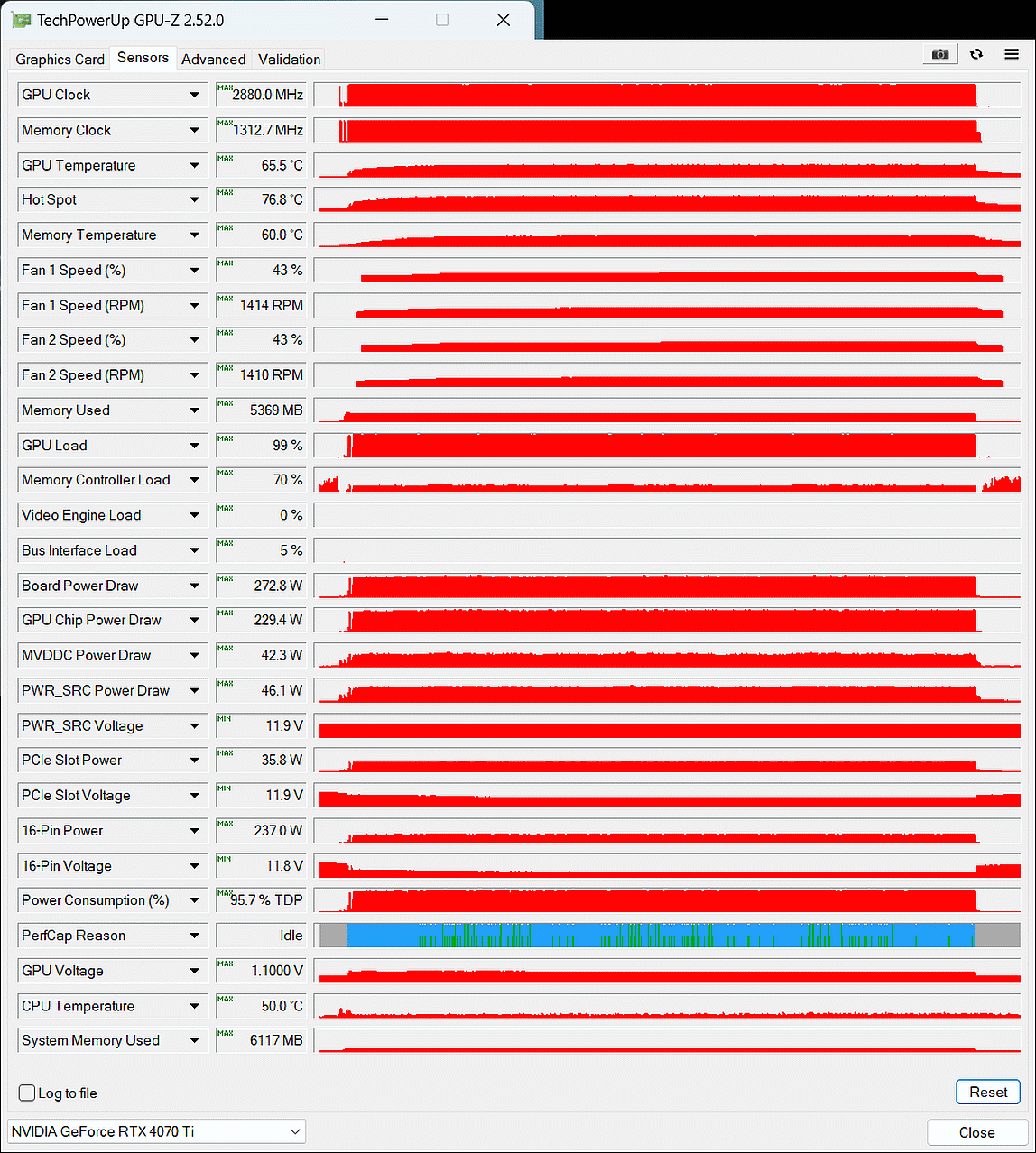 Under full-load conditions, the RTX 4070 Ti TUF GAMING OC peaked at a maximum clock of 2880MHz, but after some minutes running the Superposition stress test, it slowed down progressively, step by step, and stabilized at 2820MHz when GPU temp stays in the mid-60s C. Also, the maximum memory clock was 1312.7MHz, the GPU peaked at 65.50 Celsius degrees max (room temp at 21 Celsius degrees), the approximate board power draw was 272.8W max, a maximum power consumption peak of 95.7%, and the GPU voltage reached a maximum of 1.10V.


Finally, the reported PerfCap reason (performance limited by different factors) during our full-load GPU stress test was either the intended VBIOS power or reliability limits.
So taking into account all the above, we consider that our ASUS TUF GAMING RTX 4070 Ti OC Edition sample works great and as intended in terms of frequencies, noise level, temperature, and power consumption. Overall the RTX 4070 Ti TUF GAMING OC is quiet, well-cooled, and power efficient.
Let's head to the performance charts to compare the graphics performance of the RTX 4070 Ti TUF GAMING OC with two other graphics cards; an RTX 3080, based on the Ampere architecture, and an RTX 2080 Ti, based on the Turing architecture.