Intro
 The $849.99 TUF GAMING RTX 4070 Ti OC Edition Gaming Performance
We recently received an ASUS TUF GAMING RTX 4070 Ti OC Edition 12GB from Nvidia and we have been testing it for the past ten days by using 19 PC games plus hybrid and non-synthetic benchmarks. This time, there will be no production nor distribution of Founder Edition models for its RTX 4070 Ti GPU (AD104) by Nvidia, and AIBs will be the only ones assembling and distributing custom models of this Ada Lovelace GPU. Although these GPUs arrive with multiple new features, including DLSS 3, this review will focus mainly on testing raw performance, not upscaling.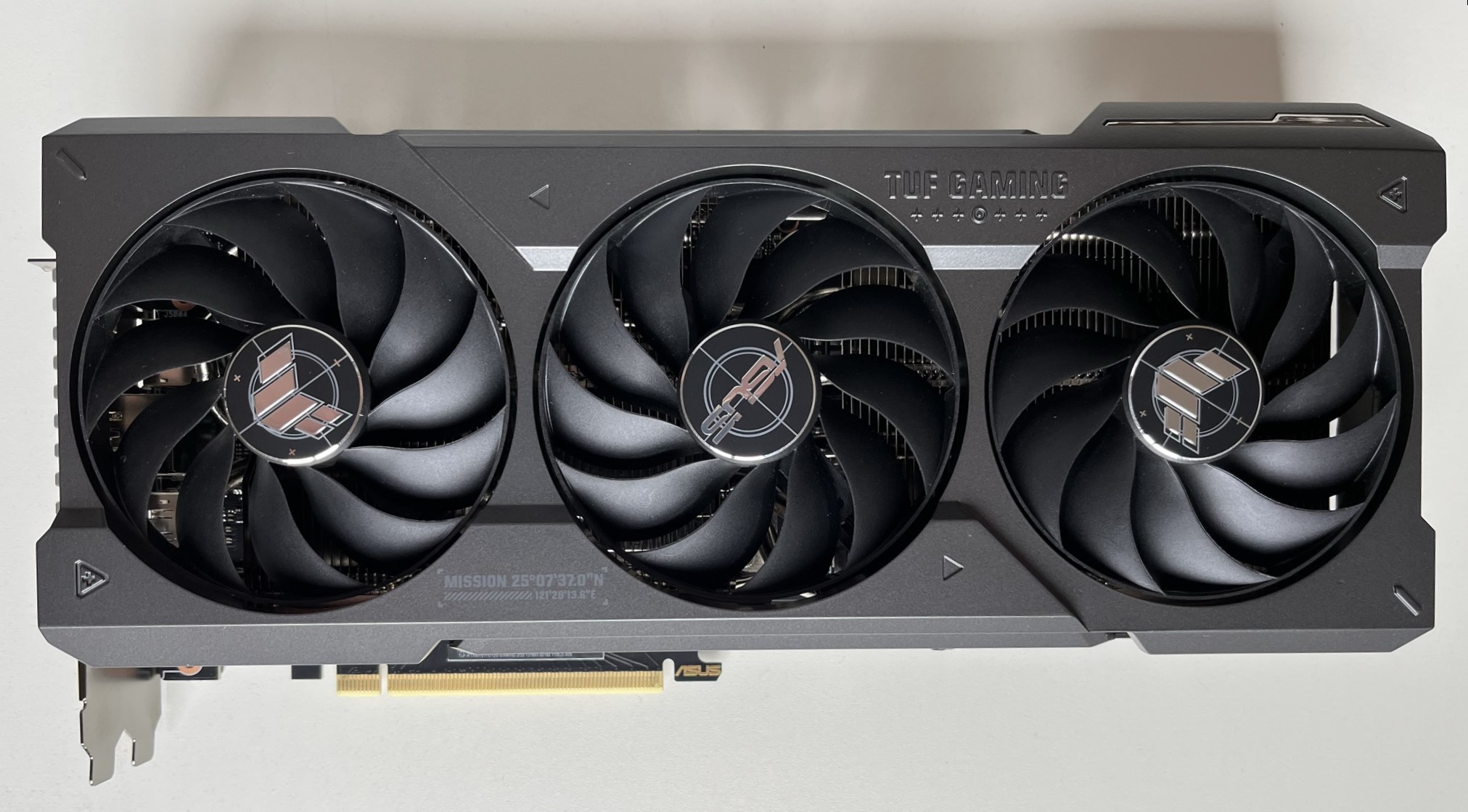 Our Plan
Nvidia touted the RTX 4070 Ti as a card delivering an outstanding efficient performance that can be up to 3x faster than the RTX 3090 Ti in specific games which offers a tremendous upgrade for GTX 1080 Ti or RTX 2080 users. Although for this review, we have not been able to use those same Pascal, Turing, and Ampere GPUs, we have been able to compare our RTX 4070 Ti versus an RTX 3080 (Ampere micro-architecture, 2nd RTX generation) and RTX 2080 Ti (Turing micro-architecture, 1st RTX generation).
We think comparing the RTX 4070 Ti's performance against two iconic cards from Nvidia's previous two RTX generations of GPUs may be worth it for Turing or Ampere users considering an upgrade to Ada Lovelace.

The RTX 4070 Ti features 7680 CUDA Cores, 40 Shader TFLOPS, 93 RT-TFLOPS, 641 Tensor FLOPS, and 12GB of GDDR6X memory, so we will see how it performs and compare with raster games and ray-tracing/DLSS games. We will focus on RTX 4070 Ti raw performance as well as consider whether the new RTX 4070 Ti TUF GAMING OC Edition at $850 delivers a good value as an upgrade from the RTX 3080 that launched at $700 MSRP two years ago and from the RTX 2080 Ti which launched at $1000 MSRP four years ago.
Features & Specifications
Key Features from ASUS
Dedicated 3rd generation ray tracing cores (60)
Dedicated 4th generation Tensor cores (240)
NVIDIA DLSS 3 support
Game Ready and Nvidia Studio drivers
Nvidia GeForce Experience
Nvidia Broadcast
Nvidia G-Sync
Nvidia GPU Boost
PCI Express Gen 4
Microsoft DirectX 12 Ultimate support
Support for Vulkan RT APIs, Vulkan 1.3, and OpenGL 4.6
HDCP 2.3 support
DisplayPort 1.4a support: up to 4K at 240Hz or 8K at 60Hz with DSC, HDR
HDMI 2.1a support: up to 4K 240Hz or 8K 60Hz with DSC, Gaming VRR, HDR
Specifications
Nvidia's MSRP price for RTX 4070 Ti GPUs is $799, and ASUS's price for the RTX 4070 Ti TUF GAMING OC Edition is $849.99. This is approximately $50 over Nvidia's MSRP price for a quality well-cooled tri-fan custom model with a factory GPU overclock of 120 MHz over the Nvidia reference 2610MHz boost clock.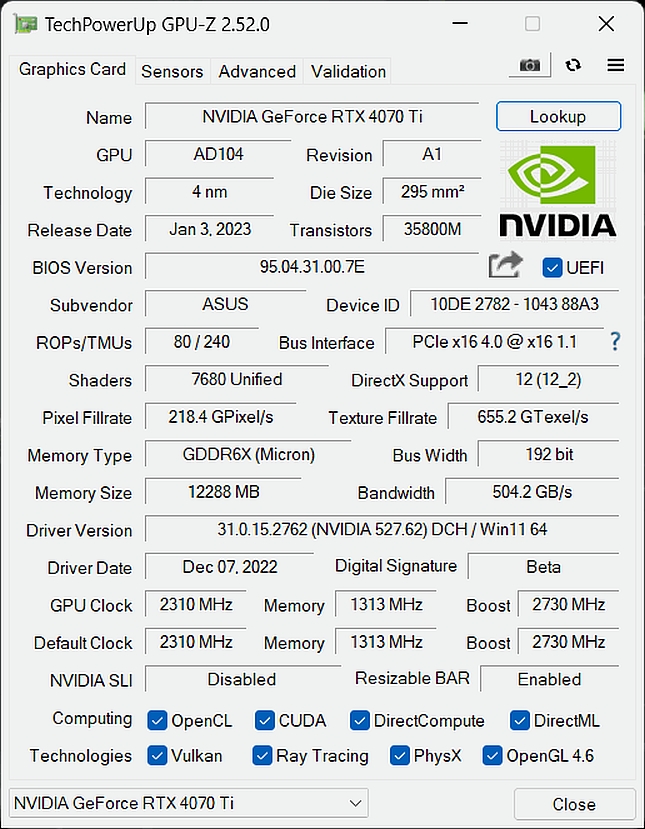 According to GPU-Z, the RTX 4070 Ti TUF GAMING OC has the same default GPU clock of 2310MHz and boost GPU clock of 2730MHz – 120MHz higher than the reference – using both VBIOS modes, so the only difference between VBIOS modes is the fan curve.
We will show GPU-Z data and test the card using the Performance VBIOS mode only, as the factory overclock doesn't change between VBIOS modes, and the card is silent under full-load when in Performance Mode, so it is not worth having higher GPU temperatures with slightly worse performance.
Below is the advanced general information on the RTX 4070 Ti TUF GAMING OC reported by the GPU-Z tool.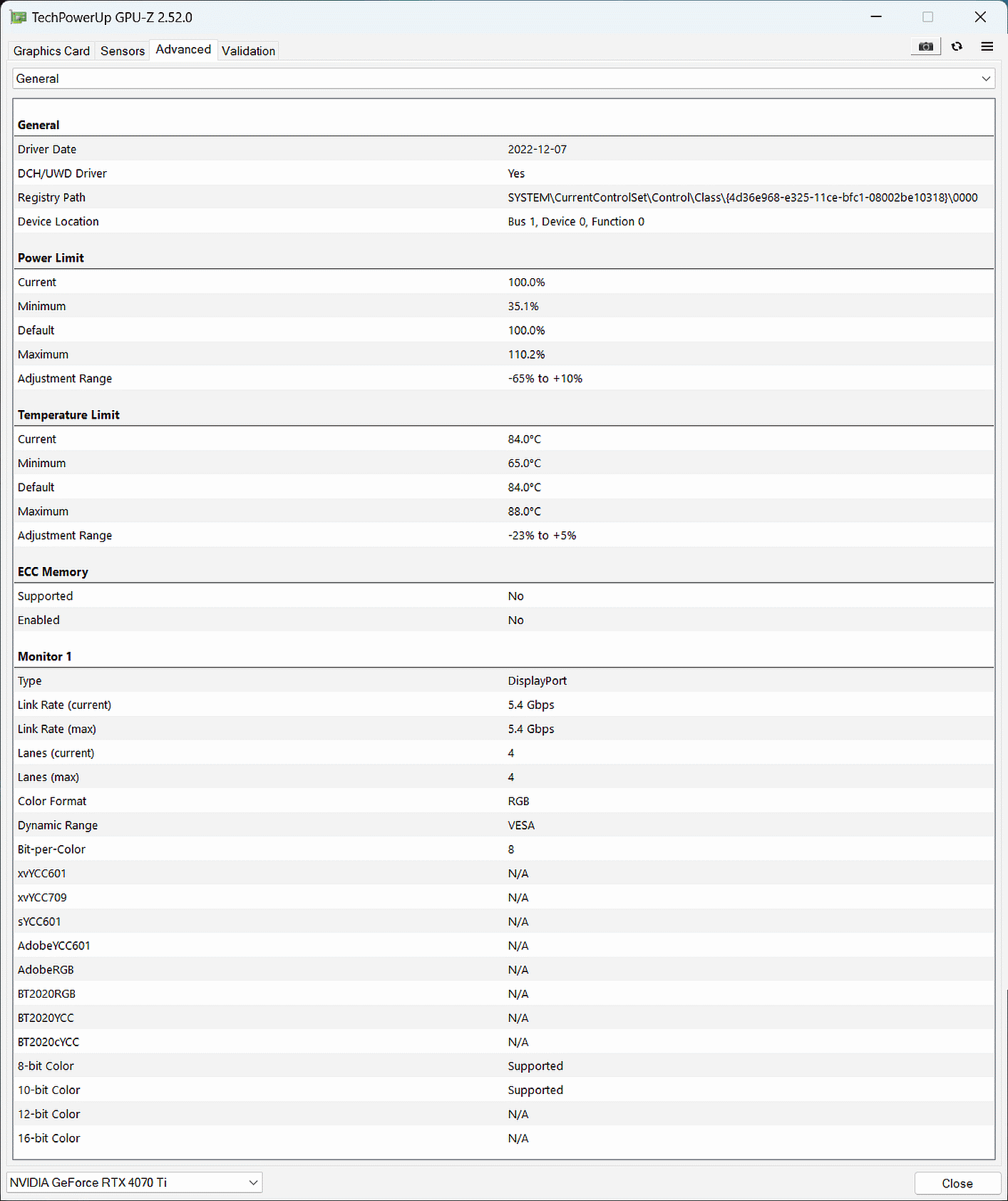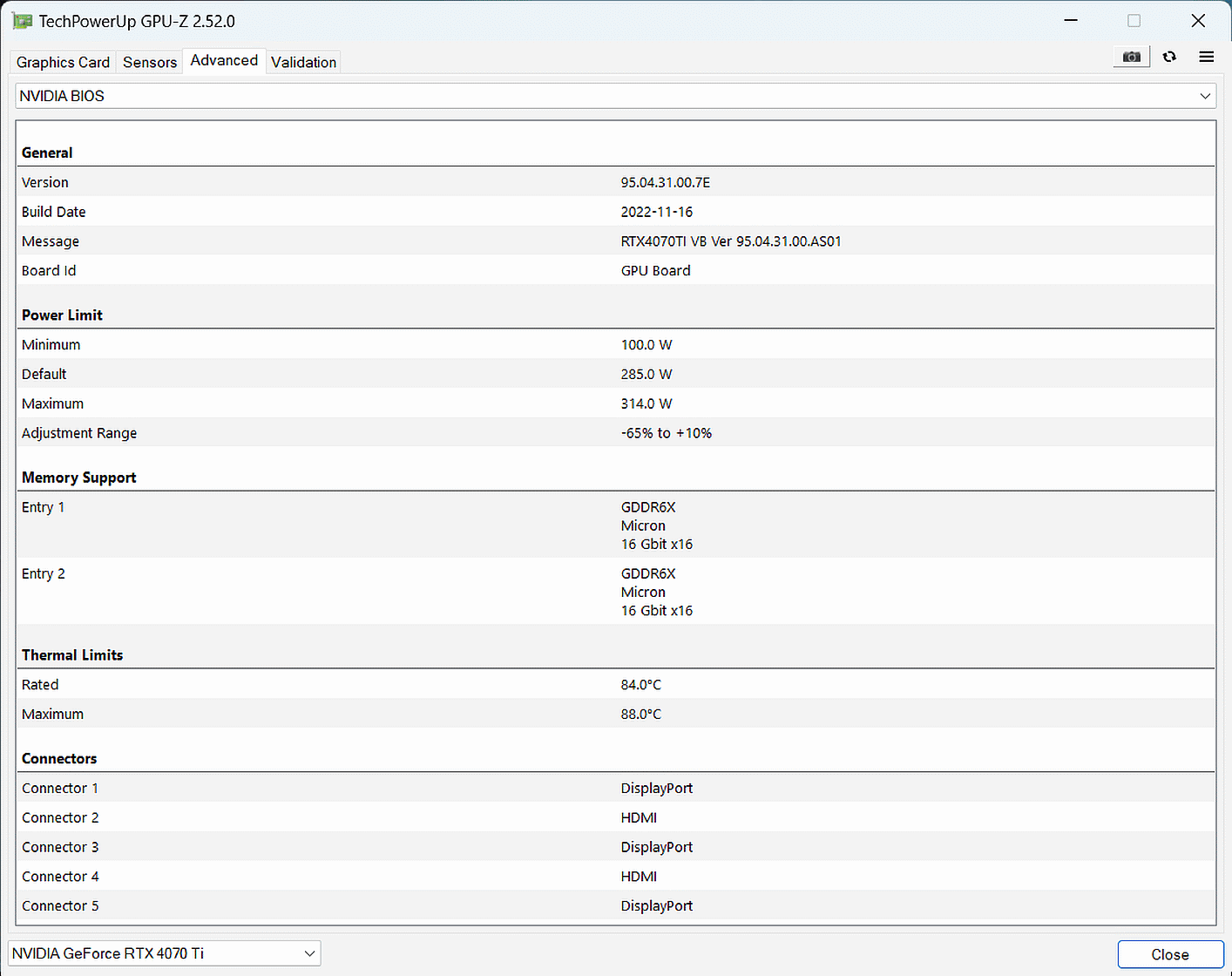 As you can see from the GPU-Z screenshots above, you can even increase both power and temperature limits to some degree, so there is still some room for GPU overclocking, but not very high or extreme, at least without taking other risky modding procedures.
The Test Bed
We benchmark with CapFrameX and FrameView tools on a recent install of Windows 11 Pro Edition 22H2, at 2560×1440 and 3840×2160, using an Intel Core i9-12900K with stock clocks and 32GB of T-FORCE XTREEM ARGB WHITE DDR4 3600MHz memory on an ASUS PRIME Z690-P D4 motherboard. All games and benchmarks are the latest versions, and we use the latest GeForce Game-Ready 527.62 press drivers for games and hybrid and non-synthetic tests. The games tested, display driver, settings, and hardware are identical except for the GPUs we compare.
Let's see the unboxing and take a closer look at this graphics card.