The $599.99 RTX 4070 FE Gaming Performance Review
We recently received an RTX 4070 Founders Edition from Nvidia and we have been testing it for the past week by using 11 PC games plus hybrid benchmarks. The Founders Edition will be available at $599 starting tomorrow. Nvidia is touting this GPU as a great upgrade to the seven-year-old 10 series cards – and while it is true that its value proposition is undeniable – you will have to decide if it is worth the price of admission.

Thankfully, Nvidia has kept pricing sane as the RTX 4070 arrives with multiple new features, including DLSS 3, which brings an incredible performance uplift. For this reason alone, this new entry in the 40 series is extremely exciting. The higher-priced RTX 3080 is hard to find new in stock so we will compare them to find the best value.

The RTX 4070 further cements its new value role as it supports impressive new features including Displaced Micro-Meshes and Nvidia DLSS 3 technology, all while using less power than the RTX 3070 Ti. Additionally, for broadcasters, the RTX 4070 supports AV1 encoding which in and of itself is a good enough reason to upgrade from older generations of cards.
The RTX 4070 Feature set
Right out of the gate, many will be concerned about being bound by the RTX 4070's 12GB VRAM capacity as modern games skyrocket in their usage. While it may not age the best in 5-6 years, its VRAM is more than enough for current needs. Compared with buying a used RTX 3080, the RTX 4070 is a new card with a warranty, and it includes the latest leaps in DLSS/AI technology.
Comparing generation-to-generation there is a giant leap thanks to TGP/power improvements. There is also no price category competition from AMD, and FSR 2.0 is well behind DLSS 3 in performance. Again, the value proposition in comparison to the rest of the rather expensive 40 series is obvious, but the RTX 4070 may not offer the raw GPU power upgrade that those with RTX 3080s are looking for at this price range.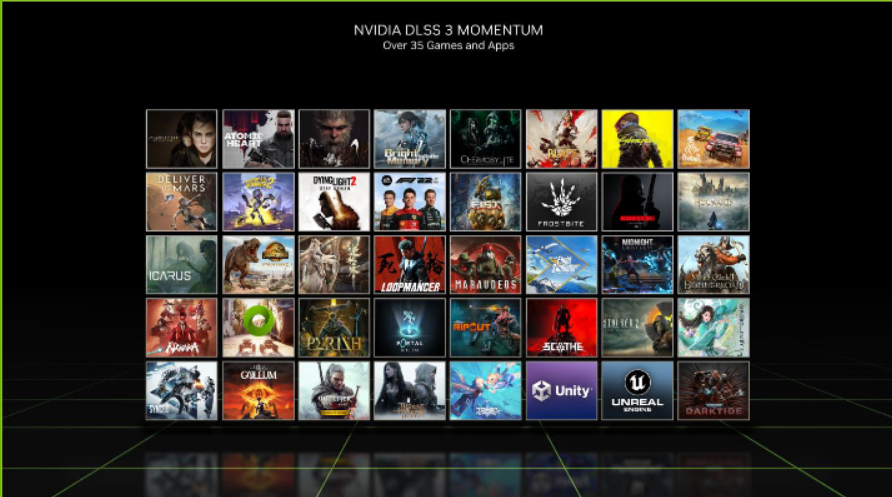 Today, there are over 400 games and applications that have RTX support which includes over 50 announced titles with DLSS 3. According to Nvidia, DLSS 3 has the fastest adoption of any of their technologies to date, with DLSS 3 being adopted 7x faster than DLSS 2. DLSS 3 is featured in some of the hottest current and upcoming titles including Forza Horizon 5, Diablo IV, Redfall, and The Finals. This value alone may be enough to move the needle for potential buyers.
GeForce RTX 4070 Founders Edition Board
The GeForce RTX 4070 Founders Edition graphics card incorporates many of the new design elements that are also found on NVIDIA's GeForce RTX 4070 Ti, RTX 4080, and RTX 4090 Founders Edition boards. The RTX 4070 Founders Edition board is crafted with premium materials and components including a die-cast aluminum body and dual axial fans. It looks fantastic in our PC and especially for ITX enthusiasts, this may be a go-to card with its perfect compact size.

The RTX 4070's new design also provides about a 20% increase improvement in airflow compared to the RTX 3070 Ti Founders Edition.
Our Plan
Nvidia is in an interesting spot with the RTX 4070 delivering outstandingly efficient performance. For this review, we are planning to benchmark the RTX 4080, RTX 4070 Ti, RTX 4070, RTX 3070, and RTX 3080 within an average build that most gamers today would be able to complete on a reasonable budget.
We think comparing the RTX 4070 performance against current family and iconic cards from Nvidia's previous RTX generation of GPUs may be worth it for Turing or Ampere users considering an upgrade to Ada Lovelace.
The GeForce RTX 4070 is based on the AD104 GPU and equipped with 5,888 CUDA Cores providing 29 FP32 Shader-TFLOPS of power for rendering traditional rasterized graphics. It also boasts 184 Fourth Generation Tensor Cores offering 466 Tensor-TFLOPS (with Sparsity) for AI processing and DLSS, 46 Third Generation Ada RT Cores capable of 67 RT-TFLOPS for powering next-generation ray-traced graphics, and 12GB of GDDR6X memory.
We want to test if it really can hold up with 12GB of VRAM to deliver a potential amazing value proposition compared to the RTX 3080 launched at $699 two years ago and the RTX 2080 Ti which launched at $99 MSRP four years ago. We want to especially compare the $599 RTX 4070 with the $849 ASUS Tuff Gaming 4070 Ti OC to determine its place in the current lineup.
Features & Specifications
The RTX 4070 technological innovations include:
New Streaming Multiprocessors (SM) – The new SM delivers up to 2x performance and power efficiency
4th Generation Tensor Cores and Optical Flow – Enable and accelerate transformative AI
technologies, including the new frame rate multiplying Nvidia DLSS 3
3rd Generation RT Cores – Up to 2x ray tracing performance, delivering incredibly detailed
virtual worlds like never before
Shader Execution Reordering (SER) – SER improves ray tracing operations by 2x, boosting FPS up to 44% in Cyberpunk with RT: Overdrive Mode
DLSS 3 – A revolutionary breakthrough in AI-powered graphics that massively boosts
performance using AI to generate additional high-quality frames
Nvidia Studio – Unmatched performance in 3D rendering, video editing, and live streaming
AV1 Encoders – The 8th generation Nvidia Encoder (NVENC) with AV1 is 40% more efficient than H.264, enabling new possibilities for streamers, broadcasters, and video callers
Key Features from ASUS
Dedicated 3rd generation ray tracing cores (46)
Dedicated 4th generation Tensor cores (184)
Nvidia DLSS 3 support
Game Ready and Nvidia Studio drivers
Nvidia GeForce Experience
Nvidia Broadcast
Nvidia G-Sync
Nvidia GPU Boost
PCI Express Gen 4
Microsoft DirectX 12 Ultimate support
Support for Vulkan RT APIs, Vulkan 1.3, and OpenGL 4.6
HDCP 2.3 support
DisplayPort 1.4 support: up to 4K at 240Hz or 8K at 60Hz with DSC, HDR
HDMI 2.1 support: up to 4K 240Hz, Gaming VRR, HDR
Specifications
Nvidia's MSRP price for RTX 4070 Ti GPUs is $799, and ASUS's price for the RTX 4070 Ti TUF GAMING OC Edition is $849.99. So it's exciting to get back down to Nvidia's MSRP for the RTX 4070 FE at just $599.
Here is the RTX 4070 in GPU-Z: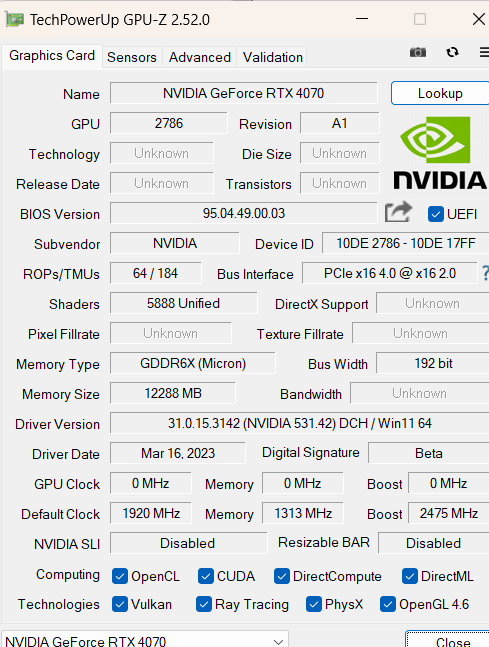 According to GPU-Z, the RTX 4070 has the default GPU clock of 1920Mhz compared to the RTX 4070 Ti TUF GAMING OC's 2310MHz, about an 18.4% difference, and a boost GPU clock of 2475Mhz compared to the RTX 4070 Ti TUF GAMING OC's 2730MHz which is around a 10% difference. So for $350 less, you will have a very competitive performance with the latest 40 series feature set.
Below is the advanced general information on the RTX 4070 FE as reported by the GPU-Z tool.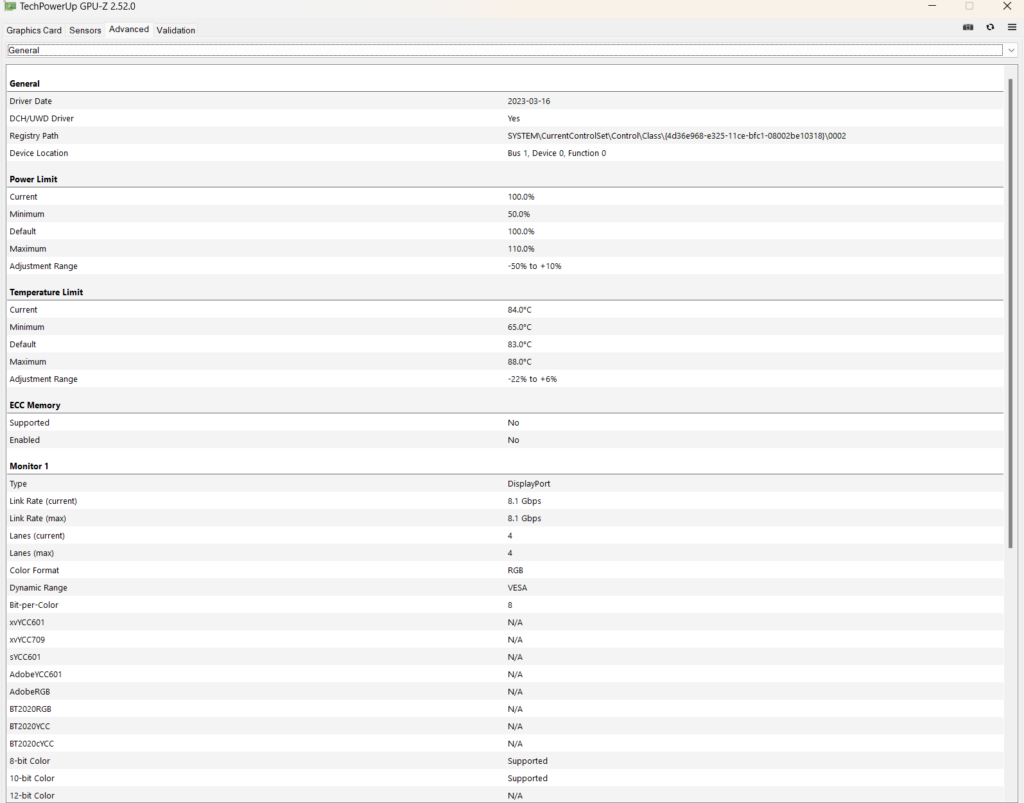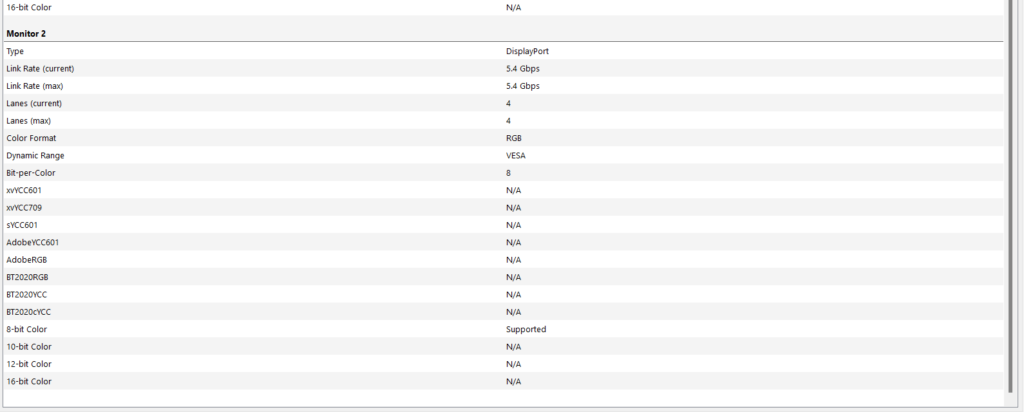 As you can see from the GPU-Z screenshots, you can even increase both power and temperature limits to some degree, and while there is little room for overclocking, there is some additional potential performance for gamers looking to get more from their builds. RTX 4070 partner boards should be interesting to see based on their cooling methods and pricing.
Our Benchmarking PC
We benchmark using FrameView on a recent install of Windows 11 Pro Edition 22H2, at 3440×1440 using an Intel Core i7-12700K with stock clocks and 32GB of DDR4 Corsair Vengeance RGB PRO 3600MHz memory on an ASUS PRIME Z690-P D4 motherboard. All games and benchmarks are the latest versions, and we use the latest GeForce 531.42 press drivers for our testing. The games tested, display driver, settings, and hardware are identical except for the GPUs we compare.

Fair warning – We lost our RTX 4080 during benchmarking due to a faulty power cable and PSU when swapping out video cards, so this is why the card is missing from some tests. We are in the process of getting them replaced.
Let's unbox and take a closer look at this graphics card.
A Closer Look at the RTX 4070 Founder's Edition
Packaging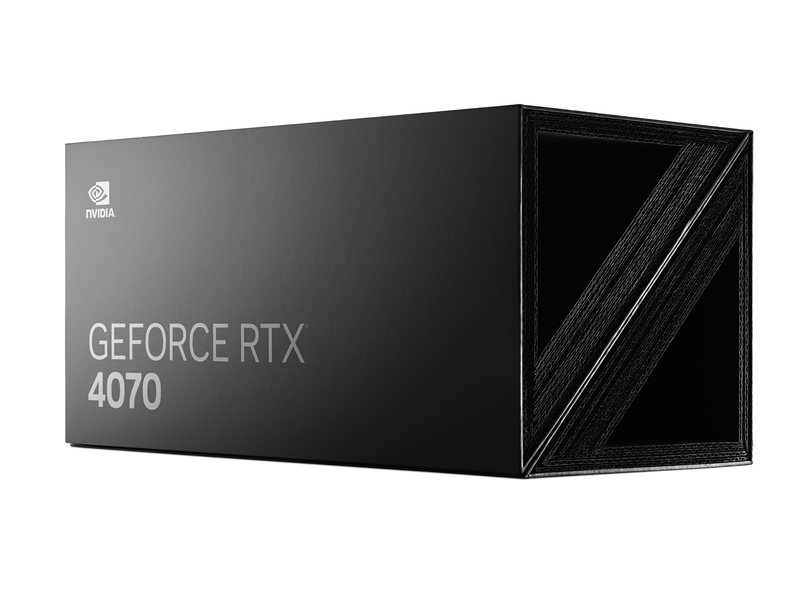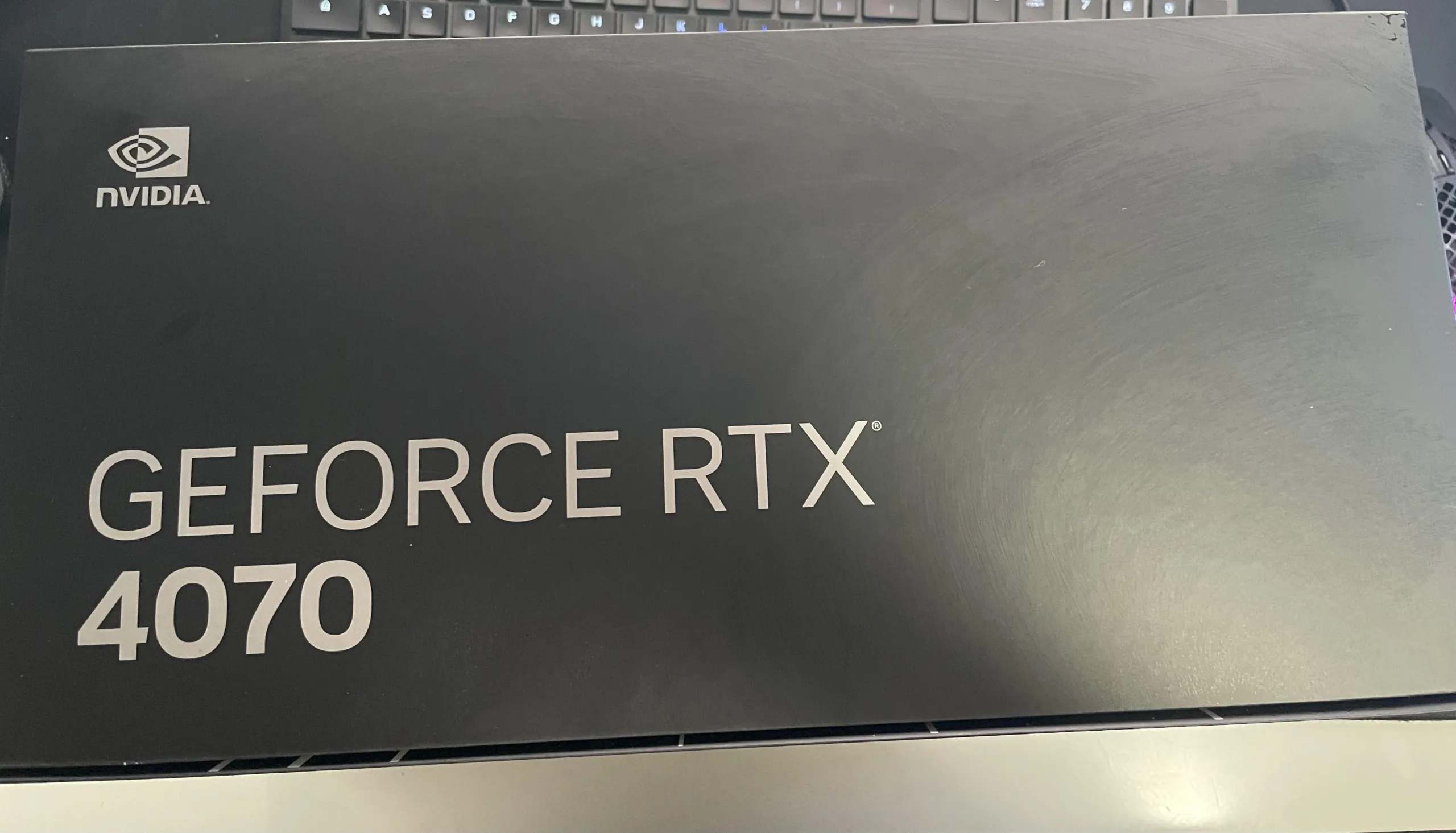 The box cover highlights a sleek approach to the packaging. I am a huge fan of the presentation Nvidia has been providing for its FE line. It offers a very premium unboxing experience. The graphics card image for the recent RTX cards is iconic and that shape is also shown on the box.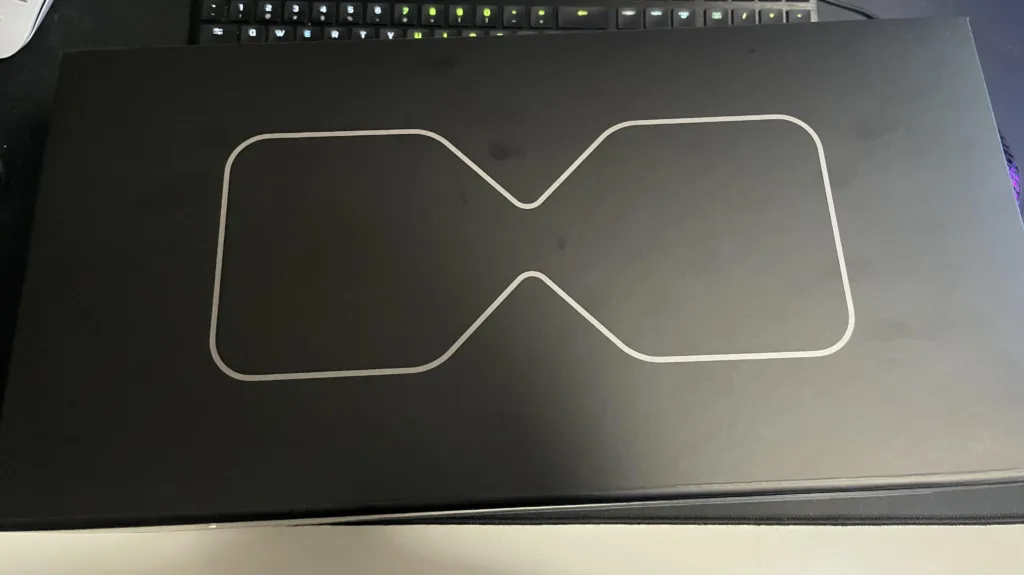 Accessories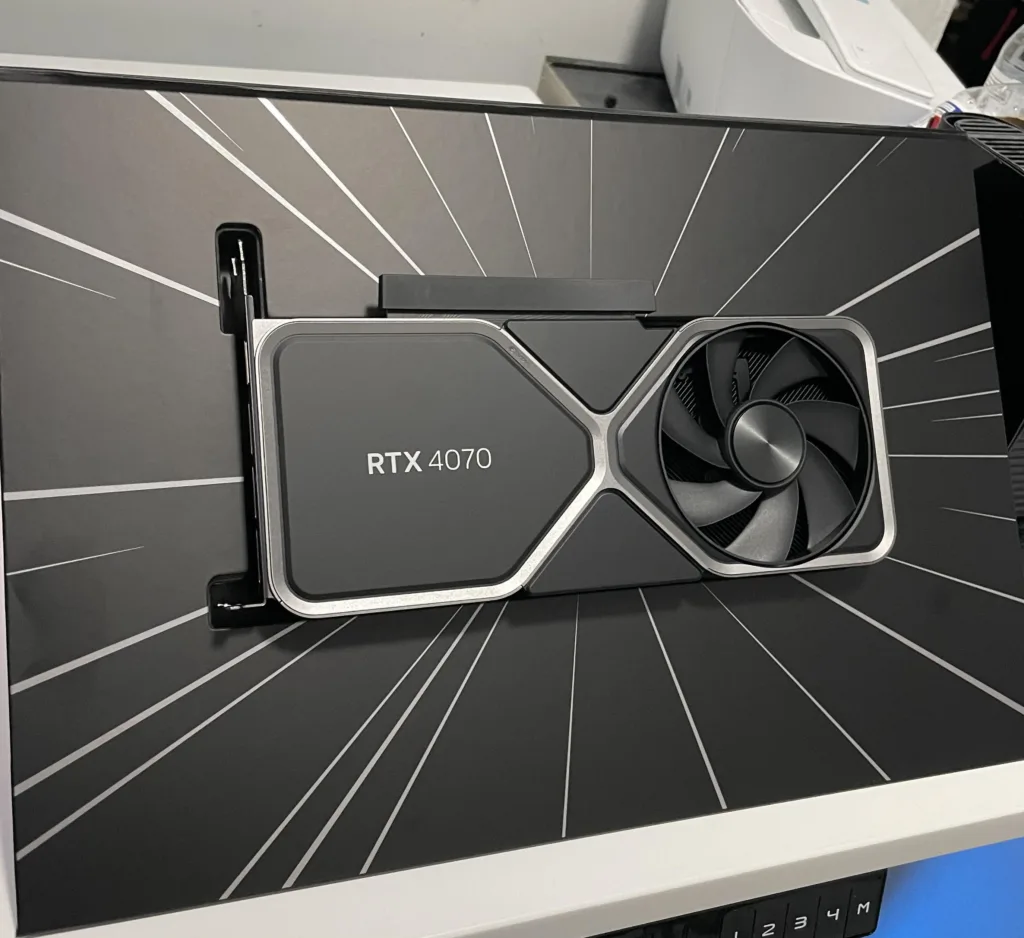 As we open the box, it folds out beautifully displaying the brand new RTX 4070 FE. Beneath the card are the new standard 16 PIN (12VHPWR) PCIe connector and an installation guide with a QR code to visit Nvidia's website for more guides and information if needed.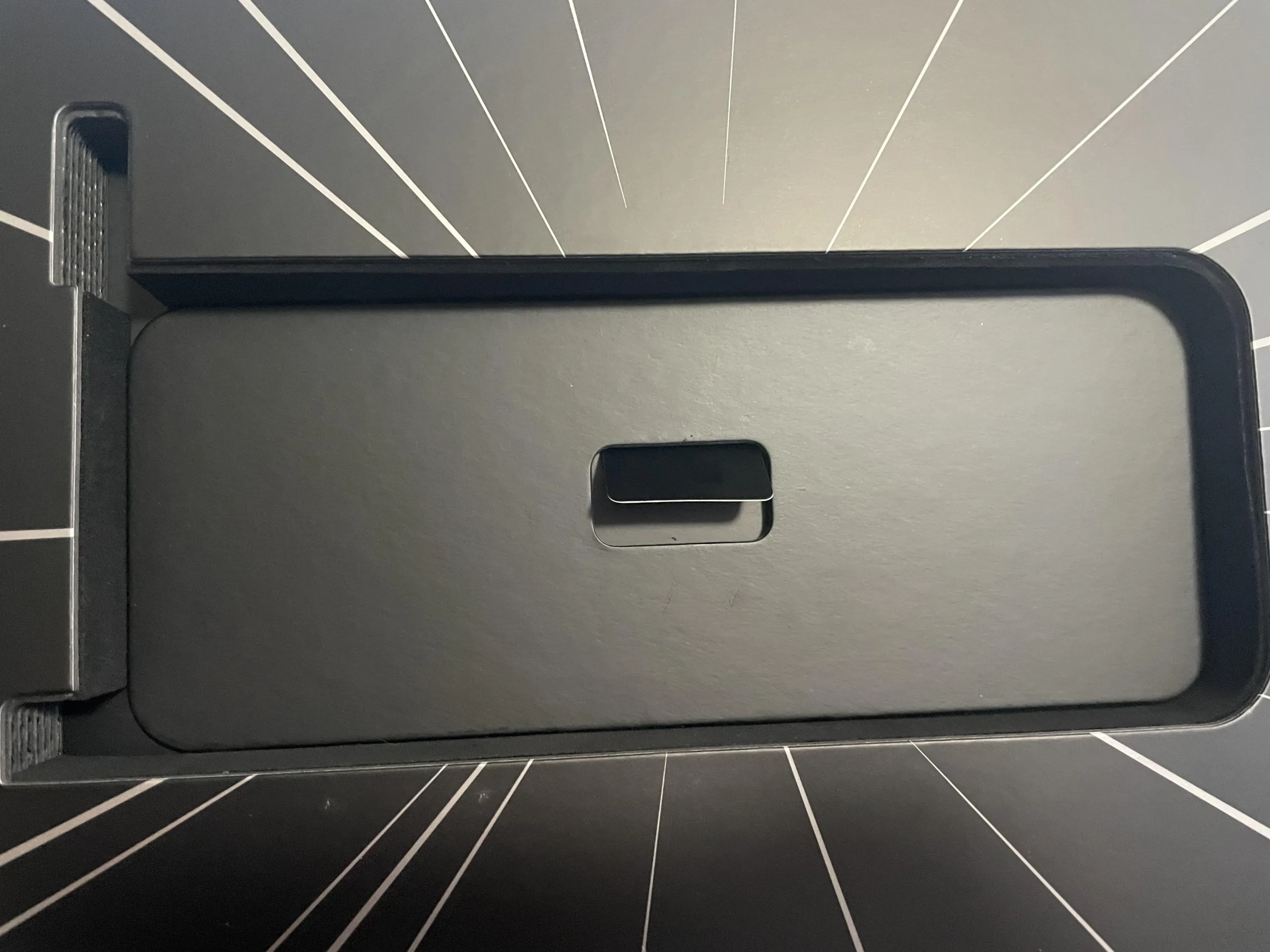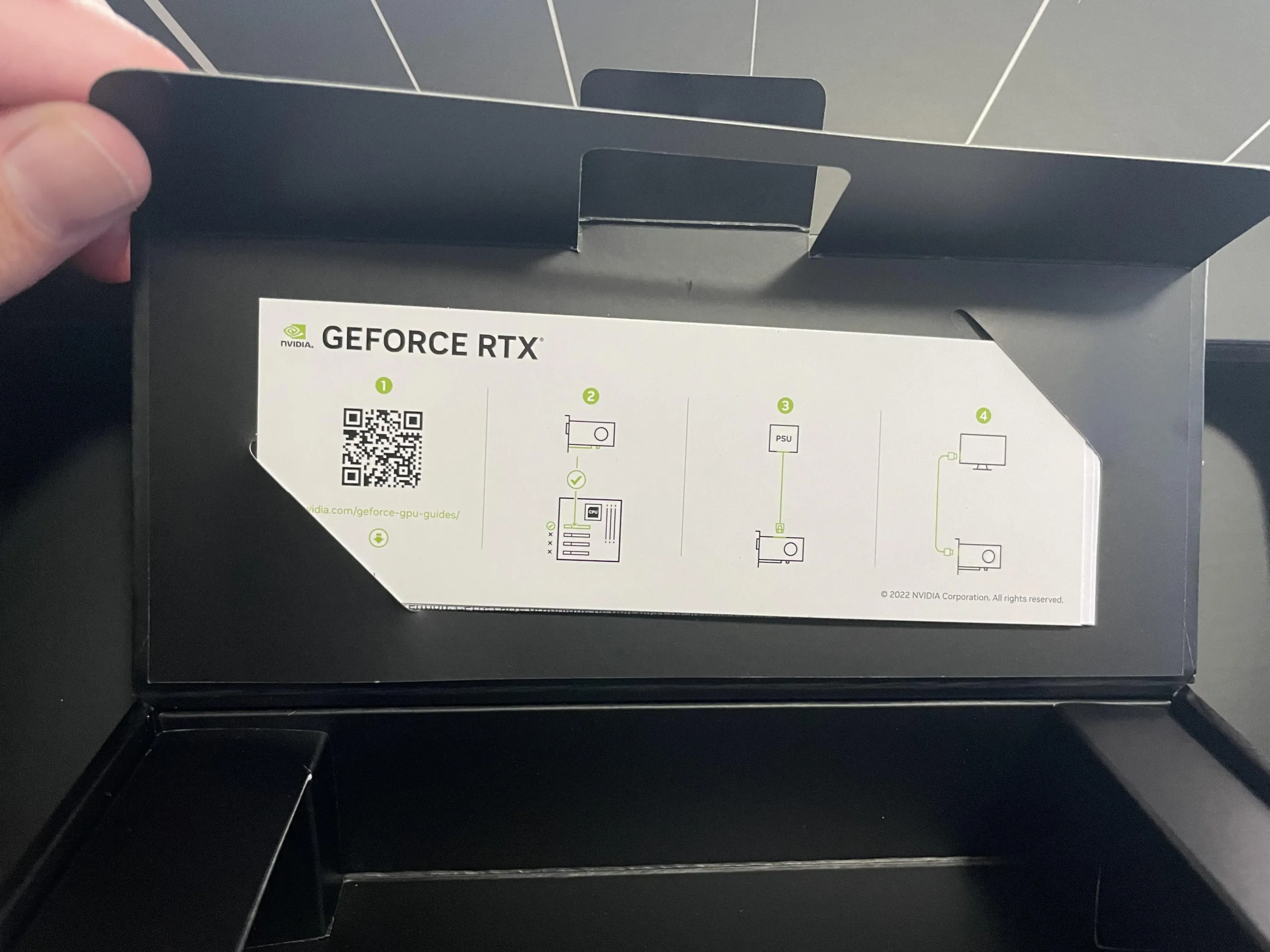 The Card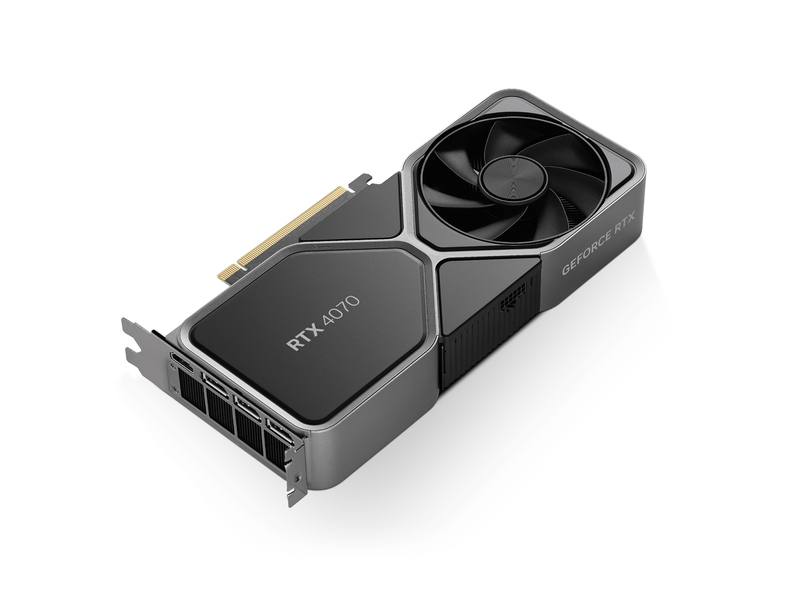 The RTX 4070 FE is a small dual-fan graphics card with classic RTX aesthetics that are still refined and look great. The logo sadly does not light up on the RTX 4070 FE so that is one downside of its lower price range.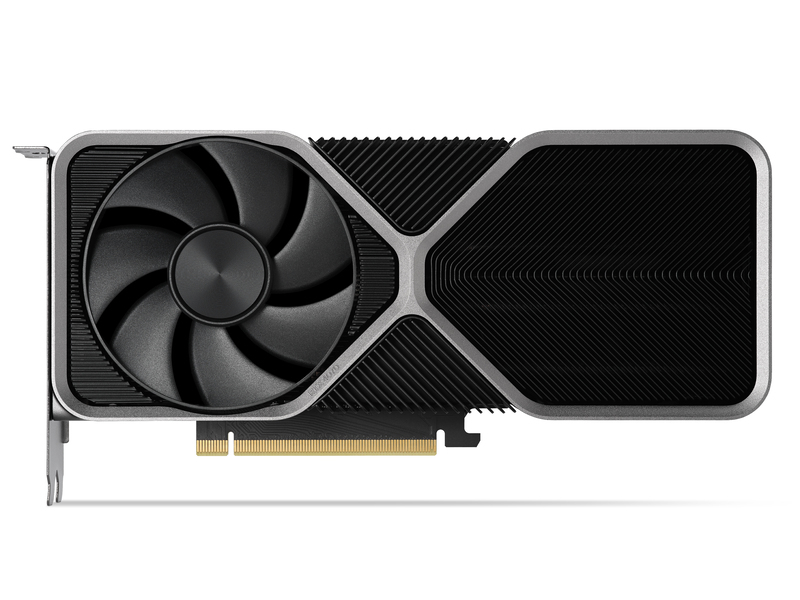 For comparison here are some photos of our 4070 Ti:


The IO panel connectors are 3 DisplayPorts and 1 HDMI connection.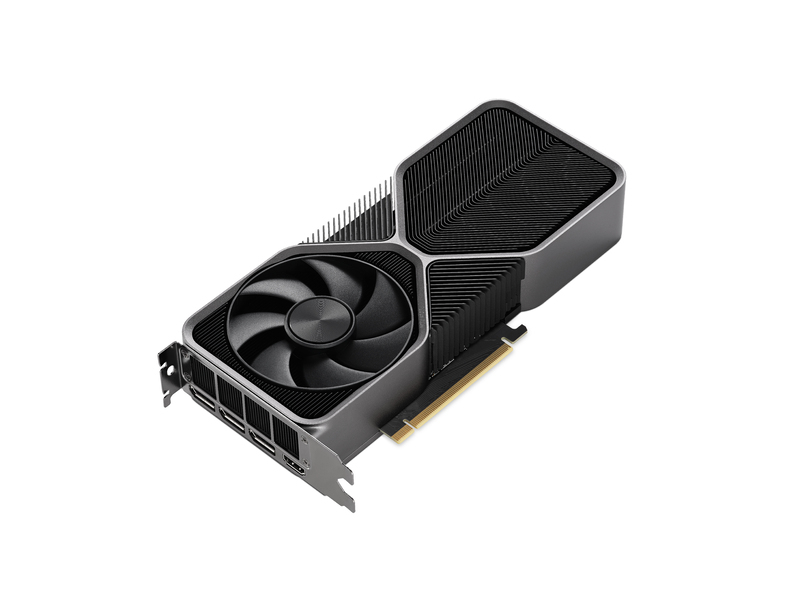 Inside the case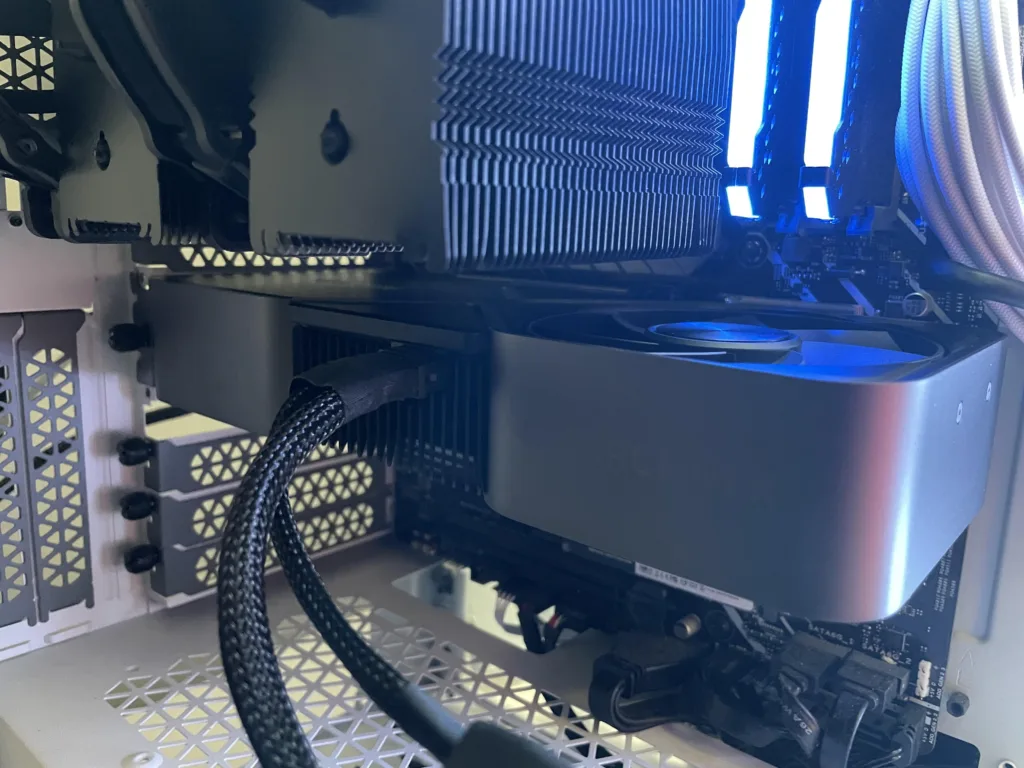 The RTX 4070 FE looks subtle and classic inside a case. I would personally love to build an SFF PC using this card. It is the perfect size offering a powerful small gaming rig at a reasonable price compared to the sky-high prices we have seen these last few years. We like that it is small and discrete but some may not like the unlit logo
Next is our testing configuration, methodology, and more.
Test Configuration
Benching Methodology
Test Configuration – Hardware
12th Gen Intel Core i7-12700K (Hyper-Threading/Turbo boost on; stock settings)
ASUS PRIME Z690-P D4 motherboard (Intel Z690 chipset, v.1008 BIOS)
CORSAIR Vengeance RGB PRO 32GB DDR4 (2×16GB, dual-channel at 3600 MHz XMP)
RTX 4070 FE 12GB, stock clocks; supplied by Nvidia
ASUS TUF GAMING GeForce RTX 4070 Ti OC Edition 12GB, stock clocks; supplied by Nvidia
RTX 3080 FE 10GB, stock clocks
RTX 3070 FE, stock clocks
1 x TeamGroup 1 TB NVMe M.2 SSD
2 x WD Blue 1TB SATA SSD
Corsair RM850x, 850W 80PLUS Gold power supply unit
ALIENWARE 34″ CURVED QD-OLED GAMING MONITOR – AW3423DWF
Test Configuration – Software
NVIDIA GeForce 531.42 game-ready press drivers; 'Prefer maximum performance' (on a per-game profile basis); Shader Cache Size 'Unlimited' (globally); fixed refresh rate (globally).
We enable Resizable BAR
'V-Sync application controlled' in the control panel; V-Sync off in-game.
We note and specify the main in-game display, graphics, AA, and scaling settings in the performance summary charts.
Windows 11 64-bit Pro edition, latest updates v22H2, High-performance power plan, HAGS & Game Mode are enabled, Game DVR & Game Bar features off, Control Flow Guard (CFG) off on a per-game basis, Hypervisor and Virtualization-based security are disabled.
We do not install ASUS tools.
Latest DirectX
All games are patched to their latest versions at the time of publication.
3DMark suite, the latest version
RivaTuner Statistics Server (RTSS), the latest version
FrameView, the latest version
Display Driver Uninstaller (DDU), the latest version; always uninstall drivers using DDU in safe mode, clean, and restart.
ISLC (Purge Standby List) before each benchmark.
GeForce Driver Suite-related
We use DCH Game Ready drivers.
The display driver is installed.
We install the latest version of PhysX.
Hybrid & Non-Synthetic Tests-related
Game Benchmarks-related
We use the corresponding built-in or custom benchmark sequence.
Frametimes Capture
We use FrameView for capturing frame times and analyzing the relevant performance numbers obtained from each recorded built-in or custom benchmark sequence.
Benchmark Suite:
PC Games
DX11 Games
Total War: Warhammer III (DX11)
DX12 Games
Chernoblyte (DX12)
Call of Duty: Modern Warfare 2 (DX12)
Cyberpunk 2077 (DX12)
F1 2022 (DX12)
Far Cry 6 (DX12)
Resident Evil 4 (DX12)
Red Dead Redemption 2(DX12)
Horizon Zero Dawn (DX12)
Metro Exodus PC Enhanced Edition (DX12)
Dirt 5 (DX 12)
Vulkan Games
Hybrid Tests (3DMark)
DLSS Feature Test
Fire Strike Extreme
Fire Strike Ultra
Time Spy
Time Spy Extreme
Nvidia Control Panel settings
Here are the global Nvidia Control Panel settings:
Noise, Temperatures, and Power Consumption
Unfortunately, we did not have time to check out the overclocking potential, but temperatures were controlled and the RTX 4070 runs very cool.
The RTX 4070 FE is quiet, and its fans never spin up at idle, even under a heavy or full load to be irritating or noticeable. When gaming it spins up to full often under very heavy loads – like Metro Exodus with all features turned on. It is as silent as the RTX 4070 Ti we tested previously.
Below is our thermal and approximate power consumption analysis on idle (Windows desktop, no user interactions.
Idle conditions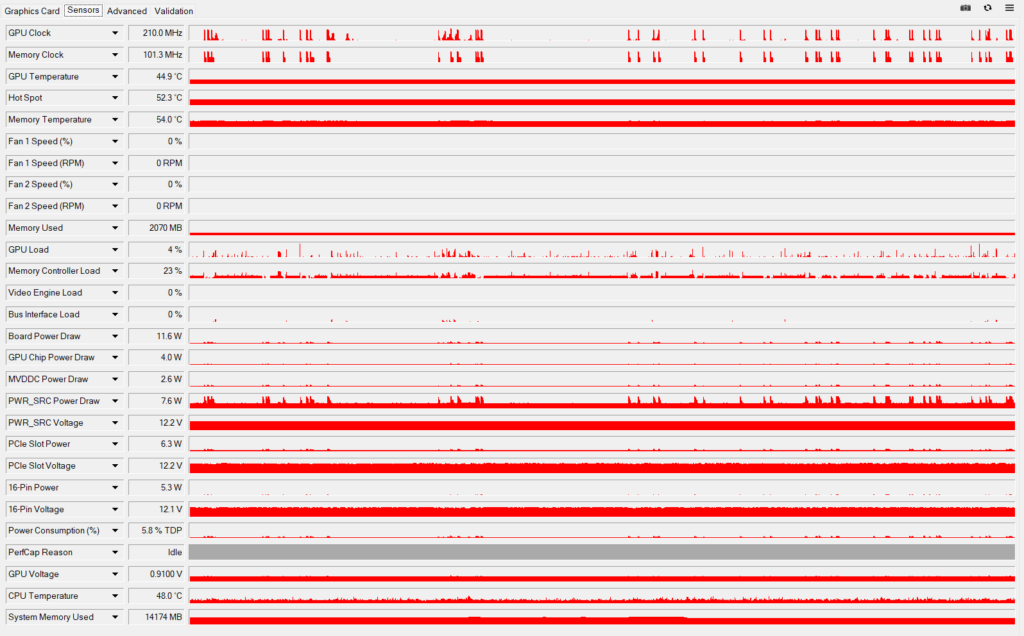 We ran into issues testing under load (our PSU died during near the end of our testing) but throughout our testing overall, the GPU was very efficient and in-line with our expectations. There is no heater meme to be found here.
Nvidia Performance Graphs and information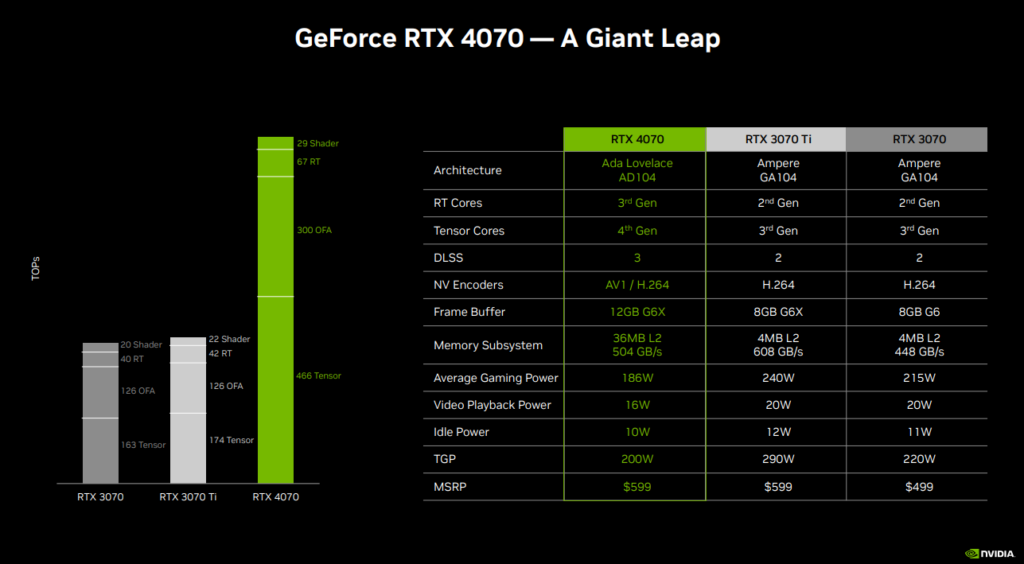 The biggest selling point for the RTX 4070 FE at $599 has to be DLSS 3. This is a gigantic leap – while some purists may not like frame generation – the performance increase and quality retention is simply stunning. On our QD-OLED display, we could barely see any image quality differences but performance increased dramatically. BTR plans on doing a full DLSS 3 gaming suite test in the near future.

In our testing, the RTX 4070 FE with DLSS 3 is almost 3 times faster than the RTX 2070 Super and it nearly doubles the performance of the RTX 3070 Ti while using less power.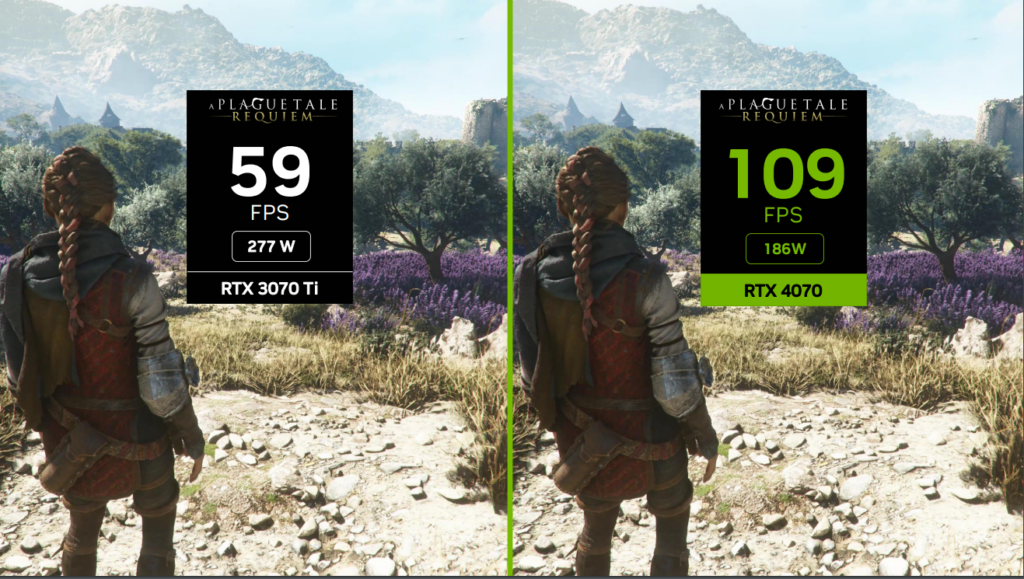 Let's head to the performance charts to compare the graphics performance of the RTX 4070 FE.
Gaming Performance Charts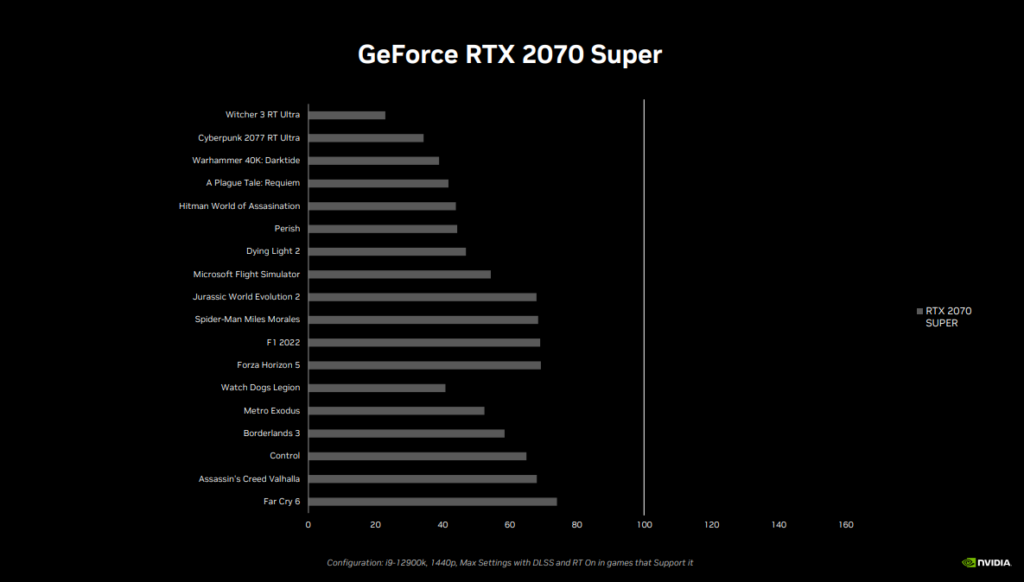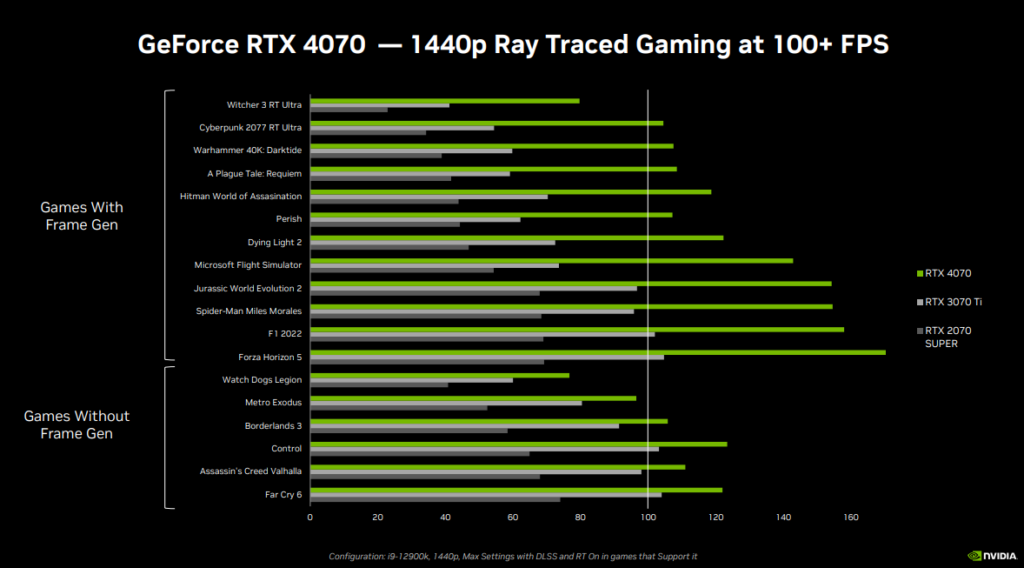 Main Performance Gaming Summary Charts
Here are BTR's summary charts of 19 games, six hybrid, and three non-synthetic tests. We note and specify the main in-game display, graphics, AA, and scaling settings on the performance summary charts below. The benches were run at 3440×1440.
4070
by Mario Vasquez
| | | | | |
| --- | --- | --- | --- | --- |
| Game | RTX 3070 | RTX 3080 | RTX 4070 | RTX 4071 Ti |
| Shadow of the Tomb Raider | 115 | 157 | 159 | 197 |
| Forza Horizon 5 | 94 | 113 | 125 | 153 |
| Forza Horizon 5 + DLSS 2 Quality | 99 | 116 | 128 | 152 |
| Forza Horizon 5 + DLSS 3 Quality | 0 | 0 | 161 | 192 |
| Cyberpunk 2077 | 68 | 89 | 81 | 103 |
| Cyberpunk 2077 + DLSS 2 Quality | 49 | 63 | 62 | 84 |
| Cyberpunk 2077 + DLSS 3 Quality + RT | | | 117 | 146 |
| Chernoblyte Ultra + RT + DLSS | 56 | 118 | 121 | 152 |
| Chernoblyte Ultra + RT | 33 | 62 | 61 | 76 |
| F1 2022 Ultra + RT | 49 | 53 | 56 | 84 |
| F1 2022 Ultra + RT + DLSS 2/ 3 | 81 | 88 | 108 | 157 |
| Resident Evil 4 Ultra | 77 | 97 | 101 | 131 |
| Resident Evil 4 Ultra + RT | 73 | 92 | 94 | 116 |
| RDR2 – Ultra | 71 | 83 | 87 | 103 |
| RDR2 – Ultra + DLSS | 83 | 99 | 102 | 138 |
| Dirt 5 Ultra + RT Vehicle Shadows | 80 | 101 | 98 | 120 |
| Call of Duty: MW2 Extreme + DLSS | 96 | 121 | 124 | 142 |
| Doom E. Ultra N. + RT Off + DLSS Quality | 205 | 247 | 266 | 321 |
FireStrike Graphics Score:
3070: 16807
4070: 21121
Timespy Graphics Score:
3070: 6611
4070: 17881
4070Ti: 22467
Averaged Framerates & Relative GPU Performance
Averaged Game Framerates
We averaged the aggregated FPS of all games and testing scenarios, and we represented the total game average FPS for each tested graphics card by the following chart:
| | | | |
| --- | --- | --- | --- |
| RTX 3070 | RTX 3080 | RTX 4070 | RTX 4071 Ti |
| 78.1 | 99.9 | 113.9 | 142.61 |
On average, the RTX 4070 is faster than the RTX 3080 at 3340×1440. However, owners of this card can likely hold off on an upgrade unless they want lower power consumption, DLSS 3, and better ray tracing performance at a reasonable price. DLSS 3 is a game-changer for the games that have it. For games that do not and that are on DLSS 2 the RTX 3080 loses narrowly or wins in some older games in rare cases.
The 4070 Ti is a clear improvement but at a significantly higher buy-in price. In comparison to the rest of the 40 series lineup, the RTX 4070's performance is unmatched for budget/value gamers.
Final Thoughts & Verdict
This has been an enjoyable exploration evaluating the new RTX 4070 FE. Overall, it is the best 40 series value for your money if the current adoption rate of DLSS and DLSS 3 continues. The performance gain is stunning. Without this technology, we can compare the RTX 4070 to the RTX 3080 from the previous generation with very distinct differences. Nvidia has improved performance with supplemental tech like DLSS 3, the architecture, cooling, and most of all, the pricing.

The RTX 4070 is compact and amazingly efficient compared to the RTX 30 series and its 40 series brothers. The idle fan stop is huge for us, and support for AV1 encoding is stellar for a lot of streamers at this price.
The RTX 4070 performed above the RTX 3080 in most cases and well above the RTX RTX 3070. The gap widened significantly with frame generation/DLSS 3 – So much so that this is a no-brainer. However, this is not a "wow" with the raster performance jump over the previous generation. Instead, the RTX 4070 is more efficient, more compact, and has much better features especially if you are still on a 10-series card. This is a worthy point in time with a card that is finally available at a reasonable price as a poster child for the generational leaps Nvidia is making with its technology and DLSS 3.

There is no early adopter woe here as there are many AAA titles to enjoy – right now – with DLSS 3 enabled, unlike with ray tracing at its launch. However, If DLSS 3 means little to you, we would hesitate to recommend upgrading from an RTX 3080 to an RTX 4070. However, the RTX 3070 user base will see enough significant performance gains to be able to make this a worthwhile consideration.

For a couple hundred dollars more you could buy an RTX 4070 Ti or a current AMD offering – but there is no card currently in this class and price that comes close to competing. The value of your dollar here will make any gamer happy. Especially at 1080p and 1440p, this card is a beast ready to serve your needs.

We do implore you to look at our upcoming DLSS 3 comparison of the current generation. This technology is finally allowing Nvidia to realize the dream that has been ray tracing. We can now maintain great performance while having the full suite of RTX features on an mid-level card. Safe to say, we give the RTX 4070 Founders Edition our Editor's Choice award.

–Happy gaming! Per Audacia Ad Astra. Rest in Peace to Lance Reddick – our Commander Zavala.