Resident Evil: Village PC Performance & IQ Impressions
We thought we were very lucky when we received a preview key of Resident Evil Village (RE VIII / RE 8) from Capcom – until our back went completely out on us Saturday morning just as we sat down to play it. We moved our home office last week and there was a lot of heavy lifting and major work required to completely refurbish our studio apartment next door
Unfortunately, although we did not get to experience as much of the game as we would have liked, we will give our impressions as well as welcome it as BTR's newest benchmark. We have been playing and evaluating Resident Evil Village (RE 8) on PC in short bursts of 20 minutes since the weekend. Although we did not like what the Resident Evil series had become pre-2017, we had high expectations for this game as the direct sequel to Resident Evil 7 Biohazard.
Resident Evil VIllage was released today for PC, consoles, and Stadia. Resident Evil Village is a first-person shooter video game developed and published by Capcom for Microsoft Windows, PlayStation 4 and Xbox One. It is the latest installment of the popular Resident Evil series and like RE 7, it is played from the first person view; previously the series was played from the third person view.
Set about 3 years after the events of Resident Evil 7 and in the same universe, the story follows Ethan Winters who has been living with his wife Mia and baby daughter Rosemary. The story begins when Chris Redfield, the rescuer from RE7, kills Mia and kidnaps Ethan and his baby daughter to a village in Transylvania. The rest of the game is a struggle just to survive in the cold against overwhelming odds and with little in the way of weapons so that Ethan can rescue his daughter.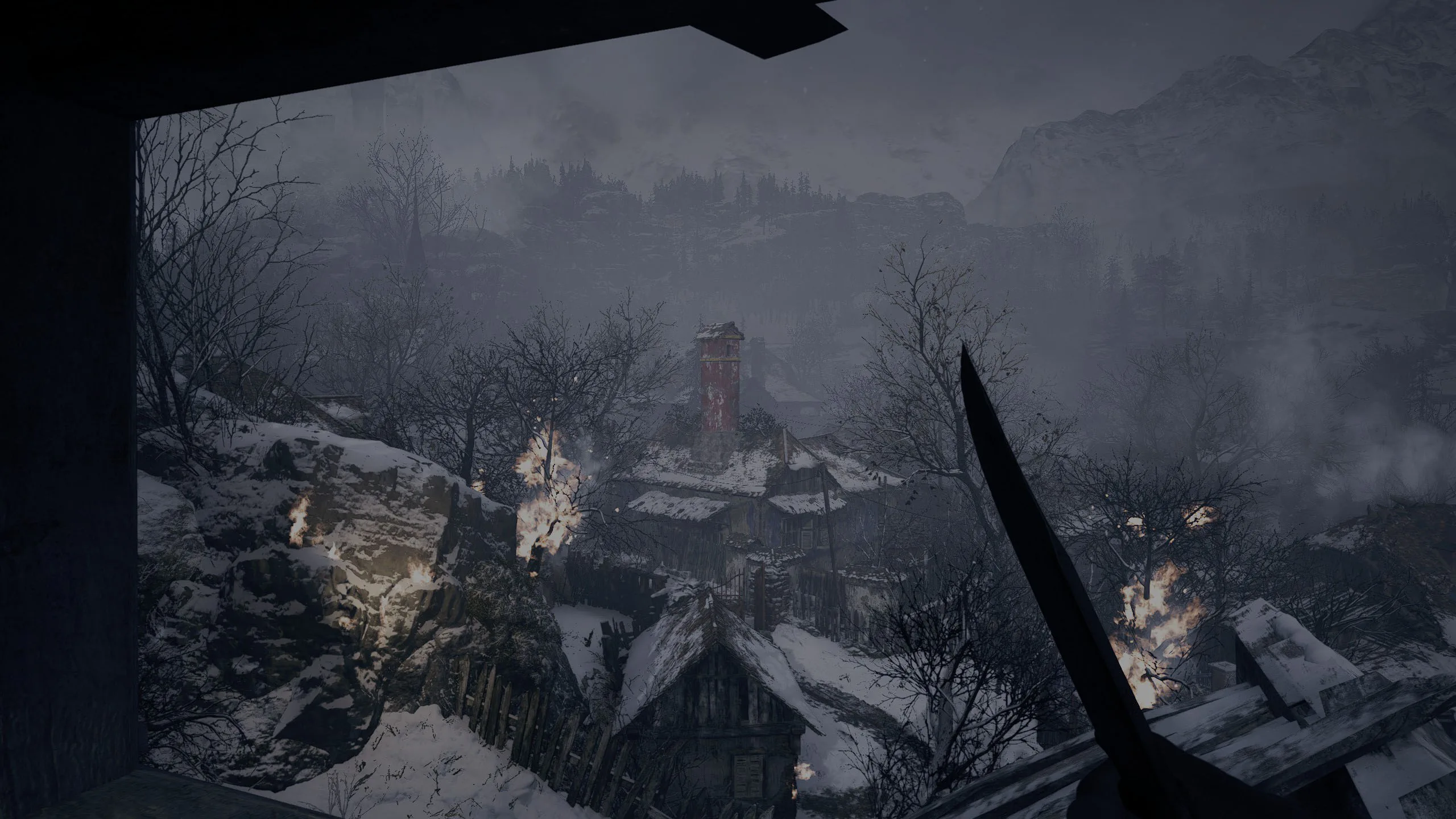 Fortunately, you can help Ethan find, make, and use various weapons and tools in the fight against mutated werewolf-like creatures and versus mermen, vampiric creatures, and ghosts. Healing herbs can be used in the event of injury and stronger meds can be concocted from herbs combined with chemicals, and puzzles may be solved to further the story.
RE Village gameplay is a traditional survival horror game like RE 7 which are not action and fighting oriented like RE 5 and RE 6 are. Instead they focus more heavily on horror, and there are many events that may make a player jump. Like earlier Resident Evil games, puzzle-solving and resource management are important to success. The player rarely feels that he has enough bullets even after searching everywhere for them, and special weapon provide a bit of welcome relief. Flour sacks can be hit or shot to cause the enemy NPCs to be disoriented and there are also explosive mines.
AMD and CAPCOM worked together to optimize the game for Radeons and especially for the RX 6000 series and for ray tracing. As with RE 7, Resident Evil Village uses a high level of Ambient Occlusion that adds to the atmosphere by creating better shadows and lighting. Ray tracing appears to add a little more immersion with more realistic lighting, but the visual differences are minimal and apparently also relatively light regarding the performance impact on a fast card. Ray tracing is a nice touch that ticks another visual improvement checkbox.
We played Resident Evil Village at the highest details and settings for only a few hours total because of our severe back pain using our Core i9-10900K with all 10 cores locked at 5.1GHz/5.0GHz, an EVGA Z490 motherboard and 32GB of T-FORCE DDR4 at 3600MHz. Here are the video cards that we tested at the highest settings at primarily 2560×1440 with the very latest drivers:
RTX 3070 8GB Founders Edition
RX 6800 XT 16GB reference version
The RTX 3070 handled Resident Evil Village very well at 1440P and in the general game world kept its minimum framerates generally above the mid-80s FPS, and the reference RX 6800 XT kept framerates above the mid-90s. For demanding scenes, Premium FreeSync or Gsync compatible displays offer a really good playing experience with every setting maxed out including ray tracing. Adaptive sync technology delivers stutter-free and tear-free gaming and Premium Pro offers HDR and Low-Framerate Compensation.
We primarily played on a Samsung G7 Odyssey (LC27G75TQSNXZA) 27? 2560×1440/240Hz/1ms/HDR600 monitor compatible with G-sync and FreeSync. We also used our BenQ EW3270U 32? 4K HDR 60Hz FreeSync monitor. Both the RTX 6800 XT and the RX 3070 could play at 4K and generally stay above 60 FPS but we preferred to play on our faster 1440P display.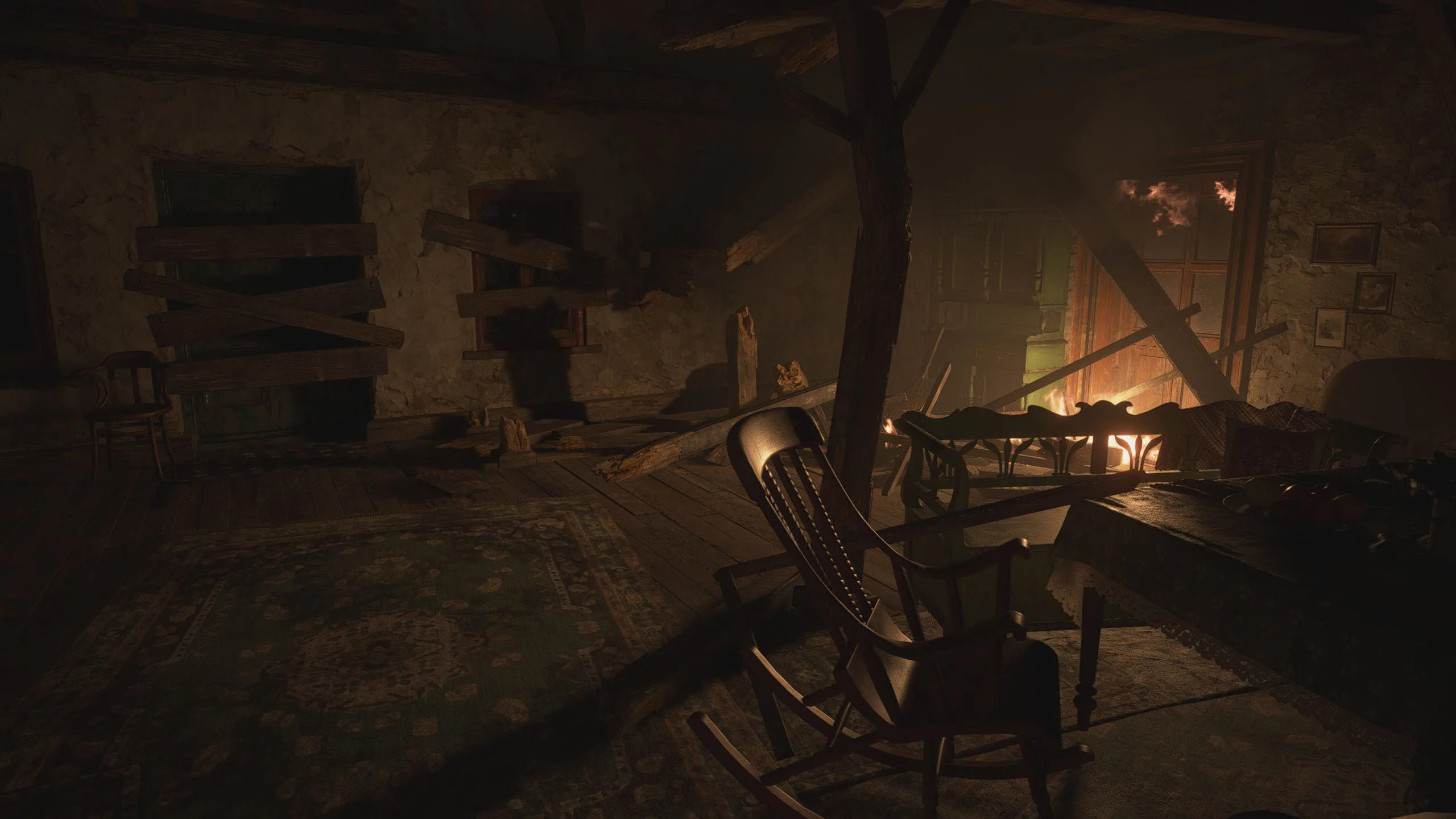 The settings are varied, from subterranean laboratory horror settings and castles to burning buildings mostly experienced during Winter in low daylight scenes, and the game makes good use of its own custom RE Engine capabilities. The story is very dark and absolutely not for the squeamish or for those offended by gore, guts, body parts as well as by werewolves and monsters. We were just a little disappointed as far as we progressed.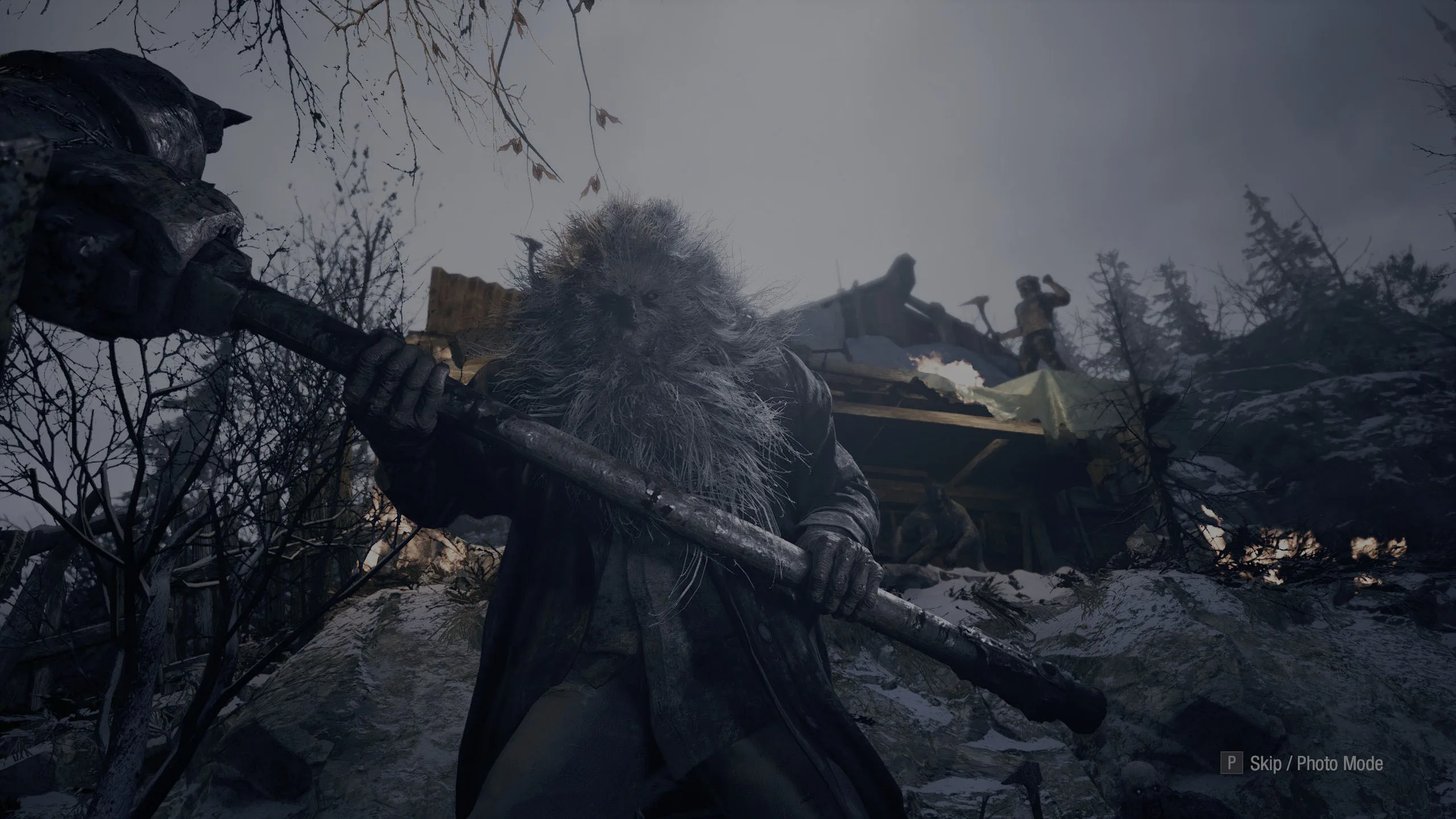 Whereas the RE 7 story is the stuff that nightmares are made of and it easily propelled its extreme and violent action forward, Village doesn't hold the same intensity for this gamer nor does its story flow quite as easily. Sure there is gore, but supposedly horribly mutilated bodies are often pictured stacked neatly and intact. And the extreme sense of urgency that is usually felt, seemed to be a bit more formulaic rather than natural and horror-driven.
Although the game is still rather linear, it does not feel that way as it is big and the player can approach objectives in multiple ways. Crafting and inventory management are simplistic but effective. Search for hidden items like herbs, scrap metal, and gunpowder and you can craft extra ammo and healing medicine.
You have to experience Resident Evil Village for yourself as a player to appreciate it much as you do a movie or a play, and not from viewing clips on a tablet, nor from watching Youtube gameplay videos. There is still a playable demo available that will give a potential buyer an idea of what they will experience in game. If you like the gameplay from a demo hour or so of play, it's fairly representative of what you can expect from the full game.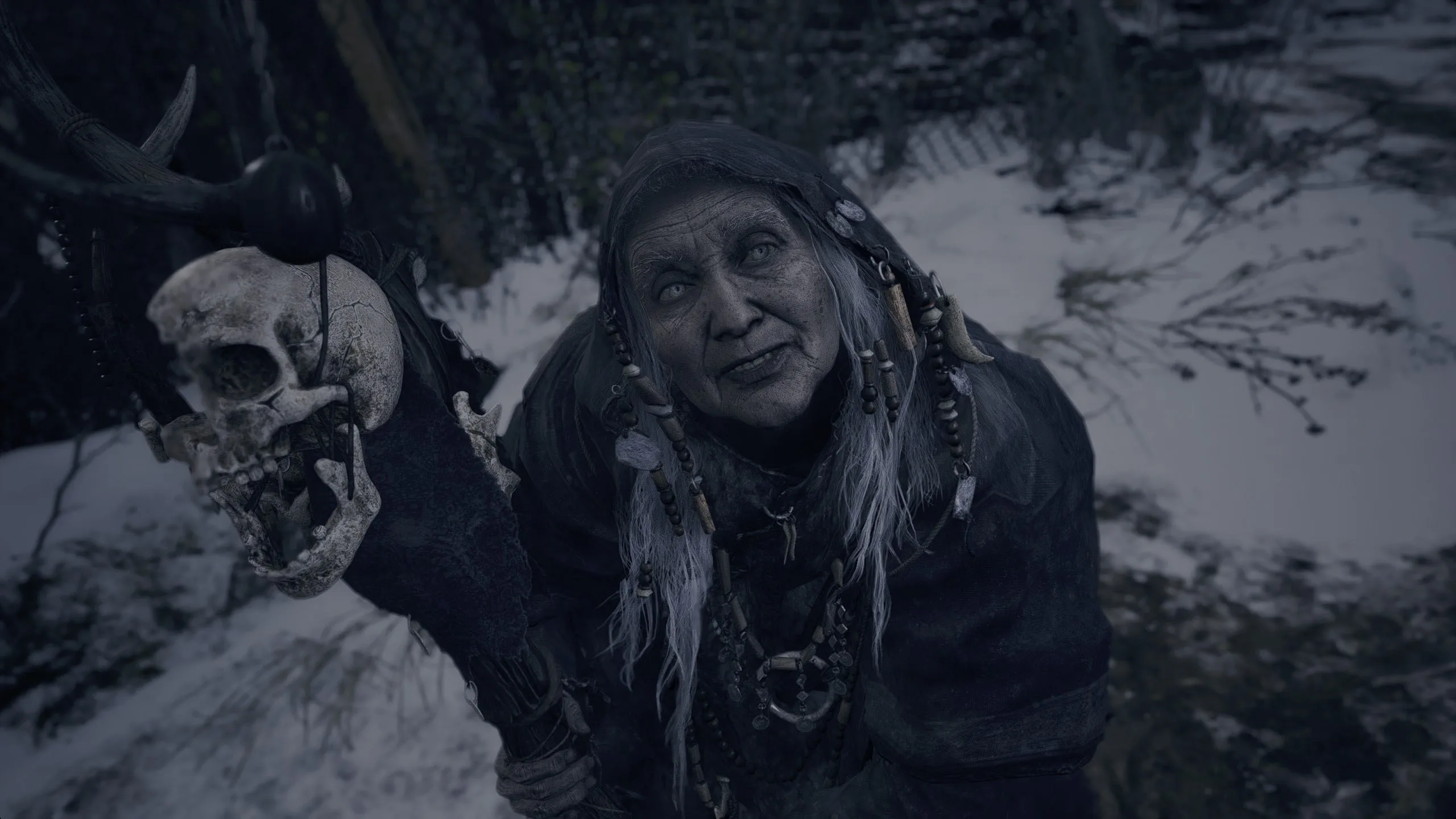 Resident Evil Village is part of a series that continues from the events of RE 7, and it captures the feeling and atmosphere of the entire series. The PC keyboard and mouse controls are easier to manage in this game than the earliest games of the series which played are from the third-person viewpoint and almost demanded that one use a controller.
Gameplay
The gameplay is superb. In the first part of the game, the player is mostly just concerned with hiding, solving puzzles, and running to survive. Headshots are crucial as bullets are never in good supply even after the player finds a handgun. The computer controlled AI NPCs are adjusted by the game difficulty levels, and at the highest levels, they pursue the player relentlessly. There is a key press function to spin the player 180 degrees in an instant to facilitate quick getaways which is a nice feature.
Checkpoint Saves and difficulty
This gamer hates the checkpoint system. However, this checkpoint system is reasonably well implemented. There are times when they are far apart and the strategy of using "safe rooms" and a tape recorder to save in one of the available slots is crucial to not repeating events or battles over and over.
Bugs, Graphics and Performance
There appear to be very few bugs that slow the game performance, and during more a few hours of play, we experienced two lock-ups, both on GeForce, which required us to restart the game. It seems to us that Resident Evil Village will run at 4K Ultra with ray tracing on using a RTX 6800 XT, RTX 3080 or even on a RTX 3070 or a RX 6800 as the game offers a polished experience and is also meant for the last console generation. The implementation of DX12 is good, and it appears to be reasonably well optimized.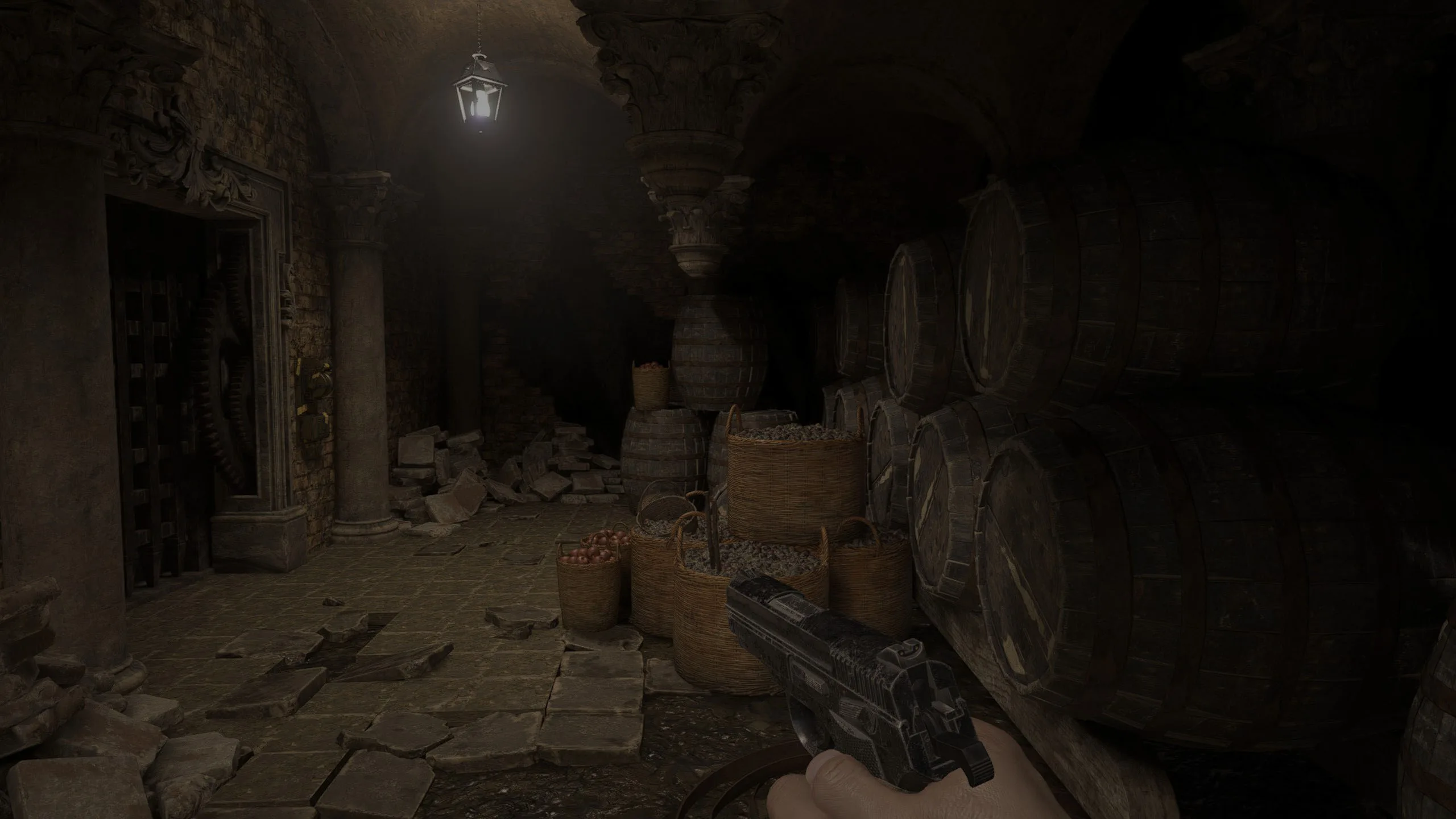 Ray tracing, while not providing a very large visual improvement, adds subtly to the immersion without massively impacting performance. And FidelityFX CACAO and SPD are AMD's compute-based Ambient Occlusion and SPD implementations to efficiently render ambient lighting with more realistic shadows and by using asynchronous compute to accelerate texture mapping for more efficient post-processing.
By using ray traced global illumination, the dark areas darken and the light sources make it look more realistic. Resident Evil Village is more subtle on the order of the original Metro Exodus rather than by using reflections to great effect like Control does.
Variable Rate Shading analyzes frame luminance and motion to optimize rendering in high-demand scenes for maximum performance and image quality. We could see some slight artifacting in game – much worse on GeForce than with Radeon – and would recommend testing out this feature to decide to see if the often significant performance gains are worth their visual impact.
Contrast Adaptive Sharpening (CAS) uses dynamic sharpening to improve detail in low-contrast areas impacted by blur-inducing post-processing. CAS improves image clarity and sharpens images softened by TXAA and FXAA. The game is really dark and CAS doesn't have much of a performance impact.
Image Quality & Settings
Resident Evil Village gives the play a preset choice of overall Low, Medium, High, Very High, Ray traced, and Ultra settings unlike with Resident Evil 7 Biohazard. In addition, a player is given a choice of adjusting multiple individual settings.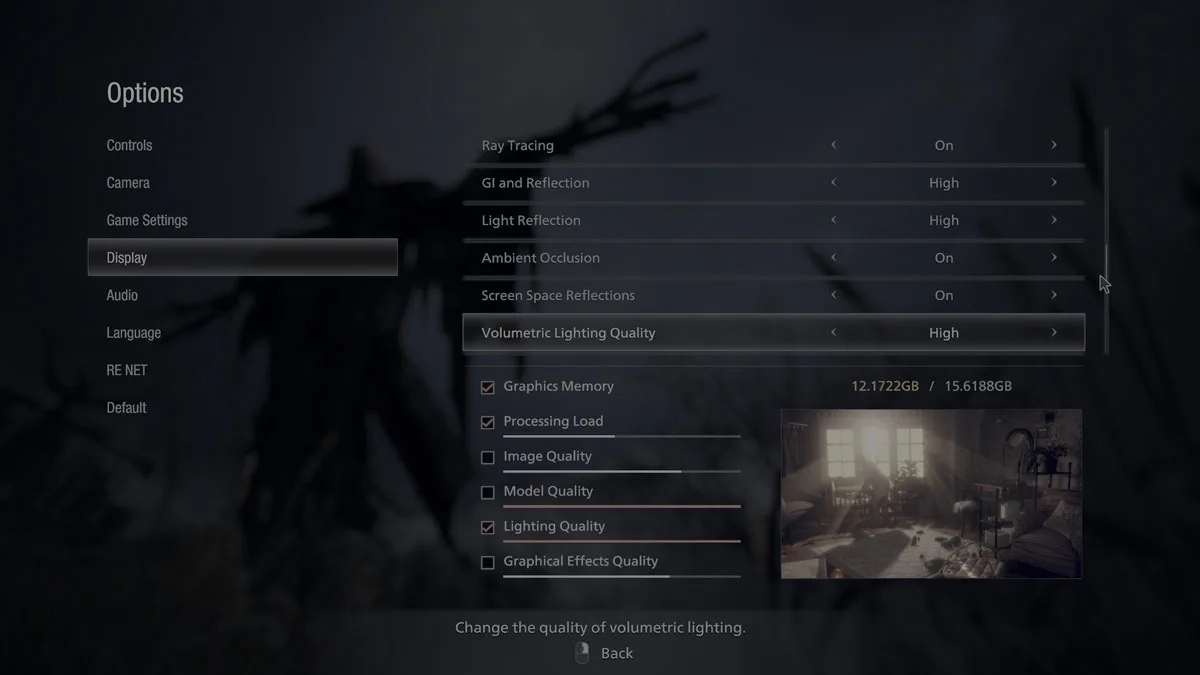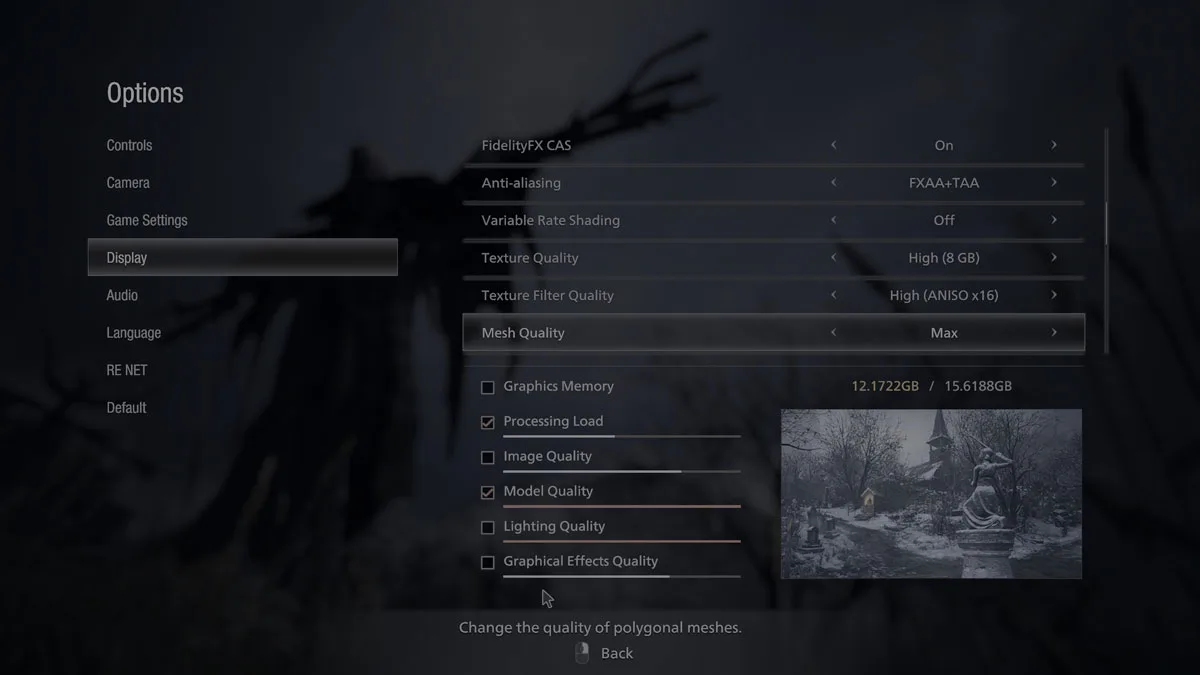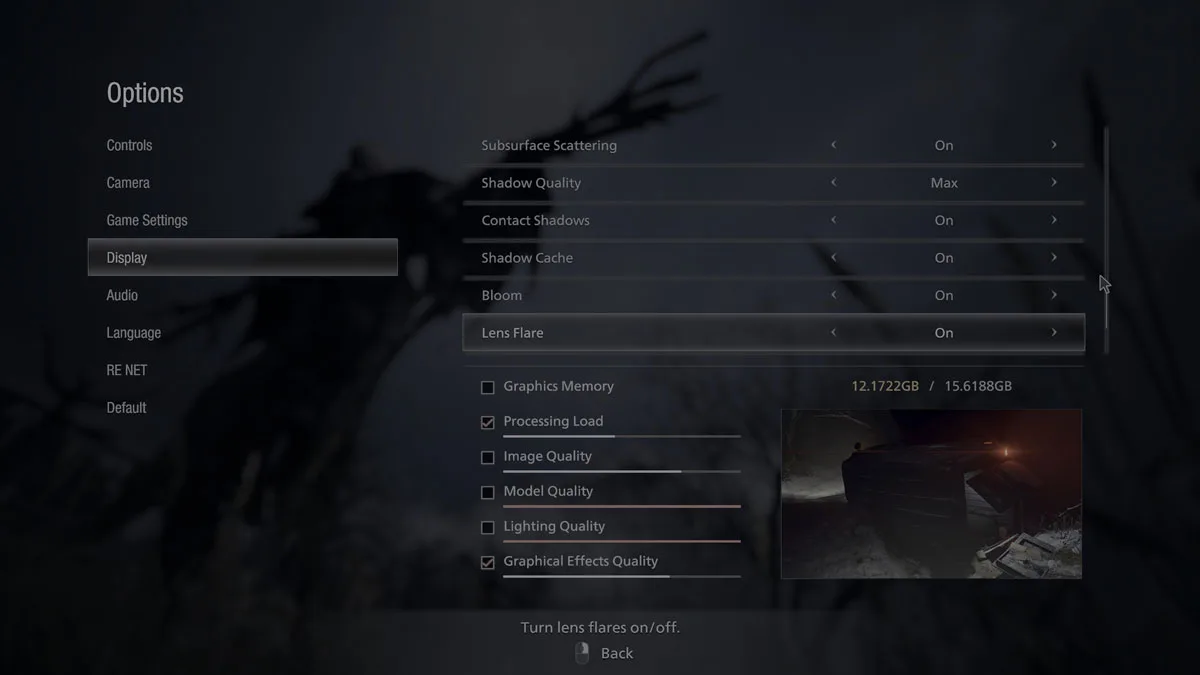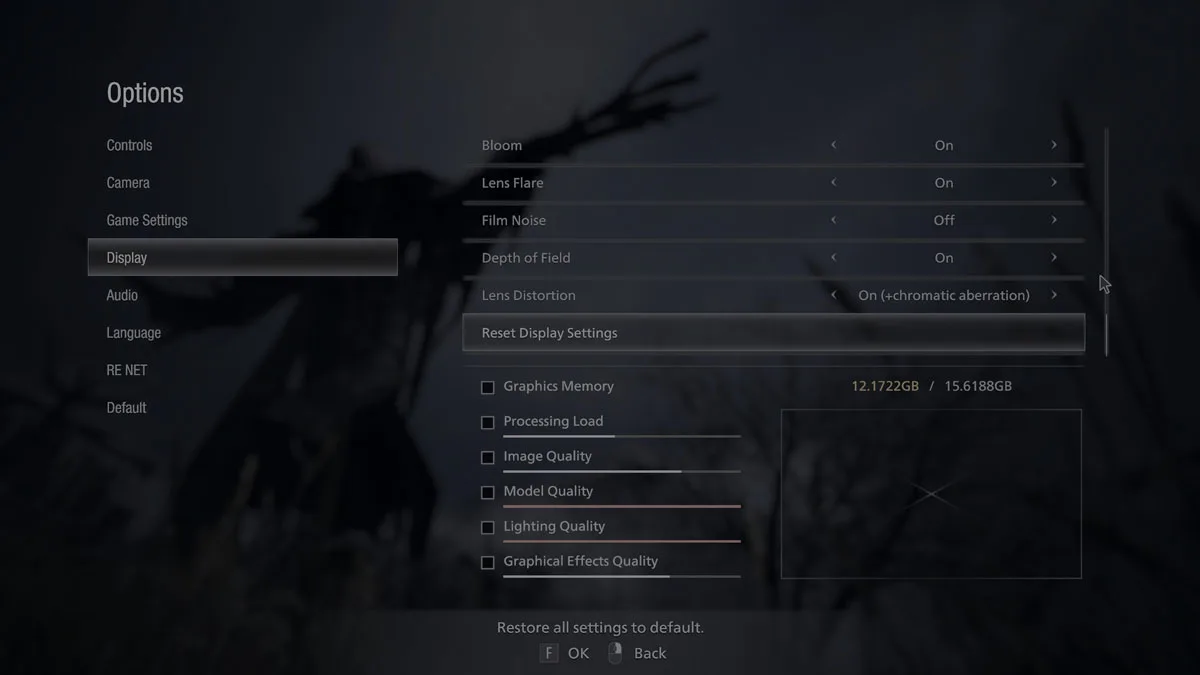 Variable Rate Shading gives the most performance improvement if it is set to Balanced. The rest of the settings have a much less important role although Ambient Occlusion can provide a significant performance uplift if it is disabled. The FidelityFX CACAO AO looks better than the RE Engine's native implementation but it is also more demanding. The game will make suggestions as to what settings to lower by providing a 'default' setting as well as by showing the impact of each highlighted settings.
NVIDIA gamers can just use the GeForce Experience included with the latest recommended 466.27 GeForce drivers to set custom settings. For the best AMD experience, use their latest drivers – Adrenalin Software 21.5.1 which are optimized for Resident Evil Village.
A RTX 3070 can max out Resident Evil Village at the highest settings at 3840×1080 if you don't mind some framerate dips. A RX 6800 XT can play without dipping generally below 60 FPS at 4K even with highest settings and ray tracing. Resident Evil Village is a moderately demanding and a good-looking game that scales very well, but at low settings will run on a modest video card.
There is no built-in benchmark but we found and created a preliminary benchmark from a minute-long scene that is 100% repeatable and reasonably representative of Resident Evil Village early gameplay's most demanding scenes. However, it falls about ten percent short of the most demanding scenes in extreme boss battles and we shall play on as we feel better to find a potentially better benchmark in later levels.
Conclusion
Resident Evil Village is a really fun game for Resident Evil fans and we wish we could have played more of it. Although the story didn't grab us like its predecessor, RE7, it follows in the same path but this time with mutated werewolves and monsters. We will continue to play it until we find a perfect benchmark. However, our preliminary benching indicates that a RX 6800 or RTX 3070 should be outstanding for 1440P play and a RTX 6800 XT or a RTX 3080 will be good for 4K ultra and even with ray traced effects.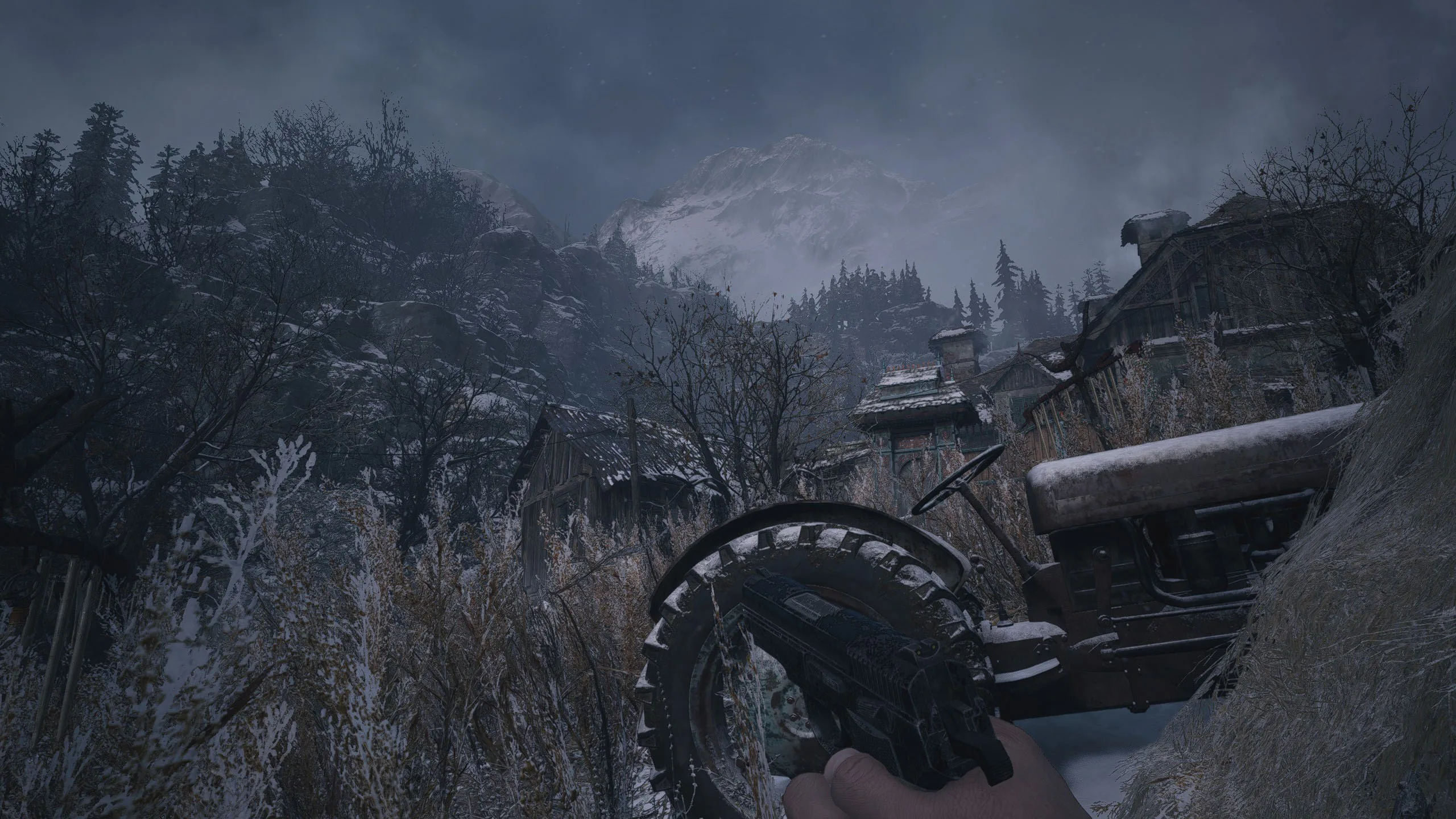 As part of a series, Resident Evil Village does what it does very well. Gameplay is smooth and nearly flawless but the urgency and intense atmosphere of terror, disgust, and apprehension that it creates isn't quite up to the high standard set by RE 7 for us.
Resident Evil Village comes recommended as a certain hit for Resident Evil series fans. The graphics are very good and ray tracing adds a little extra, the gameplay is excellent, and the story is sufficient to move the action forward. As usual, the voice acting is top-notch and it feels like a high-quality horror movie experience. Check out the playable demo and decide if it appeals to you. It is available on Steam for PC for $59.99 or from Green Man Gaming for $50.39.
Resident Evil Village has become BTR's latest benchmark. Stay tuned as we have many more reviews and evaluations coming up. Early next week, you can expect Rodrigo's GeForce driver performance analysis featuring Metro Exodus which had a complete ray tracing make-over with the enhanced edition. Finally, we will bring you our home office upgrade that focuses on continuing to work even if the grid goes down for a week or longer.
Happy Gaming!