There's No Single Path in the Streaming Video Industry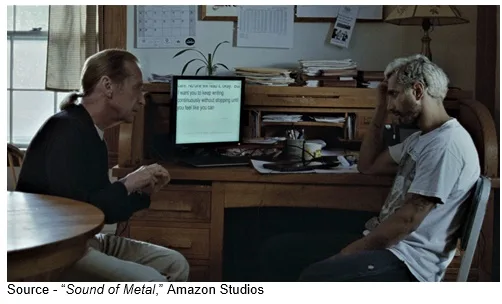 We're a little over halfway through 2021 and surprise, the content industry not only survived the pandemic but in many ways is thriving because of it.
We realize that a year ago at this time the industry was in the middle of the Canadian sitcom Schitt's Creek without a proverbial paddle, but despite a lot of battle scars and a lot of hard work, it's back and in many ways better.
While folks in the Americas like to say pay TV is dead and "everyone" is cutting the cord, it has leveled off in most countries and actually increased in others.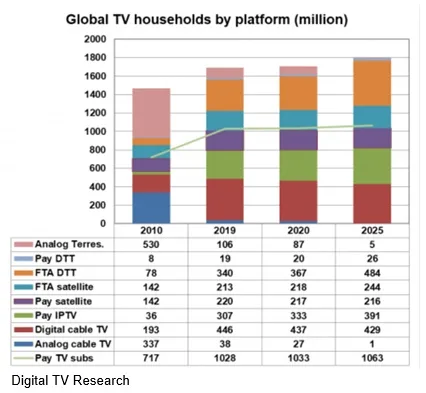 Okay, so pay TV didn't break any records; but they maintained their position and learned – hopefully – that if you want to be around for the long haul, you have to pay attention to and not abuse your customers.
They learned the latter point the hard way by watching streaming services both in their country but also from outside their borders sweep in, convince folks to cut the cord, get rid of the shows and services they're not interested in (save $$$$) and enjoy a show – movie/series – without 20 minutes of ads every hour and enjoy the programming wherever and whenever they wanted on the screen of their choice.
While the shift affected Comcast's TV bundle as folks weighed whether or not the channels were worth saving, it also gave the world's largest home connection service a boost.
Sixty percent of the people who shifted to or added a streaming service signed up for Comcast's very profitable internet-only service, making way for their wireless telecom and smart home services.
Oh yeah, the company also owns Europe's Sky broadband and pay TV services.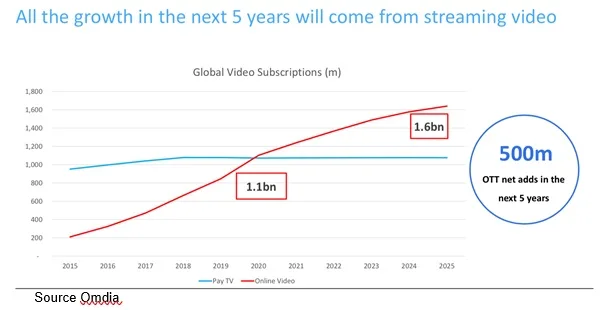 As a result of the viewing shift, SVOD subscriptions have nearly doubled from 650M at the end of 2020 and is expected to grow to 1.25B by the end of 2024.
By comparison, global pay TV subscriptions surpassed 1B in 2018–arguably the services' peak.
With the present exception of China, individuals and their households around the globe are now viewed as potential streaming subscribers.
China's anywhere/anytime/ any screen market is tightly controlled by the government with the leading services being:
Tencent – 900M subscribers
iQiyi – 500M
Youku – 500M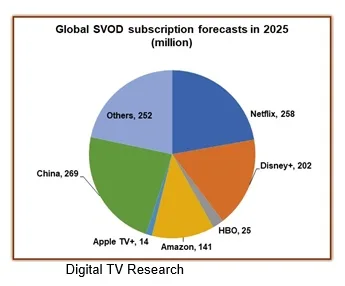 While the early entrants in the streaming race have a decided margin lead, it is difficult to define which will be the dominant players in capturing and retaining eyeballs.
Some will succeed on a broad scale. Others will focus on niche segments, settling on smaller subscription numbers and will need to consider bundling with others for scale.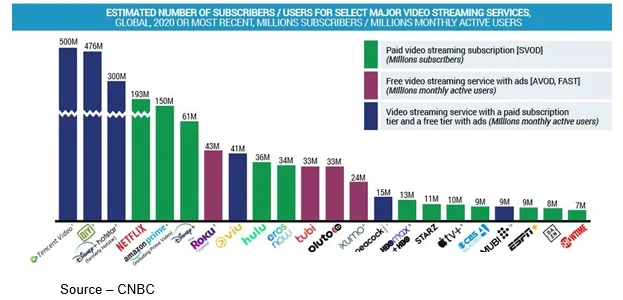 The old-timers of the streaming arena (Netflix and Amazon Prime) were hungry for growth beyond their home borders and had already begun moving cautiously before the world came to a screeching halt.
While they were required to produce content locally (typically 40 percent – as a prerequisite to signing subscribers in other countries,) they discovered people liked sitcom, superhero, sci-fi, action, fantasy, docs, adventure, drama, anima, mystery and even zombie films/series no matter where it was produced.
As a result, they quickly found Hollywood, Bollywood and Nollywood content was not good at home but often had a global market.
With more than 204M subscribers, Netflix was able to quickly acquire shows/films created in the EU, India, Africa, APAC and LatAm for their global entertainment hungry viewers.
As if that wasn't enough, Netflix signed a multi-year, exclusive window licensing deal with Sony for new projects as well as access to films/shows in their vault.
While a number of studios have pulled back their content from Netflix, HBO Max and Disney to shore up their related streaming services or to negotiate better "alternative" relationships; Netflix moved aggressively with U.S. as well as international studios to ensure a long-term steady flow of quality content for their audience.
Sony was one of the few studios that didn't rush to launch its own D2C service, choosing instead to focus on what it does best – produce super content, anime and gaming.
To reinforce its own position, Sony acquired Central European Enterprises and Crunchroll from debt-burdened AT&T and put $200M into Epic Games and Unreal Engine, the driving forces in Hollywood production.
The phone folks used the funds to reduce it's $147.2B debt, build out its 5G wireless infrastructure, reinforce WarnerMedia and support its fledgling HBO Max streaming service, which has about 43M subscribers at present with a target of 150M worldwide by 2025.
Aggressive but less visible than Netflix, Amazon added Prime Video service to its free delivery service to more than 200M subscribers worldwide and with its free (ad-supported) IMDb TV service, it is now used regularly by more than 83M registered users.
A few months before the pandemic, Disney rolled out Disney+; and despite a huge financial hit of having to temporarily shutter its parks, cruise lines and retail businesses, the company tripled down on content and expansion.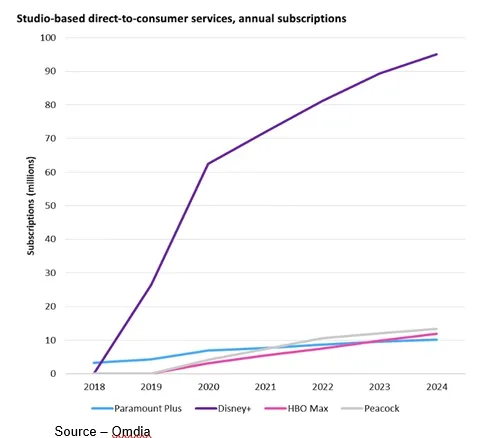 The company added Mouse House service in more than 50 countries (including India with its Hotstar division) to end the year with more than 100M subscribers and projecting it will reach 260M subscribers by 2024.
Finally, the company's parks cautiously reopened to families around the globe who are eager to get out of the house and have some fun.
While each streaming service is different with different products and different goals, it is easy for most of the media services to shape their discussion so they are not just surviving but leading.
For example, many question if Apple TV+ can remain viable in the aggressive content creation and delivery service with its modest library and business model.
But typical of Apple, it is playing by its own "unique" set of rules.
The company has more than 100M users (computers, tablets, phones) worldwide that use more than 1.5B active devices.
In addition, Apple's entertainment library doesn't include just movies/shows, it also includes games, books and other media.
Lest we forget, Apple's cash reserve is in excess of $192B that could easily be used to acquire any number of studios and their libraries as well as fledgling streaming services.
Thanks to a combination of issues, not the least being the family being locked home for days and weeks on end, many households took a close, hard look at their home entertainment budget and were dissatisfied.
The proliferation of ad-free and free with ad streaming services accelerated people cutting their cable and satellite bundle subscriptions.
As we can see in the chart above video subscriptions jumped to 1.1B at the end of last year and is projected to grow to 1.6B in a few years.
But U.S. households – 129M – and global TV households – 2B – quickly found that like potato chips, you can't have just one.

So, they added a second … and a third … and …
Yes, the combined cost of the new app options – broadband service, SVOD, occasional PVOD and AVOD service – is often equal to the restrictive bundle families left behind but the selection options and ability to watch what you want, when you want and on the screen you want has helped home budget managers justify the expense.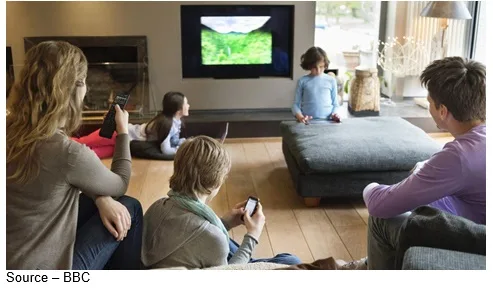 As you've found in your home, not everyone in the family wanted to watch the same film/show as everyone else in the household.
And as our technology usage has grown, so have the number of devices we can watch our content on.
Deloitte estimates that the average household has 11 connected devices and seven with screens – TV, tablet, computer, phone.
The result has been a rush of general and specific streaming services bravely, boldly entering the marketplace.
"There are the major Tier A services we're all familiar with in the U.S. such as Netflix, Disney +, Amazon and, Hulu, which are commonly referred to as the big 4 in the U.S.," said Allan McLennan, CEP/Media, Head of M&E North America, Atos, "Now, with a growing array of general audience competitors such as HBO Max, Paramount +, Peacock, Tubi, Pluto, Discovery+ and others, the category is not only gaining traction but establishing itself as the primary segment.
"In addition, there are strong general appeal regional and country-centric services such as BritBox, TVMonde, MoviStar, Eduflix Italia, StarzPlay, Showmax, Vui, Stan, Kanopy, Gyao, Wowow, and more around the globe," McLennan added.
In the U.S., there are approximately 300 streaming services and globally more than 1,000.
"There are no rules we can fall back on to determine which of the services will be winners or which will be losers," he emphasized, "But we do know not everyone will still be here. In a few years, some will be acquired, and some will fail to find an audience."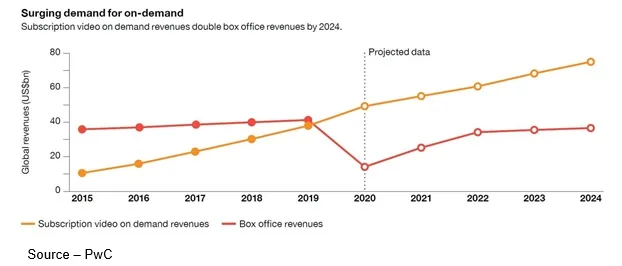 The rush of new streaming services has also opened up a lot of opportunities for indie filmmakers.
While filmmakers continually ask us for contacts at Netflix, Amazon and the other majors in hopes of selling their projects, most don't appreciate that all of the new streamers have expanded their sales opportunities and the new entertainment services have opened a world of opportunities for shooters/producers.
Film festivals around the globe such as Sundance, TIFF, SxSW, Tribeca, Berlin, Locarno, Tokyo, Palm Springs, Telluride, Busan, Sydney, Sarajevo, Cinequest and Paris are obvious opportunities for indies to get their works shown, seen and sold.
In addition, a growing number of filmmakers have had success at such events as the American Film Market and MIPTV.
If anything, the pandemic has helped the international film/show business as old and new streaming services search for the next big hit to attract more local and international subscription views.
"Whether it's a period drama, comedy, action thriller, horror, sci-fi, documentary or animated project; if it is a strong storyline, well shot and creatively posted, visual stories now have an unprecedented number of streaming sales opportunities" McLennan emphasized.
Looking ahead, the sweeping restructuring of the M&E industry will become more aggressive, more defined.
The strategic pressure to acquire content that will meet the streaming services' target markets will become increasingly important.
Streaming competitors require a steady investment in new content, marketing and technology that enables them to learn more about their audience and their viewing wants/needs.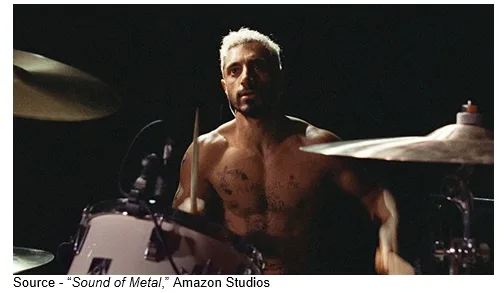 Efficiency, effectiveness and success will be measured by subscriber acquisition and retention.
The way forward in the M&E industry – especially for streaming services – won't be for the faint of heart or for people who continue down the path the same way the industry grew in the past.
The future winners in the streaming arena will require gut decisions based on a comprehensive understanding of the data at hand and a steady stream of audience-satisfying content.
As Joe pointed out in The Sound of Metal, "Serenity is no longer wishing you had a different past."
# # #
Andy Marken – [email protected] – is an author of more than 700 articles on management, marketing, communications, industry trends in media & entertainment, consumer electronics, software and applications. An internationally recognized marketing/communications consultant with a broad range of technical and industry expertise especially in storage, storage management and film/video production fields; he has an extended range of relationships with business, industry trade press, online media and industry analysts/consultants.