In a first for what Nvidia considers the most important platform, Nvidia's mobile Pascal lineup no longer carries the "M" or mobile designation as their new GTX 1080, GTX 1070 and GTX 1060 GPUs for the notebook market are just as fast as their desktop counterparts.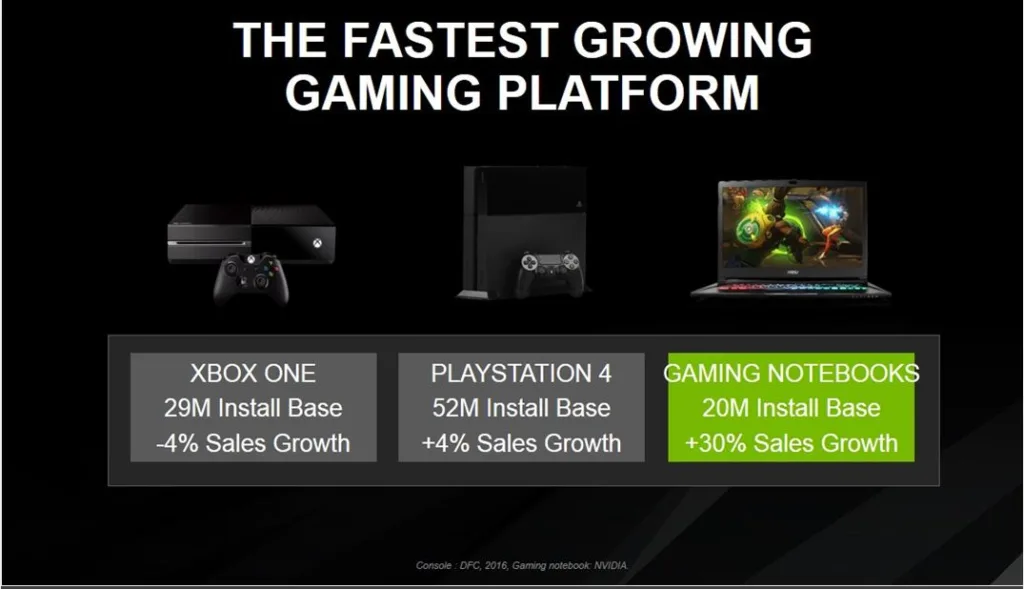 Nvidia points to the sales growth of both the XBox One and the PS 4 with their approximately 4% annual sales growth, and points out that gaming notebooks are growing at a 30% rate with an installed base of 20 million currently. They also point to the gaming superiority of the PC platform over the consoles especially for virtual reality (VR).
So Nvidia has introduced their new Pascal lineup of notebooks with a claimed up to 75% improvement over Maxwell notebooks. Best of all, the Pascal notebooks are all "VR ready" – just plug in the headset, and the display lights up. The Pascal gaming notebooks will start at $1300 for a GTX 1060 and go up from there, with even SLI as an option for GTX 1080 and GTX 1070-equipped notebooks.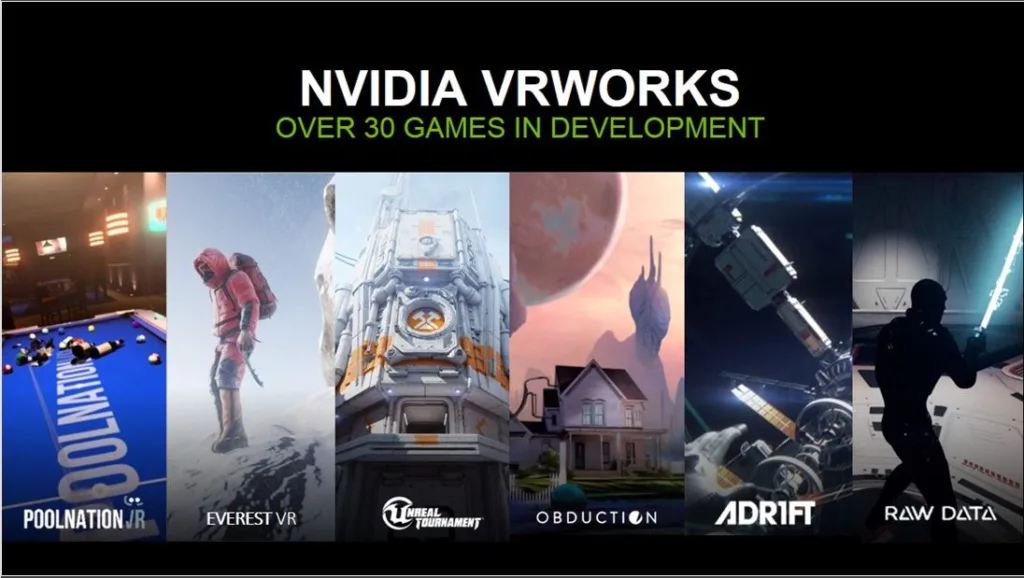 Besides an up to 75% improvement in performance, Nvidia points to up to three times higher overclocks with Pascal notebooks over Maxwell notebooks. This overclocking will be enabled by the notebook OEMs, some of whom will overclock the GPUs similarly to the way Nvidia's partners offer pre-overclocked desktop video cards.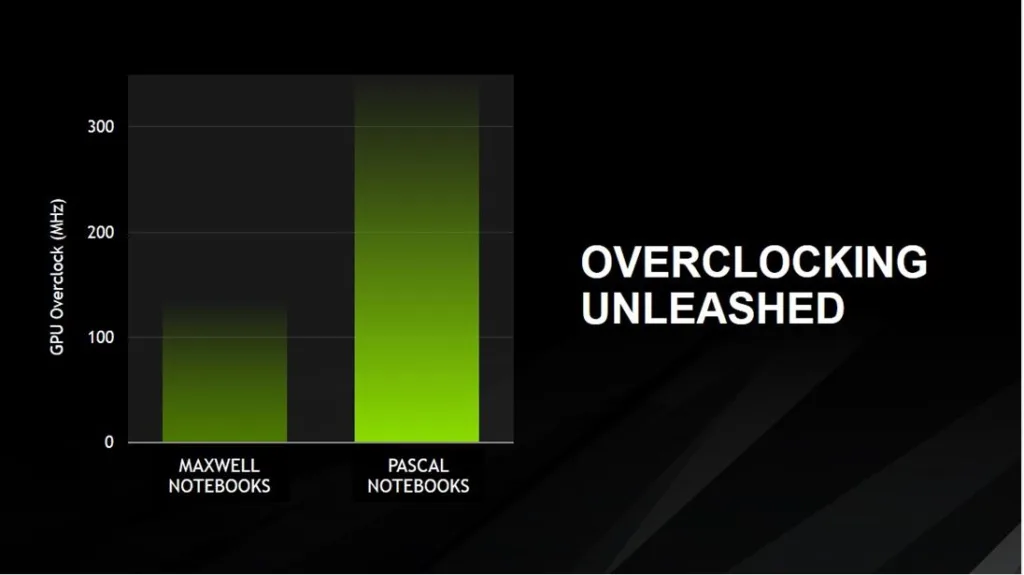 Nvidia says that the new GPUs and their corresponding supporting platforms have had their electrical systems completely reworked to provide cleaner power with improved analog circuit design for higher performance. In a first for notebooks, they now offer Dual FET power supplies with increased efficiency.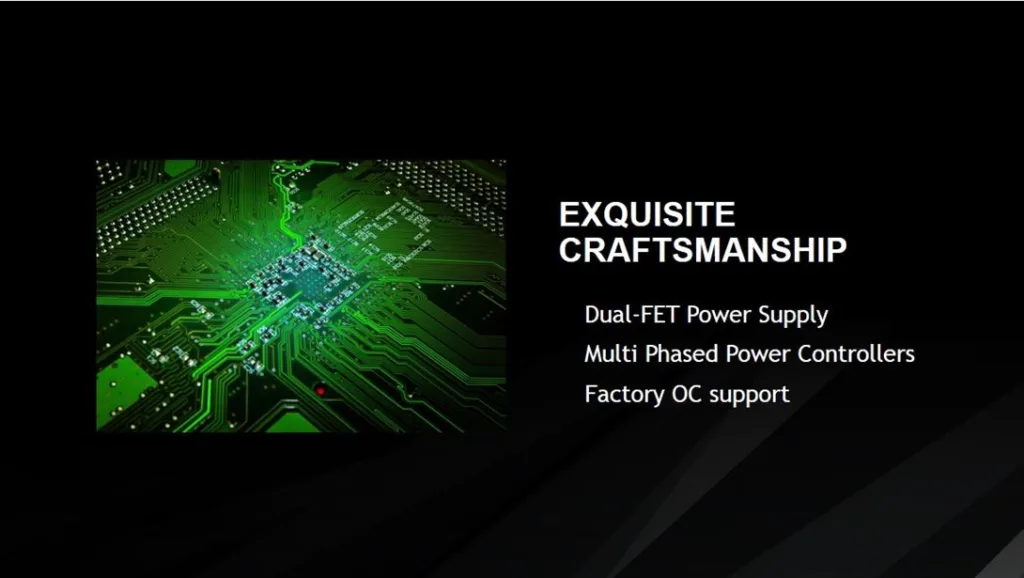 Long an irritation because of relatively short battery life for gaming, Pascal notebooks now offer up to 30% overall improvement to battery life. This means that the Pascal GPU is far more power efficient than Maxwell with considerably lower power requirements than desktop chips which are partly accomplished by careful binning.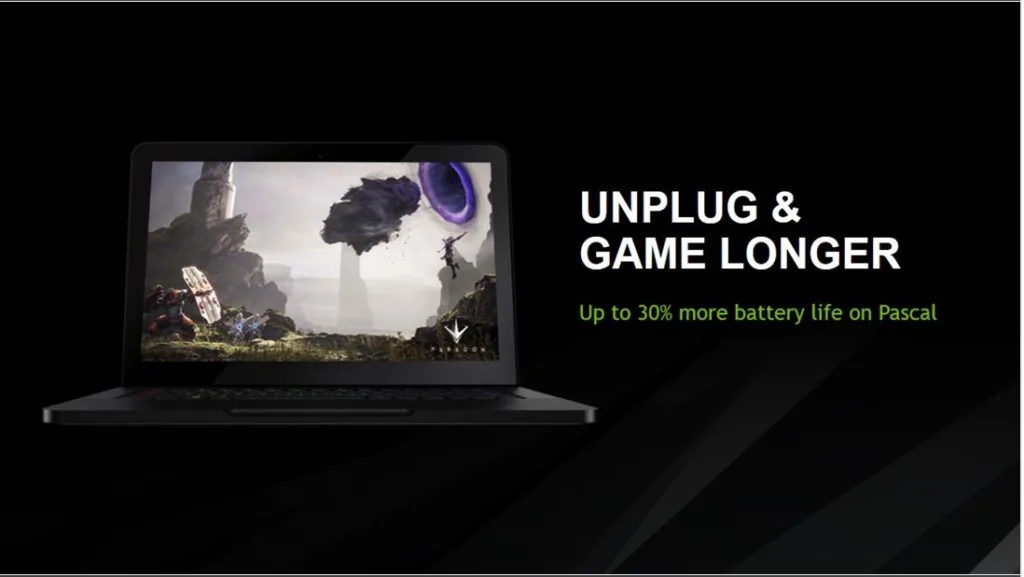 The Battery Boost is an application found in a notebook's GeForce Experience (GFE) that can be custom configured to give maximum battery life, partly by setting the max frame rate for battery-powered gaming (from 30 to 60 fps) so that any extra frame rates will translate to longer battery life. And settings can also be custom configured similarly to conserve the battery reserve.
SPECIFICATIONS
The Pascal GPUs found within these notebooks are said to give within 10% of the performance of their desktop equivalent, to actually being slightly faster. The specifications are impressive.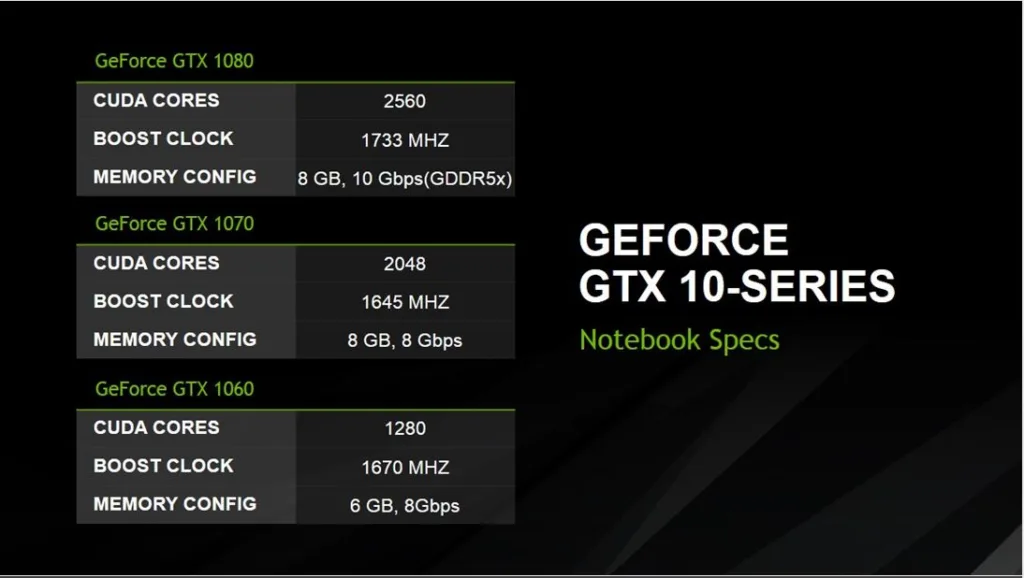 Taking the GTX 1070 for notebooks as an example, Nvidia has increased the CUDA core amount slightly and also increased the GPU Boost 3.0 to match the desktop 1070, and all with lower power usage and greater efficiency. The amount and configuration of the memory remains the same for the notebook and the desktop platforms.
FEATURES
The new Pascal notebooks support the same features as the Pascal desktop GPUs. They are all part of the GeForce "10" family. Nvidia sums up Pascal's features as being "the Perfect 10"; this being the GeForce ten series beginning with the release of the GTX 1080, and now, culminating with the release for the notebook platform.
Nvidia has engineered the Pascal architecture to handle the demanding computing and gaming needs of technologies like VR. It incorporates several new technologies:
Next-Gen GPU Architecture. Pascal is optimized for performance per watt. The GTX 10 series notebook GPUs as well as the desktop GTX 1080/1070/1060/TITAN X are about 3x more power efficient than the Maxwell Architecture.
16nm FinFET Process. The 10 series notebooks, the TITAN X, the GTX 1080, the GTX 1070, and the GTX 1060 are designed for the 16nm FinFET process, which uses smaller, faster transistors that are packed together more densely to deliver a significant increase in performance and efficiency.
Advanced Memory. The GTX 1080 notebook uses the fastest available GDDR5X memory at 10000MHz while the GTX 1070 uses 8GB of GDDR5 memory and the GTX 1060 is equipped with 6GB.
Superb Craftsmanship. Increases in bandwidth and power efficiency allow the GeForce 10 notebooks to run at really high clock speeds. New to Pascal is asynchronous compute. And new GPU Boost 3 technology supports advanced overclocking functions.
Groundbreaking Gaming Technology. New VRWorks software features let game developers bring more immersion to VR gaming environments. And Nvidia's Ansel technology lets gamers share their gaming experiences and explore gaming worlds in new ways.
All Pascal GPUs feature an all-new SMP Engine which is located within the PolyMorph Engine. With this feature, the GPU can simultaneously map a single primitive on up to sixteen different projections from the same viewpoint. It allows Pascal GPUs to accurately match the curved projection required for VR displays and other emerging display use cases. In extreme cases, the SMP Engine can reduce the amount of required geometry work by up to 32x!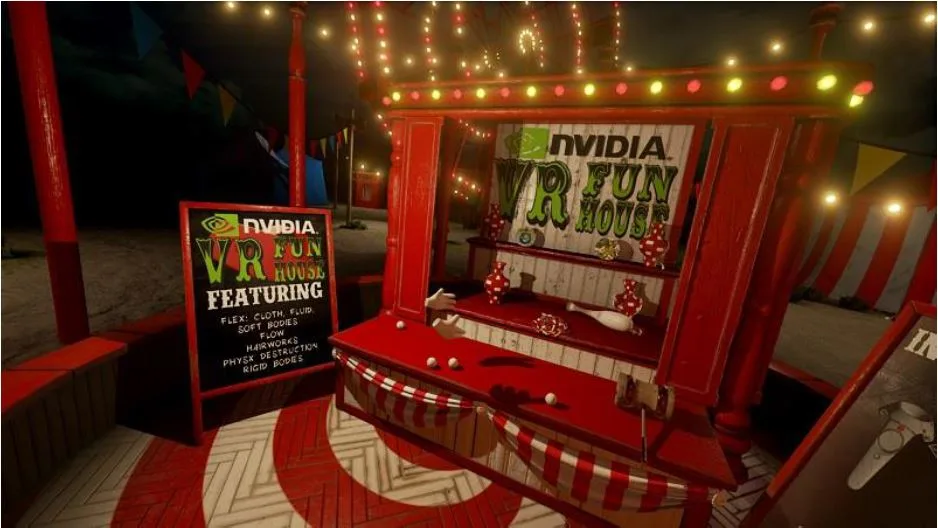 The next generation of games will not only look better but run faster on the GeForce 10 Pascal notebooks than on previous generations. Nvidia has developed a number of advancements for virtual reality – reducing latency, improving image quality, and bringing a whole range of new content to Virtual Reality all of which are available to GeForce 10 mobile gamers.
G-SYNC and Ansel
G-SYNC is an important technology that BTR will be covering in a future article as we finally have our own G-SYNC-equipped WQHD 34″ ACER Predator display that we have recently received from Nvidia. It allows the display to be synchronized with the GPU to produce smooth and tear-free frame rates, and once you use it, you cannot go back easily to a non-G-SYNC display. These new Pascal notebooks support G-SYNC and they will be available on more models. In fact, 120Hz G-SYNC notebooks are being offered for the first time, and 2560×1440 notebook displays will be an option also.
Nvidia also announced Ansel, a powerful game capture tool that allows notebook gamers to explore, capture, and share the artistry of gaming in radical new ways.
With Ansel, gamers can compose the gameplay shots by pointing the camera in any direction and from any vantage point within a gaming world allowed by the devs. They can capture screenshots at up to 32x screen resolution, and then zoom into a chosen location without losing fidelity. With photo-filters, they can add many different effects in real time before taking their shot, or process them afterward. They can even capture 360-degree stereo photospheres for viewing with a VR headset or with Google Cardboard.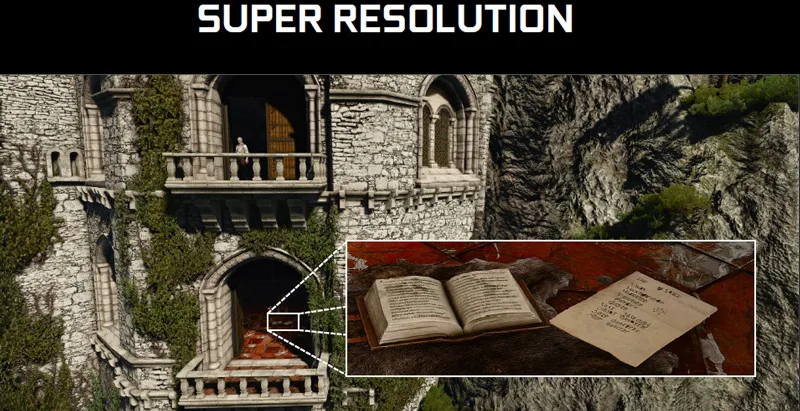 Ansel will be available in upcoming releases and by game patches such as Tom Clancy's The Division, The Witness, Lawbreakers, The Witcher 3, Paragon, No Man's Sky, Obduction, Fortnite and Unreal Tournament. And these features are available to Pascal notebook gamers!
Availability
Nvidia says this is the biggest launch of mobile gaming notebooks in their history. Look for many of their partners and for most of the notebook OEMs to be launching these Pascal notebooks immediately and over the coming weeks.
Here is just one example from EVGA: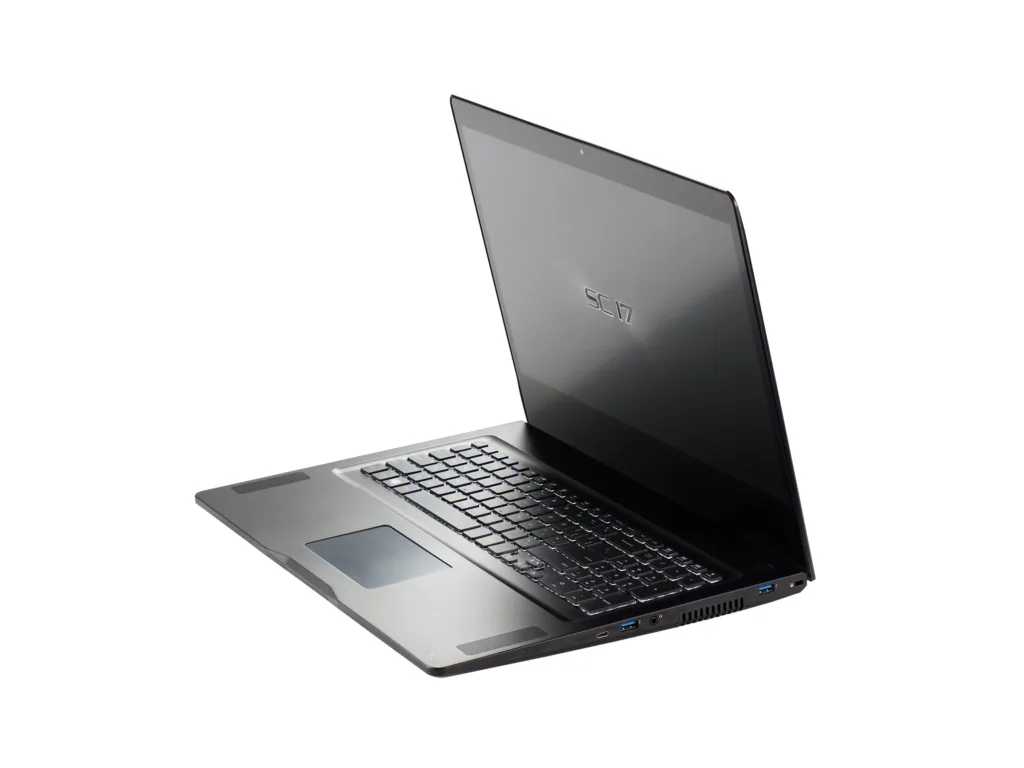 The EVGA SC17 1070 Gaming Laptop is a 4K ready, high performance notebook. It starts with an in-house EVGA designed power supply with a new unique form factor which helps deliver up to 240 watts of power as needed. It features an Intel Core i7 6820HK CPU that is unlocked and capable of being overclocked to 3800MHz and beyond, combined with a overclockable GeForce GTX 1070.
EVGA overclocking features a GUI BIOS with full mouse control with complete control over all aspects of performance, voltage and advanced settings. Best of all there is a Clear CMOS button accessible on the chassis.
EVGA SC 17 1070 Features
Gaming Unleashed – The new GeForce GTX 1070 turns a mobile notebook into a high-performance gaming PC powered by Pascal architecture.
Unibody Design – A aluminum unibody design only 1.07 in thickness.
4K UHD Display – A Sharp IPS display capable of delivering up to 4K resolution for crystal clear graphics.
Incredible Hardware – An Intel Core i7 6820HK Unlocked processor is combined with a GeForce GTX 1070 graphics card to give outstanding performance in the latest games.
Built to Overclock – A full GUI BIOS with full control over CPU Multipliers, Voltage, Memory Timings, Frequency; even GPU overclocking inside of the BIOS
EOC – Overclock on the fly with up/down arrow keys allowing Superclocked performance, or downclock mode to improve battery life.
We think this is great news for mobile gamers. They are no longer second class citizens of the gaming world but can now depend on their notebooks to give them the same excellent experience that desktop gamers enjoy.
Happy (mobile) Gaming!