Intro
NVIDIA Resizable BAR Performance Analysis (On vs. Off) – 9 supported games benchmarked, using an RTX 3080, a Z690 motherboard, and an i9-12900K CPU
A year ago, we analyzed NVIDIA Resizable BAR performance on an unsupported Intel Z390 CPU platform, so now we will test this feature on an officially supported Z690/12900K platform to see if it's worth it. We benchmark this feature, on versus off, using our latest recommended GeForce driver, the latest version of Windows 11, and nine NVIDIA white-listed PC games which are part of our testing suite.
Notes on NVIDIA Resizable BAR
To use NVIDIA Resizable BAR, users need a GeForce RTX 30 Series graphics card with a supported VBIOS, a compatible CPU, a compatible motherboard and SBIOS, and GeForce 465.89 driver onwards. With these requirements met, you need to enable Resizable BAR in your motherboard's UEFI setup program and boot your PC in UEFI mode with CSM disabled for UEFI GOP support.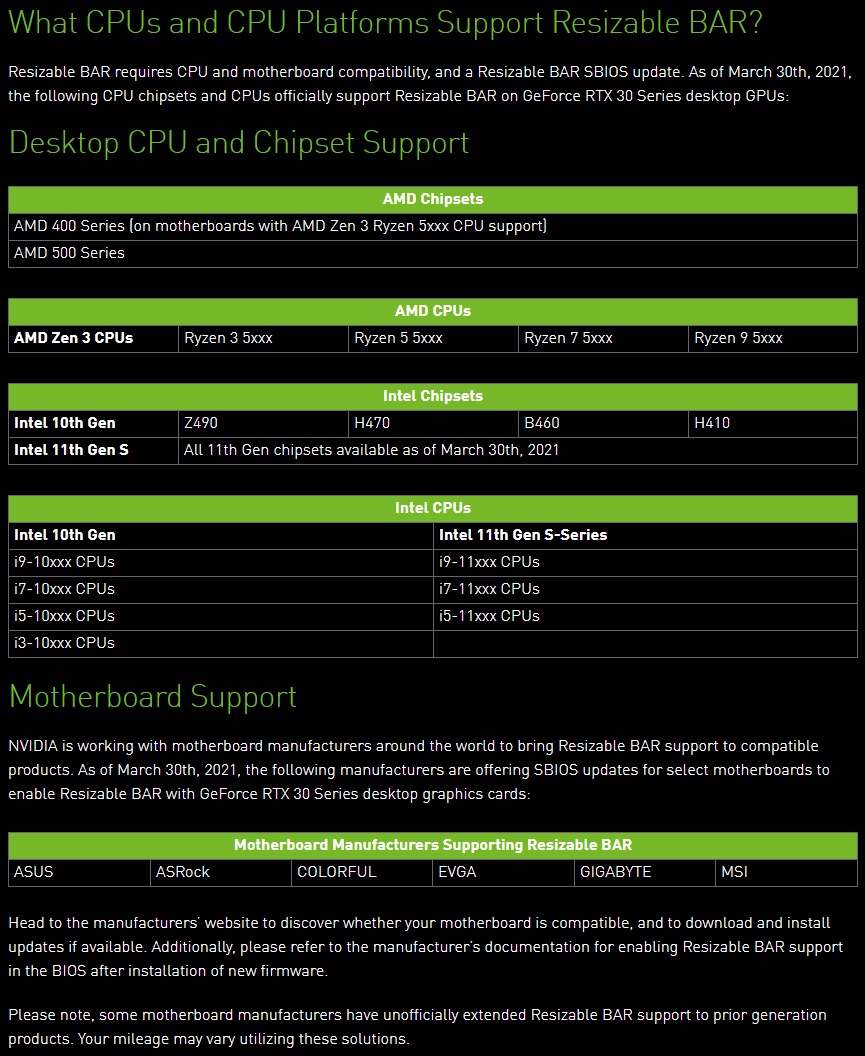 While the list above doesn't specifically mention our Z690 platform, we asked NVIDIA directly, and they confirmed it officially supports Resizable BAR. So in this review, we will see how the following NVIDIA's words apply to our Z690 platform or similar officially supported configurations:
" … NVIDIA will be pre-testing titles and using game profiles to enable Resizable BAR only when it has a positive performance impact. That way you won't have to worry about bugs or performance decreases, and won't have to rely on the community to benchmark each title and discover whether Resizable BAR is beneficial in the games you're playing." (Source)
How To Check the NVIDIA Resizable BAR Feature State
You can check if Resizable BAR is enabled using GPU-Z, the NVIDIA Control Panel, and Windows Device Manager. Below you can see what our testing system reports when Resizable BAR is enabled using the mentioned methods:
Our testing platform is a recent install of Windows 11 64-bit Pro Edition, an i9-12900K with stock clocks, an ASUS PRIME Z690-P D4 motherboard, and 32GB of T-FORCE XTREEM ARGB WHITE DDR4 3600MHz. The games tested, settings, hardware, GeForce drivers, and Windows 11 build are identical except for the off versus on 'Resizable BAR' state we compare. We enabled and disabled Resizable BAR using the UEFI setup program for our testing.
Before offering the performance data and charts of each different analysis scenario, it's important to describe both the hardware and software configuration used in our testing, as well as the analysis methodology.