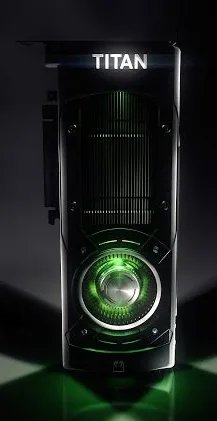 At the GDC (Game Developers Conference) this morning, Nvidia unveiled an extraordinary virtual reality experience called "Thief in the Shadows", powered by the new GeForce GTX TITAN X. It is the product of a unique collaboration between Nvidia, Weta Digital, Epic Games, and Oculus, which pushes VR to new heights. Powering this experience is the unreleased GTX TITAN X, which was introduced by Nvidia's CEO Jen-Hsun Huang (Jensen) this morning.
Jensen revealed few details, instead leaving that for Nvidia's GPU Technology Conference which this editor will be attending for BabelTechReviews in less than two weeks. But Jensen teased the new Maxwell architecture underlying TITAN X which has eight billion transistors, a 12GB framebuffer, and took thousands of engineer-years to build.
"It's the most advanced GPU the world has ever seen," Jen-Hsun said, as he presented Tim Sweeny of Epic Games with the company's very first production unit.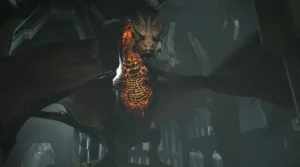 In "Thief in the Shadows", gamers wade through virtual acres of coins, passing between stacks of gold ingots, while exploring subterranean crevices, all guarded by an enormous dragon. It was created by the Weta Digital talent behind the Hobbit movies. The virtual reality experience runs exclusively on Oculus's "Crescent Bay" prototype, leveraging the muscle of a TITAN X GPU to deliver it at a very smooth 90 frames per second.
In "Thief in the Shadows" viewers will not only experience the VR world's visual richness, they'll hear it, as the demo's spatial audio effects were integrated by Epic into the experience and driven by the Oculus Audio SDK. As a result, participants will feel immersed into Smaug's world, coming face-to-face with the dragon.
Attendees at the GDC conference can experience "Thief in the Shadows" for themselves in the Nvidia (#1016), Epic Games (#1024) and Oculus (#1224) booths on the show floor. We are going to miss GDC but will attend the GTC where you will get a full report more about the details and the architecture underlying TITAN X. And no doubt "Thief in the Shadows" will also be featured there. We can't wait!