NVIDIA at Gamescom 2021: GeForce RTX Enhancements for 'Marvel's Guardians of the Galaxy' and 'Dying Light 2 Stay Human', 'Battlefield 2042' Gets Bundled & RTX/DLSS for Myst (VR)
Our Friends at NVIDIA have important announcements from
Gamescom 2021
.  The biggest announcement impacting VR enthusiasts is the release of the remastered
Myst
using ray tracing for enhanced visuals and DLSS Quality to keep performance above 90 FPS using a Q2.  Here is the press release:
NVIDIA has made the virtual trek to Cologne, Germany and is once again the driving force behind much of the PC gaming news coming out of Gamescom 2021.
Marvel's Guardians of the Galaxy Launching with NVIDIA DLSS and Ray Tracing
NVIDIA announced that when Marvel's Guardians of the Galaxy launches on October 26, the PC version will launch with ray-traced reflections and NVIDIA DLSS, giving GeForce RTX gamers the definitive PC experience.
"Marvel's Guardians of the Galaxy combines original storytelling and electrifying single-player gameplay with an edgy aesthetic. With the addition of ray tracing and NVIDIA DLSS, PC players will enjoy this stunning universe's visuals with even higher performance." – Olivier Proulx, Senior Producer, Eidos-Montréal
Dying Light 2 Stay Human Gets NVIDIA DLSS and Ray Tracing 
Dying Light 2 Stay Human is coming in December and will include NVIDIA DLSS, as well as ray traced reflections, global illumination, and shadows.
"Our partnership with NVIDIA has helped us create an immersive, visceral experience for Dying Light 2 players. Ray tracing enhances the realism of our unforgiving, infected world while NVIDIA DLSS provides a massive performance boost without sacrificing image quality, so you'll never miss a beat traversing the landscape."  – Tomasz Szałkowski, Rendering Director, Techland
Battlefield 2042 Bundled With GeForce RTX Desktops and Laptops
In June it was announced that NVIDIA was the official graphics partner for Battlefield 2042, and the game would support NVIDIA DLSS and NVIDIA Reflex. Battlefield 2042 is loaded with GeForce RTX technologies, ensuring a brilliant Battlefield 2042 experience for GeForce RTX gamers.
At Gamescom it was revealed that Battlefield 2042 will be bundled with select GeForce RTX desktops and laptops for a limited time. For all the details, head on over to our bundle announcement article. Learn more in this trailer or visit our website.
"With NVIDIA's game-changing suite of technologies, we're able to make Battlefield 2042 the most technologically advanced Battlefield ever. NVIDIA DLSS and NVIDIA Reflex provide maximum performance, image quality, and the lowest latency for the ultimate competitive experience. We're really excited to be partnering with NVIDIA as our official PC Graphics Platform Partner, to help showcase iconic all-out warfare, unprecedented scale, and dynamically-changing battlegrounds." – Seth Christie, Head of Technology for EA Studios Europe
Escape from Tarkov and Rust Get Reflex Optimizations, Now Even More Responsive!
NVIDIA just released an update to NVIDIA Reflex that includes optimizations for Unity Engine-based games and enhancements to Boost Mode. The first two games to get updated are Rust and Escape From Tarkov, two extremely popular multiplayer titles built with the Unity engine. Escape from Tarkov saw latency reduced from 38% to 58%, while Rust went from 38% to 51%.
More Gamescom 2021 Gaming News from NVIDIA
Other exciting announcements at Gamescom 2021 include:
Myst also integrates DLSS into its VR mode, making it possible to play the classic puzzle game at a stunning 4864 x 2448 resolution while maintaining 90 fps for a smooth and immersive experience.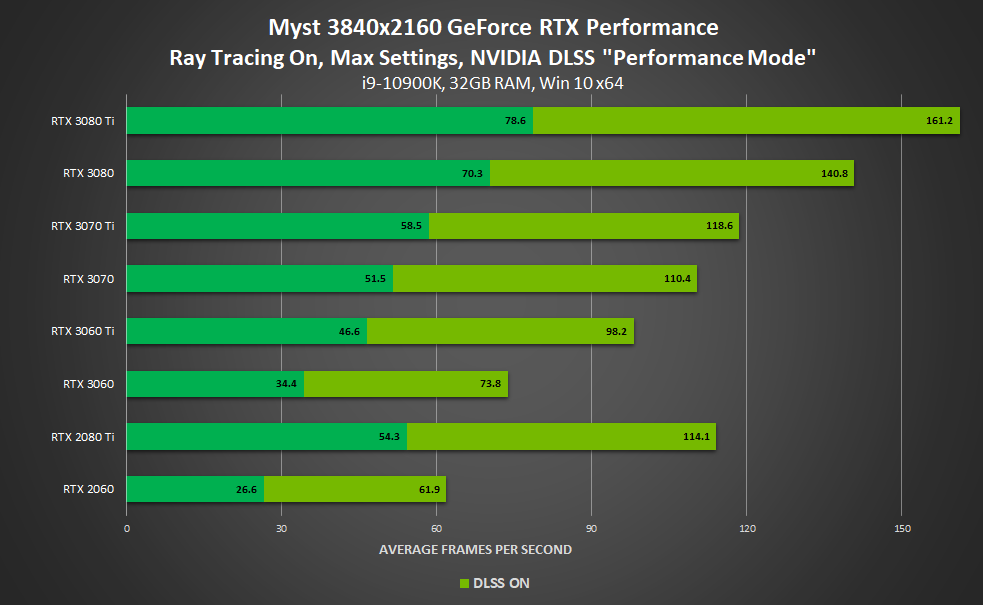 Myst VR on Oculus Quest 2 @ 4864 x 2448, Max settings – RTX 3080
DLSS Off
DLSS Quality
Avg Delivered FPS
59
90
"The responsibility you take on when you remaster a classic like Myst is to take the visual fidelity of this classic game to the next level. Ray tracing allows players to experience their favorite Myst moments in a whole new light and NVIDIA DLSS ensures smooth performance as a new generation of players journey to the ages." – Hannah Gamiel, Development Director, Cyan Worlds
"To win over the Wild West, you always want the best weapons at your side. NVIDIA DLSS is a gamer's best weapon, because it gives you maximum performance and image quality so you can saddle up and take down any gunslingers in your way."
Jon Mavor, Team GRIT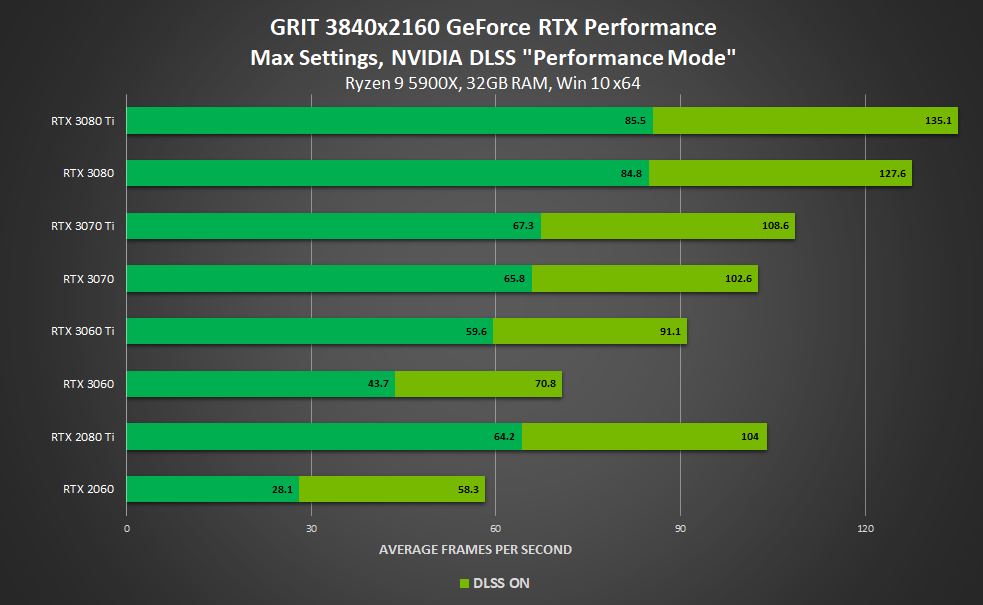 "In Chivalry 2 we wanted to throw our players into massive battles with clashing swords, flaming arrows, and sprawling castle sieges. NVIDIA DLSS guarantees that as the battle rages on, our players will always get maximum performance and visual fidelity." – Brian Etheridge, Publishing Director, Tripwire Interactive
###
Happy Gaming!