M&E Benefiting Because People Have Choices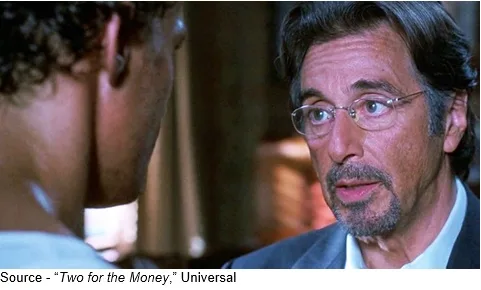 If Prince were alive today, he would update his 1982 hit to Party Like It's 2021 (instead of 1999).
We've been going out to dinner … traveling visiting folks, friends … going to movies … living every moment.
Okay, we haven't been going to movies like it's 1999.
Movie attendance in 1999 was a little over 1.4B plus, according to Bruce Nash at The Numbers.
Peak ticket sales were in 2002 (1.5B plus); and since then, have been steadily declining to 2019's 1.2B plus.
2020 was more of a production and staging year, not a money maker.
According to Omdia, global box office sales dropped 71.5 percent compared to 2019's $13B, the first time in more than two decades.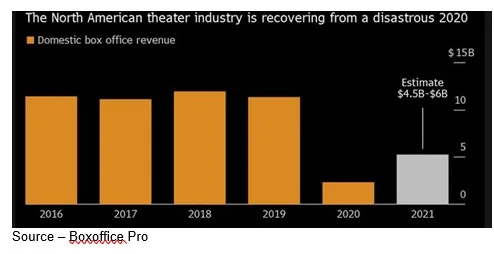 But at the current pace of recovery, Boxoffice Pro projects (hopes) global ticket sales will reach $15,192M this year.
Most of that revenue will be generated in the Chinese market ($6,259M), surpassing North America as the leading movie market.
Attendance in North America, formerly the world's No. 1 movie market, has been weakening for two decades with ticket sales peaking in 2002 with 1.6B.
The U.S.-Canada marketplace has been over screened for years (now at 41,172) thanks to the aggressive growth of AMC, Cinemark, Cineworld and others including art house cinemas.
At the same time, the Chinese market has grown and now has 75.5K screens.
Wall Street analysts like to point out that shopping malls, which house many theaters, have fallen out of favor with the consuming public and that the thrill of big screens and super-salty popcorn have been undercut by elegant home theater systems.
You wouldn't know that by reading the noise coming from NATO (National Association of Theatre Owners), UNIC (International Union of Cinemas) and other movie house groups that are enthusiastically promoting every new film opening; and the modestly good ticket sales they have been racking up.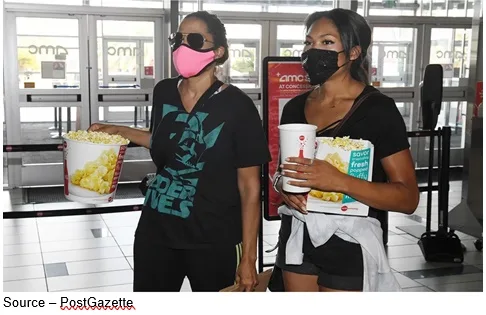 Despite the downturn (until last year) in attendance the movie house industry has managed to show a steady increase in sales and profits, thanks to increased ticket prices and very profitable concessions.
Theater groups like to point out that three-quarters of the U.S. population went to at least one movie at the cinema in 2019 and obviously, they're anxious to get back into their routine.
Roughly 12 percent of the population are like our friend Susan, a dedicated frequent moviegoer, goes at least once a month.
Before 2020, it was more like twice a month or with every new opening since a movie without all of the environment is just … a show.
She and her friends account for about 49 percent of the tickets sold annually or four times the rest of the population.
Thank you, Susan!
Last year's hiatus has meant that theaters are packed with three years of new releases that everyone wants to monetize, including such long-awaited sequels and budget-busters as Bond's No Time to Die, Dune, Black Widow, Moribus, The Falcon and the Winter Soldier, Candyman, Malignant, Top Gun: Maverick, MI7 and more from nearly every studio.
The theatrical release has been the engine that runs industry revenues, and the year-long shutdown has given movie houses and studios added incentive to make up for lost time (and profits).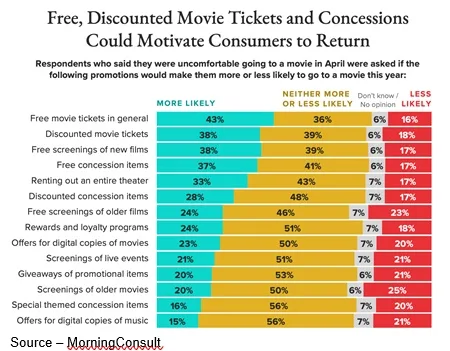 So, theaters and studios have considered every option to stimulate people to come back … now.
And hopefully, coming back will not only rekindle that excitement of watching horror films on the large screen with the immersive surround sound that enhances the agonizing silence or blood-curdling scream; it will increase the desire to see/experience more.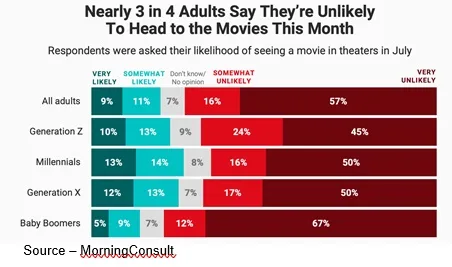 The challenge is that the past year's events caused seniors to shy away from dark, enclosed areas and the industry needs them to come back to thrive because they often represent the more dedicated moviegoers.
But optimism is on the horizon if you look at the global cinematic results where theaters have shown a strong recovery.
China, Japan, Korea, Russia, India, Italy, Spain and other countries have all experienced major attendance increases, which indicates that with the right content and experience, people can possibly quickly put the past year in the rearview mirror and return to their seats.
If you do it right, with the right content, people will come back.
But 2020 also accelerated the inevitable revision of the cinema house's hallowed theatrical window.
The challenge for theaters today is that studios also own streaming DTC services which they are working diligently to expand nationally and globally.
And as the NATO spokesperson cautioned, "Nobody is friends in this business. It's all dollars and cents."
Studio bosses aren't seriously looking out for theaters but are focused on their bottom lines but for the foreseeable future … they need them.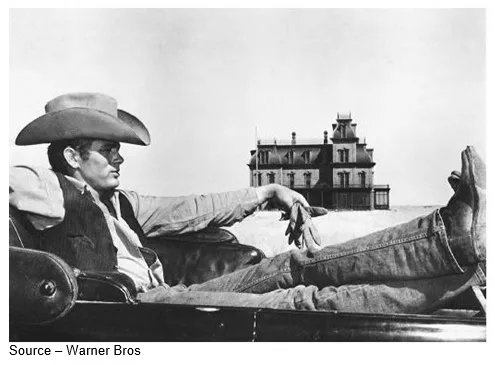 Still, there were a lot of folks that got into the habit of kicking back and watching great first-run shows and even tentpoles at home.
While box-office revenues were significantly hit, streaming boomed.
Online transactional and SVOD revenue could continue to increase by 30 percent this year.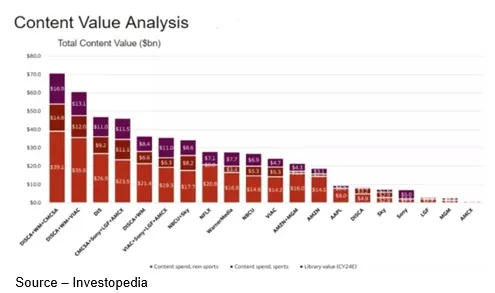 And all of the streamers/studios have large, valuable libraries of video content that they want to monetize … globally.
Entertainment and media proved a reliable escape from people's stay-at-home lives and, according to a UTA (United Talent Agency) study, a large number of individuals and families noted they formed several new habits, behaviors and expectations that they don't think they'll let go of.
Seven out of 10 consumers reported they are using multiple streaming platforms with an average of four to five.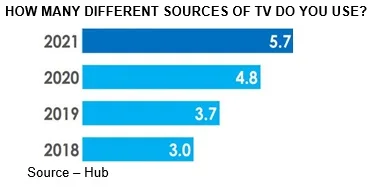 A growing number of consumers have also said they will probably expand and modify the services they use to watch more international content and/or stories with diverse voices.
Among the subscriptions started last year, Apple TV+ was the leader (48 percent) with Netflix (46 percent), Disney+ (46 percent), Hulu (39 percent) and Amazon Prime (34 percent).
Among subscriptions viewed regularly or alternately, Netflix led at 72 percent followed by Amazon Prime (54 percent), Disney+ (51 percent), Hulu (47 percent), HBO Max (36 percent), Apple TV+ (30 percent), Discovery+ (23 percent), Peacock (17 percent) and Paramount+ (12 percent).
Lightshed Partners has forecast that SVOD subscriptions will increase to 1.25B by the end of 2024.
It's little wonder that all of the streaming services are beefing up their libraries to minimize shrinkage and subscriber churn.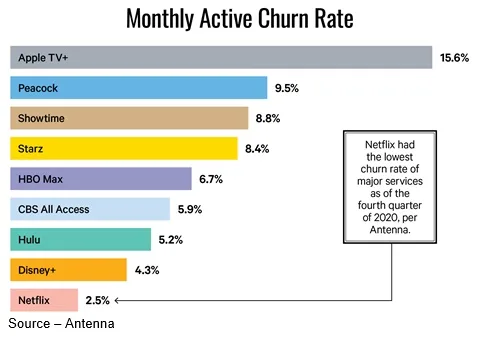 The "old man" of the streaming arena with more than 210M subscribers and well-founded market position has some leeway in making pricing adjustments, even though price is the biggest reason subscribers say they would cancel a service.
However, even they have to be cautious.
At the same time, newer services, even by the best studios, will find a lot of resistance in capturing a large, healthy and dedicated subscription base.
In addition, with established AVOD services like Pluto, IMDb and Tubi offering "discounted" pricing for their ad-supported service in addition to their "premium" services, consumers can be confused and simply pass on the offer.
If a consumer has to make a decision between the two options, the easiest decision is simply no decision and to move on!
Acquiring subscribers is challenging but retaining them is becoming even more difficult because without a constant supply of new/interesting films/shows, people sign up, watch what they want, cancel the subscription and move on to the next "gotta see" film/show.
To capture subscribers (currently 200M), Disney + (including Hotstar and Stars) is bulking up its film/TV library.
Disney's CEO, Bob Chapek, has emphasized that the firm's streaming series and features are available because of the firm's theatrical IP.
He noted that in 2019, the company had a $13B box office and "that's not something to sneeze at."
Chapek recently told investors that it's about balance and following the consumer as they make the transition.
"We need to be flexible and read all the clues," he stated.
And historically, Disney has done an outstanding job of maximizing revenue throughout the distribution chain.
With Discovery's merger of WarnerMedia with AT&T early this year, the new organization Warner Bros Discovery (the name may change when the merger is finalized mid-next year), has the potential of becoming a major player in both the theatrical and streaming arenas nationally and internationally.
Discovery CEO David Zaslav, a highly respected person in the content industry, has already indicated that the firm expects to produce $3B in cost-saving synergies (layoffs) over the next two years.
The merged entity will have very compelling product including Warner Bros. studio, HBO and HBO Max, as well as the Turner cable networks CNN, TNT and TBS.
They will also have Discovery's reality TV-heavy properties — Discovery Channel, HGTV, TLC, Food Network, OWN and Animal Planet.
Elimination of the duplication without damaging the topline properties could happen quickly.
Management has already signaled that Discovery will invest at a record pace following the merger.
Amazon is already deep in the integration of MGM as a sound theatrical studio and a global streaming competitor serving more than 200M subscribers. With a rich library of more than 17,000 TV episodes and more than 4,000 films it offers subscribers a steady stream of entertainment options including IMDb, Audible, Twitch, Amazon Music/Games.
More than 2,000 global and local streaming services will bundle, merge or focus on tightly identified viewer groups to meet the constantly changing entertainment interests of the more than 1.5B people around the globe with broadband access and screens to entertain them.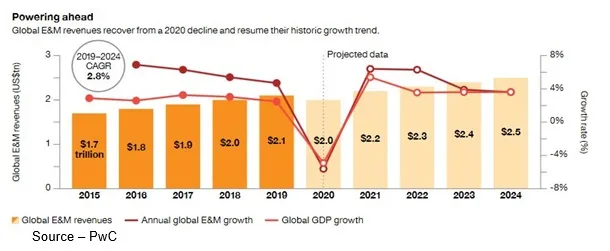 Studios need theaters and the DTC channels to enable them to continue to invest in new content and new distribution opportunities.
The global box office is rallying because there is a tremendous number of expensive, eye-/ear-popping films that need to be seen … and need to make money.
We aren't going back to the 2002 levels, more like 2018 levels.
There's a pent-up need for people to get out, be with others and experience super films the way they were meant to be seen – in a dimly lit room with a bunch of strangers, among the smell of greasy/salty popcorn and superb immersive surround sound.
Even with abbreviated schedules, nothing beats the big screen.
AT&T's Stankey's pronouncement in justifying his theatrical-HBO Max release strategy – "the customer gets to decide" – was a nice soundbite but also proved that he didn't fully grasp the economics of the industry. Or, more importantly, the connection/relief people have when they leave the theater.
Then, in a few weeks, they can catch up on the scenes and action they missed by watching it again on their home screens.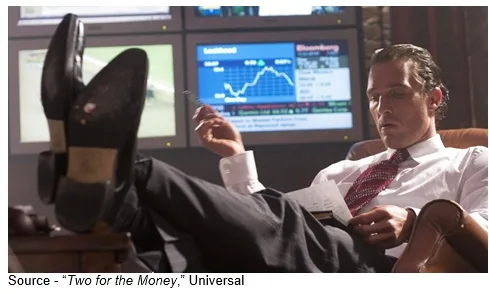 Over the next three years, the industry will continue to change, evolve and consolidate in addition to refocusing content, channels and opportunities.
Of course, all the award programs will have to change their rules (again) because what's a film and what's TV?
The industry, the players and the people will continue to take Walter Abrams advice in Two for the Money, when he said, "Stats are not enough, you need a voice! These are gamblers ready to risk what they can't afford for what they can't have, you're selling the world's rarest commodity: certainty, in an uncertain world."
As former Chicago Mayor Rahm Emanuel said, "You never want a serious crisis to go to waste."
# # #
Sidebar – For all of the filmmaker community–especially the tens of thousands of indie filmmakers–the shift works well for all parties, creating a stronger ecosystem. There is an estimated 2000+ large and small streaming services around the globe and it's a lot easier to get projects placed with a streamer than to get on the theater calendar. The growth in popularity of streaming service viewing gives content creators many more opportunities to get their work viewed. If the industry was dominated by movie theaters, just getting screen time for small independent films would be … very difficult.
Andy Marken – andy@markencom.com – is an author of more than 700 articles on management, marketing, communications, industry trends in media & entertainment, consumer electronics, software and applications. An internationally recognized marketing/communications consultant with a broad range of technical and industry expertise especially in storage, storage management and film/video production fields; he has an extended range of relationships with business, industry trade press, online media and industry analysts/consultants.