This is the sixth time that this editor has been privileged to attend Nvidia's GTC (GPU Technology Conference) which is still being held. So far, it has not disappointed although GeForce gaming is not the focus of this event. This year saw about 5,000 attendees which is more than double the attendance of the 2012 event.
The San Jose Convention Center now seems almost too small of a venue compared with even last year because of the large number of attendees and its jam-packed schedule. Fortunately, Nvidia is up to the challenge of providing an excellent event as the GTC is always staffed with friendly and helpful employees. In this partial summary of what has transpired for us so far, we are only going to give a very brief recap of the highlights of the past two days, and we will save the details for our GTC 2016 wrap-up article this weekend.

First of all, it is impossible for anyone to attend even a small portion of the 500 plus talks and sessions which are devoted to showcasing how GPU technology is being applied to some of today's most important computing challenges. As reflected in the Nvidia CEO Jensen's Keynote yesterday, this is the year of deep learning – for cars, for voice and image recognition, and for a myriad of other important applications.
To facilitate ongoing research and practical applications, Nvidia has released a new SDK toolset as well as a deep learning optimized new architecture Pascal GPU and turnkey supercomputer solution in a single box. VR is also highlighted although there is less emphasis placed on gaming at this event.
Tuesday, April 5
Here are some of the important highlights from Jensen's Keynote yesterday which set the stage for the rest of the conference:

First and foremost of interest to professionals and eventually to gamers, Pascal was released as the Nvidia Tesla P100 GPU – the most advanced hyperscale data center accelerator ever built. P100 is the latest addition to the NVIDIA Tesla Accelerated Computing Platform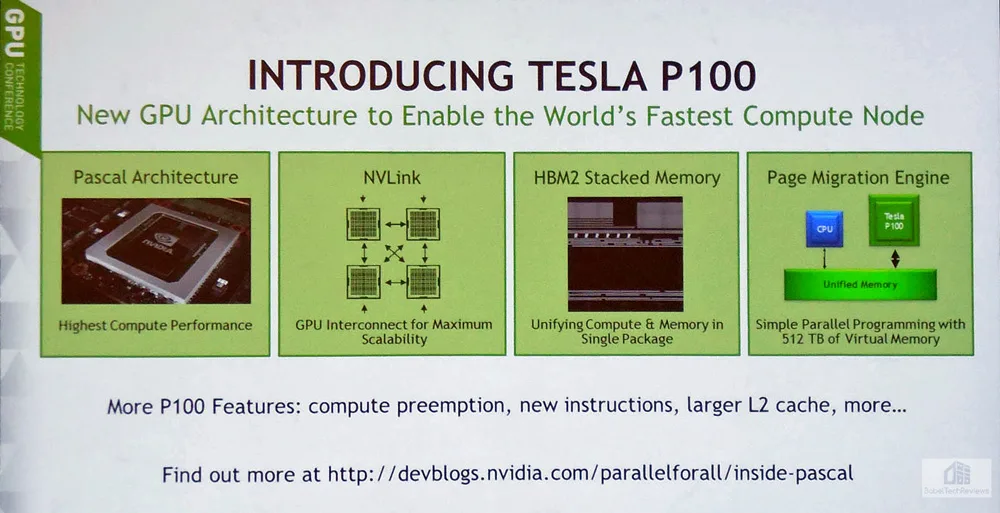 The Tesla P100 enables a new class of servers that can deliver the performance of hundreds of CPU server nodes. It is a massive 610mm chip that uses 3D stacking and HBM2 that is made possible by what Jensen called "5 miracles". We were also able to attend the deep dive session which covered a few of the differences between Pascal, Maxwell, and Kepler architecture which we will share with our readers in the GTC wrap-up article. Unfortunately, there is no Pascal white paper yet available.
Jensen also announced Nvidia's DGX-1 – the world's first deep learning supercomputer which was developed to meet the intense computing demands of artificial intelligence. It features eight Tesla P100 GPU accelerators that deliver up to 170 teraflops of half-precision (FP16) peak performance.
The DGX-1 is not inexpensive at $129,000, but it will save a lot of money over the millions of dollars it would cost to buy and set up comparable CPU servers. And the energy costs will be far lower for Nvidia's DGX-1 system at just over 3,000 W compared with the electricity usage for comparably performing CPU servers. The first systems will go out to researchers next month, and by Q1 of next year they will be available to OEMs for general purchase.

Much emphasis was placed on future cars that will also use Deep Learning, and the World's first autonomous race car was announced. Not just one, but all 20 cars in the ROBORACE Formula 1 2016/2017 E circuit will use Nvidia's DRIVE PX 2 as the "brains" of their autonomous platform.
Nvidia believes that AI for Medicine is critically important to all of us. This year Nvidia has partnered with Massachusetts General to advance healthcare by applying AI to improve the quality of treatment and the management of diseases.

Jensen's keynote also held the first public demo of Mars 2030 , an outer space VR simulation experience created by FUSION that uses satellite imagery and data provided from NASA. On stage, Jensen introduced the VR experience to PC pioneer Steve "Woz" Wozniak over a video link powered by Cisco TelePresence. Jensen and Woz were joking when Woz commented that he "felt a little dizzy" by the VR experience, to which Jensen replied, "that was not a helpful comment", much to the delight of the audience.
The full Mars 2030 experience will transport its viewer to Mars in VR. The terrain, lighting and gravity models, and even the habitats its viewer encounters in this VR simulation are grounded by scientific data. And Nvidia's VRWorks technologies will make the experience richer by using Multi-resolution Shading and even VR SLI support.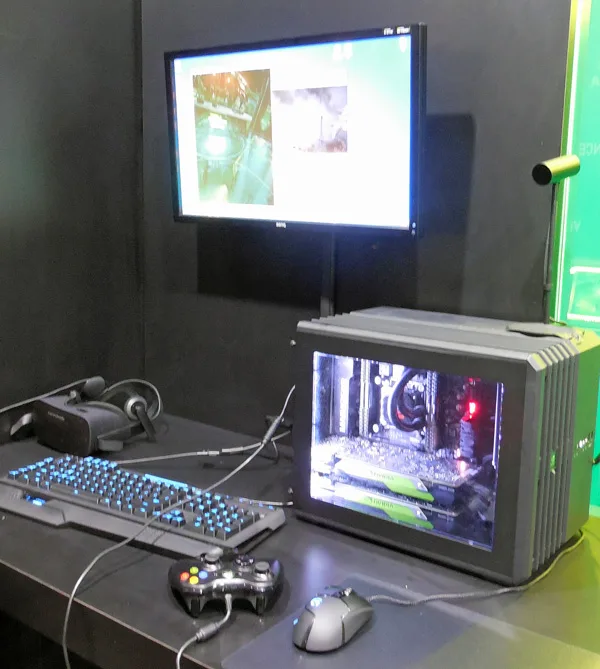 Some GTC attendees were able to experience the first part of Mars 2030 which is a VR exploration of an enormous Martian lava tube where the first explorers are actually expected to live. This experience is expected to be commercially available in the Autumn. Unfortunately, the lines were long and we missed this experience. We did get to check out the Oculus Rift VR demo of EVE: Valkyrie which we shall comment on more in the GTC Wrap-up article.

Jensen also announced Iray VR which is Photorealistic VR rendering that lets architects and design professionals simulate their creations accurately. Of course, photorealistic VR is computationally expensive, so there also is a scaled-down "lite" version of it available for smartphones that sacrifices little.
Jensen also announced Nvidia's Unified SDK which helps developers create solutions for deep learning, accelerated computing, self-driving cars, design visualization, autonomous machines, robots, gaming, VR, and more.
Wednesday, April 6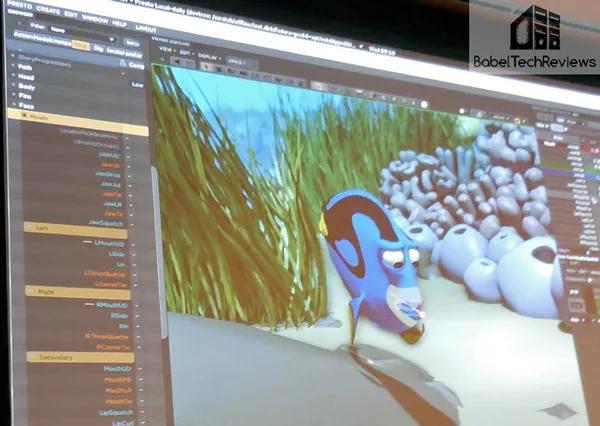 Today was filled with sessions, hands on labs, and networking. This editor has been interested in following Pixar's progress since Nvision08, and this year did not disappoint.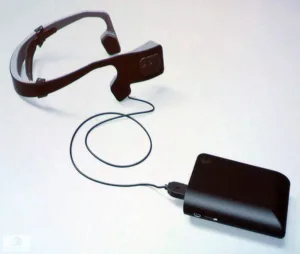 We also attended a session that featured a customized Jetson TK-1 coupled with a smartphone to enable the blind and those that do not have normal eyesight to navigate more normally by using sound cues. We also attended a Deep Learning session regarding voice and text recognition, and managed to find some important deep learning resources that may be useful to BabelTechReviews' Community.
The highlight of Day 2 for many was the second Keynote delivered by a very gifted lecturer, Rob High, IBM Fellow and CTO of IBM Watson. Five years after winning big on TV's Jeopardy!, IBM Watson has moved on to far more complicated AI applications, and the platform has evolved to help doctors, lawyers, marketers and others understand data in human-like ways.
Here is a partial list of what Watson is capable of: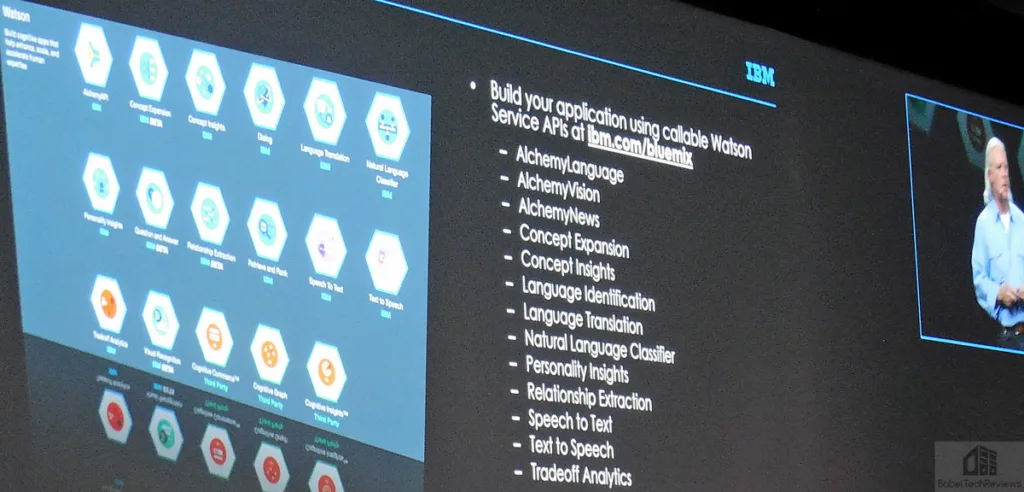 Tonight is the GTC party which never disappoints, and tomorrow we will say goodbye to the GTC for another year after the third keynote delivered by Gill Pratt CEO, Toyota Research Institute, a hands on Deep Learning Lab, and a final look at the exhibits to meet with some of the vendors that we missed.
Jensen is often seen at the GTC interacting with attendees.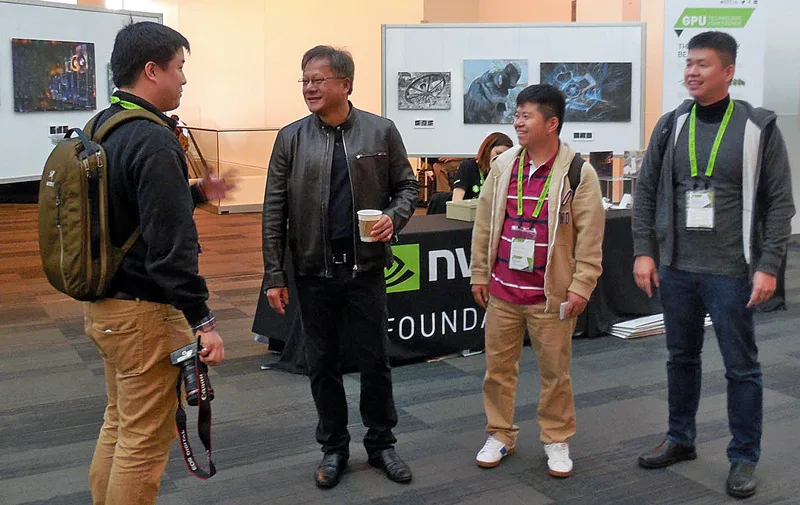 Attending the GTC is an amazing experience and we will cover it in much more detail this weekend in our wrap up article.
Live from the GTC,
Mark Poppin, BTR Editor-in-Chief
Happy Gaming!