A1000: Gen 3.0 x2 PCIe NVMe SSD for Notebooks & Desktops are Twice as Fast as SATA-based SSDs at Near-SATA Pricing
Fountain Valley, CA – April 3, 2018 – Kingston Digital, Inc., the Flash memory affiliate of Kingston Technology Company, Inc., a world leader in memory products and technology solutions, today announced A1000 PCIe NVMe™ SSD. The M.2 drive is Kingston's first entry-level consumer-grade PCIe NVMe SSD utilizing 3D NAND. A1000 delivers twice the performance of SATA at near SATA pricing.
The single-sided M.2 2280 (22mm x 80mm) form factor makes A1000 ideal for notebooks and systems with limited space. The PCIe NVMe drive features a Gen 3.0 x2 interface, 4-channel Phison 5008 controller, and 3D NAND Flash. It delivers 2x the performance of SATA SSDs with read/write speeds1 up to 1500MB/s and 1000MB/s giving it exceptional responsiveness and ultra-low latency.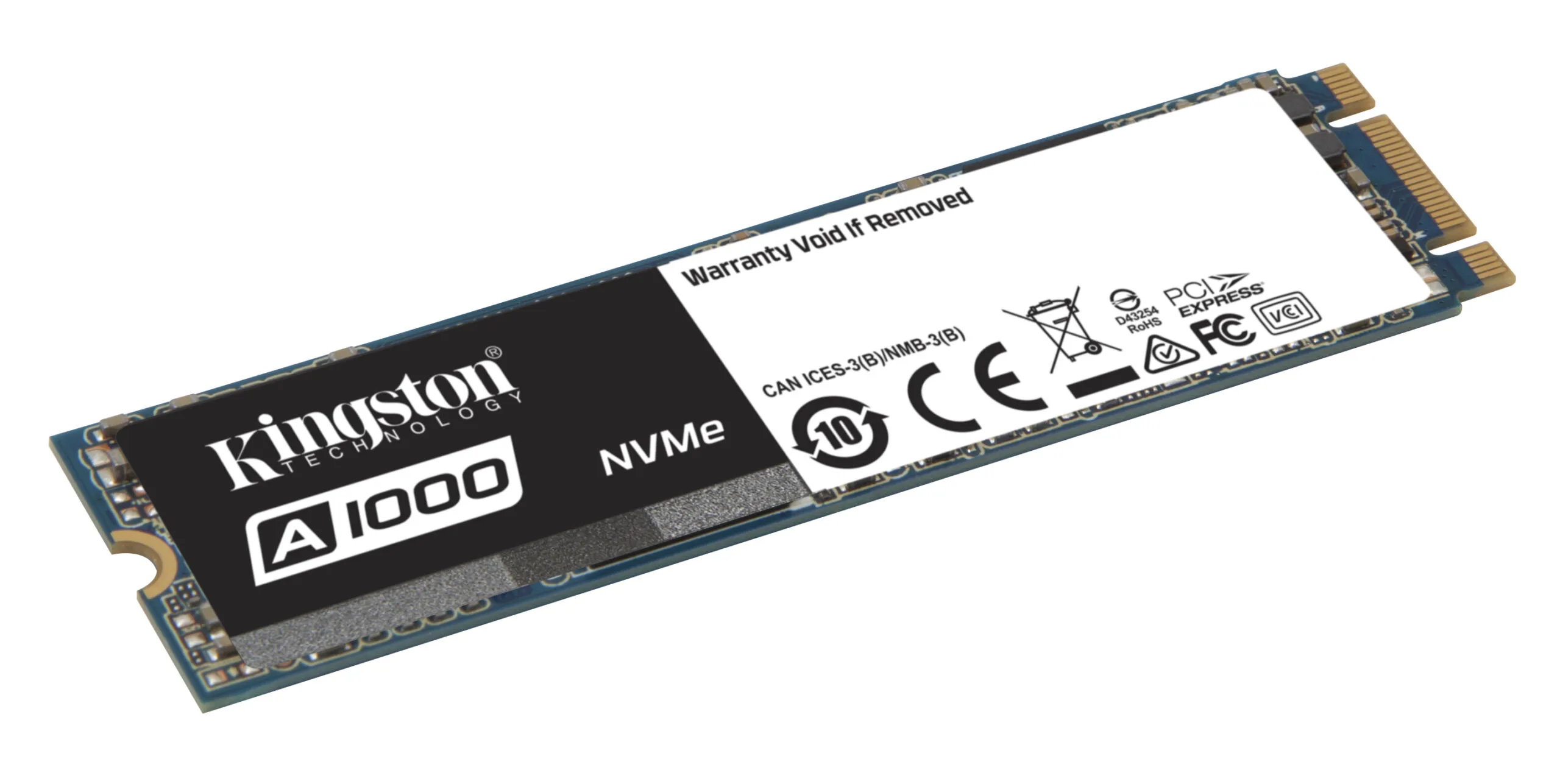 "Kingston is excited to release its newest SSD for the entry-level PCIe NVMe market. Designed with 3D NAND Flash memory, A1000 is more reliable and durable than a hard drive, and doubles the performance of a SATA SSD. Now we can give consumers the benefit of PCIe performance at about the same price as SATA," said Ariel Perez, SSD business manager, Kingston. "Consumers can replace a hard drive or slower SSD with A1000 and have the storage needed for applications, videos, photos and more."
A1000 is available in 240GB, 480GB and 960GB2 capacities and is backed by a limited five-year warranty, free technical support and legendary Kingston reliability. For more information visit https://www.kingston.com/us.
A1000 Features and Specifications :
20X faster than a hard drive1: With incredible read/write speeds the A1000 will not only increase performance but can also be used to breathe new life into older systems.
M.2 2280 Form Factor: Multi-purpose SFF connector replaces small mSATA and mini-PCIe slots.
Single-sided design: Integrates easily into designs with M.2 connectors; ideal for thin and light notebooks and in systems with limited space.
Multiple capacities: Available in a range of capacities up to 960GB2 to meet your data storage requirements.
Form Factor: M.2 2280
Interface: PCIe NVMe Gen 3.0 x2 Lanes
Capacities2: 240GB, 480GB, 960GB
Controller: Phison 5008
NAND: 3D TLC
Sequential Read/Write1:

240GB: up to 1,500/800MB/s
480GB: up to 1,500/900MB/s
960GB: up to 1,500/1,000MB/s

Random 4K Read/Write:

240GB: up to 100,000/80,000MB/s
480GB: up to 100,000/90,000MB/s
960GB: up to 120,000/100,000MB/s

Power Consumption: 0.011748W Idle / 0.075623W Avg / 0.458W (MAX) Read / 0.908W (MAX) Write
Dimensions: 80mm x 22mm x 3.5mm
Operating Temperature: 0°C to 70°C
Storage Temperature: -40°C to 85°C
Weight:

240GB: 6.4g
480GB: 7g
960GB: 7.6g

Vibration operating: 2.17G Peak (7-800Hz)
Vibration non-operating: 20G Peak (20-2000Hz)
Life Expectancy: 1 million hours MTBF
Warranty/support3: Limited 5-year warranty with free technical support
Total Bytes Written (TBW)4:

240GB: 150TB
480GB: 300TB
960GB: 600TB
A1000 SSD Part Numbers

Part Number
Capacity
SA1000M8/240G
240GB A1000 SSD
SA1000M8/480G
480GB A1000 SSD
SA1000M8/960G
960GB A1000 SSD
1 Based on "out-of-box performance" using a SATA Rev 3.0 / PCIe 3.0 motherboard. Speed may vary due to hosthardware, software, and usage. IOMETER Random 4K Read/Write is based on 8GB partition.
2 Some of the listed capacity on a Flash storage device is used for formatting and other functions and thus is not
available for data storage. As such, the actual available capacity for data storage is less than what is listed on the
products. For more information, go to Kingston's Flash Guide at kingston.com/flashguide.
3 Limited warranty based on 5 years or "SSD Life Remaining" which can be found using the Kingston SSD
Manager (Kingston.com/SSDManager). A new, unused product will show a wear indicator value of one hundred
(100), whereas a product that has reached its endurance limit of program erase cycles will show a wear indicator value of one (1). See Kingston.com/wa for details.
4 Total Bytes Written (TBW) is derived from the JEDEC Client Workload (JESD219A).