The chart pretty much says it all. And a big congratulations go out to our friends at Kingston who just achieved a very significant 16% marketshare of the global channel SSDs. Here is their press release: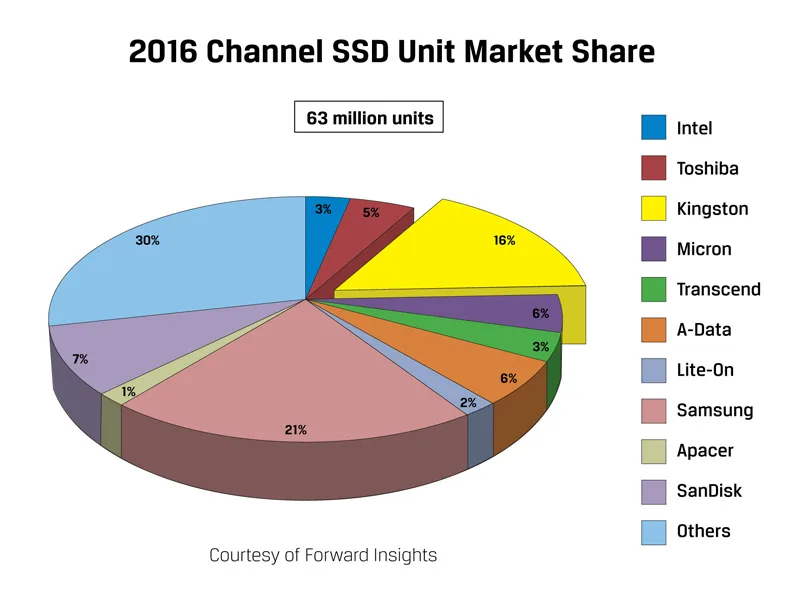 Fountain Valley, CA – March 20, 2017 – Kingston Digital, Inc., the Flash memory affiliate of Kingston Technology Company, Inc., the independent world leader in memory products, today announced it owns 16 percent of the global channel SSD unit market share for 2016. Data was compiled by the research firm, Forward Insights, which has been analyzing the non-volatile semiconductor industry since 2008. Forward Insights has been at the forefront of providing independent market analysis and information to many manufacturers including Kingston.
According to Forward Insights, a total of 63 million SSDs were shipped worldwide in the channel in 2016 with Kingston® accounting for nearly 10.1 million units. The amount represented 16 percent or second-most in the global market, showing Kingston's growth as one of the top suppliers of SSDs. The sales channel is comprised of distributors, resellers, retail/e-tail, system builders and solutions providers.
"The desire to switch to SSDs continues to grow as consumers and corporate customers alike see the performance benefits of upgrading from hard-disk drives," said Ariel Perez, SSD business manager, Kingston. "For nearly 30 years, Kingston's focus and core sales strength has been with our channel partners worldwide. Our terrific relationship with them has helped make our SSD business grow globally since we shipped our first drive in 2009. The latest results from Forward Insights help validate these efforts and we certainly share this success with our channel partners."
"Our research showed third-party SSD manufacturers accounted for 60 percent of all channel shipments last year as a number of the semiconductor-based vendors de-emphasized their channel business," said Gregory Wong, president & principal analyst, Forward Insights. "Although under allocation since mid-Q2 2016, channel shipments as a whole remained strong and Kingston was one of the top leaders in this category."
For more information visit www.kingston.com.
Kingston can be found on:
YouTube: http://www.youtube.com/kingstontechmemory
Facebook: http://www.facebook.com/kingstontechnology
Twitter: https://twitter.com/KingstonTech
Instagram: https://instagram.com/kingstontechnology/
LinkedIn: http://www.linkedin.com/company/kingston
About Kingston Digital, Inc.
Kingston Digital, Inc. ("KDI") is the Flash memory affiliate of Kingston Technology Company, Inc., the world's largest independent manufacturer of memory products. Established in 2008, KDI is headquartered in Fountain Valley, California, USA. For more information, please visitwww.kingston.com