Industry Hungry for News, Information, Goodies, Options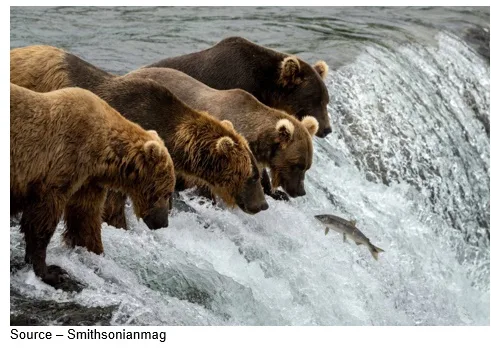 2020 was a great year…to get well behind us.
2021 has been a buffer, adjustment period to ease into the new normal.
2022 will be the new normal!
How do we know it's going to be good? Just look at the last few months!
Maybe a little late – O.K., 18 months after its original scheduled release – James Bond (Daniel Craig) packed the Royal Albert Hall to show off his Ian Fleming swan song, No Time To Die.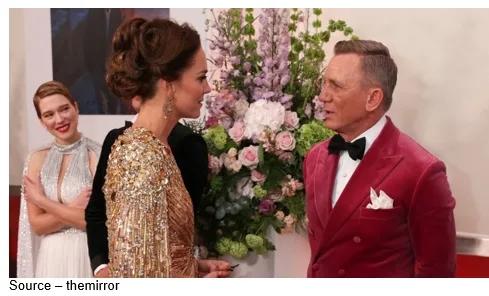 Come on, no one else could convince The Royals to leave their palace(s) for the evening to watch a two-hour, 43-minute film in an IMAX theater on a screen taller than five double-decker buses and wider than a 737.
Then the film rolled out in North America, China and eventually around the globe to young, eager-to-put-seats- into-seats young folks (the older crowd said they'll wait) as well as filmology experts everywhere who praised, cheered, grumbled, dissected every minute of the 25th James Bond outing.
But the long-running spy franchise proved that the world was back as it racked up ticket sales everywhere and seems to be the stimulus the theater crowd needs to put seats in seats. We'll tally the totals early next year.
We already know that Bond racked up millions of illegal viewings from pirate sites. Some like to think of it as a marketing expense, but we think it's stealing.
To prove things were getting normal, national parks and preserves in North America kicked off National Fat Bear Week – a single elimination tournament to name the fattest of the fat for 2021.
As if that wasn't enough to mark the shift, a bevy of releases were scheduled for the more than 203 thousand movie houses around the globe including:
Venom: Let There Be Carnage
Halloween Kills
Dune
Thor
Eternals
Hawkeye
Gintama
Nightmare on Elm Street
The King's Men
Matrix 4
Spiderman
West Side Story
M:I 7
Hundreds of excellent Bollywood, Nollywood, Chinese, EU projects – everywhere
Studios, distributors, streamers and theater owners are adjusting – cautiously – to the new entertainment normal.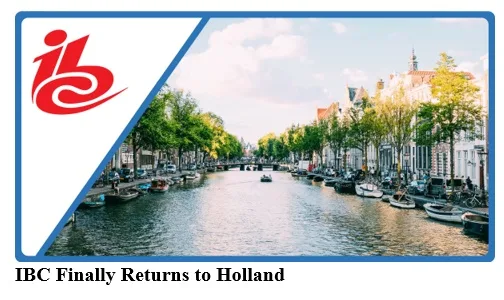 One of the greatest signs that the industry was getting serious about moving forward was the announcement of the 2021 IBC program – in person and virtual – in Amsterdam Dec 3-6.
Mike Crimp, IBC Chief Executive, and his team have arranged keynoters from Netflix, Warner, Fox, Discovery, Unity, and a packed program of global players such as Avid, Adobe, Frame.io, Blackmagic, Harmonic and lots of others.
Dec 3-6 – IBC – in Amsterdam is a fun, informative way to launch the holidays.
They've scheduled exhibits and sessions covering key subjects including production and post as well as the push of OTT and D2C entertainment.
As rapidly as the industry has moved from localized content production/distribution to global virtual work, the dual approach almost makes sense.
It's the way the industry works today … alone/together in the cloud.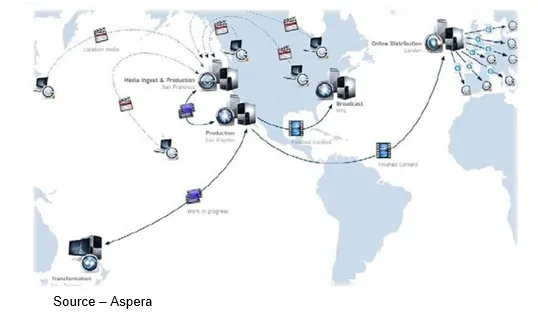 Sure, you can blame the pandemic for shutting down productions, closing country borders and stacking up terabytes of raw, in-process video data in every corner of the industry. However, it also stimulated the ingenuity and commitment of folks/organizations to push their creativity to keep the video pipeline open … and filled.
We'll be honest, we've never been big cheerleaders of the cloud (private, public, hybrid) because we were raised on local storage.
We always viewed the cloud as expensive and full of holes–especially when you compare it to stacks of hard drives you can see when you enter the office or post facility.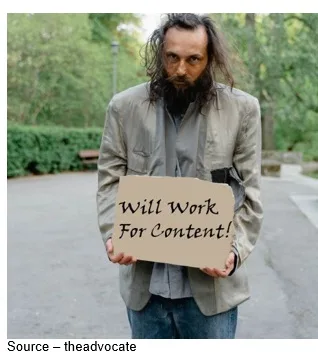 But, after hundreds of video meetings over the past year plus and seeing technical and creative folks do whatever needed to be done to meet their budget (time/money), we're beginning to appreciate the importance of the cloud as a major enabler for the M&E industry.
Hybrid cloud support by AWS, Microsoft, Google, IBM, and others – which will be covered in-depth at IBC Dec 3-6 — have changed the game:
Edge computing enables foreground/background image processing, content creation, ad-insertion, product placement, more personalized experience.
It provides access to massive amounts of GPUs for rendering, processing.
The cost of moving content into/out of the cloud is still expensive but it can be edited, processed, delivered quickly, almost seamlessly.
It provides almost infinite storage and dynamic caching so it can be accessed from almost anywhere.
Moving workloads from bare machines to virtual machines to containers enable multi-cloud deployment.
As Tom Coughlin, of Coughlin Associates highlighted in his 2020 M&E storage report – the industry's move from analog (film) to digital content production (and distribution) has multiplied the importance of fast, reliable, high-capacity digital storage across the industry

It wasn't that long ago that all the production/post work was done in the same house or close.
You shot the stuff, took the storage to the post people and they worked their magic editing the data, balancing colors, doing the special effects and editing/syncing the sound. Days, weeks and months of content shot under all kinds of conditions were turned into a movie or TV episode.
BAM!! all that changed and great new studio tools were introduced that let people change a studio into a new, exciting place anywhere in the world.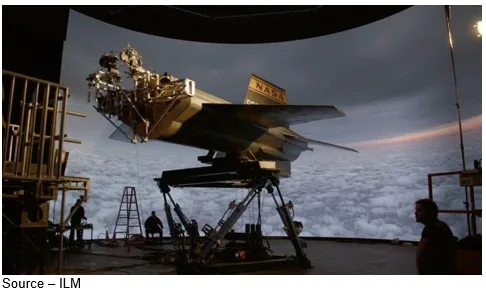 With the introduction of production capabilities like the ILM Stagecraft (a monster at 20 ft. tall, 270-degree, 75 ft. wide) and smaller LED walls powered by things like the Unreal creation engine and powerful Nvidia GPUs scenes come alive.
Eliminating the need for exotic or unworldly locations, it's little wonder that new studio facilities cropped up in the past two years in Vancouver, Toronto, Atlanta, Berlin, London, Nollywood, Bollywood, Hengdian. And they're booked up by studios and content owners even before the last nail is driven.
Coupled with location growth and technical advances by Adobe's Frame.io (recent acquisition), Harmonic, Blackbird, Yamdu, DaVinci Resolve and other tools; collaborative workflow is possible for post-production work no matter where the best possible talent is located–including remotely at home.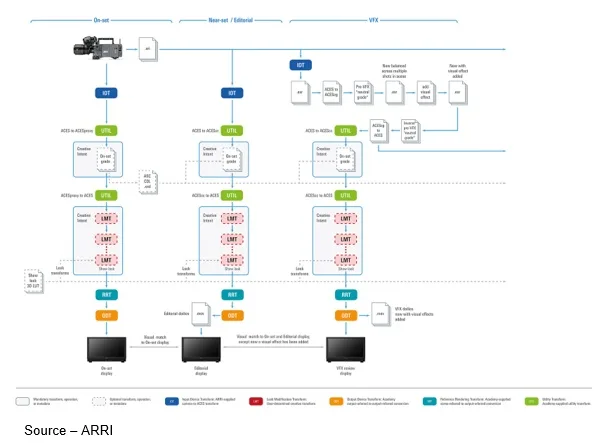 Latency is still a major issue for remote access for direct creative editing and post work on raw content, which is one of the key reasons the cloud remains the key centralized managed repository.
To overcome the limitations, SMPTE, HPA and MESA (Society of Motion Picture and Television Engineers, Hollywood Professional Association, and Media & Entertainment Services Alliance) scientists and engineers worked together to develop a cool solution … proxies.
The smaller size and lower bitrate of high-resolution 4K, 8K, HDR (high dynamic range) raw footage enables editors, colorists, FX, sound editors, animators, CGI pros and others to move the content smoothly around the globe and minimize their storage needs.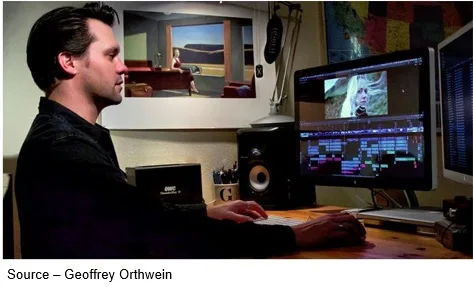 Once the top-down work is done, the content, instructions can go back to the cloud for the really compute-intensive work to be done such as rendering, transcoding and hopefully safe asset storage and protection.
Yes, it is more complicated and more interesting than that, but it gives you an idea of why you need to spend time at IBC and learn more in addition to being involved in the professional organizations.

A major concern across the industry is going to be the long-term storage/protection of digital media assets.
Cloud storage may be the cost-effective solution for smaller production facilities and independent creators that can't or don't invest in local archive storage.
During a recent honest-to-gawd face-to-face regarding the conference (we're both vaccinated), Allan McLennan, CEP/Media, Head of M&E North America, Atos, emphasized that the industry is interested not just in creating/producing good stuff but monetizing it.
"The distribution part of the M&E industry was forced to change as theatres closed and audiences spent more time at-home," he reminded us. "Netflix and Amazon Prime raised the stakes on D2C (direct to consumer) entertainment as people shaved or cut their cable service to enjoy what they wanted, when they wanted and on whatever screen they wanted. "It was a strong stimulus during a rough period for studios, networks, content owners to work to offer better content, better selection, through better services at a more economical cost." he added.
While some service providers got all starry eyed about making big bucks with tons of entertainment, others shifted their attention to what they know best … delivery.
AT&T's past CEO Stephenson and present boss Stankey learned the hard/expensive way that owning entertainment things like DirecTV and Warner can be brutal when you don't know the people and how they work together.
At the same time, Comcast CEO Brian Roberts surprised a lot of folks by doubling down on his infrastructure investment by buying Sky to become the fourth largest broadband provider in the world behind China Telecom, China Unicom, and NTT.
Then he let his NBC Universal groups do their own thing and focus on creating/distributing content.

It's a myth that everyone is cutting their cable bundle to pick up 4-5 great content services like Netflix, Amazon, Disney+, HBO Max, iQiyi, Tencent, Youku, Hulu and hundreds of local/regional streaming services.
The problem is people still need to get all that content onto their screen and the cable guy's broadband fiber is the best way to provide that last 100 ft of service so…
Gerry Purdy, a respected telco consultant/analyst, told us that AT&T made the shift to build out it's 5G infrastructure to do what it does best – provide high-speed, reliable broadband/wireless service.

And we appreciate that … really.
Unfortunately, here in the U.S., we're still living with slower wireless performance that costs us more than folks in nearly every other country!
That's probably why Apple's Tim Cook subtly suggests folks use wi-fi with their new iPhone whenever possible because it's pretty darn reliable and lot less expensive.
In China, India and Africa where fibre broadband isn't as widely available, 5G will be increasingly important because often the smartphone is the ever-present communications/entertainment device.
At IBC, exhibitors and presentations are going to explore solutions for every content provider and consumer.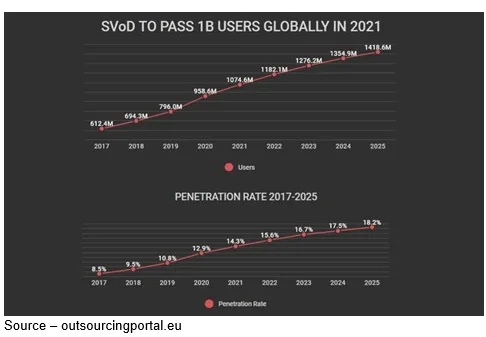 According to Digital TV Research, SVOD still has tremendous growth potential in the years ahead, topping $100B by 2025 and reaching more than 1.5B subscribers in 138 countries.
"We expect Netflix, Disney+ and Amazon Prime will continue to lead the streaming roster over the next few years," McLennan said, "but feel that Warner Bros Discovery, Peacock, Apple TV+, HBO Max and perhaps even Paramount+ will continue to become stronger domestically in the US and grow their international services.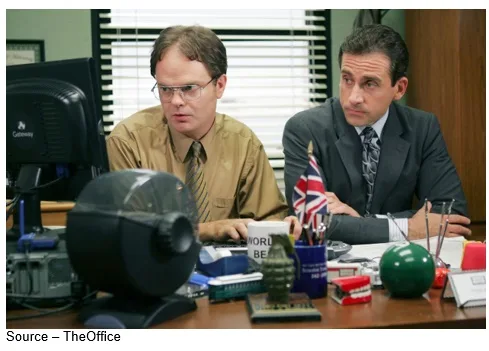 "The big challenge though is that every service is investing a lot of time trying to track and understand their viewing numbers," he continued, "and that's difficult. Not only does every service do everything possible to keep their viewership a deep, dark secret but also because every subscriber/viewer has a unique reason for keeping their roster of services.
"Netflix and Amazon were born digital and have perfected their data mining/analysis capabilities to better understand their viewers' entertainment wants/needs and use that data to create addictive content," McLennan noted, "Netflix recently announced that Squid Game has rocketed to the #1 spot in the world. It's the biggest non-English language show around the globe … and that's no accident!"
"Every streaming service – AVOD, PVOD, SVOD – is, or should be, paying attention," he quipped.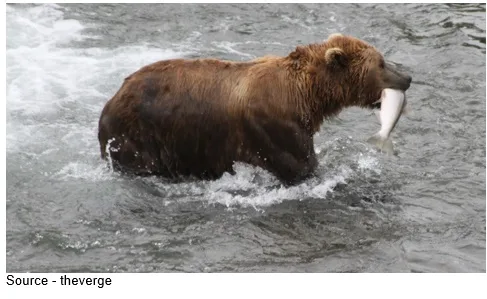 Yes, there's going to be a lot to dig into and come to grips with at IBC. And we think it's a helluva opportunity for content creators, producers and distributors to capture the information/ideas they need to be ready for the next few years of healthy but tough entertainment growth.
Need another good reason?
Visit our surname's hometown (check Wikipedia) while you're there.
Around the holidays, it's even more special.
# # #
Andy Marken – andy@markencom.com – is an author of more than 700 articles on management, marketing, communications, industry trends in media & entertainment, consumer electronics, software, and applications. An internationally recognized marketing/communications consultant with a broad range of technical and industry expertise especially in storage, storage management and film/video production fields; he has an extended range of relationships with business, industry trade press, online media, and industry analysts/consultants.