Fast, Quality, Consistent Performance Set the Pace at IBC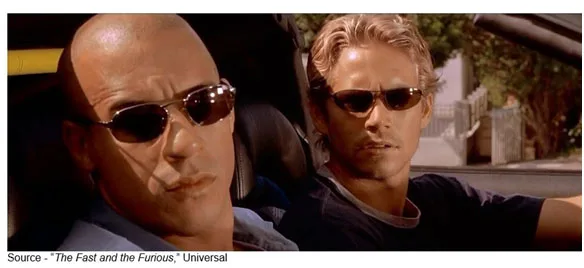 Taking on more of the flavor of an IT (information technology) show than a broadcast show, IBC network and studio attendees spent more time this year focused on rapidly moving their operations to IP (internet protocol) delivery and doing a better job of leveraging all the cloud's services.
The investment and transition to OTT (over the top) content delivery has been going on for a few years now; but there was a new sense of urgency by attendees to move more quickly from linear TV viewing to anytime, anywhere viewing.
Of course, that meant that organizations like Harmonic and others focused on meeting the content production and management requirements–especially if they announced a new set of linear and IP-ready solutions in Amsterdam.
Harmonic announced a new real-time video compression optimization solution to streamline content delivery to viewers' devices with a goal of reducing OTT bitrates for better streaming. Their new cloud delivery and VR services also captured a lot of studio and network interest.
The introductions were of interest to television executives because even though linear TV was offering more viewing options, Nielsen reported that the average number viewed had fallen to less than 10 percent of the channels folks had available … barely in the double digits.
In the U.S., TV households had an average of 2065.9 channels but eyeballs spent their time on an average of 19.8. Allan McLennan, president of PADEM Media Group, said that the Nielsen report only validated what their firms' customers around the globe were experiencing. "Viewers are making new entertainment choices and they're not always on a TV set," he said. "New generational viewing habits are starting to have an impact with cord-shaving and cord-nevers increasing in certain parts of the world."
PADEM Media's McLennan noted that the trend is evident among millennials and younger age groups and the firm's broadcast customers are aggressively addressing the changing demands. "Viewers are relying more and more on the screens they always have with them," he explained, "and it's especially true of Gen Z post-millennials, even when they are at home and a TV set is available."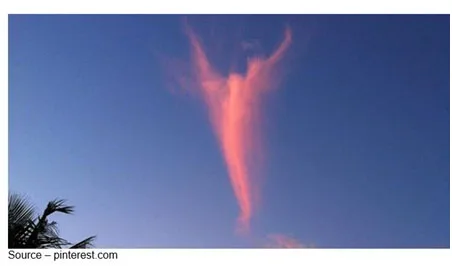 Broadcasters and studios see the cloud not just to meet the changing entertainment demand but also to reduce one of their major expenses – data center operations.
Using general services offered by the major cloud service providers such as Amazon, Microsoft, IBM, Alibaba, HP and others; and combining with them M&E-focused cloudlet services from firms like Quantum and Harmonic, they can upgrade and update their data center resources and add new workloads at a scalable, manageable cost.
While it's not without its issues and concerns (security and privacy for example), McLennan, said cloud-first is taking content providers beyond just a place to store and archive content. It also gives them the rapid response flexibility they need to meet the growing range of entertainment options consumers expect.
McLennan acknowledged, "It's true that the Internet-born video services like YouTube, Facebook, Instagram and transitioned entertainment providers like Netflix, Amazon Prime and Hulu have somewhat forced the industry's hand towards an IP revolution; but it has also opened new doors for them to optimize their costs, move from capital to operating expenses and has made them much more agile.
He continued, adding, "One of the points they also don't figure into the equation is that they don't have to struggle with old-fashioned compliance issues like legacy platforms and out-of-date, but evolving governmental and organizational policies and regulations. It's difficult to put a hard cost on these issues but the new agility gives new IP/OTT offerings the freedom to proactively act, not react or shift overnight."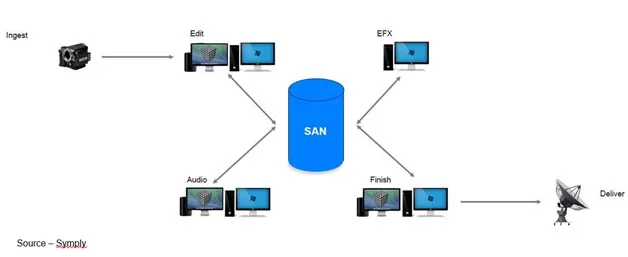 Studios and production operations have been among the first areas where the industry moved to the cloud to take advantage of the best and fastest specialized production services for FX, editing, audio production, coloration, localization – no matter where they are located or where the audience is served.
By taking advantage of more robust and secure Internet connectivity, producers and directors can work with teams in Germany, New Zealand, Hollywood, New York City, Singapore or virtually anywhere to complete projects faster and more economically than ever before.
The M&E cloudlet services offered by firms like Quantum and Harmonic provide the networks and studios some of the tools they need to accelerate the setup of new servers, run updates and handle a broader range of tasks.
Storage for backup, recovery and archiving have been mainstay applications for the industry's leading players for a long time and firms are now adding specialized services like block storage where data is stored in volumes and more quickly available in multiple locations, often simultaneously.
Whether they're watching a sporting event, news show, documentary or movie, a TV remains the preferred home screen at this time—according to a recent Nielsen global survey.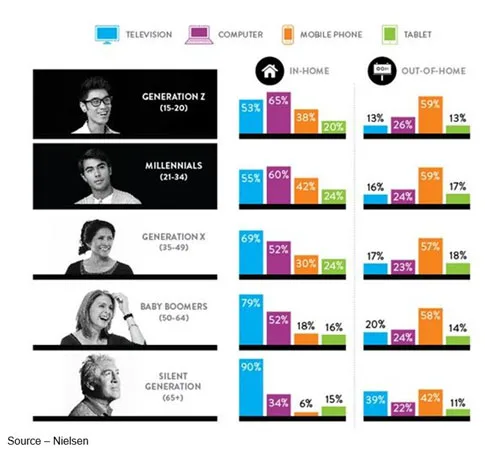 The only exception is short-form video (less than 10 minutes) which they will view on computers, tablets, phones. Regardless of the genre, the computer was the second viewing device at home and out-of-the-home.
Nearly two-thirds of the global respondents (65 percent) watch some form of VOD (video-on-demand) long- and short-form programming; and more than half (59 percent) don't mind getting ads if they can view the content free. The most common reason for watching VOD programming is because they can view it at a time, place that is convenient for them.
Thanks to the rapid build-out of CDN (content delivery network) services from Akamai, Level 3, and others; Netflix, Amazon Prime, Hulu and Alibaba have been able to increase demand for 4K (bandwidth-heavy) content viewing on the consumers' various devices.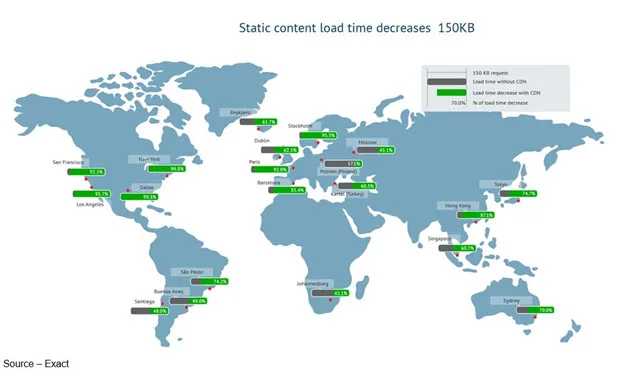 The CDNs have invested heavily in moving servers to major locations around the globe to provide secure, direct connection– smart OTT TV and smartphone– entertainment.
To capture an increasing share of the Internet TV market from cable providers as well as telcos such as Verizon and AT&T, CDNs are beefing up their streaming service offerings with "skinny" bundles of live channels as well as national and local specialized services (along with contests).
At the same time, they're offering on-demand services such as Netflix, Amazon and Hulu so viewers can customize their viewing choices to their interests.
To highlight its streaming technology – and nudge consumers toward preferring their video service around the globe, Netflix unveiled Meridian at IBC and made it available at no cost. It's true, Meridian won't be a "gotta watch" piece of footage like House of Cards or Orange is the New Black, but it will show the true potential of 60fps, 4K, HDR footage.
"Meridian is available under a Creative Commons license," PADEM Media's McLennan noted, "so service providers – and consumers – will be able to see if their network is up to the task of dealing with the worst-case scenario. An open-source solution isn't common in Hollywood; but by making their IP (intellectual property) openly available, I'm certain they want to accelerate the development of richer, standard-fare viewing.
"It's a bold move by Hastings and his team," he added, "and could be the foundation for the new standards such as IMF (interoperable master format) which would make it easier for them to simplify the job of having multiple copies of content for use in different countries. It's a slight gamble but could pay off for them in a big way in the years ahead on your screen of choice."
Because of the growing number of viewing options, content producers and distributors have also had to address an issue that didn't even occur to them a few years ago – the UI (user interface).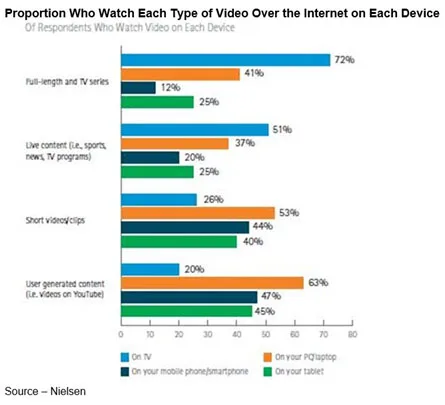 The user experience was one of the most highly "contested" areas at this year's IBC because consumers have become increasingly frustrated not only with finding specific content but also getting assistance from the delivery source to make added suggestions for other similar entertainment options.
Nothing turns a viewer off – especially a Gen Zer – than having to hunt to find a show or segment they want. Thus, several firms including TiVo, SeaChange and others introduced revamped UIs with better images, easier navigation and AI (artificial intelligence) capabilities to minimize/eliminate the OTT viewing frustration.
Whether it is used as a smartphone app or embedded into IP-capable STBs (set-top boxes) by MVPDs (Multichannel video programming distributors), the UI alternatives eliminate the consumer's biggest complaint with OTT TV … finding the **** show.
The new interface's, combined with programming, flow will provide the ability to make suggestions to viewers will certainly help set winning MVPDs apart from the also-rans. At least it will ease the tension in our household when the wife decides she wants to watch a specific show or maybe one of a similar genre.
Making intelligent, easy-to-use UIs just might be the biggest, smartest introduction to be made at this year's IBC in McLennan's opinion.
"We're past the point of just getting a decent line-up of content available for viewers," he commented. "And increasingly, that content will be in 4K. Now's the time to engage with the consumer and connect them to a carrier's/operator's specific service as opposed to the competition's offering.'
An intelligent, feature-rich UI will make a huge difference in how well you initially capture the — and retain – the viewer.
In today's new always-on, always-available entertainment industry, it's important to remember what Dom said, "I live my life a quarter mile at a time."
# # #