HyperX®, a division of Kingston® Technology Company, Inc., the independent world leader in memory products, today announced the addition of 8GB and 16GB dual-channel kits of two to the HyperX FURY DDR4 family. The new kits are available in low-latency 2133MHz, 2400MHz and 2666MHz frequencies and are optimized for the new Intel Skylake platform. HyperX FURY DDR4 is the first product line to offer automatic overclocking via plug-and-play functionality for the next generation of high-end desktops utilizing 6th Generation Intel® Core™ Processors (former codename Skylake-S) and the Z170 chipset.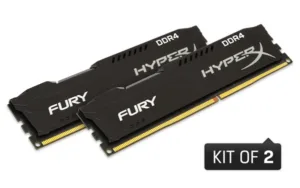 HyperX FURY DDR4 memory is a cost-efficient, high-performance upgrade for Intel's 2- or 4-core processors and helps to provide faster video editing, 3D rendering, gaming and AI processing. It takes full advantage of the power efficiency of DDR4 at only 1.2V without having to raise the voltage to achieve higher frequencies. HyperX FURY DDR4 features a low-profile heat spreader in the signature FURY asymmetrical design with black PCB to both stand out and complement the latest PC hardware designs.
HyperX is the high-performance product division of Kingston Technology, encompassing high-speed DDR4 and DDR3 memory, SSDs, USB Flash drives, headsets and gaming accessories. Targeted at gamers, overclockers and enthusiasts, HyperX is known throughout the world for quality, performance and innovation. HyperX is committed to eSports as it sponsors over 20 teams globally and is the main sponsor of Intel Extreme Masters. HyperX can be found at many shows including Brasil Game Show, China Joy, DreamHack, gamescom and PAX.
For more information visit the HyperX home page.
HyperX FURY DDR4 Features and Specifications:
Easy to install1: plug-and-play functionality
Automatic overclocking: reach faster speeds just by installing the memory, no adjustments in BIOS needed
Cost-efficient: the perfect combination of price and DDR4 performance
Unique: asymmetrical, signature FURY heat spreader
Design: low profile, black heat spreader color and matching PCB
Reliable: 100% factory tested at frequency
Compatible: tested with all popular brands of motherboards
Guaranteed: lifetime warranty, free technical support
Capacities: 8GB, 16GB, 32GB & 64GB kits
Frequency: 2133MHz, 2400MHz, 2666MHz
CAS Latency: CL14-CL15
Voltage: 1.2V
Operating Temperature: 0°C to 85°C
Storage Temperature: -55°C to 100°C
Dimensions: 133.35mm x 34.24mm
HyperX FURY DDR4
Part Number
Description
HX421C14FB/4
2133MHz DDR4 CL14 4GB module
HX421C14FBK2/8
2133MHz DDR4 CL14 8GB kit of 2
HX421C14FBK4/16
2133MHz DDR4 CL14 16GB kit of 4
HX421C14FB/8
2133MHz DDR4 CL14 8GB module
HX421C14FBK2/16
2133MHz DDR4 CL14 8GB kit of 2
HX421C14FBK4/32
2133MHz DDR4 CL14 32GB kit of 4
HX421C14FBK8/64
2133MHz DDR4 CL14 64GB kit of 8
HX424C15FB/42
2400MHz DDR4 CL15 4GB module
HX424C15FBK2/82
2400MHz DDR4 CL15 8GB kit of 2
HX424C15FB/82
2400MHz DDR4 CL15 8GB module
HX424C15FBK2/162
2400MHz DDR4 CL15 16GB kit of 2
HX424C15FBK4/16
2400MHz DDR4 CL15 16GB kit of 4
HX424C15FBK4/32
2400MHz DDR4 CL15 32GB kit of 4
HX426C15FB/42
2666MHz DDR4 CL15 4GB module
HX426C15FBK2/82
2666MHz DDR4 CL15 8GB kit of 2
HX426C15FB/82
2666MHz DDR4 CL15 8GB module
HX426C15FBK2/162
2666MHz DDR4 CL15 16GB kit of 2
HX426C15FBK4/16
2666MHz DDR4 CL15 16GB kit of 4
HX426C15FBK4/32
2666MHz DDR4 CL15 32GB kit of 4
* HyperX FURY DDR4 Part Number Decoder: HX4xx= HyperX DDR4 + Frequency; Cxx= CAS Latency; FB= FURY Black Color; K4/x= Kit of 4/capacity
1 HyperX PnP memory will run in most DDR4 systems up to the speed allowed by manufacturer's system BIOS. PnP cannot increase the system memory speed faster than is allowed by the manufacturer's BIOS.
2 New kits and modules for 6th generation Intel® Core™ processors and Z170 chipset.
HyperX can be found on: