HyperX, a division of Kingston Technology Company, Inc., today announced the addition of HyperX FURY DDR3L high-performance, low-voltage DIMMs, as well as brand-new HyperX Impact DDR4 SO-DIMMs.
HyperX FURY DDR3L runs at a cool-running low 1.35V. It is available in 1600MHz and 1866MHz frequencies, and comes in 8GB or 16GB dual-channel kits of two as well as 4GB and 8GB modules. HyperX FURY DDR3L is fully Plug-and-Play (PnP) enabled for automatic overclocking out of the box and is perfect for entry-level gamers and enthusiasts who want a cost-efficient upgrade for the 6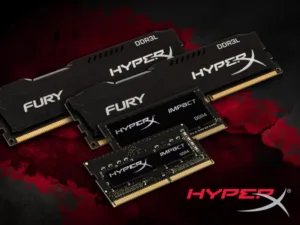 th Generation Intel Core Processors (former codename Skylake-S) and 100 Series Chipset.
HyperX will also launch its newest SO-DIMM, HyperX Impact DDR4. The PnP functionality provides automatic overclocking, making it a great high-performance upgrade for notebooks, small form-factor systems, mini PCs, All-in-One PCs and Steam Machines. HyperX Impact DDR4 SO-DIMMs are available in frequencies from 2133MHz to 2666MHz; as 8GB and 16GB dual-channel kits of 2; and in 4GB and 8GB single modules.
HyperX FURY DDR3L and HyperX Impact DDR4 are backed by a lifetime warranty, great free live technical support and Kingston reliability.
HyperX is the high-performance product division of Kingston Technology, encompassing high-speed DDR4 and DDR3 memory, SSDs, USB Flash drives, headsets and gaming accessories.
For more information visit the HyperX home page.
HyperX FURY DDR3L Features and Specifications :
PnP: Plug and Play automatically overclocks the memory up to the system maximum supported specs
Capacities: 4GB singles, 8GB singles, 8GB kit of two, 16GB kit of two
Frequency: 1600MHz, 1866MHz
CAS Latency: 10, 11
Voltage: 1.35V
Heatspreader: Stylish and aggressive in black
PCB: Black
Reliable: 100% tested
Guaranteed: Lifetime warranty
HyperX FURY DDR3L
Part Number
Description
HX316LC10FB/4
4GB 1600MHz DDR3L CL10 DIMM Low Voltage HyperX FURY Black
HX316LC10FBK2/8
8GB 1600MHz DDR3L CL10 DIMM (Kit of 2) Low Voltage HyperX FURY Black
HX316LC10FB/8
8GB 1600MHz DDR3L CL10 DIMM Low Voltage HyperX FURY Black
HX316LC10FBK2/16
16GB 1600MHz DDR3L CL10 DIMM (Kit of 2) Low Voltage HyperX FURY Black
HX318LC11FB/4
4GB 1866MHz DDR3L CL11 DIMM Low Voltage HyperX FURY Black
HX318LC11FBK2/8
8GB 1866MHz DDR3L CL11 DIMM (Kit of 2) Low Voltage HyperX FURY Black
HX318LC11FB/8
8GB 1866MHz DDR3L CL11 DIMM Low Voltage HyperX FURY Black
HX318LC11FBK2/16
16GB 1866MHz DDR3L CL11 DIMM (Kit of 2) Low Voltage HyperX FURY Black
HyperX Impact DDR4 Features and Specifications :
Capacities: 4GB, 8GB (single) and 8GB, 16GB (kits)
Frequency: 2133MHz–2666MHz
Channel Architecture: Dual Channel
Latency: CL13-CL15
Voltage: 1.2V
PCB: Black
Reliable: 100% tested
Operating Temperature: 0°C to 85°C
Storage Temperature: -55°C to 100°C
Dimensions: 30mm x 69.6mm
Guaranteed: Lifetime warranty
HyperX Impact DDR4 SO-DIMMs
Part Number
Description
HX421S13IB/4
4GB 2133MHz DDR4 CL13 SO-DIMM HyperX Impact
HX421S13IBK2/8
8GB 2133MHz DDR4 CL13 SO-DIMM (Kit of 2) HyperX Impact
HX421S13IB/8
8GB 2133MHz DDR4 CL13 SO-DIMM HyperX Impact
HX421S13IBK2/16
16GB 2133MHz DDR4 CL13 SO-DIMM (Kit of 2) HyperX Impact
HX424S14IB/4
4GB 2400MHz DDR4 CL14 SO-DIMM HyperX Impact
HX424S14IBK2/8
8GB 2400MHz DDR4 CL14 SO-DIMM (Kit of 2) HyperX Impact
HX424S14IB/8
8GB 2400MHz DDR4 CL14 SO-DIMM HyperX Impact
HX424S14IBK2/16
16GB 2400MHz DDR4 CL14 SO-DIMM (Kit of 2) HyperX Impact
HX426S15IB/4
4GB 2666MHz DDR4 CL15 SO-DIMM HyperX Impact
HX426S15IBK2/8
8GB 2666MHz DDR4 CL15 SO-DIMM (Kit of 2) HyperX Impact
HX426S15IB/8
8GB 2666MHz DDR4 CL15 SO-DIMM HyperX Impact
HX426S15IBK2/16
16GB 2666MHz DDR4 CL15 SO-DIMM (Kit of 2) HyperX Impact
HyperX can be found on: