GeForce 418.91 Driver Performance Analysis featuring the GTX 1060/6GB SC using 40 Games
As a regular BabelTechReviews' feature, this driver performance analysis will showcase the performance of the EVGA GTX 1060 SC with 40 PC games using the latest GeForce Game Ready 418.91 Driver which released last week for Metro Exodus. We will compare these drivers versus 417.54 and 417.01 to see how well NVIDIA is treating Pascal.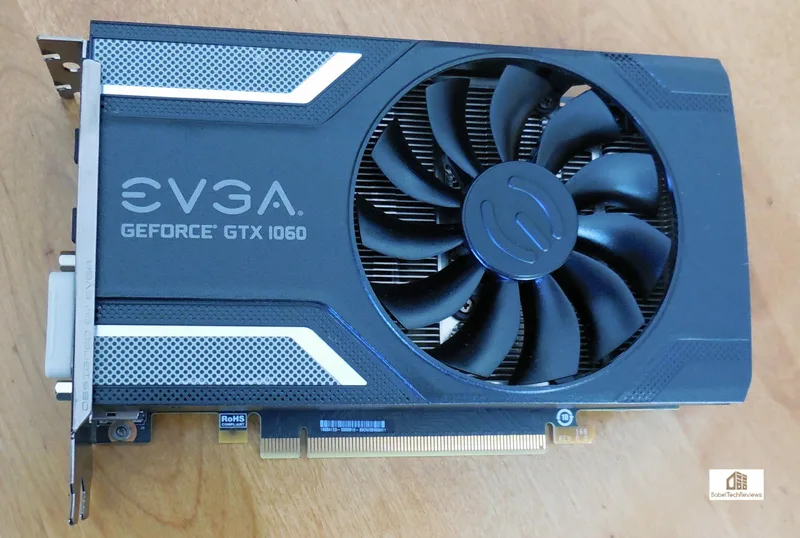 We will document the performance changes of the current GeForce 418.91 driver from the 417.54 and 417.01 drivers by testing 40 games at 1920×1080 and at 2560×1440. In addition, Strange Brigade is benchmarked on the Vulkan and DX12 APIs, and Total War: Warhammer II is benchmarked on DX11 and on DX12. We currently use the Miami built-in benchmark of Hitman 2, the Metro Exodus built-in benchmark, and our own custom time demo of Resident Evil 2.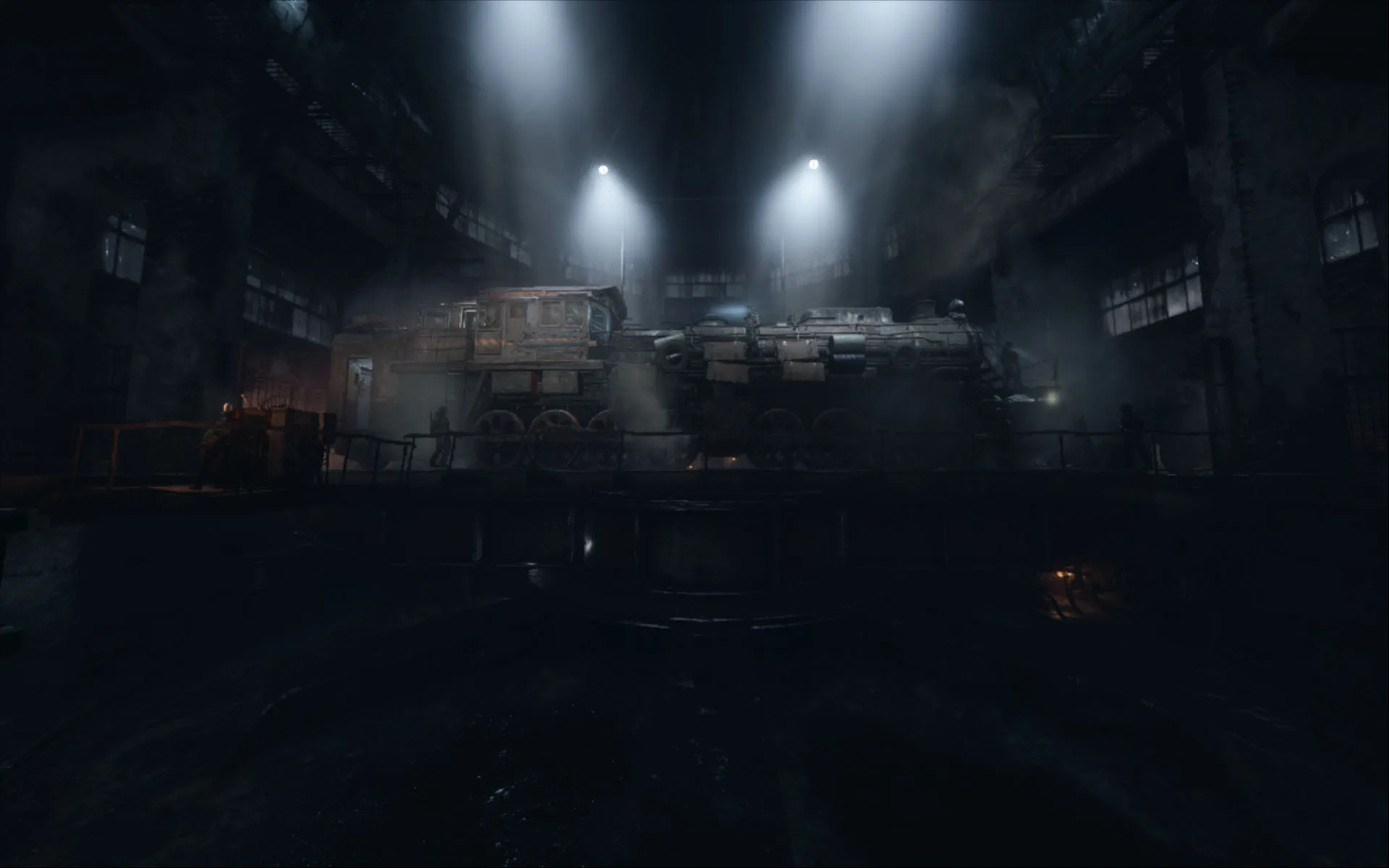 Our testing platform is a recent install of Windows 10 64-bit Home Edition, and we are using a Core i7-8700K which turbos all 6 cores to 4.7 GHz, an EVGA Z370 FTW motherboard, and 16GB of HyperX DDR4 3333MHz. The games tested, settings, and hardware are identical except for the drivers being compared.
Test Configuration – Hardware
Intel Core i7-8700K (HyperThreading and Turbo boost are on to 4.7 GHz for all cores; Coffee Lake DX11 CPU graphics).
EVGA Z370 FTW motherboard (Intel Z370 chipset, latest BIOS, PCIe 3.0/3.1 specification, CrossFire/SLI 8x+8x), supplied by EVGA
HyperX 16GB DDR4 (2×8 GB, dual channel at 3333 MHz), supplied by HyperX
EVGA GTX 1060 6GB SC, stock SC clocks, on loan from EVGA
480 GB Team Group SSD
1.92 TB San Disk enterprise class SSD
2 TB Micron 1100 SSD
Seasonic 850W Gold Focus power supply unit
EVGA CLC 280mm CPU water cooler, supplied by EVGA
EVGA Nu Audio stereo PCIe sound card, on loan from EVGA
Edifier R1280T active desktop speakers
Grado SR60e headphones
EVGA DG-77, mid-tower case supplied by EVGA
Monoprice Crystal Pro 4K
Test Configuration – Software
Nvidia GeForce 417.01, 417.54 and 418.91 WHQL drivers are used for the GTX 1060 SC.
VSync is forced off.
AA enabled as noted in games; all in-game settings are specified
Gaming results show average frame rates in bold including minimum frame rates shown on the chart next to the averages in a smaller italics font.
Highest quality sound (stereo) used in all games.
Windows 10 64-bit Home edition. All DX11 titles were run under DX11 render paths. DX12 titles are generally run under the DX12 render path unless performance is lower than with DX11. Three games use the Vulkan API.
Latest DirectX
All 40 games are patched to their latest versions at time of publication.
MSI Afterburner, latest beta.
OCAT, latest version
Fraps, latest version
40 PC Game benchmark suite & 3 synthetic tests
Synthetic
Firestrike – Basic & Extreme
Time Spy DX12
Superposition
DX11 Games
Grand Theft Auto V
The Witcher 3
Fallout 4
Rainbow Six Siege
Battlefield 1
For Honor
Ghost Recon Wildlands
Mass Effect: Andromeda
Prey
Hellblade: Senua's Sacrifice
Project CARS 2
Middle Earth: Shadow of War
Total War: Warhammer II
Destiny 2
Star Wars: Battlefront II
Kingdom Come: Deliverance
Final Fantasy XV
Far Cry 5
The Crew 2
Assassin's Creed: Odyssey
Call of Duty: Black Ops 4
Hitman 2
Resident Evil 2
DX12 Games
Tom Clancy's The Division
Ashes of the Singularity: Escalation
Hitman
Rise of the Tomb Raider
Deus Ex Mankind Divided
Gears of War 4
Civilization VI
Sniper Elite 4
Forza 7
Total War: Warhammer II
Battlefield V
Shadow of the Tomb Raider
Strange Brigade
Metro Exodus
Vulkan Games
DOOM
Wolfenstein: The New Colossus
Strange Brigade
NVIDIA Control Panel settings
Here are the NVIDIA Control Panel settings.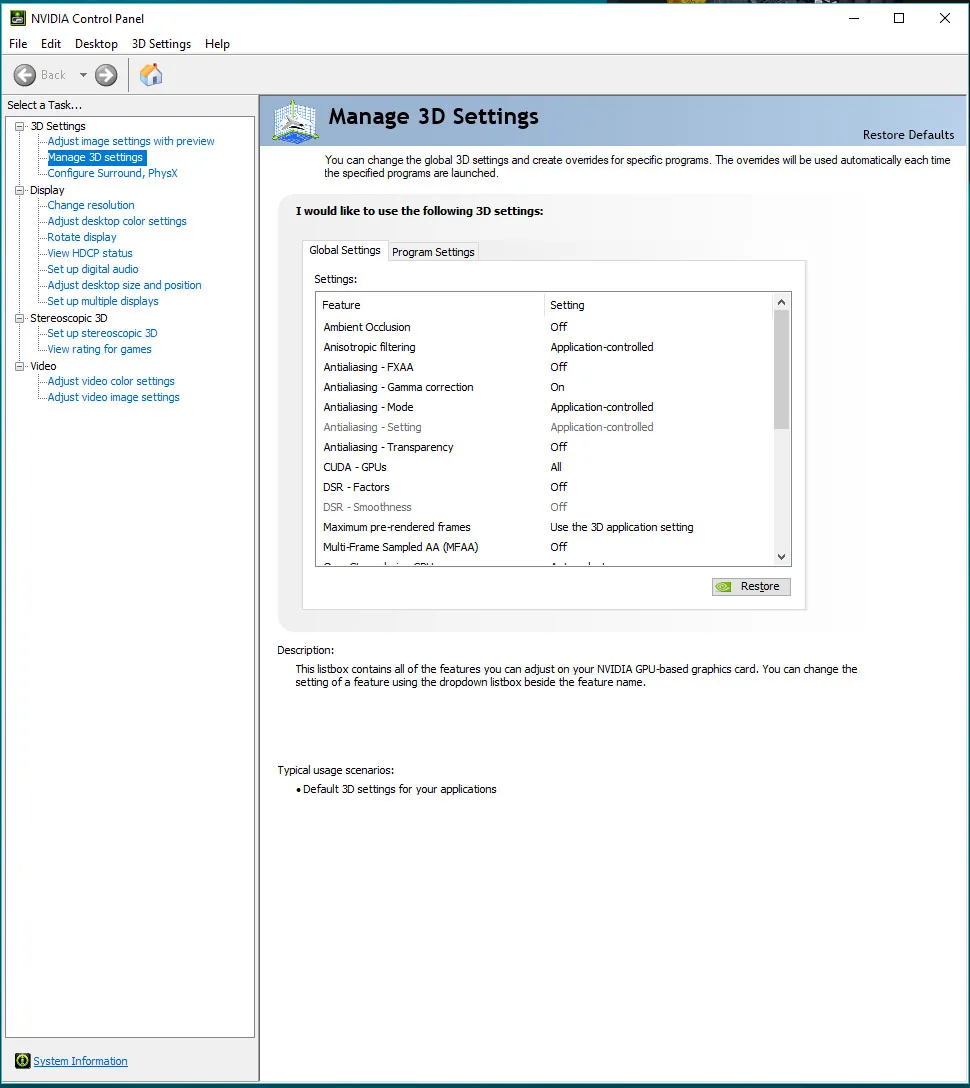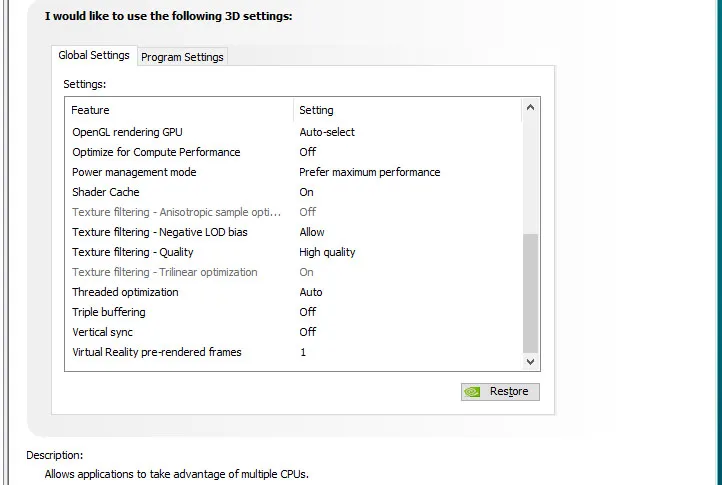 We used MSI's Afterburner to set the GTX 1060 SC's highest Power and Temperature targets. By setting the Power Limits and Temperature limits to maximum, it can maintain its maximum clocks without throttling.
Game Ready GeForce 418.91 WHQL Drivers
This latest GeForce Game Ready 418.91 driver fine tunes support for the excellent Metro Exodus which we played and reviewed here. It provides the best experience for RTX GeForce gamers and it is mandatory if you play Metro Exodus or Battlefield V with DLSS. The download links for the latest GeForce 418.91 drivers can be found starting here. The release notes can also be found here. The included highlights below are from NVIDIA's website.
Game Ready Drivers provide the best possible gaming experience for all major new releases, including Virtual Reality games. Prior to a new title launching, our driver team is working up until the last minute to ensure every performance tweak and bug fix is included for the best gameplay on day-1.
Game Ready
Provides the optimal gaming experience when using DLSS and Ray Tracing in Battlefield V and Metro Exodus.
Let's head to the charts to compare the driver changes from the GeForce 417.01 drivers to the latest GeForce 418.91 drivers using the GTX 1060 SC.
The Summary Chart
Below are the summary charts of 40 games and 3 synthetic tests used to compare the performance changes for the GTX 1060 SC from the 417.01 GeForce drivers, to 417.54, and to the most recent 418.91 drivers. The highest settings are always chosen and the settings are listed on the charts. The benches were run at 1920×1080 and at 2560×1440. Open each chart in a separate window or tab for best viewing.
Most results show average framerates and higher is better. Minimum framerates are next to the averages in italics and in a slightly smaller font. A few games benched with OCAT show average framerates but the minimums are expressed by the 99th percentile frametime in ms where lower numbers are better.
The first column shows the GTX 1060 SC's performance on the latest 418.91 driver. Columns two represents the 417.54 driver and the third column shows 417.01 results. Wins between the latest two sets of drivers are shown in yellow text. If both sets of results are equal, they are both shown in yellow text. An "X" means the benchmark was not run.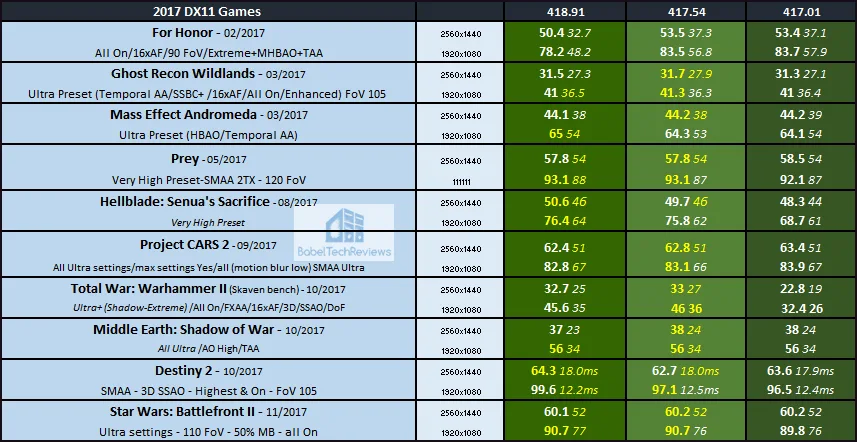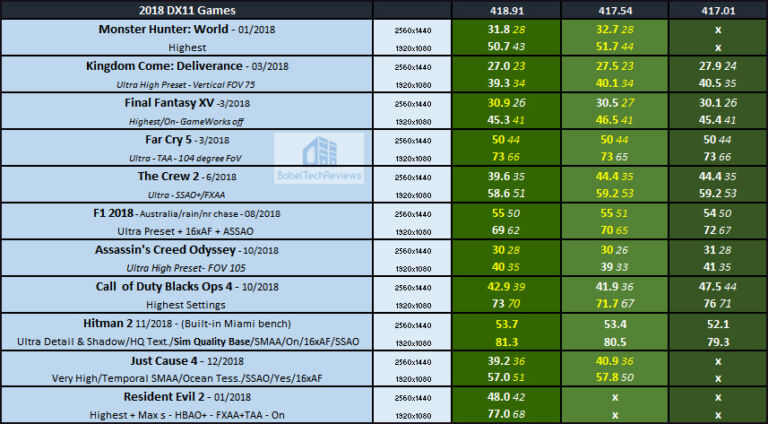 We see mostly incremental performance improvements between the latest drivers and the oldest driver, although even larger increases as with Destiny 2 are generally as minor as any regressions such as in For Honor, Battlefield V and in The Crew 2. However, in a couple of cases we note small performance increases with the newest drivers.
UPDATED: We are noticing some issues launching Metro Exodus and are getting a crash to desktop after the introduction. It does not affect the recently fixed built-in benchmark which we are using now instead of our timedemo run. For us the fix was to run the launcher several times until we got the dialog to start it in safe mode. Switching to DX11 and then back to DX12 worked for us and there are no further issues.
POLL: Do you want to see competing cards compared in future driver reviews?
In this continuing poll we would like to ask if you want to see the performance of competing cards compared in future driver performance analyses? For example, would you like to see the performance of NVIDIA cards, the GTX 1060 also compared with the AMD RX 590? Please use Disqus to comment below, and/or use our poll.
[poll id="2″]
Let's head to our conclusion.
Conclusion
We would recommend upgrading to the latest Game Ready 418.91 WHQL driver from any older driver set because there are generally stability or performance advantages for the newest games, depending on which game you are playing. We found the latest drivers to be very stable overall, and we experienced no major performance issues while benching or playing any of our 40 games.
Although our tested drivers are from the same Game Ready family of the past few months, we mostly see incremental changes from one driver set to the other. These drivers are certainly worth trying and mandatory if you want to check out DLSS ray traced performance using a Turing video card in Metro Exodus and Battlefield V.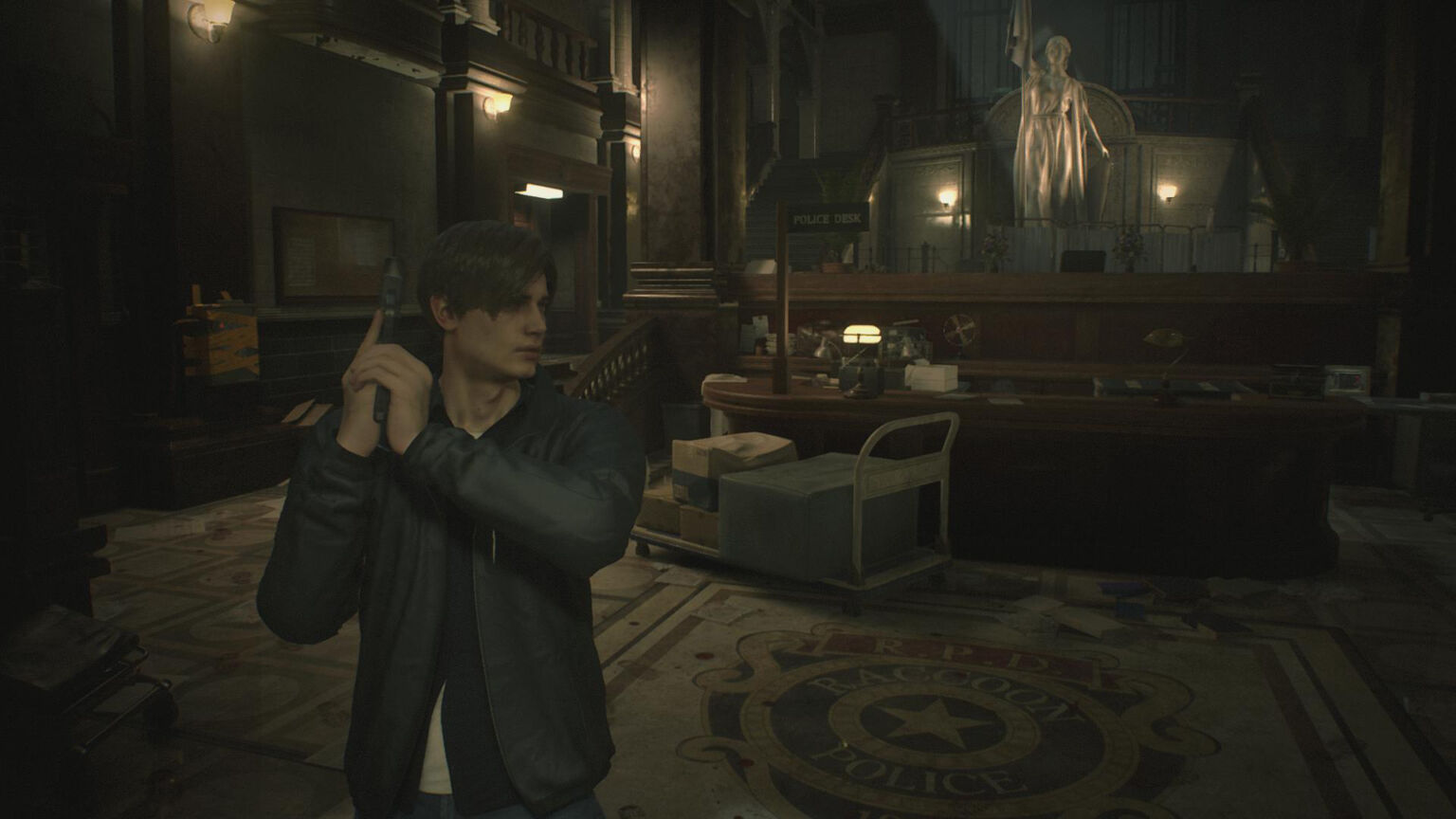 We received a EVGA NU PCIe Audio card for evaluation and you can expect the review this week comparing it against integrated motherboard audio and versus a USB sound card. We are also going to post the performance analysis of AMD's latest Adrenalin Software Edition with the RX 590 in preparation for yet another review this week.
Don't forget to vote in our poll and let us know if you want to see AMD competing cards included in future NVIDIA driver performance analyses.
Happy gaming!