Award-winning Filmmaker Finds Creative Freedom of Micro-Budget Movies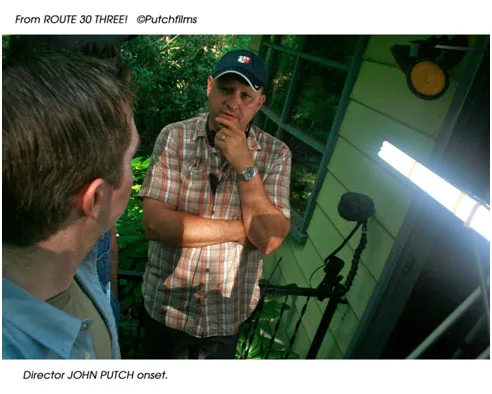 After racking up an enviable list of TV mini-series, big screen movie awards and industry recognition, John Putch www.putchfilms.com, an independent filmmaker maverick, was just beginning to hit his stride in his professional directing career when, in 2005, he began feeling he was missing something and losing touch with his craft .
He wanted to show that a compelling story can be told "without it costing an arm and leg."
"Bigger and bigger budget projects rely heavily on big names, elaborate special effects and an obscene marketing budget," Putch noted. "The creative talents of artists– producers, directors, writers, actors and sound people–are drowned out, minimalized. With the tools we have today and the outlets at our disposal, Indie filmmakers are taking the power back."
This philosophy is reflected in Putch's "The Route 30 Trilogy," which collectively have earned over 30 film festival awards. With the films, Putch has proven that micro-budget films with the traditional values of filmmaking can be rewarding for the artist and craftsman as well as the audience, especially with all of the new technology and distribution channels that are available today.
"Route 30," a dramedy; "Route 30, Too!,"a sci-fi comedy; and "Route 30 Three!," a romantic comedy; were mostly shot near Putch's home town in the picturesque south central Pennsylvania countryside between Chambersburg and Gettysburg, along Route 30. Leveraging the memories of where he grew up, Putch's Route 30 Trilogy series take a humorous look at a slice of rural Americana that has almost been stuck in time.
Unlike most trilogies, each chapter stands on its own; you don't need to see one to understand another.
A film industry veteran, Putch is the son of Emmy- and Golden Globe-winner Jean Stapleton, and producer/director William H. Putch. He began acting at the age of five and produced his first film at age 12 when his father shoved a super-8 camera into his hands and told him to go off and make a movie people could watch at his parents' dinner parties. He transitioned to directing films in his 40s, and has been turning out financially successful, entertaining feature films and TV segments ever since.
In explaining his preference for micro-budget, anti-Hollywood movies, Putch pointed out, "The big difference in most films today is that they're less about the creative product and more about the commercial results. There's the luxury of a good budget and a team of talented people, but very seldom do you actually get to touch every scene, every segment, every part of the total project."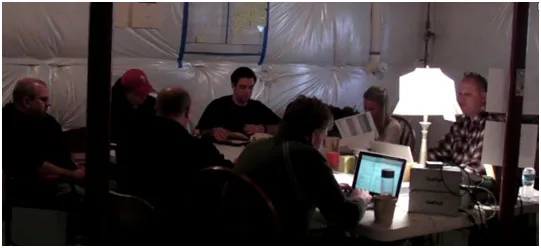 Prepping for the Day – Without the luxury of a big boardroom, hundreds of specialists and support personnel, Putch and his crew of eight plan out the upcoming day's shooting activities with everyone contributing, everyone pitching in.
After producing a number of micro-budget films, including "Mojave Phone Booth, " which won 13 awards including a Best Independent Feature Under $100,000 award, Putch set down the digital filmmaking rules that would govern the making of the Route 30 films:
The budget couldn't exceed $100,000
The crew would be limited to eight
Actors had to be responsible for their own wardrobe, appearance
The film had to be shot in less than 18 days
All the equipment had to fit in one car and one mini van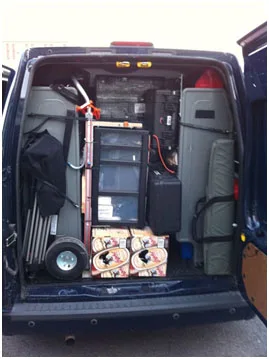 "I looked at that list and thought it was impossible," Putch recalled, "but the biggest challenge any Indie filmmaker has to overcome is fear – fear of coming up short, fear of looking bad in front of your peers, fear of your work not satisfying the entertainment public.
"It's really BS because that's when creativity really kicks in and you end up with something you're really proud of; and I think The Route 30 Trilogy is some of my best work to date," he explained.
Each film was shot with an increasingly sophisticated camera:
"Route 30" – Panasonic HVX200 720P
"Route 30, Too!" – Canon 5D & 7D – combo of Canon and Nikon glass
"Route 30 Three!" – Sony F3 recording in ProRes HQ, Zeiss Super Speed lenses.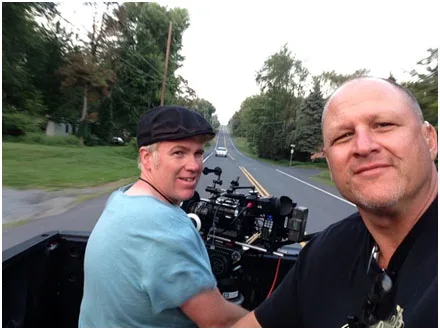 All three films used just four lights, 2 tripods and a slider. No dollies. And for the rest – especially in the middle of Pennsylvania – you reverse engineer to meet the creative needs of the movie.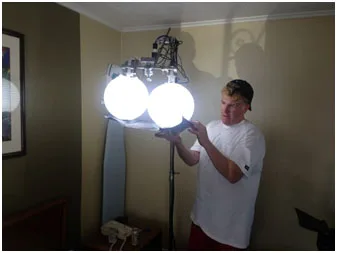 Since the crew doesn't include a DIT (digital imaging technician) or file jockey, Putch said Keith regularly clones the compact flash cards as disk images and makes an insurance copy of the day's clips and sound files in folders numbered by rolls.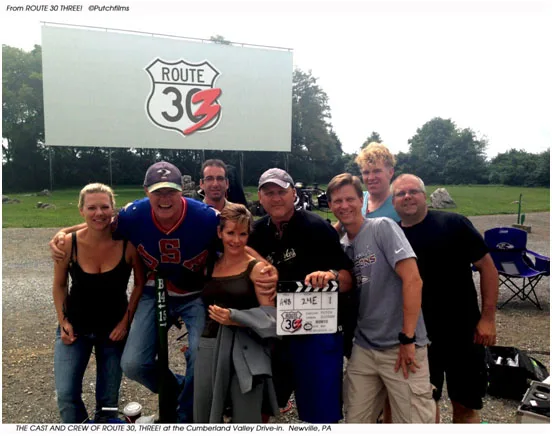 An Example of a Typical Shoot Day. This Picture includes 2 cast members and the entire crew for most of the shoot days.
For the final chapter of the Trilogy series, Putch used 4TB OWC-certified Thunderbolt hard drives and what he calls an HD toaster. The toaster hard drive dock enables him to add and remove drives for maintaining multiple drive backups, cloning a hard drive or providing extra storage. He emphasized that he uses fresh, new OWC hard drives for every film project because reusing/overwriting a drive is a false savings and that isn't a risk even the Indie film maverick wants to take.
He added that when one drive is full, it's cloned with one set of drives staying with Keith and another set used by Putch for editing. The sets are kept separate just in case something happens.
Putch boxes the raw drives in a Hudzee HD case until he returns home and begins the real creative work– editing and post production. He usually edits right on the raw drive and when satisfied with the results, he clones and archives the project.
Putch has been following the same archiving process since he produced the highly acclaimed "Mojave Phone Booth." "I have an offsite backup of every project I've done," he said. "And every 4-5 years, I copy the projects to a fresh OWC drive. It's just cheap insurance every filmmaker should have – studio or Indie."
In addition to writing, directing, editing producing and financing his micro-budget films; Putch also built the promotional websites, produced and posted behind-the-scenes podcasts (40 for "Route 30 "). He also markets the films and fulfills online orders.
"With a micro budget and the broad reach of the Internet, I'm able to make entertaining films that really give the power back to the artist," he explained.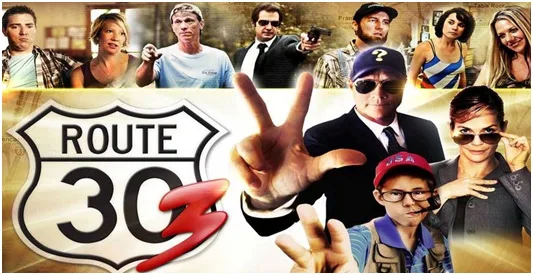 Behind the Scenes – Critically acclaimed, the final film in "The Route 30 Trilogy" is a delight for anyone who's ever lived or thought about living in a rural area. It's warmly hilarious without resorting to sentimentality or irony. http://www.route30trilogy.com/route-30-podcasts
Clearly, Putch's micro-budget, anti-Hollywood filmmaking strategy works. More importantly, it gives Indie filmmakers the freedom to take the power back and focus on the creativity of their films.
# # #