5G Opens the Door to New AV Opportunities, Interaction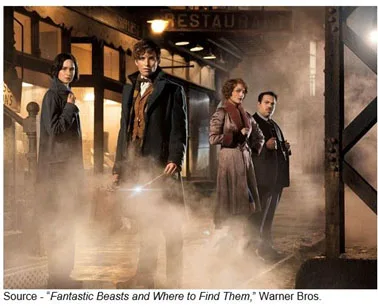 Alex Wallace, Verizon Media's GM of news, entertainment and studios perhaps summed up the impact 5G is going to have on the M&E industry — especially when it comes to increasingly personalized DOOH/AV (digital out of home/audio video) marketing applications — when he said, "No one knows where 5G is going to take us, but we want to be at the forefront of it,"
DOOH/AV is perhaps the most seen, unseen marketing/advertising tool available to organizations. And with 5G and several other new technologies, it can become one of the most influential and measurable tools available to firms across the board.
Last year, streamer Netflix paid more than $300M for the company that owns billboards across Los Angeles, including the city's famed Sunset Strip.
Many at the time, thought the company – which is equal parts technology/creative – had made a major misstep.
An unidentified Hollywood producer mused that perhaps Hastings was going to resurrect drive-in theatres; but since the So Cal crowd lives on the ribbons of concrete that circle LA, he would turn the billboards into drive-by theatres.
Probably not!
But with print ads moving to websites and TV ads going to free-to-view OTT (over the top) services and YouTube, he probably saw the investment as a means to enhance the marketing of his subscription entertainment service to locals in addition to indirectly reaching the global market since the Sunset Strip and billboards are such widely photographed/shared areas of the country.
Digitizing billboards and other OOH systems and add emerging 5G networking as well as advanced tools such as AI, IoT, blockchain and other nascent technologies and suddenly the potential for localized, personalized marketing becomes not only real but economical and highly measurable.
Several years ago, before we had all of today's technology ready to rollout across the globe, Bob O'Donnell, president, founder and chief analyst at TECHnalysis Research, discussed the personalization that would be possible with smartphones, next-generation wireless, big data and analytics.
He noted that a growing volume of data would be online that could be tapped to "view" the menus of various restaurants, their satisfaction ratings and more to determine exactly where he wanted to take his family.
At the time, we thought the idea was neat – unrealistic, but neat.
Now BAM! Bob's "wild vision of tomorrow" was spot on!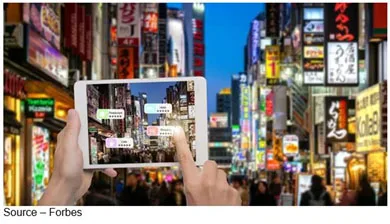 DOOH/AV has evolved as technology has grown and become refined. The distinction between our digital and physical world is blurring.
It is becoming more refined, more memorable as people create eye-catching, interactive communications campaigns.
What will 5G networks mean for the AV community, consumer?
Faster download and upload speeds
Smoother streaming of online content
Higher-quality voice and video calls
More reliable mobile connections
Greater number of connected IoT devices
An expansion of advanced technologies – smart signs, smart cities
Self-driving cars, remote robotic surgery, autonomous weapons — all that and much more will be delivered via tomorrow's 5G wireless network.
It promises to transform our lives and add trillions of dollars to the global economy every year.
New products, services, business models and the entire AV/communications industry will be reborn as 5G provides a huge leap forward in speed, capacity and connectivity.
Analysts at IHSMarkit estimate that 5G will drive an extra $12 trillion of annual sales in 2035– about the size of China's economy last year.
The generation that has grown up with a smartphone in their hands, coupled with today's move from 4G LTE (long-term evolution) to 5G has set the stage for new connectivity, communications that is precisely in line with Verizon's Wallace's forecast … No one knows where 5G is going to take us!
Long View
The revolution will be evolutionary and will happen as telcos slowly build out their network infrastructures to bring 5G to people around the globe.
Currently, only small areas of the globe have the technology:
AT&T has identified 20 cities in the U.S. that will be 5G enabled by the end of the year with implementation in areas of a few cities
Verizon has scheduled 5G in 30 cities with areas of two cities live at present
Two South Korean mobile carriers are slowly rolling out 5G
Japan's NTT DoCoMo has committed to having 5G fully operational by the 2020 Olympics
China's government has begun rolling out service with a target of having 40 percent of the global connections by 2025
Nokia's CEO has said Europe's 5G rollout will be delayed by perhaps two years as infrastructure is deployed
"Everybody believes [5G] will be transformative in terms of connectivity and mobility; but it feels early," says John Harrison, principal at Ernst & Young, who leads the firm's global media and entertainment practice. He recommends that people in the industry experiment, test and plan for the touchy-feely solutions which will emerge in the year and years ahead.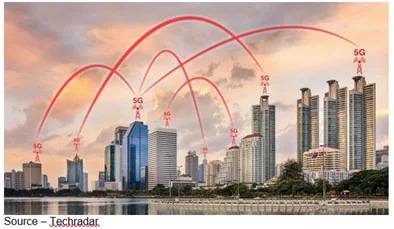 5G technology's promise of dramatically lower latency will enable a new wave of high-speed connectivity and innovations that range from cloud gaming services similar to what Google and Apple have announced, to IoT devices for smart factories and smart cities as well as immersive AR and VR personal, business, marketing applications.
Compared with today's 4G, the next-gen 5G standard promises faster speeds of at least 20-fold, instant response times, vastly improved network efficiencies and longer device battery life, among other benefits.
Mobile operators worldwide are expected to invest more than $160B per year over the next five years to expand and upgrade their networks to deliver fast, seamless instant communications.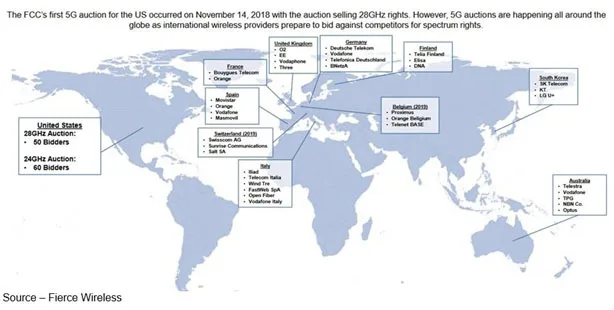 But officials at GSMA (Groupe Spéciale Mobile Association) caution it will be several years before 5G achieves blanket coverage. Until then, businesses/users will have a combination of 4G, 4G LTE and 5G connectivity.
By 2022, Cisco forecasts that 5G's initial impact will be "measurable and significant" with an average speed of 170Mbps (4X today's 4G performance.
Industry analysts at Ovum estimate that 2025 will be the tipping point when 57 percent of all global wireless revenues will be generated through 5G.
Not to be left out in the cold, traditional broadcasters are advancing their FTTP (fiber to the premise) networks to keep pace with digital advances. The new ATSC 3.0 IP-based standard will leverage the industry's existing infrastructure to meet the speed performance requirements and offset the shrinkage of the industry's entertainment delivery business to OTT.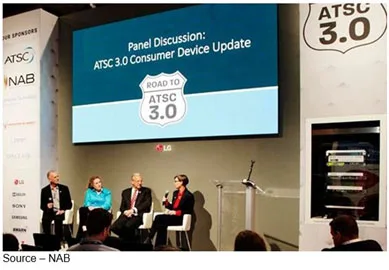 At NAB the industry announced that ATSC (Advanced Television Systems Committee) 3.0 will be deployed in more than 40 U.S. markets by 2020 and will be expanded internationally by broadcasters over the next two years.
ATSC 3.0 will improve audio/visual quality for OTA (over the air) signals, enable more targeted marketing messages and provide a very robust multimedia and national/regional alert system. The enhanced service will power immersive media experiences in public venues, beam OTA TV signals to connected cars and mobile devices and more.
Allan McLennan, chief executive of PADEM Media Group, is optimistic about ATSC 3.0's potential for the industry and consumer but added that the cable industry will face a formidable competitor with fixed 5G wireless.
"For the consumer, ATSC 3.0 is not as well known as 5G, which is being promoted by both carriers and new offerings," he noted. "The industry will need to ramp up its informational/educational efforts to help people understand how the upgrade will benefit them; as in the foreseeable future, there are really no visible benefits that consumers are likely to experience."
"Kids, mom/dad, everyone can visualize the benefit of having their content instantly available on any device, anywhere, anytime," he continued. "So, there's a clear consumer value proposition."
But McLennan pointed out that there is still a cloud over whether 5G everywhere can provide telcos with an attractive return on investment in the near future.
He reminded us that 5G in the US, for example, will be industrial-first as businesses use the technology to improve productivity while consumer connectivity will be delivered over a longer period and the impact won't be as dramatic as advertised.
McLennan added that people in areas with 5G's extra network and low latency won't see that much difference from viewing their video on the current 4G LTE network.
Hopefully, the industry will become more realistic regarding the size of the market and the technology's capabilities … soon.
Building out a 5G network that can be instantly available to more than 30M homes just in the U.S. will take a considerable amount of time and be extremely expensive. Multiply that by the 195 countries worldwide and it is probable that both high-speed, high-performance technologies will be needed to meet tomorrow's needs.
To get even a hint of how 5G can free the creativity of the AV community, you needed to go no further than the entry halls to this year's CES and LG's ultra-impressive display wall.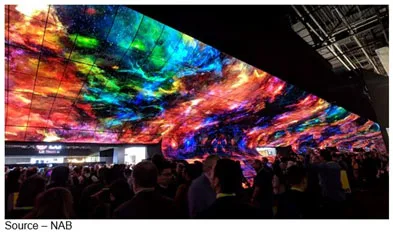 Instant on, instant delivery, instant immersion; 5G will provide AV integrators with the underlying technology to bring organizations and teams together and will enable marketers to get closer and more involved with customers in immersive and augmented encounters.
Service providers will enable untethered business opportunities and new means for people to interact and connect.
Perhaps nothing was more dramatic of the potential than the breathtaking real-time demonstration of the complete lack of buffer time at this year's MWC (Mobile World Congress).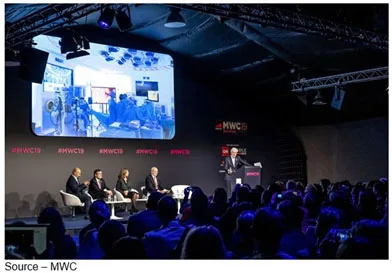 A specialist at the MWC auditorium in Barcelona guides surgeons at a remote hospital in real time
Dr. Antonio Maria de Lacy was three miles away from the hospital where he directed his team through a gastrointestinal surgery live and on stage. With sub-millisecond latency, the doctor guided surgeons using a live, real-time 5G video link.
Yes, the patient came through with flying colors.
The technology opens the potential for a new phase of healthcare where advances in data transmission, robotics and AI will improve the quality of care and the way it is delivered. The concept is slowly being rolled out in Japan and China where the countryside is being depopulated but new surgeons and professionals can carry out operations with remote robotics assistance under the watchful eyes of skilled specialists.
Less dramatic and more practical organizations can develop 360-degree conferencing using intelligent cameras and omnidirectional microphones so participants have a panoramic view of the entire room and "real" interaction with all of the other participants wherever they are physically located.
Remote collaboration suddenly enters a new realm.
A wide range of benefits can be achieved by fully implanting AR and VR applications. Architects can take clients through the most minute details of projects with 3D and holographic renderings on the conference table.
Serious Shopping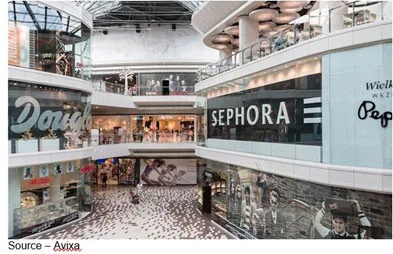 While consumers are increasingly using their smartphones for shopping and firms like Alibaba, Amazon and Tencent see major opportunities to increase sales as 5G technology becomes widely available, industry experts expect the technology to keep pace and enhance the relationship of shopping malls, stores and consumers.
By incorporating 5G and advanced tech, companies can offer shoppers a unique online/in-store experience that will attract shoppers.
Digital assistants and smart mirrors are already being implemented to give shoppers a 360-degree view of outfits without trying them on; and AR allows them to see clothes on themselves in a range of colors/patterns without visiting the changing room again and again.
Smartphone apps, combined with retailers' deep data and AI technology, will allow shoppers to walk through the mall and obtain personalized suggestions, in-app discounts, reminders and more.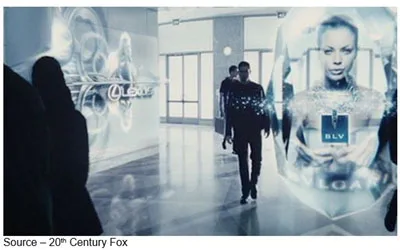 The tools are being refined that will make it possible for events like Tom Cruise's visit to a store in Minority Report where he is greeted by name and reminded of his last visit, what he purchased and given informed recommendations.
As soon as 5G becomes reliably available in their market areas, AV integrators can take advantage of big data, blockchain, AI, facial recognition and AR/VR to deliver solutions that will be as natural as it is to pick up and use your smartphone today.
The challenge for the AV integrator is to keep up with and understand there is a wide chasm between what some firms are marketing today and reliable delivery of products/services.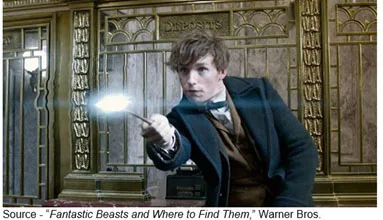 It would be nice if you could believe Newt Scamander when he said, "Now there's absolutely nothing for you to worry about."
5G will enable it all and more for the AV industry and its customers. Just don't over promise…it's good but it ain't magic.
# # #