The M&E Industry is Stronger, Healthier Together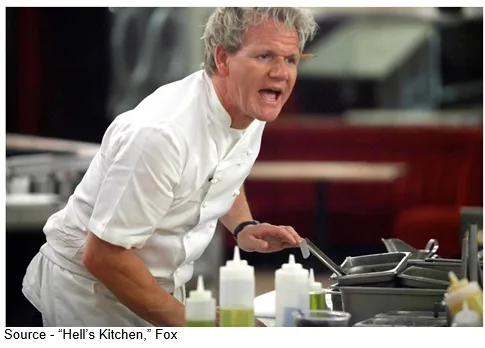 Keeping a home entertainment budget under control today as the marketplace "matures" is a lot like keeping yourself in shape as you mature.
Suddenly it's OMG!
Back in the antenna days, you had a restricted diet watching stuff only when it was sent OTA (over the air). There was enough to watch with preset periods of exercise.
After a lot of cajoling, the antenna with a reasonably priced cable bundle offered hundreds of channels.
We still watched the same old stuff but the cost was reasonable, and the antenna was off the roof.
Then someone in the family was "going to die" if they couldn't see the new projects on Netflix that "everyone" was talking about and surprise none of them had those nasty ads (actually, we like them).
So, we added the economic OTT (over the top) streaming service to our entertainment budget.
The cable bundle continued to get more expensive, a constant flow of interesting/inexpensive streaming options came along and exercise disappeared except when we hit pause.
Suddenly, the home entertainment budget went from manageable to overweight to obese.
For us, and hundreds of millions of households around the globe, it meant drastic measures were needed to determine what stayed and what went.
That isn't easy with four in a family!
According to Digital TV Research, there are 1.67M digital TV households worldwide, 98.5 percent of the global households.
In the Asia Pacific region, digital TV households grew to 314M, Sub-Saharan Africa and Latin America doubled their digital TV base while Eastern Europe tripled their number of digital screens.
China topped the list with more than 453M while India surpassed the U.S. to become the second largest digital TV household country. The three countries account for more than 46 percent of the global total.
To fill their screens, 57 percent of the internet users (340M households) use SVOD to watch their TV/movie entertainment.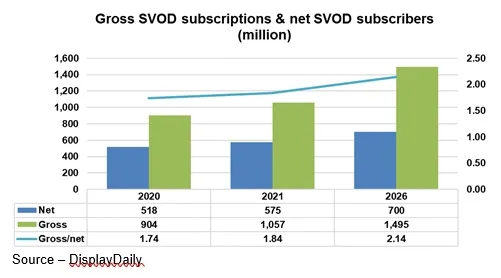 According to Digital TV Research, streaming video subscriptions should reach 1.5B by 2026 and the average consumer will be paying for 2.14 SVOD subscriptions.
SVOD subscriptions will increase by 35 percent compared to the total subscribers last year.
But the growth isn't infinite.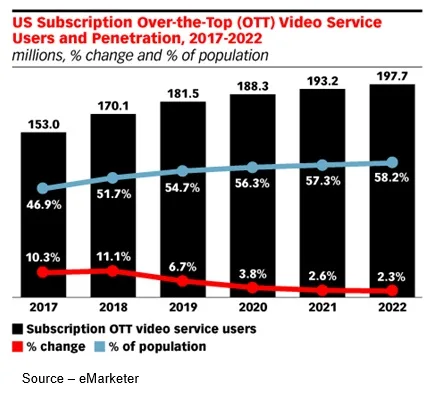 We all realize that Wall Street knows next to nothing about the content industry and probably even less about the consuming public.
While they acknowledge that Netflix is the runaway leader in the streaming industry – in the US and abroad – they punished the firm's stock because the company only increased subscriptions by 1M last quarter.
The stock makers/breakers say, "See Amazon, Disney, Hulu and the thousands of streaming services that were introduced over the past year plus are impacting their growth."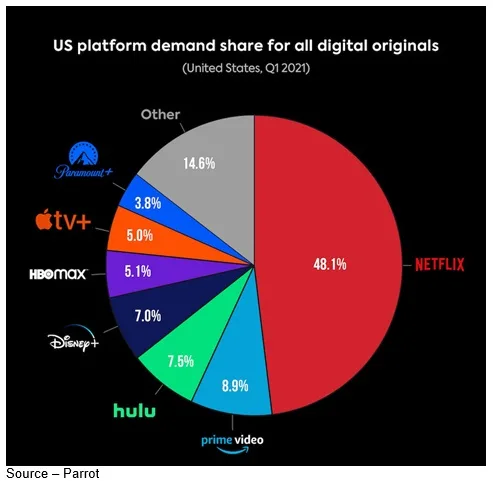 Of course when Disney didn't reach the financial analysts' projections – yeah like they know diddle about content work – they punished them as well.
Allan McLennan, CEP/Media, Head of M&E North America, Atos, said that the record-breaking growth of SVOD last year was obviously the result of the global lockdown that drove households to find newer, better ways to occupy their at-home time and entertain themselves.
"The family isolation during the pandemic forced families to reconsider their cable bundles and turn to more economic SVOD news/entertainment options which benefitted both incumbent/established offerings as well as newly-launched SVOD and FAST services," he added.
However, he emphasized, the rate of increase has had its challenges.
"When 50 percent of the country's households are using one or more SVOD services, the overall marketplace grows more slowly," he observed.
Other M&E analysts reported that 57 percent of U.S. consumers say VOD services are the main way they watch TV and films and that more than one-quarter are using around four SVOD services.
"People seem to have settled into a 'budget' for subscription services of four," McLennan said, "but it's not going to be the same four plus services year-round."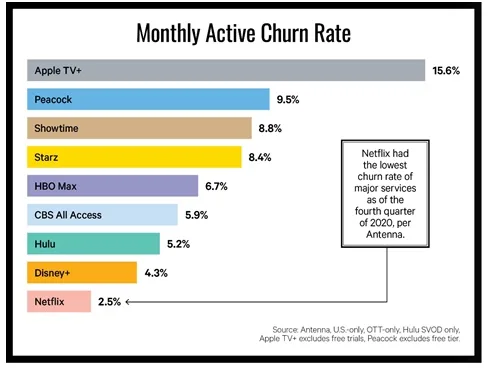 "Consumers have become very adept at taking advantage of how easy it is to watch the shows/movies they want with a particular service, shift or drop their subscription and move on to the next group of desirable content," he noted.
That's bad news for streaming services who fumble their launches or viewer engagement. This new environment is not the same as past broadcast models or viewer management. Launches as well as retainment are critically important.
It's a big shift from the heyday of pay TV.
Cable providers reaped billions of dollars while making it notoriously difficult to cancel service and return the cable box.
And at the time, there really wasn't a competitive home entertainment alternative.
SVOD services can't afford the luxury of mistreating consumers now that they have higher expectations, and the options are so plentiful with more than 300 streaming services in the U.S. and more than 1,000 globally.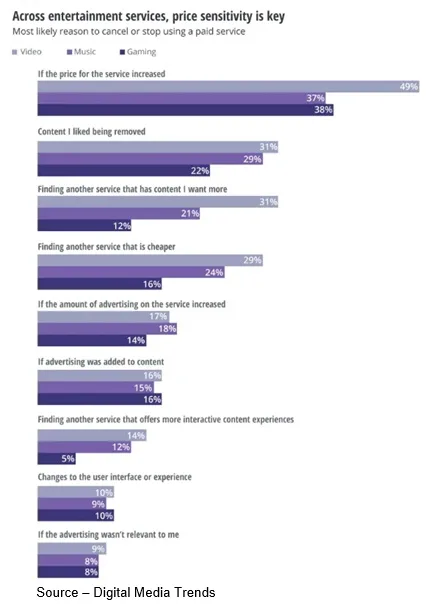 The most common reason for canceling a video service was because of the rising cost.
To compete, services are consistently pumping out high-profile shows that can attract and retain subscribers. One of the major ways to retain their current roster of streaming service subscribers is the prospect of more good stuff soon.
Besides cost, another significant reason for canceling/replacing SVOD services is the fact that consumers become frustrated when content they wanted to watch is no longer available on their streaming video services.
Netflix felt a slight downturn in subscriptions when NBCUniversal (Peacock) took back The Office and when Warner canceled its deal to move Friends to its HBO Max service.
While the subscription shift numbers aren't available, you may also recall that the most expensive streaming service proudly promoted the fact that eight of Warner's Harry Potter films would debut on $15 HBO Max and by late summer, they had moved to Peacock.
Netflix, and to a lesser degree Amazon Prime and Apple TV+, solved the issue of lingering content-licensing agreements by heavily investing in their own unique projects–both in the U.S. and around the globe.
The data-rich streaming services also rely heavily on existing subscriber data to understand what people are watching and what shows to automatically recommend to viewers.
"Services across the board need to do a better and more consistent job of showing subscribers what else they should consider watching beyond a specific show," McLennan noted. "Netflix and most recently Disney + have beefed up and refined their recommendation service to keep subscribers.
"It used to be that a certain level of churn was acceptable. This is no longer the case and is quite expensive for services. Services need to do more to help the viewer find the content she/he wants to watch or might be interested in–all of which is based on their viewing/search behavior," he added.
But the rapid rise in subscription viewing also put an added strain on consumers entertainment budgets, almost equal to their previous Pay TV bundle.
To reduce their monthly costs many consumers – especially Gen Zers – got creative, sharing accounts to cut cost and maintain access while a growing number of consumers are managing their budgets by moving to hybrid services – ad-supported/subscription Paramount +, Hulu, Star – or adding free options Pluto TV, Tubi, IMDb TV.
While "everyone" likes the fresh, new stuff there has also been a renewed interest in hitting repeat and watching the old, familiar shows/movies.
Actually, we're not even apologetic that we limit ourselves to four SVOD services but will very often go the immense Pluto or Tubi libraries to see stuff we didn't even know existed five to ten years ago.
Hey, if we never saw it before it's new!
In addition, the AVOD ad bundle of only three or four minutes almost feels like nothing compared to the 10-20 minutes of ads we used to have to tolerate during 60 minutes of Pay TV time.
While the CPM (cost per thousand) is higher in AVOD right now than linear TV it's still a lot easier for the advertiser to be noticed than being buried somewhere in the bundle and that recognition should be what counts … right?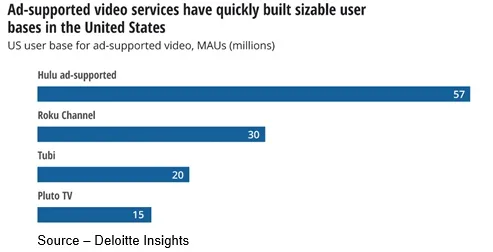 According to most industry analysts, ad-supported VOD, or FAST (Free Ad-Supported Television) service is expected to grow across 138 countries by 144 percent through 2026. The U.S. is expected to lead the market, thanks to increased interest in content available on ViacomCBS's Pluto TV, Fox Entertainment's Tubi, Comcast's Xumi, The Roku Channel, Redbox Live TV, Rakuten TV and Amazon-owned IMDb TV.
The AVOD/FAST services should become increasingly popular to marketers because most consumers – especially younger ones are open to subsidized entertainment services–especially since the ad load is light and the sound level is equal to and sometimes even lower than the content surrounding them.
Frankly, we're looking forward to more companies "discovering" AVOD/FAST services so the organizations can take more intelligent use of the digital, yet confidential data developed to serve up ads specifically developed to be of interest to the viewer.
That is a service linear TV can't provide the advertiser or consumer, which could be why we used to be bombarded by ads from ambulance-chasing attorneys every evening.
Show us an ad for a service/product we might be interested in … we'll pay attention.
Might even buy!
McLennan estimates that AVOD revenues should be worth about $13.5B this year and expects it to grow to $32.6B by 2026.
He also noted, "While AVOD revenues will triple, SVOD will continue to be the leading streaming M&E segment for the foreseeable future."
The home/personal video viewing market has gone through a dramatic change over the past few years with the Pay TV cord-cutting and studios/tech firms moving content to streaming. McLennan believes that the biggest opportunity moving forward will be in rebundling.
Unlike cable TV, a digital service bundle isn't limited to just the TV set but can allow the aggregating service provider to mix and match television, news, e-commerce, gaming, health, mobile and any other services with a reasonable subscription fee.
The move will not only differentiate cable company services from the competition but will also rejuvenate and strengthen their provider/customer relationship.
McLennan said he expects to see global cable companies like Comcast, Charter, Altice, Sky, Tricolor, Airtel, Rogers and others such as Apple, Amazon and Roku (as well as streaming hardware firms) to aggressively move in this direction over the next two years as there is tremendous opportunity.
Verizon and T-Mobile have already begun offering digital bundles which AT&T hasn't matched.
Saddled with more than $100B in debt from its acquisitions including WarnerMedia which they're offloading to Discovery, the company obviously thought it could give wireless subscribers a unique content offering inside its walled garden.
Instead, the company offered HBO Max free with its most expensive unlimited wireless subscription. But without a bundled discount, it was simply moving money from one pocket to the other.
Meanwhile, T-Mobile led the wireless bundle offering with Netflix service.
To prove it was serious about becoming a major global DTC (direct to consumer) provider, Verizon's Hans Vestberg entered the fray with Disney +, one-upping them by adding Discovery +.
After spinning off Warner Media and merging it with Discovery, AT&T's Stankey said he expected to have a similar partnership with the new robust streaming provider.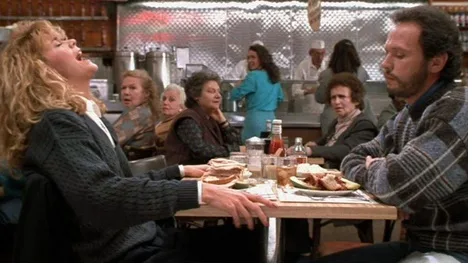 It reminds us of what Rob Reiner's mom Estelle said in Columbia Picture's When Harry Met Sally, "I'll have what she's having."
Stankey also drove home the point at this year's JP Morgan's Technology, Media and Communications Conference, saying that Warner and HBO Max wouldn't be in the strong position they are today if it weren't for AT&T taking them under its wing so…
In other words, Discovery's boss, David Zaslav, has some work to do in undoing what the "old team" did, getting the new team on the same wavelength and maybe coming up with a more creative corporate name.
Warner Media-Discovery … really?
With its cable already connected to millions of homes around the globe, it will be interesting to see how rapidly the home cable internet providers will offer consumers a batch of subscription and ad-supported products at a discounted price.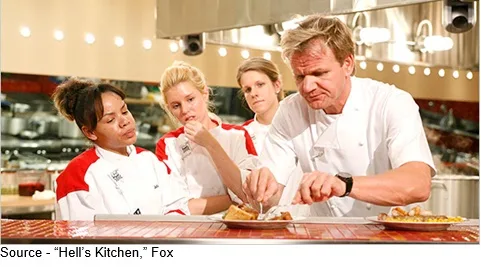 The move will help consumers finally get their content and control their home entertainment budget.
It will reduce subscription churn and provide advertisers with a much better understanding of consumer spending habits.
All service providers have to do is remember what Gordon Ramsey said in Hell's Kitchen, "The minute you start compromising for the sake of massaging somebody's ego, that's it, game over."
# # #
Andy Marken – [email protected] – is an author of more than 700 articles on management, marketing, communications, industry trends in media & entertainment, consumer electronics, software and applications. An internationally recognized marketing/communications consultant with a broad range of technical and industry expertise especially in storage, storage management and film/video production fields; he has an extended range of relationships with business, industry trade press, online media and industry analysts/consultants.