It May Be Time to Reshape the M&E Industry to Just Me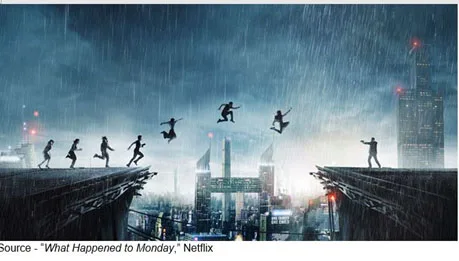 When we're on holiday in Puerto Vallarta, we're a sucker for Mexican pastry.
We go into la panadería, grab a big (huge, even) metal tray, a pair of tongs and walk the aisles.
One of these…two of those…a couple of them…oh yeah, those look great…OMG grab two of these beauties…well yeah, that looks good…hey, can't forget that dripping bun…remember how good those were on the last trip, three of 'em.
By the time we're done, we have five bags of delicious stuff for just a couple of bucks … life is good!
Get back to the condo we're renting and stuff the sealed bags into the microwave to keep the no-see-ums away and keep them as fresh as possible.
No, we never eat 'em all. In fact, we have a few and then … done!
It's the same with rich, delicious eye-watering streaming video content offerings.
Hub Entertainment recently reported that the bundled network approach the television industry has used gave consumers a lot of access to networks/shows.
The problem was perception…"If they're in my bundle and I'm not using them, obviously eliminating them would make my monthly bill go down."
Folks cut the pay tv day/time cable bundle to go to the tempting offer of ala carte content selection because:
The bill is too high – $100 – $150 a month, depending on where you live
The bloated content package – 200+ sources – is ridiculous because you only watch four to seven regular sources, which obviously means you're paying for stuff you don't watch/would never watch – wasting money
Customer service isn't in the cable guys' vocabulary and the only person worse is … the phone dude
Just in time, the industry moved from analog to digital content production/delivery.
Reid Hastings and his team initially figured they could be more responsive (and potentially expensive) to send folks movies they wanted over the Internet rather than in red envelopes to their mailbox.
It took a while to migrate their customers over to engaging their choice of programming to a connected device, eliminating the need to load a disc on their player, and, it wasn't easy in "the early days" to send/receive streaming video because service was "a little" squirrely. Codecs had to be constantly improved to minimize the streaming needs that bandwidth at that time required.
But the iNet got better, Netflix – and others – figured out how to stream reliably and BAM … OTT was born!
Suddenly (it's never sudden, it takes time, talent, trial/error, money but…) however, the envelope stuffing guy was heralded for breaking the grip on the consumer entertainment pipeline and now has around 150M subscribers in 190+ countries with revenues of $4.5B.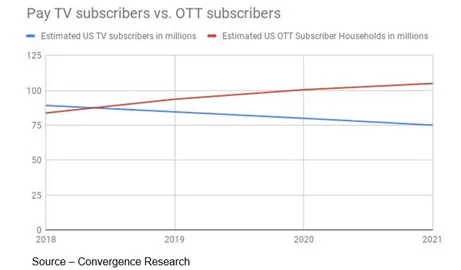 The service is so popular – and their content investment so huge – they recently increased their monthly subscription price for their anytime, any screen ad-free entertainment service.
To build that "gotta have" loyalty, they made their service indispensable by breaking the normal TV model – episode last week, this week, next week, etc. – to make all of the episodes available at once so you could binge…watch one after another. In fact, they summarized their success by announcing "2017…The Year in Bingeing."
Subscribers felt the service was an excellent value and most felt it was worth the cost.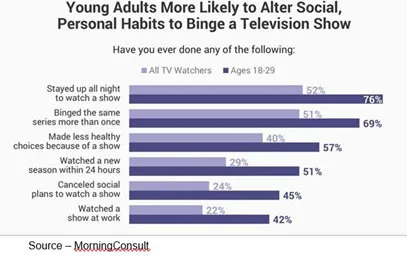 It was – and is – important for Netflix to be the must-have OTT entertainment channel.
And, their success hasn't gone unnoticed.
Amazon launched their Prime service. Google got serious about making YouTube a go-to TV channel, not just a kid hangout and eyeballs began to shift.
People cut or shave their cable service to move their entertainment dollars to online and it's estimated that this year, cable subscriptions will return to the 2010 level.
Disney, HBO, Hulu, Warner and other content producers/owners quickly saw they could still negotiate meaningful contracts with traditional TV networks and could get more of the audience eyeballs and dollars by weaning their content away from OTT services and offer it through their own OTT service.
Now Netflix sees meaningful streaming competition:
AT&T's WarnerMedia
Disney+
Hulu
HBO
ESPN
CBS
Showtime
Heck, every TV channel around the globe has or is getting set to launch their own DTC (direct to consumer) streaming service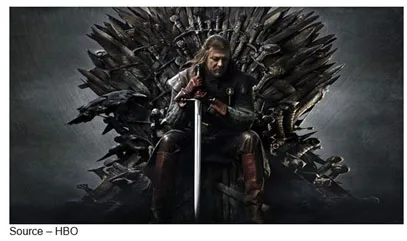 Long viewed as a quality vs. quantity, entertainment channel HBO also added a new chapter to the value of OTT subscriptions with Game of Thrones that reached tens of million of viewers around the globe:
8 years of weekly distribution that reached 150M homes WW
A human impulse to participate in things other people are participating in
HBO officials bragged that GoT was so popular 55M watched stolen content
Twitter, Facebook ecosystem that made it easy for people not paying attention to GoT to learn about the excitement
Media ecosystem that encouraged publications like New York Times, Vox, Vanity Fair, Men's Health, others to promote the excitement
Follow up GoT activities – concerts, plays – to fan the hopes/desire for sequels
While it is still more vision than fact, 5G wireless service is already seen as the biggest change for streaming content.
It's going to be so big that AT&T has already announced they are the #1 5G provider and all they need are 5G products to sell and Aladdin's genie to "poof" antennas everywhere and they'll prove it.

A report from Ovum said that by 2028, when 5G is widely available – at least in "most" metropolitan areas–video will account for 90 percent of all 5G traffic, producing $3T in wireless revenues.
But:
Between now and then, streaming services and consumers will have to rely on 3G at worst and 4G LTE at best.
We have only veiled threats as to the monthly cost of 5G service to the home and device but none of the projections are encouraging for the consumer
Fortunately, your home Wi-Fi 5 already delivers 3.5Gbps service and Wi-Fi 6 will deliver 9.6Gbps to many more home devices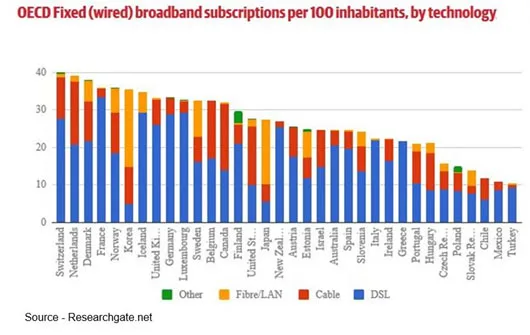 Global penetration of wired broadband to the home is widely available – especially in most industrial countries – fast, reliable and economic
Wireless service and smartphone providers emphasize 5G will become standard as people increasingly view content on their handheld devices. The NPD Group reports that the majority of consumers (40 percent) increasingly want a large (and larger) screen to view 4K HDR content and major streaming services are already committing to 4K and UHD content for major sporting events
Cord cutting, shaving and cord-never was promoted as a boon to cash-strapped millennials. This was combined with the ability to economically pick and choose the content they wanted to view on a regular basis.
Sorta', Kinda' …

In the U.S., the average price of internet service is $68 a month.
Then, people have to add the streaming services they prefer–usually Netflix, HBO, Amazon Prime or Hulu; which adds roughly $45 per month.
In the wings is Disney+ and their cache of content. And don't forget CBS All Access, WarnerMedia service, and ad-supported services like YouTube, PlutoTV, Roku, Crackle, Tubi and offerings in every country around the globe.
Suddenly, you're paying $100 – $120-plus a month for less content, fewer channels and the same or higher price.
Sheess!
"It isn't doom and gloom for traditional scheduled (linear) TV however, the airwaves aren't paved with gold as they used to be either. This goes for wireless providers too," said Allan McLennan, Chief Executive of PADEM Media Group. "It may take three to five years but ultimately, content creators; content owners; delivery services and consumers will have a range of options for entertainment engagement," he added.
McLennan explained that the growth and popularity of on-demand entertainment will continue. At the same time, most people – including Gen Z, Millennials – will continue to watch traditional, scheduled (linear) television, especially sports and news too. It will be driven by the viewing package i.e., "the bundle."
Reelgood, a search engine designed to locate services for streaming specific movies/TV shows, reported that people who subscribe to the leading OTT services still pay for cable (Netflix – 51 percent, Hulu – 91 percent).
Traditional broadcasters are beginning to realize they must become diversified media companies in addition to becoming coopetitive (cooperative, competitive) partners with OTT/VOD content providers and adding their own content to a strong, economic mix that appeals to the consumer.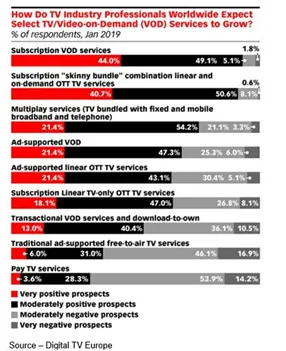 The winners (in addition to the consumer) will be those services that join forces to develop intelligent, viewer-centric options with traditional TV, streaming subscriptions and free ad-supported services.
Service providers will begin providing the consumer what she/he wants — value they feel they can't live without.
"Consumers haven't thoroughly rejected cable bundles because historically, the bundles have been a value, McLennan noted. "It Just isn't the value the viewer now agrees with. They want a value that is in line with their viewing appetites and this will drive a new form of aggregated bundling.
"Wired and wireless ISPs will need to develop a menu of skinny bundles based on mutual profitability for the participants (including ad-supported content). They need to offer the consumer what she/he wants," he continued, "…options. We're well past the stage where service providers and 'channels like Netflix, Hulu, HBO and even YouTube can say 'here it is, take it or leave it.
"They'll more than likely leave it," he added, "because they've tasted freedom of choice!"
To emphasize his point, he noted that AT&T announced a WarnerMedia/HBO bundle with ads for $17 while Disney+ will offer HBO to the consumer for around $7 without ads.
The market for content seems unlimited for cable, satellite, OTA and OTT content providers:
4B households around the globe have at least one TV set, 79 percent of the total households
56-plus percent of the world's population has internet access, 80 percent of the developed world
5B people use smartphones
Every ISP – wired/wireless – really has a marketing goal of "owning" at least 50 percent of these viewers.
Content owners and distributors want to "sell" service to these people and "knows" her/his content is better than the other gal's/guy's stuff.
Every consumer wants/relishes choice.
No consumer wants to buy service from more than one or two providers. Only a glutton for punishment will pay for 10 different services because she/he doesn't want to miss some "die for" entertainment. They're afraid they will miss something!
The best answer?
Coopetition … cooperate where it makes sense, compete where it makes sense.
Think of the consumer as a partner instead of a target!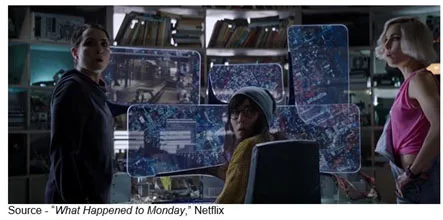 Best of all, remember what Terrence Settman said, "What happens to one of you, happens to all of you."
There's only so many choices people want to make before they simply turn the screen off and eliminate the stress.
# # #