Our friends at AMD have just announced their latest additions to their PRO processor lineup: the 2nd Gen AMD Ryzen PRO mobile processors and Athlon Pro mobile processors both with Radeon Vega Graphics. Their primary purpose is to offer commercial notebook users the latest features for business systems, from premium professional notebooks to regular productivity notebooks.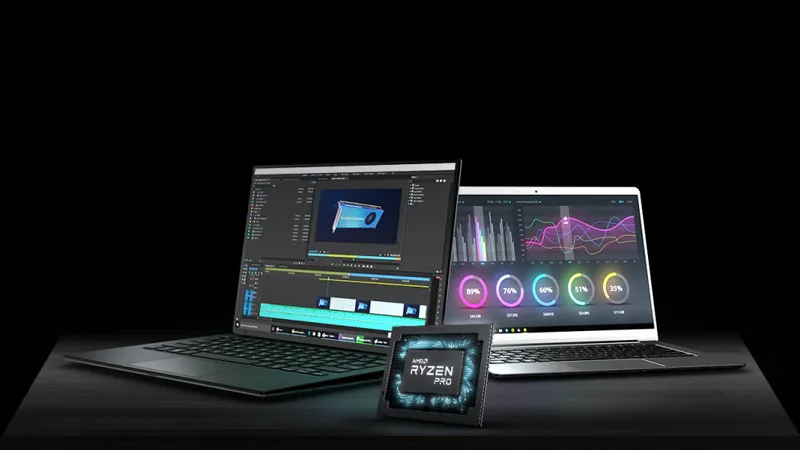 In addition, AMD has announced an update to its AMD (NASDAQ: AMD) announced the latest additions to its PRO processor lineup: 2nd Gen AMD Ryzen PRO mobile processors with Radeon™ Vega Graphics and AMD Athlon™ PRO mobile processors with Radeon Vega Graphics. Providing commercial notebook users with power-efficient performance, state-of-the-art security features, and commercial-grade reliability and manageability, these new processors enable global PC manufacturers to create a wide range of business systems, from premium professional notebooks to everyday productivity notebooks. Initial commercial systems from HP and Lenovo are expected this quarter with other OEMs and further platform updates anticipated later in 2019.
"Modern PC users expect the experience between professional and personal to be imperceptible, and business notebook users want to utilize the latest modern features including 3D modeling, video editing, multi-display setups while multitasking securely, to get more done," said Saeid Moshkelani, senior vice president and general manager, Client Compute, AMD. "With AMD Ryzen PRO and Athlon PRO mobile processors, AMD delivers the right performance, features, and choice to OEMs and commercial users, combined with the productivity, protection, and professional features needed to ensure seamless deployment throughout an organization."
2nd Gen Ryzen PRO Mobile Processors:
Built on 12nm manufacturing technology, the new AMD Ryzen™ PRO 3000 Series mobile processors deliver best-in-class performance[ii] and increase productivity by offering up to 16% more multi-threading processor performance than competition[iii].
Specifically, the new AMD Ryzen PRO mobile processors deliver:
up to 12 hours of general office use or up to 10 hours of video playback 1,
up to 14% faster content creation[iv] and accelerated everyday office applications with integrated Radeon Vega graphics, from 3D modeling to video editing,
powerful security features on all Ryzen PRO processors with AMD's security co-processor built into the silicon,
and 18-month of image stability, 24-month of processor availability, commercial grade quality, enterprise-class manageability, and 36-month limited warranty to system manufacturers.
AMD is also offering "Zen"-based[v] Athlon PRO mobile processors, bringing a greater choice of mobile computing experiences across the full budget spectrum.
Product Model
Cores/
Threads
TDP
Boost/Base Freq.
Radeon Graphics
GPU Cores
Max GPU Freq.
L2+L3 Cache
AMD Ryzen™ 7 PRO 3700U
4C/8T
15W
4.0/2.3 GHz
Vega
10
1400 MHz
6MB
AMD Ryzen™ 5 PRO 3500U
4C/8T
15W
3.7/2.1 GHz
Vega
8
1200 MHz
6MB
AMD Ryzen™ 3 PRO 3300U
4C/4T
15W
3.5/2.1 GHz
Vega
6
1200 MHz
6MB
AMD Athlon™ PRO 300U
2C/4T
15W
3.3/2.4 GHz
Vega
3
1000 MHz
5MB
Partner Quotes
"HP is committed to raising the bar for powerful and secure commercial devices with cutting edge PC innovations," said Andy Rhodes, Global Head Commercial Personal Systems, HP Inc. "HP is proud to offer the broadest AMD portfolio in the industry with top performance, security, and reliability to business users everywhere."
"As work-life integration goes mainstream and people seek increasing flexibility in their lifestyles, they need accessible tools to stay productive and entertained anytime, anywhere," said Jerry Paradise, vice president, Lenovo Commercial Product Portfolio. "Lenovo is pleased to partner with AMD to offer commercial users mobile experiences that balance performance and portability to power the modern workforce, and excited to extend the partnership to our latest premium ThinkPad series notebooks coming soon."
Supporting Resources
About AMD
For 50 years AMD has driven innovation in high-performance computing, graphics and visualization technologies ― the building blocks for gaming, immersive platforms and the datacenter. Hundreds of millions of consumers, leading Fortune 500 businesses and cutting-edge scientific research facilities around the world rely on AMD technology daily to improve how they live, work and play. AMD employees around the world are focused on building great products that push the boundaries of what is possible. For more information about how AMD is enabling today and inspiring tomorrow, visit the AMD (NASDAQ: AMD) website, blog, Facebook and Twitter pages.
[i] Testing by AMD performance labs as of 12/4/2018. "Battery life" defined as hours of continuous usage before the system automatically shuts down due to depleted battery. Video playback tested according to Microsoft WER methodology, while "general usage" is tested via MobileMark 14. Results presented in minutes, in order of: 1st Gen AMD Ryzen™ 7 2700U Mobile Processor (100%) vs. 2nd Gen AMD Ryzen™ 7 3700U Mobile Processor. General Usage: Ryzen™ 7 2700U: 8.1 hours vs. Ryzen™ 7 3700U: 12.3 hours (51% longer). Video Playback: Ryzen™ 7 2700U: 6.9 hours vs. Ryzen™ 7 3700U: 10 hours (40% longer). Ryzen™ 7 2700U Test System: Lenovo IdeaPad 530s, Ryzen™ 7 2700U, 2x4GB DDR4-2400, Radeon™ Vega10 Graphics (driver 23.20.768.0), 1920×1080 AUO 403D 13.9" panel, 512GB Toshiba KBG30ZMT512G SSD, 45Whr battery, 150 nits brightness, Windows® 10 x64 RS4. Ryzen™ 7 3700U Test System: AMD Reference Motherboard, AMD Ryzen™ 7 3700U, 2x4GB DDR4-2400, Radeon™ Vega10 Graphics (driver 23.20.768.0), AUO B140HAN05.4 14" panel, 256GB WD Black WD256G1XOC SSD, 50Whr battery, 150 nits brightness, Windows® 10 x64 RS5. Results may vary with drivers and configuration. RVM-164
[ii] "Processor for ultrathin notebooks" defined as 15W typical TDP. "Class" for "best-in-class" defined as an ultrathin notebook <20mm Z-height. Testing conducted by AMD performance labs as of 12/02/2018. Cinebench R15 nT ("CPU"): Core i5-8250U vs. Ryzen™ 5 3500U: 524 vs. 651 (24%/1.24X faster for AMD); Core i7-8565U vs. Ryzen™ 7 3700U: 619 vs. 688 (11%/1.11X faster for AMD). 3DMark® Time Spy ("GPU"): Core i5-8250U vs. Ryzen™ 5 3500U: 399 vs. 907 (127%/2.27X faster for AMD); Core i7-8565U vs. Ryzen™ 7 3700U: 444 vs. 967 (118%/2.18X faster for AMD). 50:50 Average of GPU and CPU: Core i5-8250U vs. Ryzen™ 5 3500U: (0.5×1.24+0.5×2.27) = 1.75X faster for AMD; Core i7-8565U vs. Ryzen™ 7 3700U: (0.5×1.11+0.5×2.18) = 1.645X faster for AMD. Core i7-8565U Test System: Dell Inspiron 7586, 2x4GB DDR4-2400, Samsung 850 EVO SSD, Intel Graphics HD 620 (driver 24.20.100.6287), Windows® 10 Pro x64 (build 1803). Core i5-8250U Test System: HP Spectre 13t, 2x4GB LPDDR4-2133, Samsung 850 EVO SSD, Intel Graphics HD 620 (driver 24.20.100.6287), Windows® 10 Pro x64 (build 1803). AMD Ryzen™ Test System: AMD Reference Motherboard, 2x4GB DDR4-2400, Radeon™ Vega 10 Graphics (driver 18.41-181105a), Windows® 10 Pro x64 (build 1803). Results may vary with configuration and drivers. RVM-155
[iii] Testing conducted by AMD Performance Labs as of January 10, 2019 | Cinebench nT used to measure CPU Multi Thread Performance. Performance presented in i7-7600U | (HP EliteBook 840 G4) (100%) vs Ryzen 7 PRO 3700U scored a 688.4775, i7-8650U | (HP EliteBook 840r G4) scored a 593.24 while the i7-7600U (HP EliteBook 840 G4) scored a 349.885 for a comparison of 688.4775/349.885=1.97 and 593.24/349.885=1.70 respectively. PCMark 10 used to measure System Performance. Performance presented in i7-7600U | (HP EliteBook 840 G4) (100%) vs Ryzen 7 PRO 3700U scored a 4075.5, i7-8650U | (HP EliteBook 840r G4) scored a 4063.75 while the i7-7600U (HP EliteBook 840 G4) scored a 3688 for a comparison of 4075.5/3688=1.11 and 4063.75/3688=1.10 respectively. 3DMark 11 Performance used to measure Graphics Performance. Performance presented in i7-7600U | (HP EliteBook 840 G4) (100%) vs Ryzen 7 PRO 3700U scored a 4432.25, i7-8650U | (HP EliteBook 840r G4) scored a 2153 while the i7-7600U (HP EliteBook 840 G4) scored a 1919 for a comparison of 4432.25/1919=2.31 and 2153/1919=1.12 respectively. System Configurations: AMD Ryzen™ 7 PRO 3700U, 2x4GB DDR4, Radeon™ Vega 10 Graphics (driver 25.20.14102.16), Samsung 850 Pro SSD, Windows® 10 Pro x64 | Intel i7-8650U, 2x4GB DDR4, Intel UHD 620 Graphics (driver 23.20.16.4973), Samsung 850 Pro SSD, Windows® 10 Pro x64 | Intel i7-7600U, 2x4GB DDR4, Intel HD 620 Graphics (driver 23.20.16.5018), Samsung 850 Pro SSD, Windows® 10 Pro x64 | PCMark and 3DMark are registered trademarks of Futuremark Corporation. PC manufacturers may vary configurations yielding different results. All scores in are an average of 3 runs with the same settings. Performance may vary based on use of latest drivers. PP-8
[iv] Testing conducted by AMD Performance Labs as of January 10, 2019 "Photo Editing defined as a scripted series of photo filters in Photoshop presented in i7-8650U (Dell Latitude 7490) (100%) vs Ryzen 7 PRO 3700U took 52.9 seconds to complete, while the i7-8650U took 71.9 seconds for a comparison of (71.9-52.9)/52.9=1.36 | SPECView Perf 13 3DSMax used to measure 3D Modeling Performance. Performance presented in i7-8650U (Dell Latitude 7490) (100%) vs Ryzen 7 PRO 3700U scored a 24.265 while the i7-8650U scored a 14.7525 for a comparison of 24.265/14.7525=1.64 | SPECView Perf 13 Medical used to measure Medical Viewset Performance. Performance presented in i7-8650U (Dell Latitude 7490) (100%) vs Ryzen 7 PRO 3700U scored a 7.84 while the i7-8650U scored a 2.19 for a comparison of 7.84/2.1875=3.58 | PCMark 10 DCC Subtest used to measure Content Creation Performance. Performance presented in i7-8650U (Dell Latitude 7490) (100%) vs Ryzen 7 PRO 3700U scored a 3595.25 while the i7-8650U scored a 3162 for a comparison of 3595.25/3162=1.14 | System Configurations: AMD Ryzen™ 7 PRO 3700U, 2x4GB DDR4, Radeon™ Vega 10 Graphics (driver 25.20.14102.16), Samsung 850 Pro SSD, Windows® 10 Pro x64 | Intel i7-8650U, Dell Latitude 7490, 2x4GB DDR4, Intel UHD 620 Graphics (driver 22.20.16.4799), Samsung 850 Pro SSD, Windows® 10 Pro x64 PC manufacturers may vary configurations yielding different results. All scores in are an average of 3 runs with the same settings. Performance may vary based on use of latest drivers. PP-10
[v] The information contained herein is for informational purposes only and is subject to change without notice. Timelines, roadmaps, and/or product release dates shown herein are plans only and subject to change. "Zen" is codename for AMD architecture, and is not a product name. GD-122