Radeon Software Adrenalin 2020 Edition Features
There are far too many new features that AMD has released with this Radeon Software Adrenalin 2020 Edition to cover in detail, so we will give BTR's readers just a quick overview.  In addition, this reviewer is not a couch gamer who prefers a keyboard and a mouse on the desktop, and even feels uncomfortable using a controller except for VR games.  So we don't stream games to our TV or to tablets.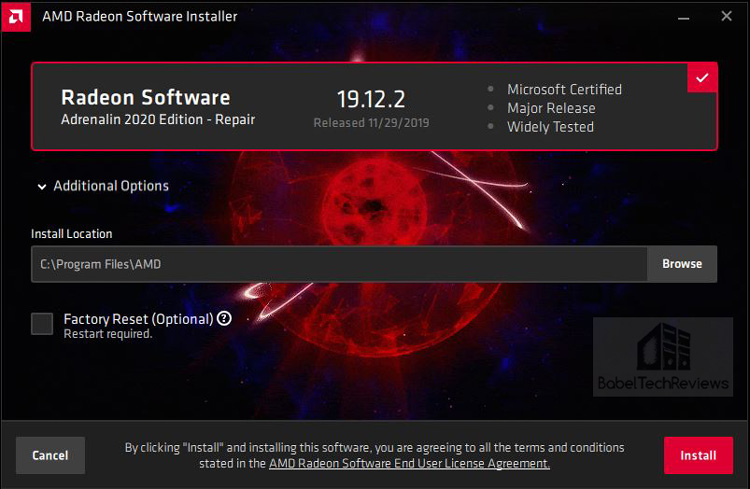 The first thing a gamer will notice with Radeon Software Adrenalin 2020 Edition is the newly redesigned installer.  Without clicking on Additional Options, the installer will perform a quick express installation over top of the older drivers keeping the user settings.  Checking Factory Reset performs a clean installation and requires a PC restart.  AMD claims a 34% faster install time but we always use the Factory Reset option.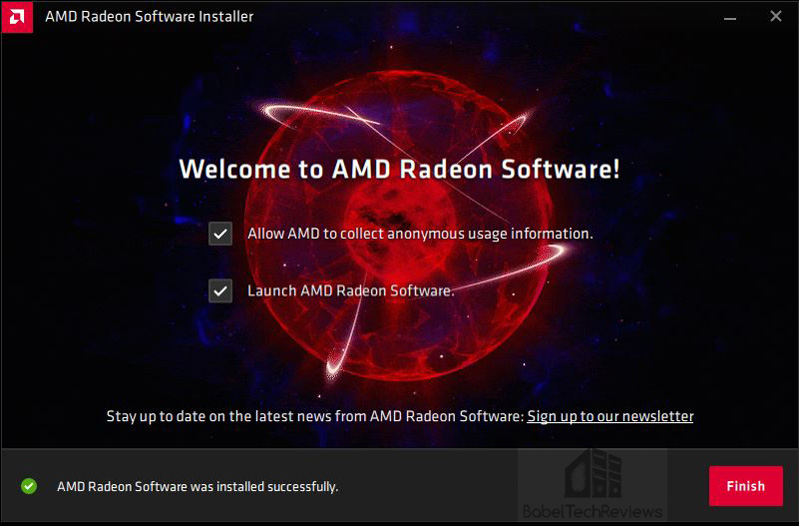 You can choose whether to allow AMD to collect your anonymous usage information to help them improve their software – or not.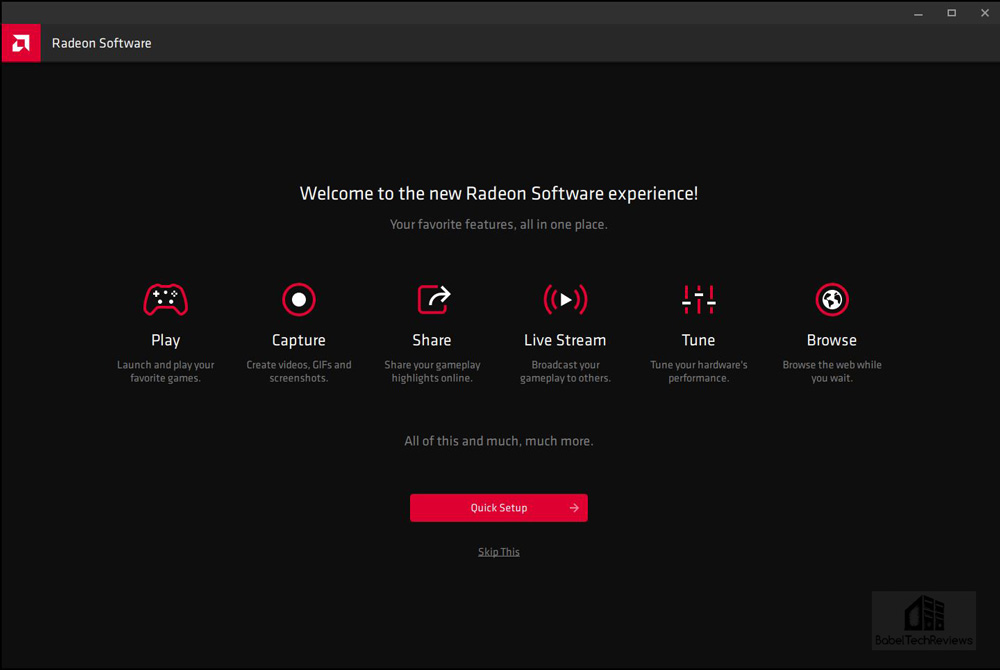 After the new drivers are installed, you can do a Quick setup or skip it for the more advanced features.  You are asked to describe your gaming as "Gaming", "eSports", or "Standard", and the Radeon Software Adrenalin 2020 Edition will make suggestions based on your profile.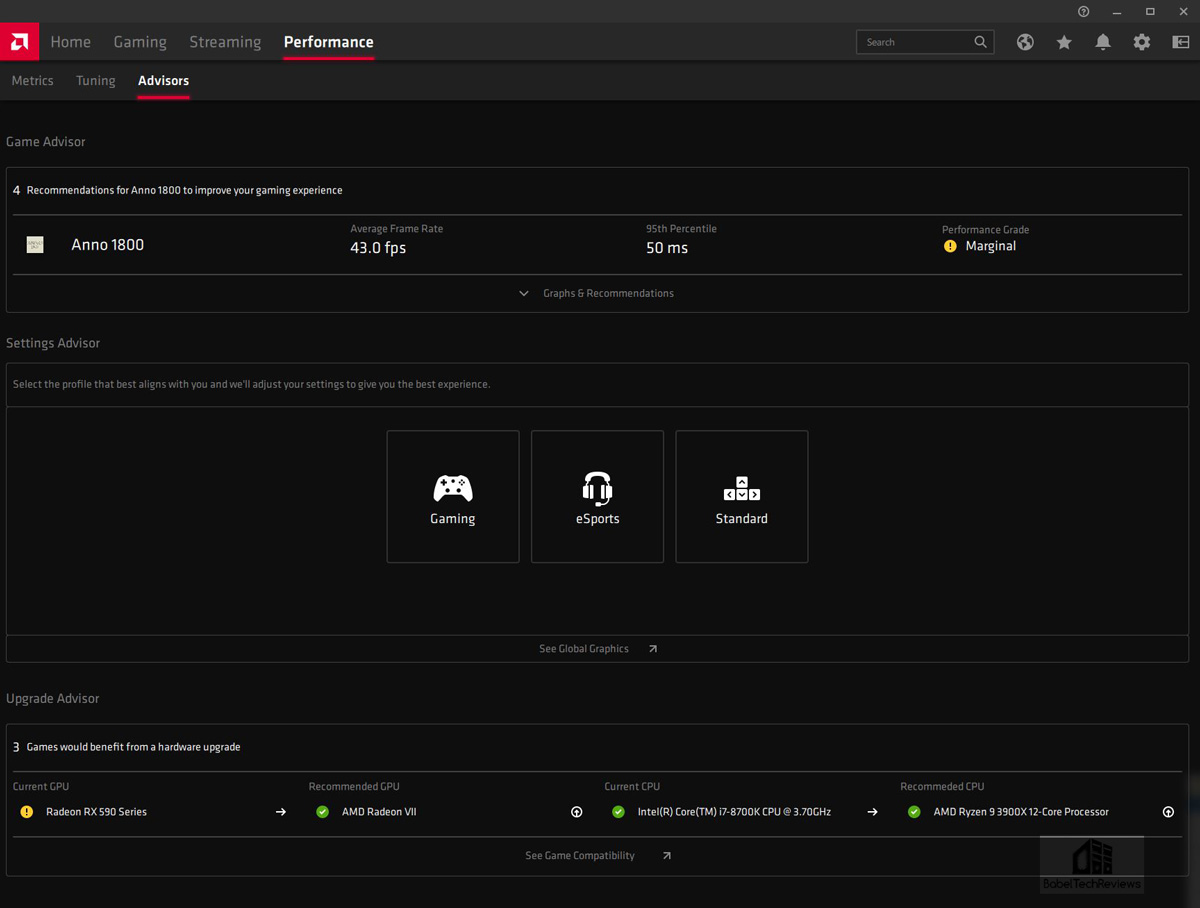 The Radeon Software Adrenalin 2020 Edition even makes suggestions for each game as to what CPU or GPU hardware upgrade would work better for possibly under-performing games.  In our case, it recommended that we upgrade to a Radeon VII from a RX 590 and from a i7-8700K to a Ryzen 9 3900X.  But we already have a RX 5700 XT Anniversary Edition and our i7-8700K is clocked to 4.8GHz, so we will hold off upgrading until next year.

A gamer has a choice to start from the full home Radeon Software Adrenalin 2020 Edition app (below) or pick the sidebar (above) by using one of many shortcuts; in this case ALT+Z for the sidebar or ALT+R for the full desktop view.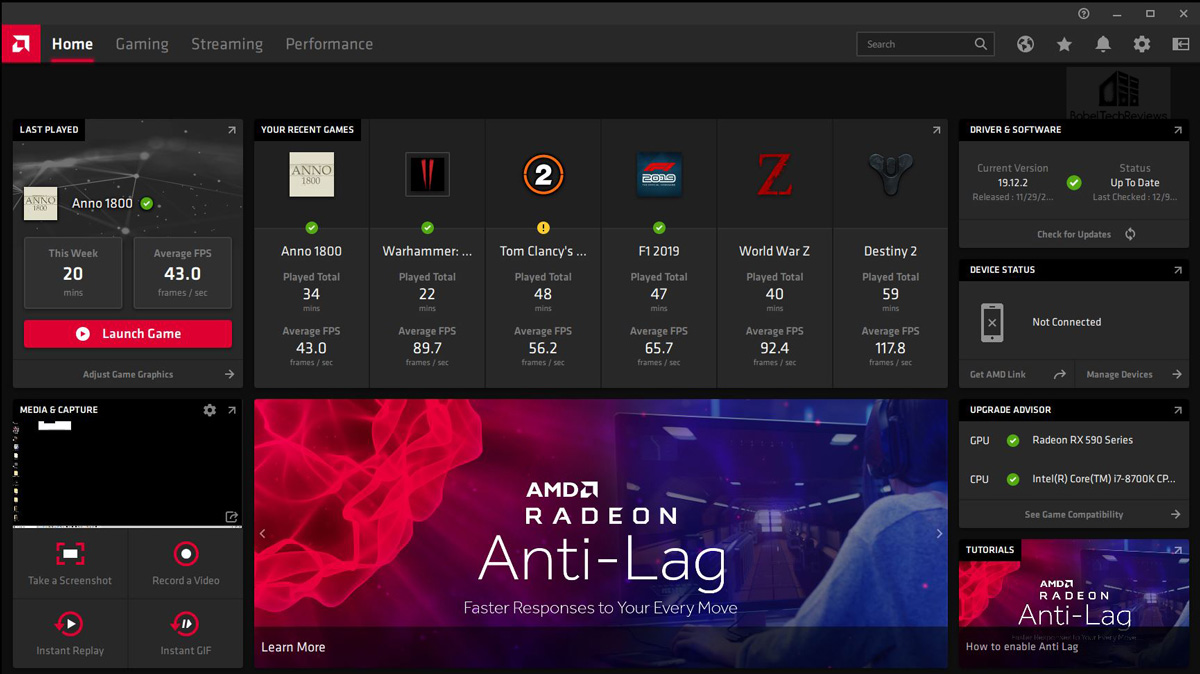 You can see everything at once from the home page and even know if your software is up to date.  Radeon Software Adrenalin 2020 Edition also adapts to you and will customize itself, for example, showing the details of your last played game.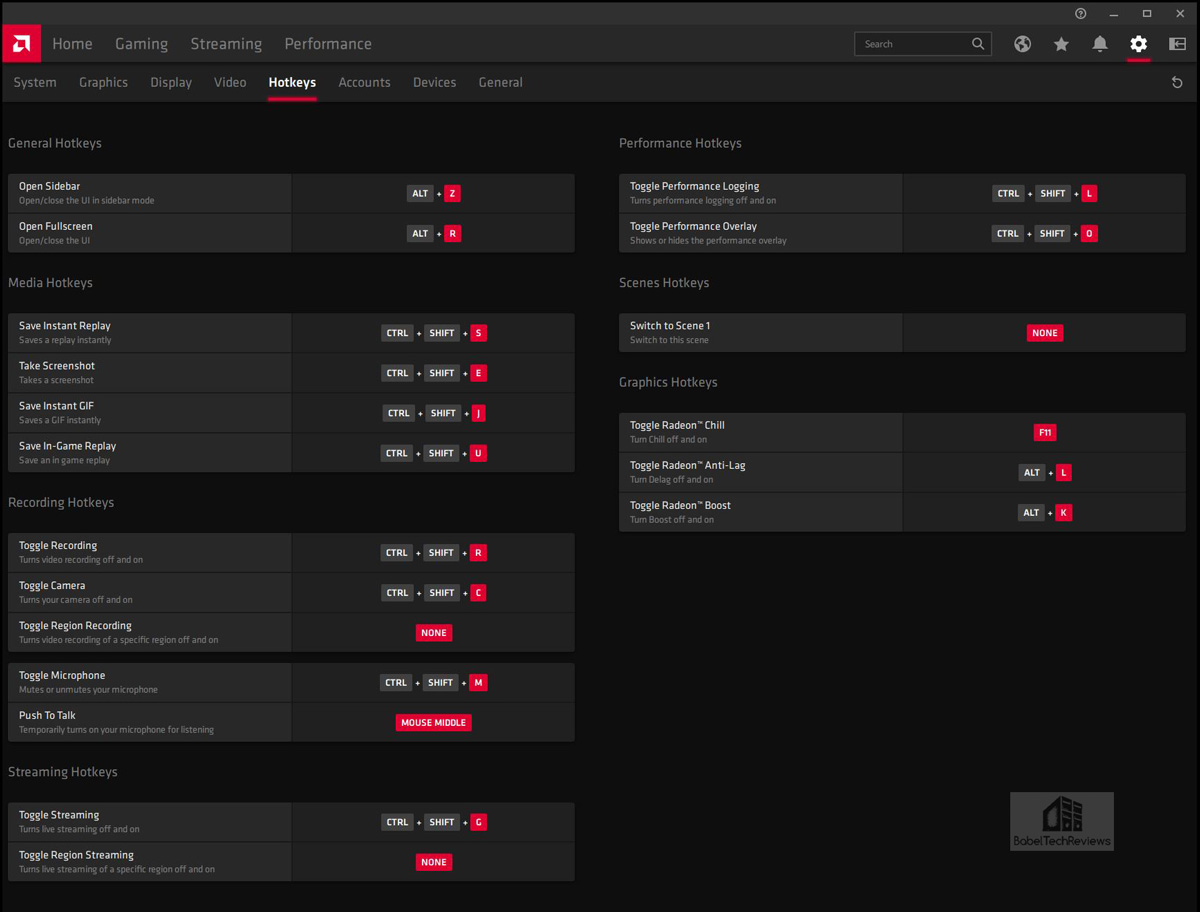 There are multiple shortcuts available to get where you want to go instantly.  There are tabs for everything with an emphasis on capture, streaming, and sharing.  We are most interested in performance and there is a General System tab to get started.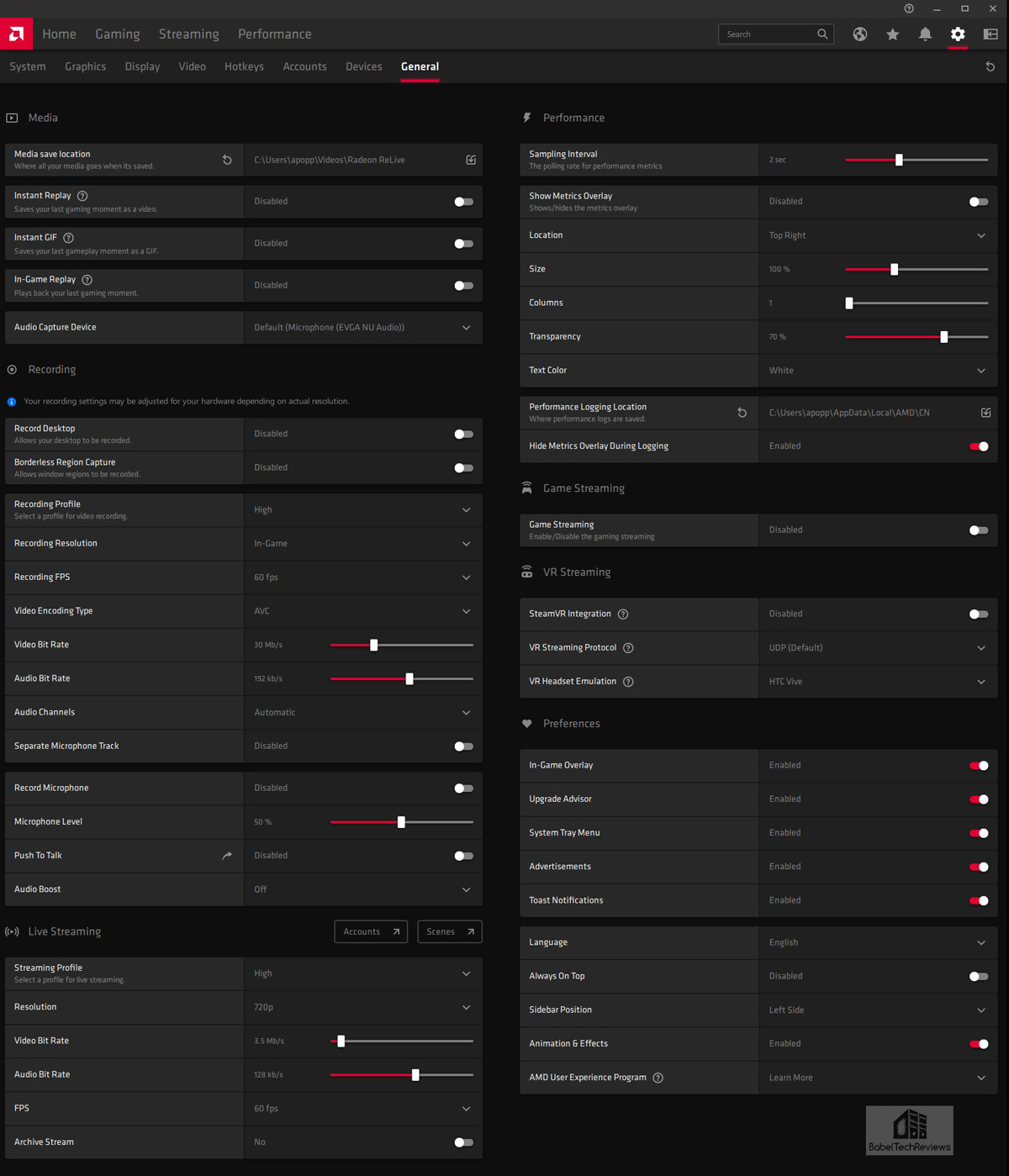 The general system tab even covers wireless VR streaming.  Below is the System main tab.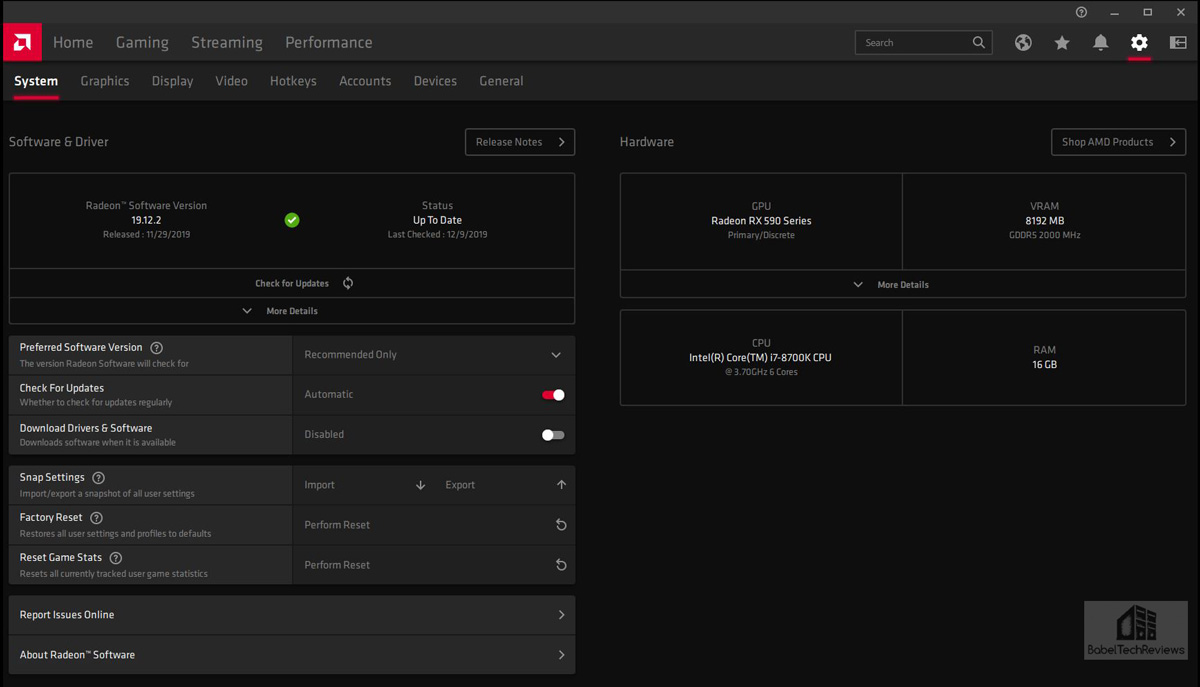 We will look at Performance next.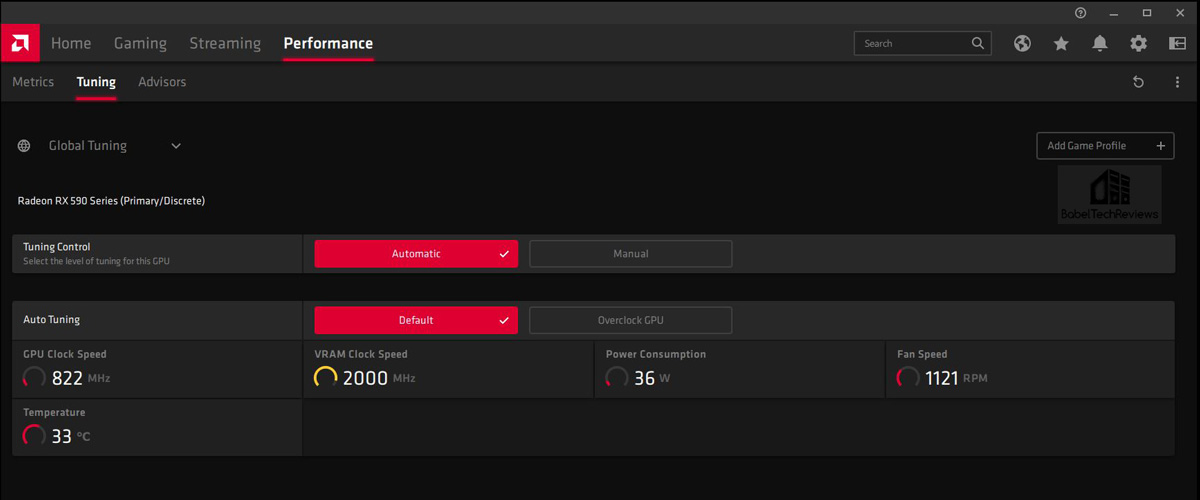 If a gamer chooses the Automatic Performance settings there is an automatic scanner to overclock the GPU and vRAM.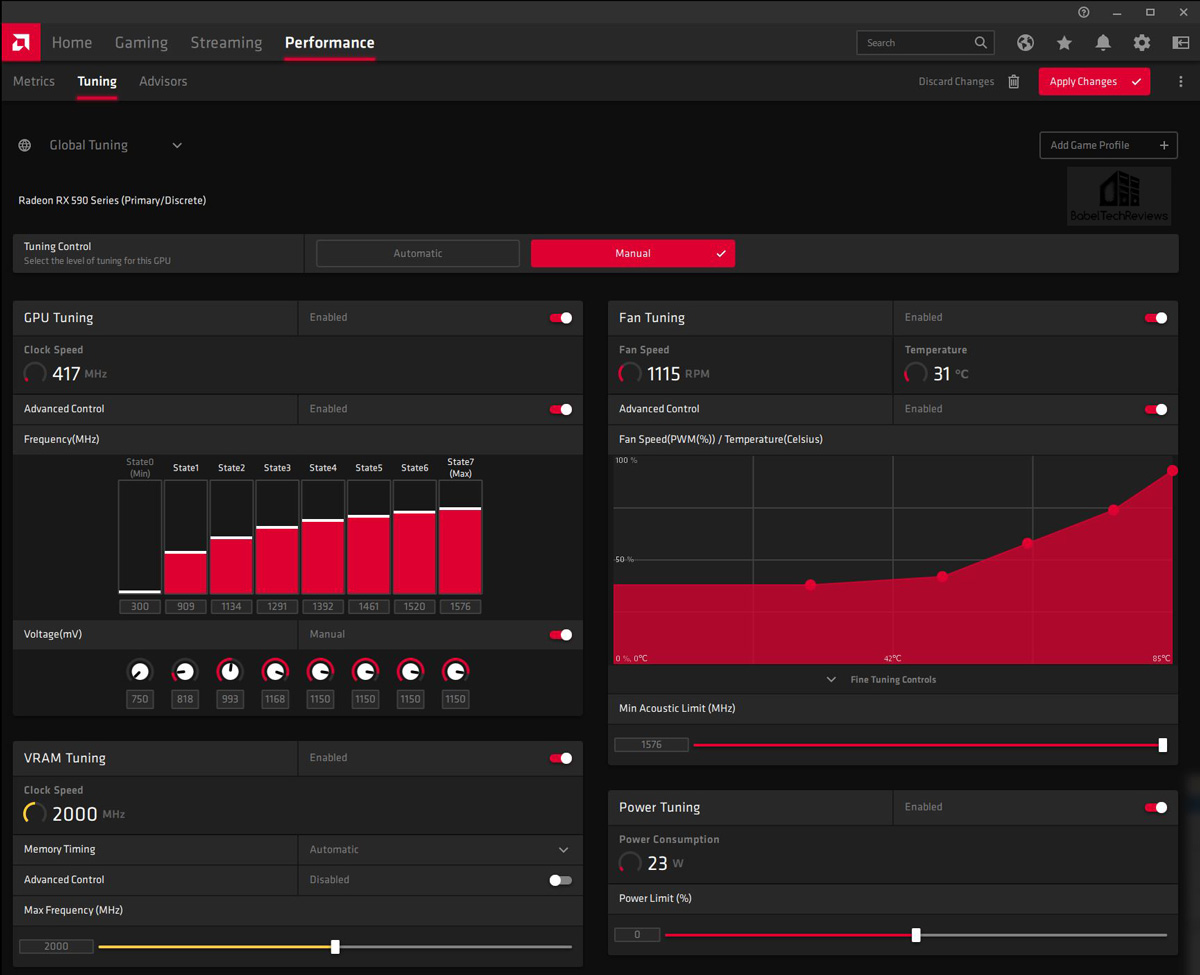 The manual Performance tab gives fine control over the GPU, vRAM tuning, Power tuning, and fan speed controls.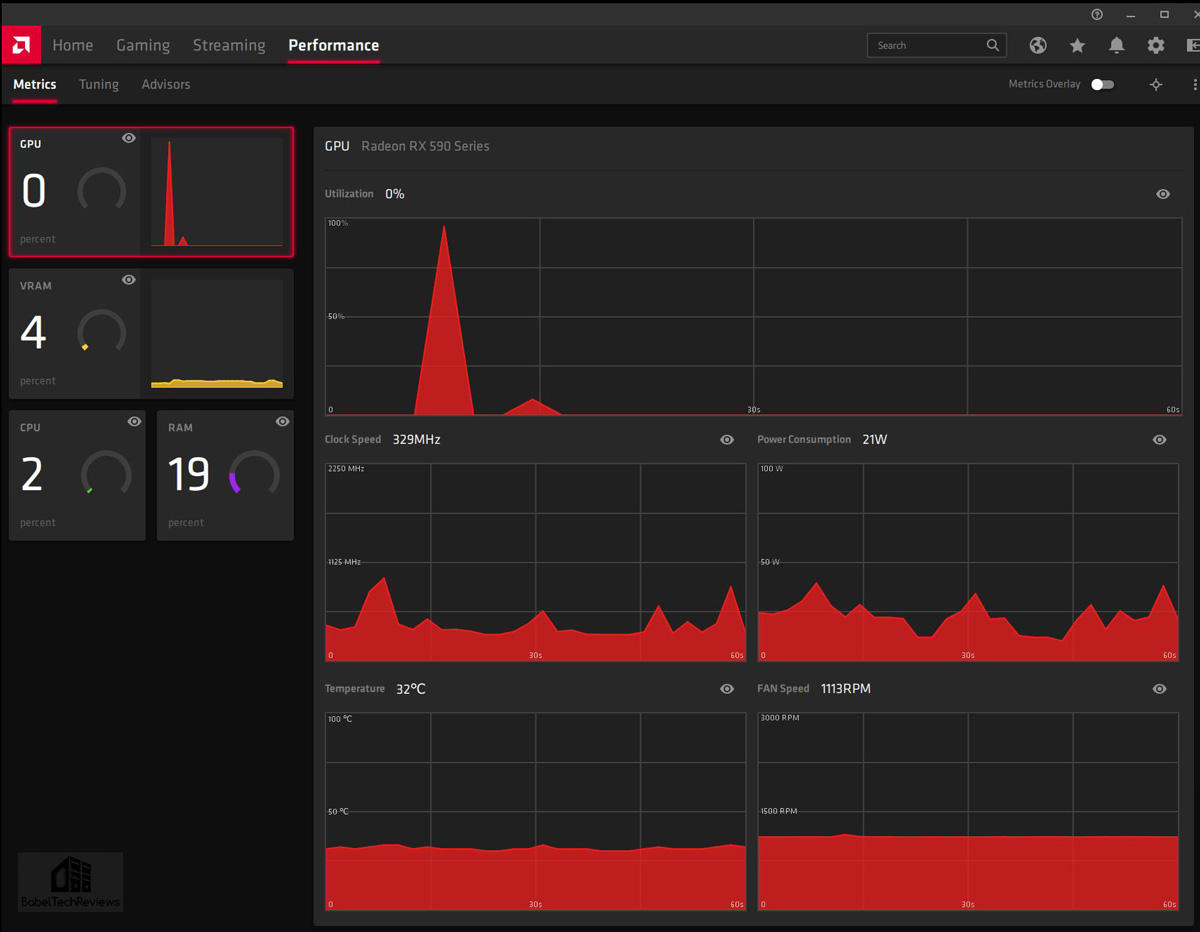 Radeon Software Adrenalin 2020 Edition software provides a very readable set of graphs to give the user an overview of the GPU stats at a glance.  Next, the Graphics settings.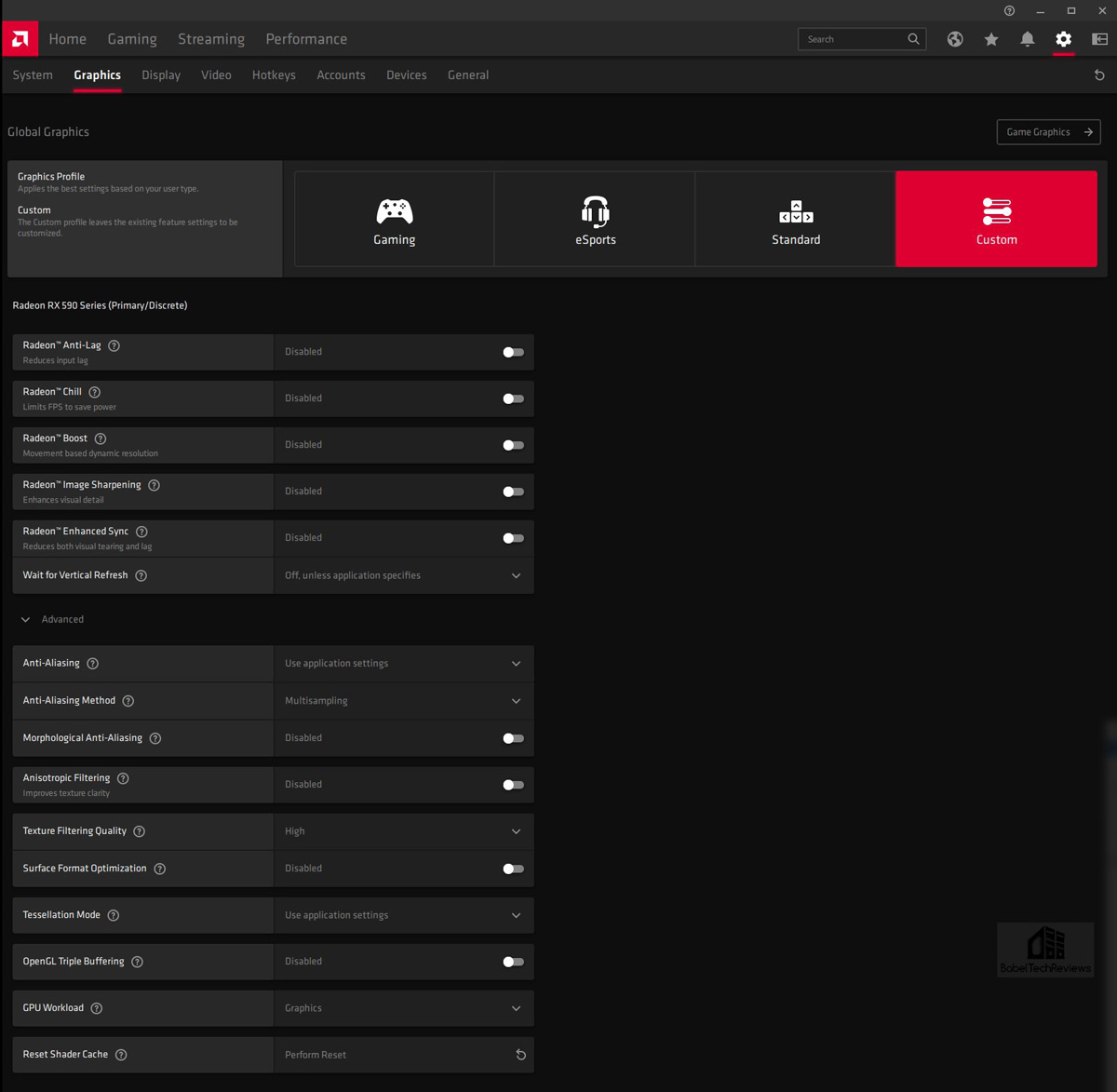 We always pick Custom Global Performance settings for our benchmarking which has to be precise and repeatable especially because we benchmark driver performance changes, and Surface Format Optimization and other optimizations are disabled.  In the above image, Anisotropic Filtering is disabled as shown in the control panel but we always use 16X for all game benchmarks.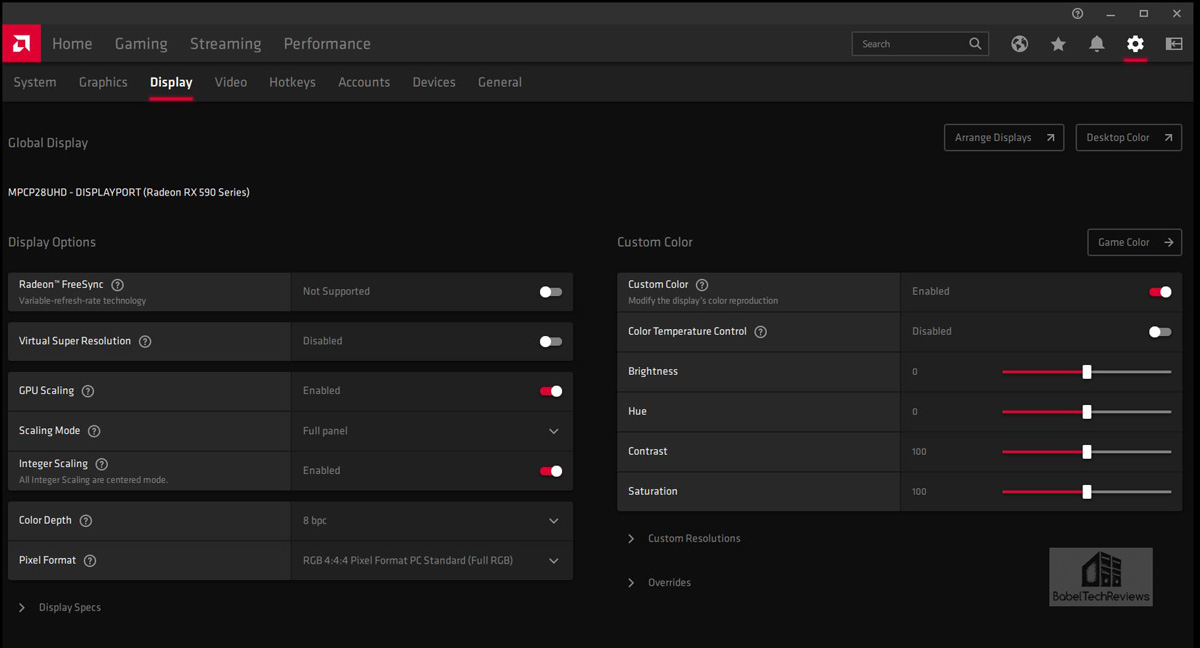 There is also fine control available over display settings.  Unfortunately we do not have a FreeSync display.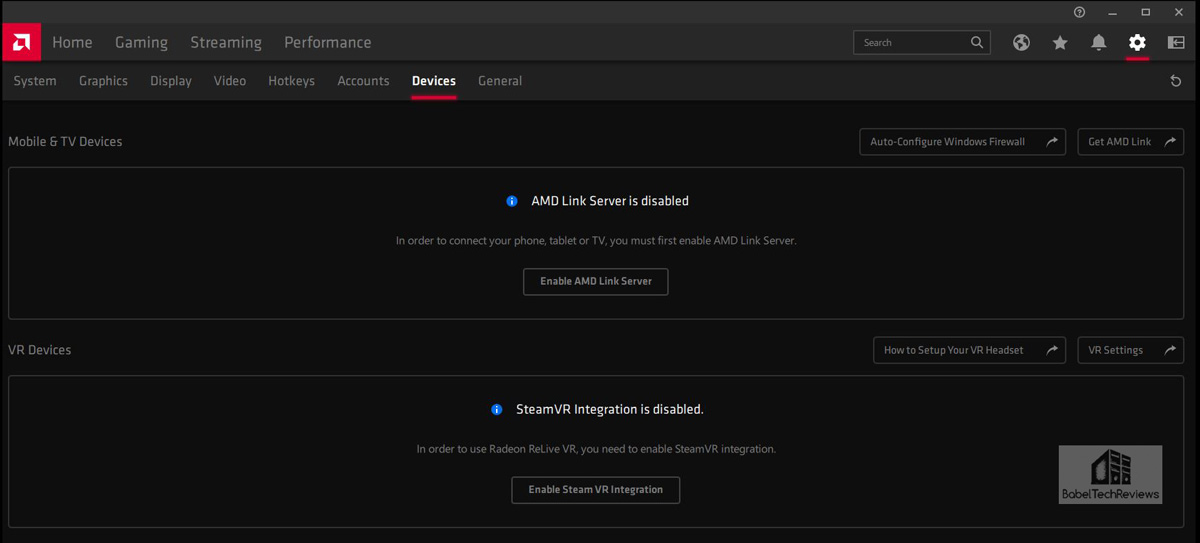 AMD Link Server can connect your phone, tablet, or TV to stream from your PC from anywhere as long as you have a fast Internet connection.  You can also use this tab to use Radeon ReLive VR as long as you enable SteamVR integration.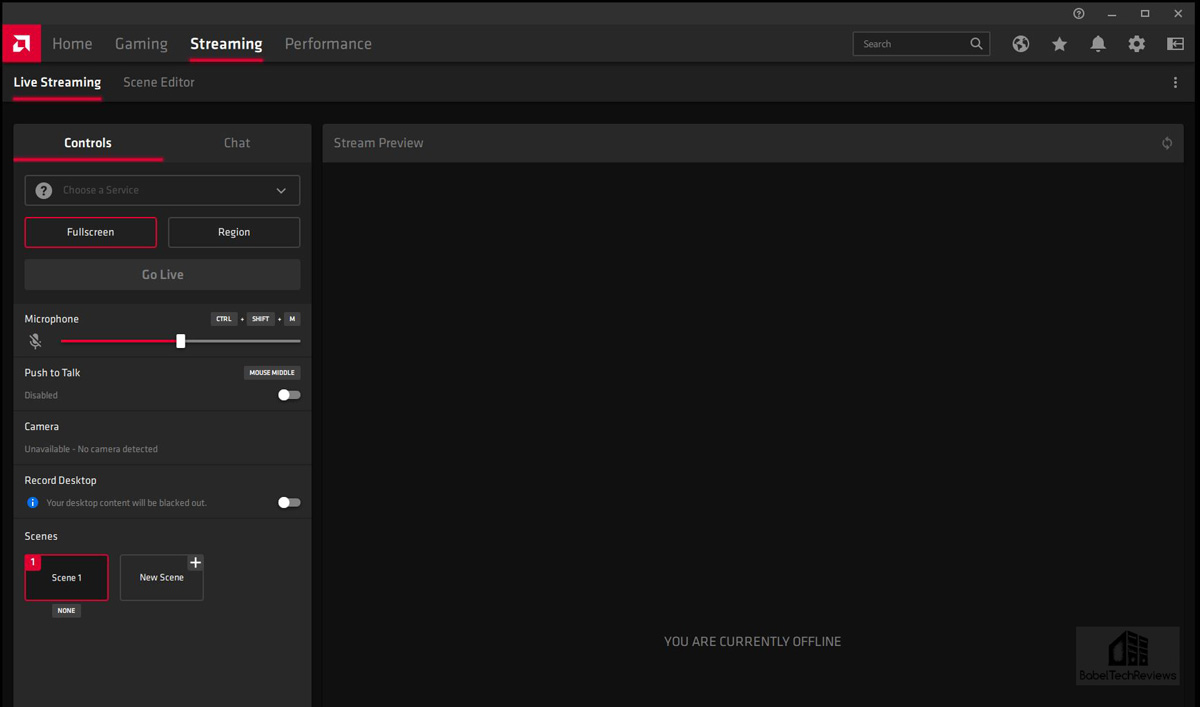 The above tab is for streamers and there are a lot of options to record as well as to preview your streams.  AMD Link now offers 50Mbps bit rate support, x265 streaming for higher quality/lower bandwidth, and instant gif support.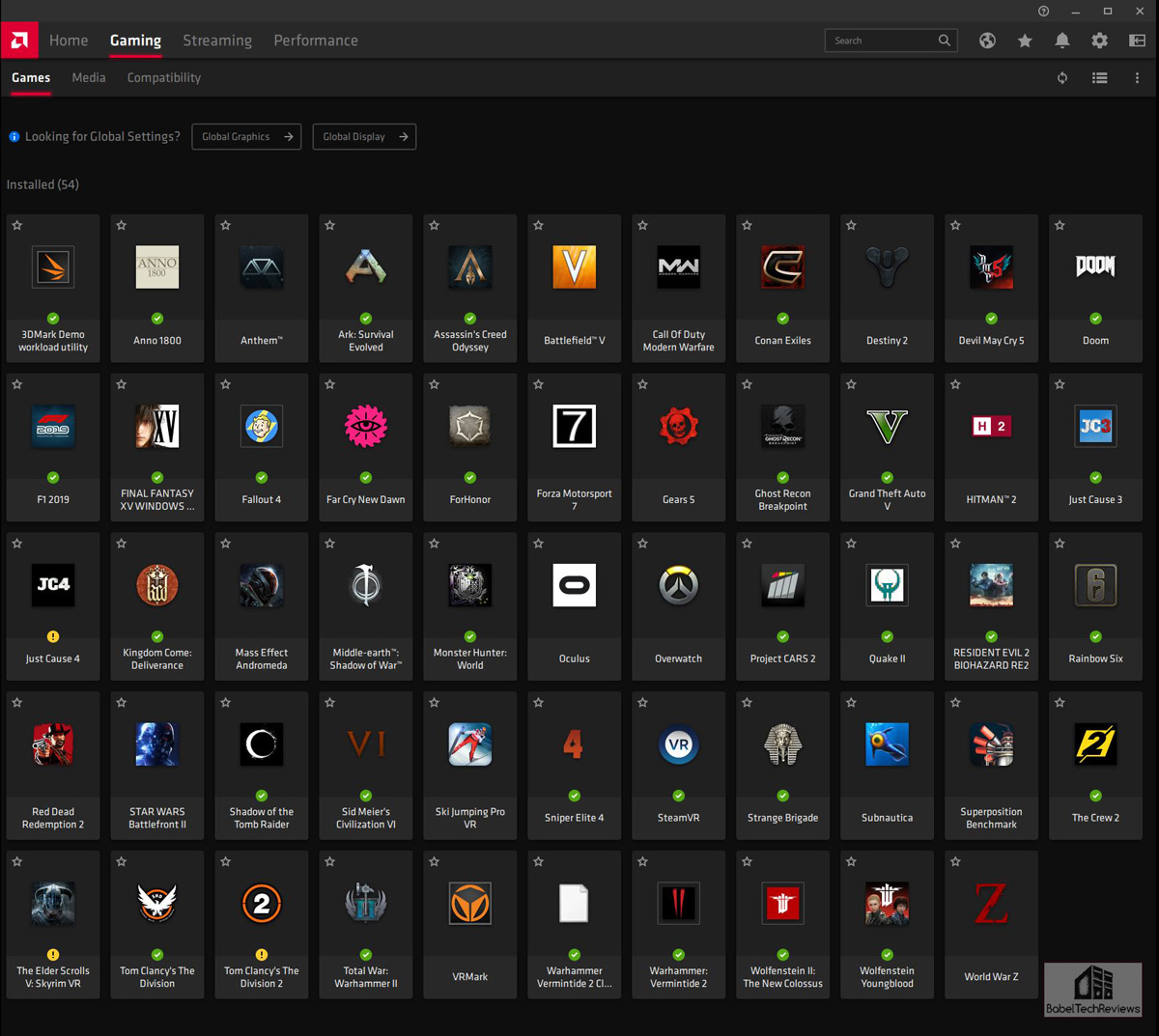 Above are many of the games that we benchmark and play regularly.  Radeon Software Adrenalin 2020 Edition offers a convenient location to launch them from one place.  And you can even use your microphone to even issue voice commands including start and stop benchmarking!  But we haven't got to that feature yet.
Besides what we have briefly covered, there is an integrated web browser available to get game information as well as access Radeon video tutorials.  AMD has included their number one requested feature that enables gamers to give classic games a pixel art retro style look with an ultra sharp scaling option for high resolution displays without a performance penalty.  In addition, Anti-Lag has been updated to add DX9 support for older 5000 series AMD video cards, and Image Sharpening adds support for DX11 games with control over the degree of sharpness needed.  Very impressive!
The download links for the Radeon Software 2020 Adrenalin 19.12.2 Edition can be found starting here.  For the performance changes of the Adrenalin 2020 19.12.2 drivers from September's 19.10.2 using 46 games, and back to 19.2.2 in February with 24 games, let's get to the test configuration and then to our results.