Streaming Paved the Way for More Effective Ads, Ad Reception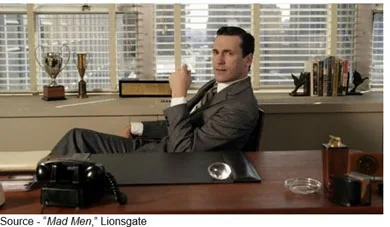 At a boat christening party not long ago our proud new owner/client friend – complete in blue blazer and white pants was stepping from the boat to the dock when the wake of a passing boat made his boat shift … a lot.
Yep!
That's about what it feels like for the video content (movies, TV) industry, which is awkwardly … straddling.
Last Spring, the networks (and studios/social services) had their annual upfronts to pre-sell all their ad slots for their new shows. They stressed that they were strongly committed to multiplatform (linear and OTT) entertainment and delivering huge viewer reach and engagement.
But media buyers and industry leaders seemed to have a tough time understanding whether either or none of the above was most important, and they weren't alone.
While they take comfort in the old standard of day/time commitment, they're excited about the possibility of being able to sell their stuff anytime, anywhere, all around the globe.
The first thing the networks/studios did was take a page from OTT Streamers like Netflix and unveiled fewer pilots, emphasizing how audiences will spend billions of hours with their brands across all screens.
Given how crowded and confusing the marketplace was, that seemed to work because premiering shows is risky and expensive.
To play it safe and cool, the studios/nets focused on a few new shows/programs built around proven commodities – storylines, people – and a mild roster of stable products.
With linear TV and entertainment continuing to lose viewers as folks cut/shave their cables, they bet on the winners and spread them across more platform opportunities.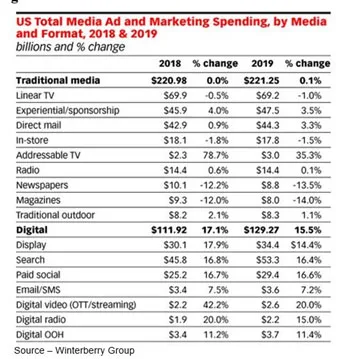 After all, people still watch 4 hours, 46 minutes of adult linear TV time – live and shifted.
In addition, media owners and broadcasters at the annual upfronts said they were committed to making the ad breaks/stacks more addressable and data rich, rather than overpowering the viewers with more ad volume.
We thought that was a good thing until a few weeks ago while watching a movie on TNT.
Something didn't feel right, so we counted the spots in the ad decks.
Surprise … the average for two hours was 10 ads per deck!
O.K., so they were 10-15 sec each; but are you sh(kidding) me?
We know AT&T has a big nut to pay off after buying WarnerMedia but…
MoffeeNathanson noted that after declining in 2017, the volume of ads has increased each quarter.
No kidding!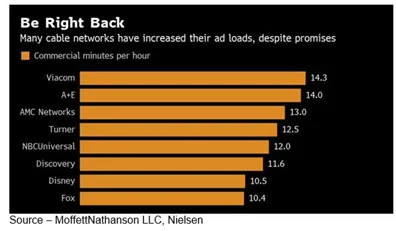 Yes, TV viewership has dropped as folks jump to streaming services, so media companies have taken creative steps to ensure they meet their numbers … raise prices and run more commercials.
As Nathanson said, "If you miss your numbers, your stock goes down, you go out."
Too many commercials aren't the main reason people cancel their cable services, but you can bet it's in the top five.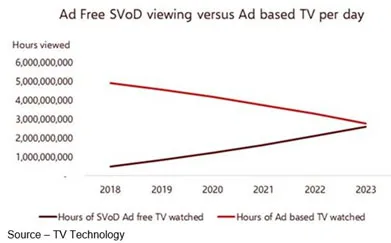 There are snobs out there who like to point to the resounding success of SVOD services, which proves people will do anything to avoid ads … including pay for their content.
According to Digital TV Research, SVOD revenues will climb by $51 billion between 2018 and 2024 to take its total to $87 billion.
But … there is still plenty of AVOD growth left.
In fact, they noted that AVOD revenues will increase by $34 billion between 2018 and 2024 to reach $56 billion.
Tubi, Pluto, Xiao, Vudu (pre-installed in TVs from Walmart) Crackle and other "free" services are enjoying excellent growth; and there are other services ready to join the foray to deliver ad-supported anywhere, anytime, any screen entertainment.
That's why so many marketers and agencies gravitated so quickly to programmatic "TV" ad buying so they could quasi manage their digital ad buys.
Programmatic advertising is one of the fastest-growing areas in digital marketing. The total spent on programmatic is estimated to cross 84 percent of all ad spending.
What's not to like?
Instead of negotiating with a salesperson, programmatic advertising uses software to procure ad space. Once the space has been acquired, marketers bid to serve up their ads to the people they want to reach.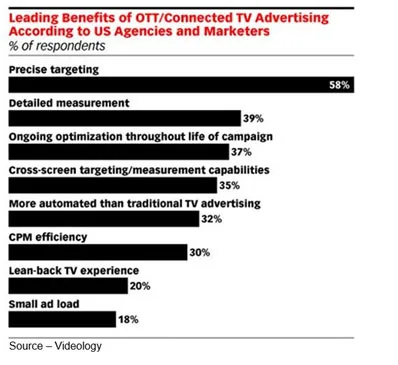 It's all so clean … analytic … programmatic.
All the work has been eliminated.
It must be good because there are hundreds of players out there including the industry heavyweights AdRoll, Match2One, Choozle and PocketMath.
At this year's IBC, we wanted to gain a better understanding of solutions such as programmatic ad delivery services that were helping marketers (and indirectly, consumers) deliver the types of ads people are receptive to, don't mind viewing and maybe even buy the product/service while watching their movies/TV shows.
Just as viewing entertainment has changed, TV advertising has made giant strides since Bulova ran a simple black-and-white picture of the U.S. flag with a clock face before a national baseball game broadcast back in 1941.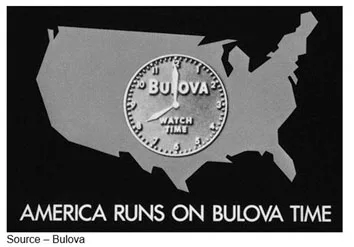 The ad, which ran for 10 seconds, was accompanied by a voiceover that stated, "America runs on Bulova time."
Simple, effective. And for a lousy $9 Bulova sent an uncluttered brand message to their core audience – only wealthy folks owned TVs back then.
Fast forward to today and jeezz, everyone has a screen; so reaching the wealthy or the kid interested in getting a new iPhone or the person who wants to buy treats for her dog has become slightly more complex and expensive.
Despite OTT's streaming surge, it's still a small portion of what firms spend on linear TV.
The problem for advertisers is how to measure their returns on investments.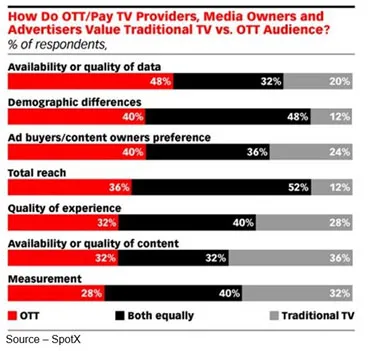 Obviously, OTT is different from linear TV because digital gives measurement firms and marketers access to more precise viewer data so they can see what they're watching;when and where; what their interested in; oh heck, everything.
Traditional measurement gives advertisers an overall view of the household and the audience composition, but OTT can potentially enable more accurate, more precise ad personalization.
In other words, it can make OTT and streaming more valuable to everyone involved–advertiser and viewer.
And we wanted to find out more!
At IBC, Sky focused on helping marketers understand the bigger picture.
The company showed their AdSmart addressable TV service that, according to people in their stand, could boost ad engagement by more than a third, cut channel switching by 48 percent and boost purchasing intent by seven percent .
They could even geo-target ads.
Pretty darn impressive!
Kantar Media made it a point to emphasize that traditional TV audience measurement is over. It's time for marketers to take advantage of today's flexible fusion of AV experiences.
They addressed the shift with new tools that would analyze scheduled viewing as well as time-shifted, place-shifted and on-demand programming to help marketers identify and track viewer activities, action and response.
Cool!
Here in the US, Nielson has made a shift in their digital advertising measurement to focus on targeted, measurable video/content advertising.
The company has extended its traditional TV reporting to deliver total audience measurement across linear TV, DVR, VOD, connected TV devices (Roku, etc.), mobile, PC and tablets to provide clients a total audience picture.
Still, it wasn't working because folks still use ad blockers, ad skippers, put their devices down or flee the room when the ads come on.
Obviously, the right ads weren't getting to the right person at the right time.
As we elbowed from one hall to another, we were fortunate to catch up with Kathleen Maher, an authority on all things digital and the person who really runs Jon Peddie Research. She told us what we wanted wasn't at IBC… yet.
She introduced us to Louis Hernandez, formerly with Avid and now chairman of Ryff, who gave us the elevator pitch about what the company is doing. "We're developing intelligent image technology that will enable content objects to be as dynamic as data. When we release the product – we're already planning to be at next year's IBC with everything running. Advertisers will have a new, flexible platform to seamlessly change, alter or totally replace any object, person or background in a video frame."
To learn more, he suggested we talk with Roy Taylor, the company CEO, when we got back to California.
We've known Roy for a long time because he's been in and around the movie, TV and gaming industry for years.
His experience in gaming and ray tracing technology have been instrumental in helping Ryff develop a solution for ultra-personalized advertising – https://tinyurl.com/y37pfsk3 – that would virtually ensure the content viewer would want to watch an ad … for the duration.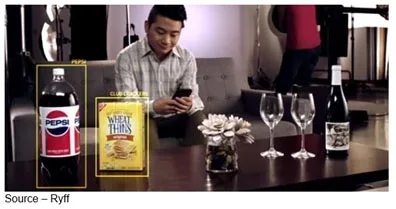 "When we release our solution early next year, advertisers will be able to insert tailored brand integration into scenes in near real time," he explained.
"With dynamic programmatic product placement, we can instantly change products in a scene so they fit with the storyline and a specific user's profile information," he explained. "The product message flows with the storyline and registers with the viewer. The product message gets through and everyone benefits."
Taylor noted that the area where he sees tremendous opportunities is in streaming movie and TV show product placements.
"Getting products in a film or individual TV show is a big, expensive business, that only the big companies (Dell, Apple, Procter & Gamble, Nike, Rolex, Unilever, Starbucks, Anheuser Busch, and similar firms) can afford," he said.
"Product placement is a big part of movie and TV show budgets. The slots are aggressively sought by the big companies and are totally out of reach for smaller or regional firms," he continued.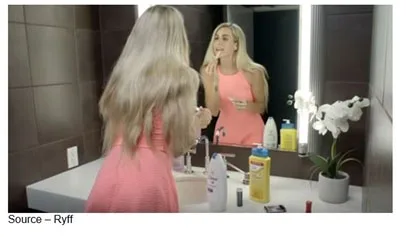 "For example, a regional or country-specific cosmetic can be placed and replaced on the vanity for two or dozens of individual show viewers who may like or prefer a different brand, so each person sees a different brand message," he commented. "The brand is integrated into the scene reinforcing the message to the consumer. It's done quickly, effectively, efficiently and everyone is happy.
"In addition, everyone wins, including the content owner and the streamer," he added.
That's a much better use of all the measurement data that has been gathered and a significantly better UX (user experience).
Think about it.
No more seeing the same ad 10 times in an hour when you're not even remotely interested in the product.
No major upfront commitment by the advertiser on content that may or may not be of interest to your target audience.
No more investment in a generic message that sorta', kinda' appeals to the broad market.
Instead, tailored/personalized ads that blend perfectly with the content the individual is watching … one person at a time.
Now that's what we're talkin' about!
All of the pieces are finally falling into place.
Now we have an almost endless array of streaming content from which people can select what they want to watch, when they want to watch it, where they want to watch it that suits them and their moods/needs at that specific time.
All paid for and delivered by brands and programmatic ads that meet the individual's interest levels.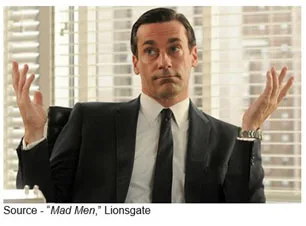 No more budget wastage for marketers; and more importantly, no more wasting of our ultra-valuable time watching a deck of 10-15 ads every 15 minutes that we have absolutely no interest in watching.
The transition to streaming content finally makes so much sense that even Dan Draper got the message when he said, "Change is neither good nor bad. It simply is."
# # #