34 inches at 175 Hz—see more faster with Alienware Curved QD-OLED Gaming Monitor (AW3423DW)
-Plus amazing blacks with quantum dots
Alienware's 34-inch curved QD-OLED gaming monitor (AW3423DW) was the first and may be the only true gaming quantum dot OLED gaming monitor. A few other companies are offering repurposed 4K 45-in plus flat faced 138 Hz TVs as a gaming monitor. Alienware is curved, has quantum dot display, Gsync and is 27% faster. Samsung, who makes the panel for Alienware announced their clone in September, and MSI showed a rebranded Samsung prototype at Computex, and again in September.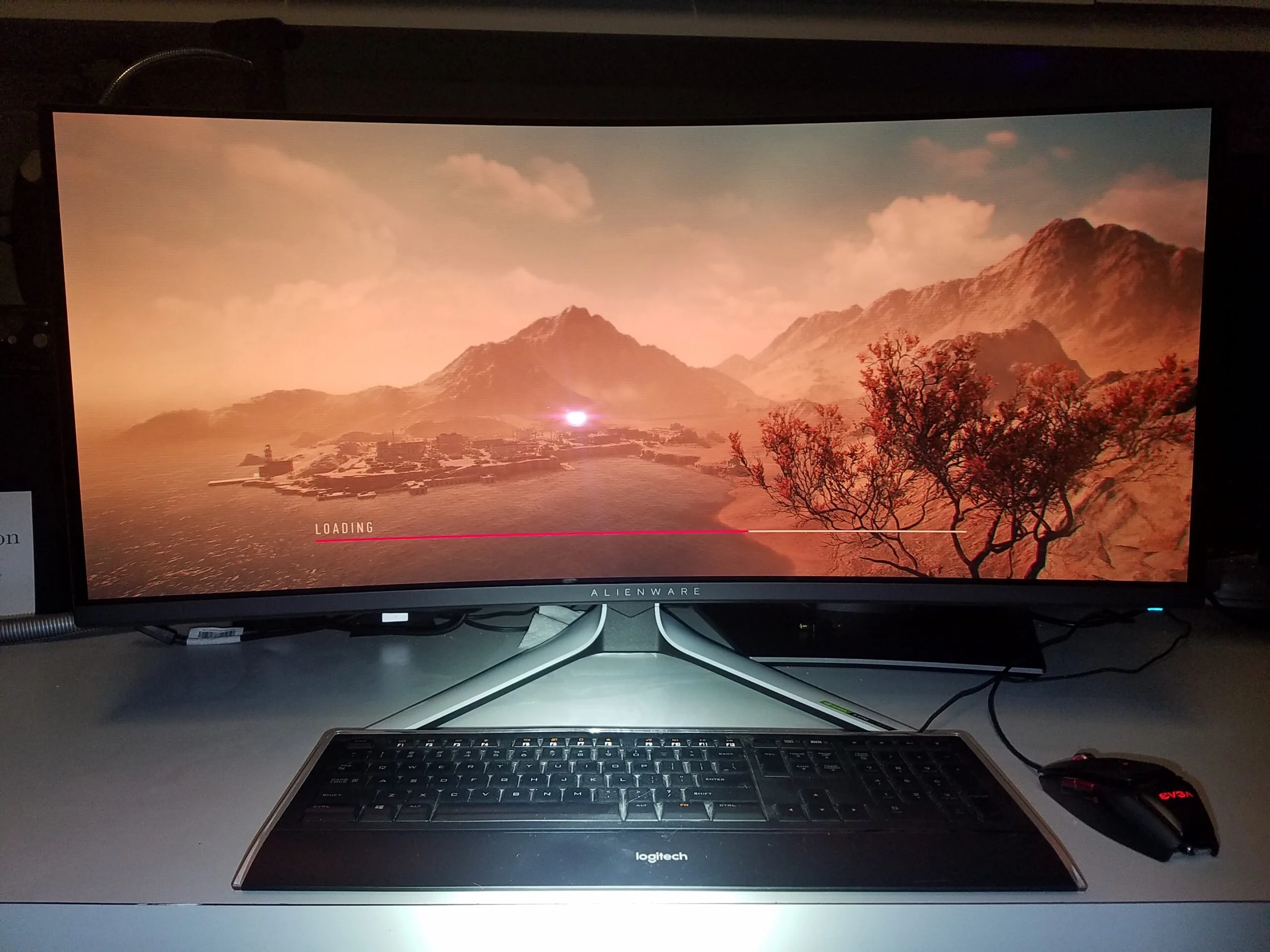 The AW3423DW has incredible contrast only an OLED panel can provide and peak brightness of 1000 nits making it a certified HDR display.
The 3440 × 1440 screen has a 0.1ms response time which eliminates any display ghosting—the trail of pixels behind a moving object (also known as motion blur). A typical LCD response time is under ten milliseconds (10 ms), but with QD-Display, you reduce that time two orders of magnitude to 0.1ms. And, it has a great wide angle viewing range of 178-degrees.
The monitor also has a fast 175Hz refresh rate, which give amazingly smooth gameplay. The standard for gaming monitors has been 144Hz, which is faster than the repurposed TVs that are marketed as gaming monitors. It also comes with Nvidia G-Sync Ultimate which eliminates taring and stuttering—a critical feature when dealing with super high refresh and response time monitors, also, 1780 degrees vertical viewing so you don't have sit just right to see the full color quality. You can swivel the monitor 20-degresss either way, tilt it -5 to 21 degrees vertically, and raise or lower it 4,3 inches.
The OLD screen with quantum dots gives the ultimate in wide color gamut with DCI-P3 and sRGB color spaces, with DCI-P3 offering a wider color range. QD-OLED monitor can cover 99.3% of the DCI-P3 color gamut and 149% coverage of the sRGB color space.
That color gamut is matched with a1,000,000:1 contrast ratio: A true HDR must have high contrasts and ultra-bright colors. QD-Displays can produce over a billion colors that helps to represent luminance of the brightest white and the darkest black. You really haven't seen black on monitor till you've seen an HDR monitor with quantum dots. But with the super high contrast ratio you can also see shades of grey in dark areas. And it is BRIGHT—250 cd/m2 (typical) ; 1000 cd/m2 (peak). Its bright, and comfortable. It has Dell's ComfortView Plus (TÜV Rheinland certified – Low Blue Light Hardware Solution), and an ambient light sensor, AlienFX Lighting.
The monitor has two HDMI (ver 2.0) ports plus a DisplayPort (ver 1.4) port, as well as two SuperSpeed USB 5 Gbps (USB 3.2 Gen1) downstream port (located at the front bottom, one with BC1.2 charging capability at 2A). There is also a SuperSpeed USB 5 Gbps (USB 3.2 Gen1) upstream port in the rear. The monitor has an audio line-out port (in the rear), and a headphone-out port (at the bottom). The monitor draws a scant 43 watts
The Alienware 34 AW3423DW has set a new standard for response time, contrast, HDR and. Performance.
What do we think?
If you're looking for a super-fast gaming monitor that will match your reflexes and take advantages of AMD's Boost, Intel's Game Fast, or Nvidia's Reflex, the Alienware 34 Curved QD-OLED Gaming display is the monitor for you. If you want a brilliant HDR ray traced image, then this is what you've waited for. I've wanted this kind of monitor for years. Now I want it wider (49-inches will do) and with more lines (2160 would be nice). I know that's coming, but probably not for two years. Therefore, investing $1,299 in a monitor isn't such a reach if you get to use it for five years (that's $0.71 a day). Also, it makes an amazing TV screen, and you can run your console on it too.
The problem with a monitor like this is you must see it next to an ordinary monitor to appreciate it. I tried to take photo of it next to a regular monitor, but my camera skills (and patience) aren't good enough. When you do see the difference you will likely say what everyone who has seen this on in our labs say, WOW.
I've been playing Sniper Ghost Warrior on it and seeing everything in the dark caves and seeing as well in bright desert. For combat, the monitor's speed is a life saver. For long distance shots, the contrast ratio is difference between success and failure.