Is it time to upgrade from Core i7-3770K Ivy Bridge or from Sandy Bridge? What about upgrading from the i7-4770K to Intel's latest Devil's Canyon CPU – the i7 4790K – in the pursuit of a few more good MHz?
This evaluation has been a long time in the making, and it has taken us a full month to run all the benchmarks with our updated 33-game benchmark suite. We received a Core i7-4790K as an upgrade from Intel for our Core i7-4770K which we originally could stably only overclock to 4.2GHz in our Z87 ECS flagship "Golden" motherboard. Since i7-4790K is a drop-in upgrade for the ECS flagship motherboard, we will compare our i7-4770K and i7-4790K – stock and overclocked – in this motherboard, as well as in Intel's latest Z97 platform using a new ASUS Z97-E motherboard that we purchased from Newegg on Black Friday for $100.
We shall also see if the newest Haswell Z97 platform can allow our i7-4790K to top the performance of 4770K in our Z87 motherboard at 4.2GHz, as well as Ivy Bridge's Core i7 3770K at 4.6GHz using the EVGA Z77 FTW motherboard. Compared with our benchmarks in the past, we have a much faster video card, the GTX 980, which is able to differentiate between CPU speeds at 1920×1080 and at 2560×1600 resolutions. We also use GTX 980 SLI to test SLI scaling with our stock and overclocked CPUs in our three test motherboards.
In this evaluation we shall use 2x8GB of Kingston's Hyper-X Beast RAM at its XMP Profile 1 speed of 2133MHz. We want to see if it is worth it for a gamer to upgrade his CPU platform for Devil's Canyon, and we will test 33 games, including our 8 newest games which have been added since October. And we shall also benchmark using 3 synthetic gaming tests to determine the progress that Intel has made with their latest Haswell CPU in performance, as well as giving a quick nod to CPU temperatures and overclocking.
Since the Z97 chipset is an incremental upgrade over Z87, we will focus on fast graphics. The Z97 chipset's only notable improvements include future Broadwell support and slot M2 support which is a potentially much faster upgrade for the mSATA connector commonly used in the Z87 chipset and even in the Z77 chipset. Since we have two 128GB Kingston mSATA drives that we usually use for caching our 2TB hard disk drives, we purchased a mSATA to M2 adapter from Amazon.com for $16.75 which is pictured (from Amazon) to the left. We did not use hybrid caching for this review.
Intel released the Ivy Bridge CPU architecture on 22nm in late April of 2013. We were able to briefly compare its performance in more than 20 games against our aging flagship 45nm Core i7-920 CPU at 4.2GHz by using a GTX 680 and GTX 690 on both platforms. We are going to build on our earlier evaluations to carry out a Z87 to Z97 platform upgrade to compare our older ECS motherboard's performance directly against the newest chipset in the ASUS Z97-E motherboard.
We shall also attempt to reach higher clockspeeds with our Core i7-4770K and will compare further overclocked performance above 4.2 GHz to test Haswell CPU scaling in gaming. We are continuing to help answer the question, if an overclocked Core i7-3770K at 4.5GHz (and perhaps Sandy Bridge CPUs also) should be upgraded when paired with the very fastest available video cards at the resolutions that gamers play at. We shall also test at maximum details to determine if there are any significant framerate differences between our platforms at settings that gamers actually use.
Devil's Canyon Core i7-4790K
The Ivy Bridge Core i7-3770K processor is offered in a 22nm 1155-land LGA package (H2) while Core i7-4770K and 4790K are also 22nm and are offered in a non-compatible 1150-land LGA package, which means you must upgrade your motherboard from Sandy or from Ivy Bridge to support a Haswell CPU. Haswell is Intel's "tock" which is new microarchitecture, whereas Ivy Bridge was Intel's "tick" – a die shrink of Sandy Bridge's 32nm architecture.
There are important differences between Haswell and Ivy Bridge CPUs, including an integrated voltage regulator in Haswell that was formerly part of the Ivy Bridge chipset. Intel has focused on mobile which means lower temperatures and power savings for notebooks, but not so much on Haswell desktop performance by overclocking.
While there are some boosts to IPC (instructions-per-clock) and to performance, Haswell wasn't designed for overclocking under high load. Devil's Canyon Core i7-4790K is the result of Intel's effort to rectify the relatively weak overclocking of the 4770K, and improvements were made to the voltage regulators for extreme overclocks and to the thermal interface material (TIM). We are interested to see if we can hit a higher overclock with our Core i7-4770K in the ASUS Z97 motherboard over the 4.2GHz that we settled for in the ECS Z87 motherboard as well as to see how far the i7-4790K can reach in both motherboards.
The ECS Golden Series Z87H3-A2X is ECS premium enthusiast Z87 motherboard that includes their "non-stop" technology and premium 99-hour replacement service. We hit 4.6GHz with our i7-4770K but our overclock was not completely stable and the temperatures bordered on dangerous under load.
Even at 4.4GHz, the i7-4770K ran too hot for daily use. 4.2GHz was settled upon as its highest stable overclock, and we picked 4.0GHz for our regular benchmark runs which approximated the same performance of our i7-3770K at 4.5GHz.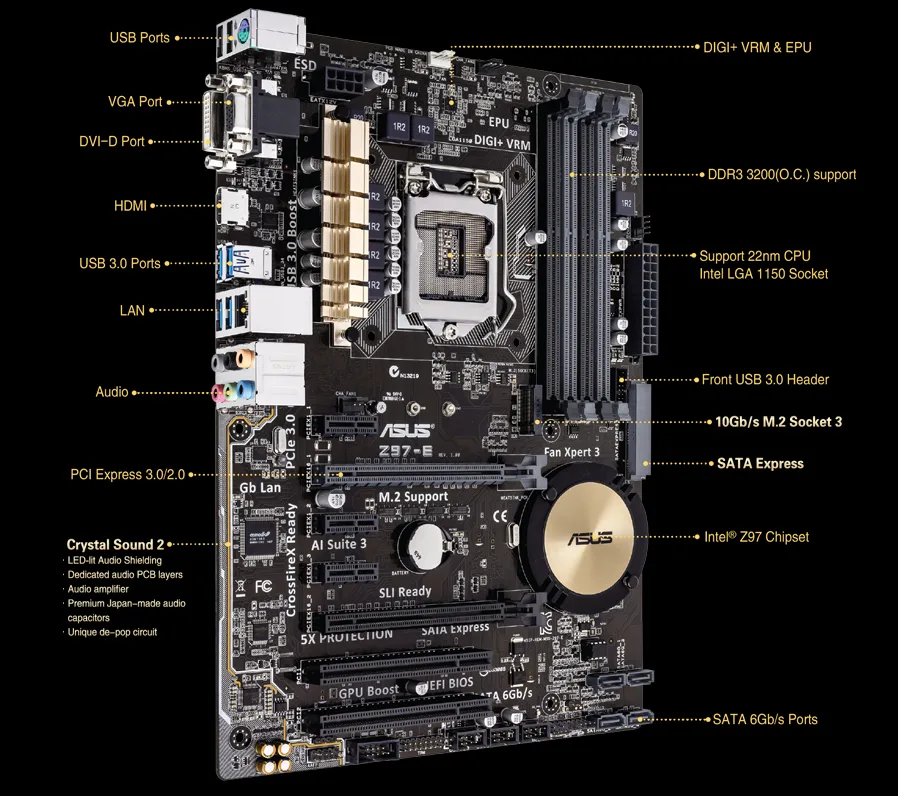 The ASUS Z97-E is a no-frills basic Z97 motherboard that has the same overclocking capabilities of the more expensive ASUS boards. Since it was offered for $100 at Newegg on Black Friday, we purchased it to test. It is pictured above, image courtesy of the ASUS website.

The EVGA Z77 FTW motherboard is a somewhat finicky motherboard that was built for extreme overclocking. We were able to hit 5.0GHz with our i7-3770K using a Cooler Master Seidon 240 water cooler, but the temperatures were much too high. There is a very slight advantage to using SLI on this motherboard as it has a PLEX chip which supplies a bit more bandwidth than the regularly configured Z87 and Z97 8x+8xPCIe 3.0 chipsets.
In our testing even 4.8GHz was likewise too high for Ivy Bridge although repeatable "suicide" benchmarks could be run, and 4.6GHz was settled upon as the highest regular overclock which we also used in this evaluation.
Overclocking
Core i7 3770/4770/4790 "K" CPUs are multiplier unlocked and can usually easily be overclocked beyond 4GHz. On the other hand, the non-K CPUs are locked and cannot be overclocked in the traditional manner. Only the base clock may be overclocked which overclocks the entire system. Overclocks of 3-5+% with stability are reported and there can be a small performance boost. The Core i7-4770K and 4790K also have an unlocked base clock although we did not attempt to adjust it.
System RAM and Overclocking
When setting CPU overclocks it is recommended to move the RAM speeds to default, 1600MHz, or lower. However, we found no stability difference either way and we kept our Kingston HyperX Beast DDR3 at its XMP Profile 1 default 2133MHz clocks for Haswell. The FTW motherboard could only stably accept 1866MHz speeds as its top speed with the same Kingston RAM.
The Ivy Bridge 3770K Overclock versus Haswell's 4770K (vs. Bloomfield, i7-920) versus Devil's Canyon 4790K
The highest overclock we could manage with our Core i7-920 was 4.2GHz and it was accomplished stably with our Thermaltake Frio OC CPU cooler. To achieve the same 4.2GHz with Core i7-3770K we only needed .03V more added over default to stabilize our system. To reach 4.8GHz required an additional.13V and we needed our Noctua NH-DH14. If the reader is interested, they can check out the Noctua NH-DH14 evaluation to see how we reached our maximum overclock with Core i7-3770K, or the Frio OC evaluation to check out the i7-920 overclock.
In contrast, we were able to reach 4.2GHz and benchmark with our Core i7-4770K with stock voltage, but needed 1.300V to pass Linpack stress testing. At 4.2GHz, temperatures peak in the upper 70s under maximum load, a few degrees over stock settings. To reach 4.4GHz required 1.320V and temperatures peaked above 85C under Linpack's load. 4.5GHz required 1.335V and Linpack peaked above 89C. To benchmark games at 4.6GHz required 1.360V although our i7-4770K wasn't stable under Linpak and temperatures climbed into the low 90s. 4.7GHz wasn't possible with any voltage nor with tweaks suggested by ECS. There wasn't much difference with the ASUS motherboard and we settled on 4.4GHz as the top stable speed for the i7-4770K in this evaluation.
In contrast, the Devil's Canyon i7-4790K overclocked, with no extra added voltage needed, to 4.6GHz in the ASUS Z97-E motherboard. Interestingly, it couldn't overclock at all beyond stock in the ECS motherboard which turboed all its cores to 4.2GHz and potentially two of them to 4.4GHz when temperatures allowed it. On the other hand, the ASUS Z97-E motherboard synced all 4 cores to 4.4GHz at its otherwise stock settings, so an extra 200MHz is not surprising.
Even at 4.6GHz, the i7-4790K in the ASUS Z97-E motherboard maxed out and remained in the middle to upper 80C under full Linpack load, and with complete stability using the Cooler Master Seidon 240 CPU water cooler. Gaming temperatures were much lower. We found that 4.7GHz was achievable but required extra voltage and the temperatures moved out of the 80sC and into the hot zone under full load. We decided to stop at 4.6GHz and not bother with the extra voltage, heat, and noise the extra 100MHz would bring us.
Test Configuration
Test Configuration – Hardware
Intel Core i7-4790K (reference 4.0GHz, HyperThreading and Turbo boost is on to 4.4, 4.2, 4.3 and 4.4GHz; also overclocked to 4.6GHz; DX11 CPU graphics), supplied by Intel
Intel Core i7-4770K (reference 3.5GHz, HyperThreading and Turbo boost is on to 3.7GHz; also overclocked to 4.2GHz and to 4.4GHz; DX11 CPU graphics), supplied by Intel.
Intel Core i7-3770K (reference 3.5GHz, HyperThreading and Turbo boost is on to 3.7GHz; also overclocked to 4.6GHz; DX11 CPU graphics), supplied by Intel.
ASUS Z97-E motherboard (Intel Z97 chipset, latest BIOS, PCIe 3.0 specification, CrossFire/SLI 8x+8x)
ECS GANK Domination Z87H3-A2X motherboard (Intel Z87 chipset, latest BIOS, PCIe 3.0 specification, CrossFire/SLI 8x+8x) supplied by ECS
EVGA Z77 FTW motherboard (Intel Z77 chipset, latest beta 03-12-13 BIOS, PCIe 3.0 specification; CrossFire/SLI 16x+16x using Plex chip), supplied by EVGA.
Kingston 16 GB HyperX Predator DDR3 PC2100 RAM (2×8 GB, dual-channel at 2133MHz for Ivy Bridge, supplied by Kingston)
Two GeForce GTX 980, 4GB (reference clocks), supplied by Nvidia
Two 2TB Toshiba 7200.12 hard drives
Cooler Master Platinum Pro 1000W PSU, supplied by Cooler Master
Thermaltake ToughPower 775W power supply unit supplied by Thermaltake
Cooler Master Seidon 240 CPU watercooler, supplied by Cooler Master
Onboard Realtek Audio
Genius SP-D150 speakers, supplied by Genius
Thermaltake Overseer RX-I full tower case, supplied by Thermaltake for Haswell platform
Thermaltake Chaser MK II, full tower case, supplied by Thermaltake for Ivy Bridge platform
Philips DVD SATA writer
HP LP3065 2560×1600 thirty inch LCD
ASUS 1920×1080 120Hz 3D Vision ready display, supplied by ASUS/Nvidia
Test Configuration – Software
GeForce WHQL 344.45 drivers; High Quality; Single-display Performance mode; Prefer Maximum Performance, Vsync off. No overclocking; power and temperature targets set to maximum with stock voltage and fan profiles. DSR used for Shadows of Mordor and The Crew.
Windows 7 64-bit; very latest updates
Latest DirectX
All games are patched to their latest versions.
Vsync is forced off in the control panels.
Varying AA enabled as noted in games; all in-game settings are specified with 16xAF always applied; 16xAF forced in control panel for Crysis.
All results show average frame rates
Highest quality sound (stereo) used in all games.
Windows 7 64, all DX9 titles were run under DX9 render paths, DX10 titles were run under DX10 render paths and DX11 titles under DX11 render paths.
The benchmarks
The 33 Game benchmarks & 3 synthetic tests
Synthetic

3DMark 11
Firestrike – Basic & Extreme
Heaven 4.0

DX9

The Witcher 2
Borderlands 2
Aliens: Colonial Marines

DX10

DX11

STALKER, Call of Pripyat
Civilization V
Max Payne 3
the Secret World
Sleeping Dogs
Hitman: Absolution
Far Cry 3
CoD: Ghosts
Tomb Raider: 2013
Crysis 3
BioShock: Infinite
Metro: Last Light
Battlefield 4
Splinter Cell: Blacklist
ArmA 3
Total War: Rome II
Batman: Arkham Origins
Assassin's Creed IV: Black Flag
Thief
Sniper Elite 3
Watch_Dogs
GRID: Autosport
Middle Earth: Shadows of Mordor
Alien Isolation
Assassin's Creed Unity
Civilization Beyond Earth
Far Cry 4
Dragon's Age: Inquisition
The Crew

We have added 8 new games since October and are still benching several older games to maintain continuity with our older reviews that will be dropped from our next evaluation.
Next, we move on to game-related benchmarks and to our big picture.
Game benchmarks
All of our benchmarks are run with a stock GTX 980 and with stock GTX 980 SLI. We test our Ivy Bridge Core i7-3770K at stock (3.5GHz/3.7GHz) and also overclocked to 4.6GHz in our EVGA Z77 FTW (x16+x16 PCIe 3.0) motherboard. Likewise, the 4770K is tested at stock and overclocked in our ECS Z87 motherboard while Devil's Canyon i7-4790K is tested in the ECS Z87 and (since it didn't overclock in the ECS MB) also in the ASUS Z97-E motherboard.
We are going to start out with our Big Picture first. And since there is so much information available in one place, it might prove confusing, so we will break it down into smaller charts also.
Here is all of our testing in one place – we call it, "The Big Picture". All games have their setting completely maxed out and levels of AA are identified on the chart. The GTX 980 nd GTX 980 SLI are run at reference clock speeds. Z77 refers to the i7-3770K exclusively as benchmarked in the EVGA Z77 FTW motherboard at stock clocks and also overclocked to 4.5GHz. Z87 refers to the ECS Z87 Golden Motherboard used to test both the stock and overclocked i7-4770K and 4970K; and Z97 refers to the ASUS Z97-E motherboard also used to test both the stock and overclocked i7-4770K and 4970K.
The chart is labeled first to differentiate the GTX 980 from GTX 980 SLI and then further subdivided by CPU speed, stock and overclocked; and by motherboard, Z77 for i7-3770K and Z87 (ECS) and Z97 (ASUS) for i7-4770K and 4790K. Stock speeds are expressed as base clocks/turbo clocks and overclocked speeds have all 4 cores synced. The ASUS motherboard generally syncs all 4 cores to 4.4GHz with a single tweak, while the ECS motherboard manages to reach 4.2GHz.
The Big Picture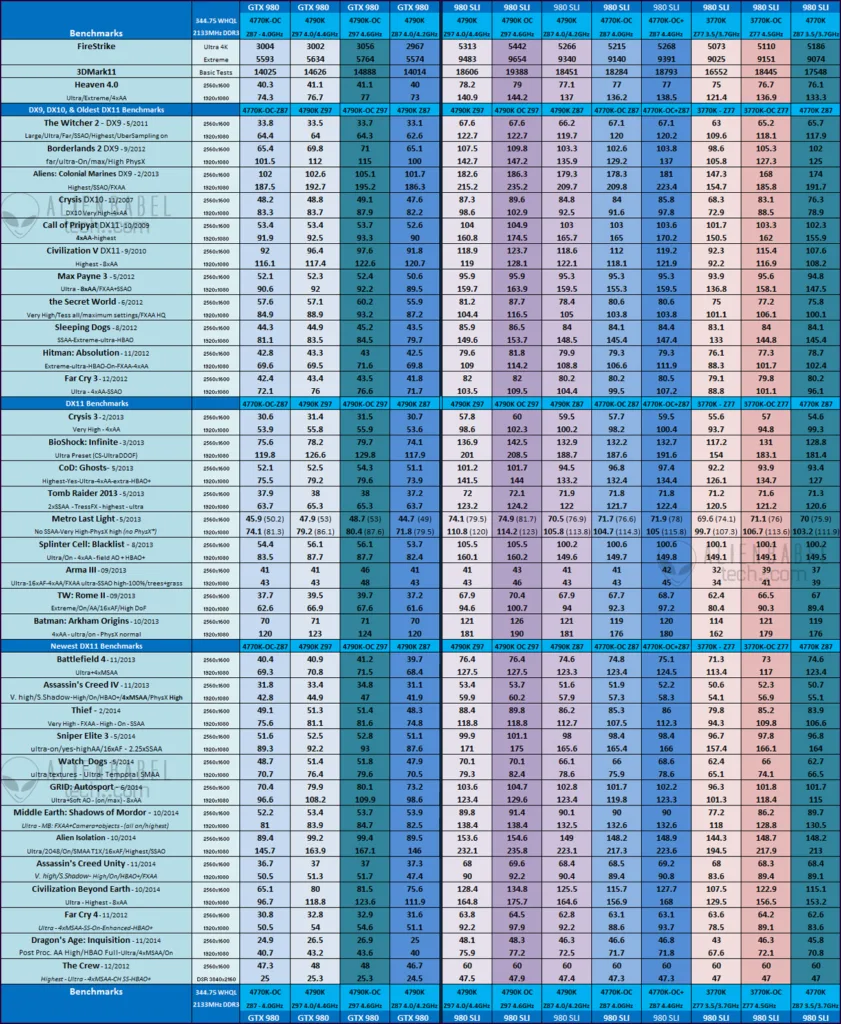 Let's break it down. First, let's look at the differences between motherboards. And let's limit ourselves to GTX 980 single GPU results first. For these series of tests we used i7-4770K and 4790K at stock and overclocked, in the Z87 ECS motherboard and also in the ASUS motherboard. At stock settings, the ASUS mother board will sync and turbo all 4 cores to 4.4GHz if any tweaks are made, even under load. On the other hand, the ECS motherboard usually turbos two cores to 4.4GHz, one to 4.3GHz and the other core to 4.2GHz; but usually all four cores to 4.2GHz under load.
Single GTX 980 results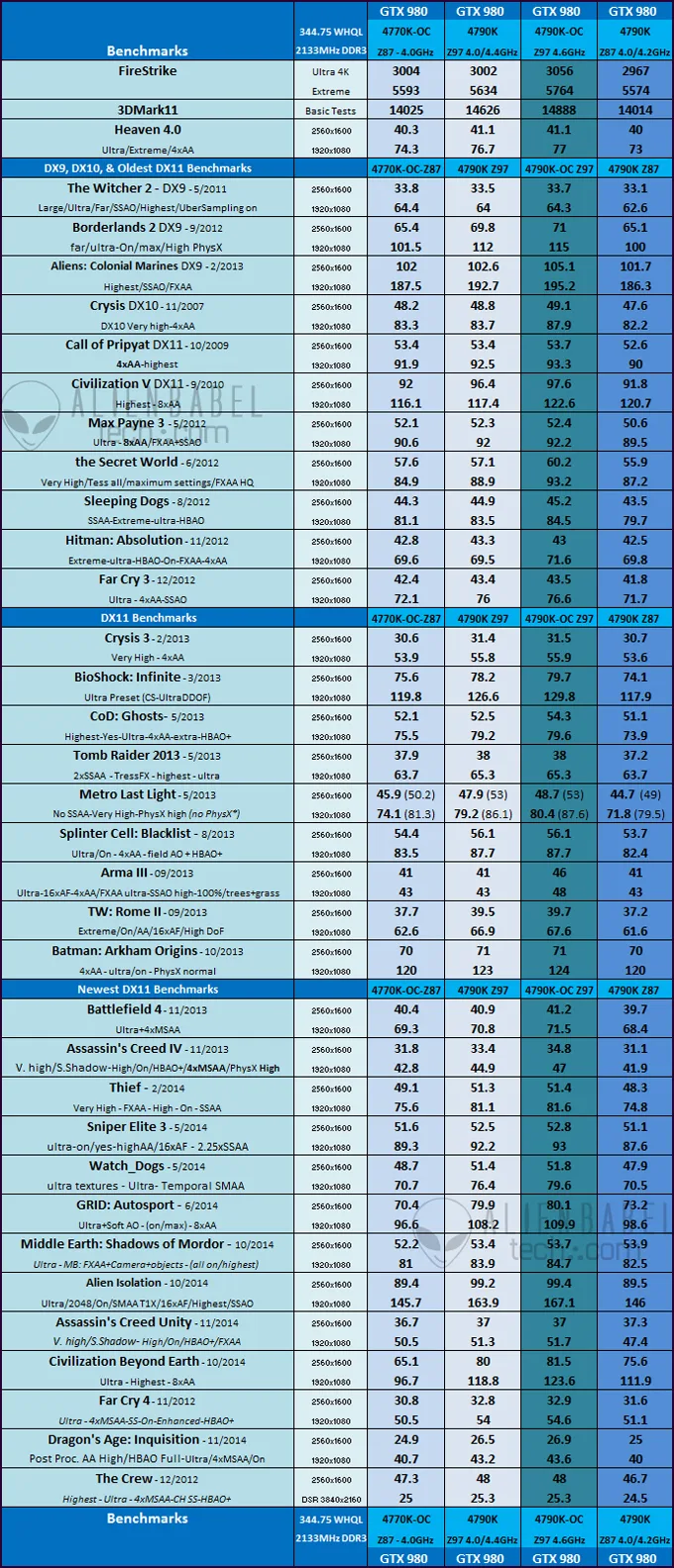 Now let's focus just on GTX 980 SLI scaling:
GTX 980 SLI Scaling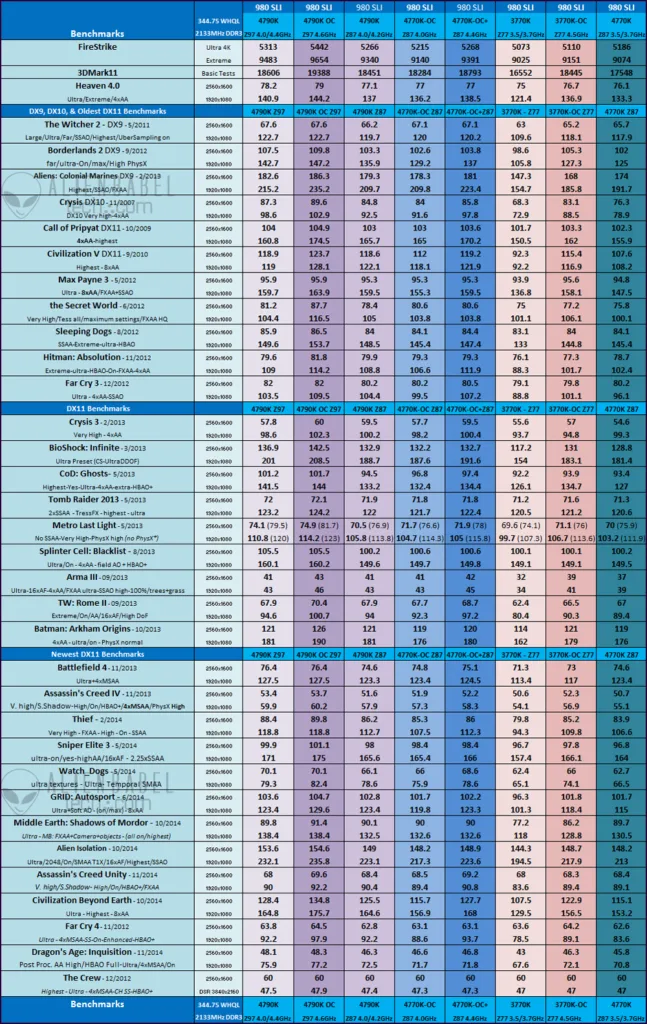 Finally, let's put some relevant information in the charts next to each other in a variation of the Big Picture.
The Last Chart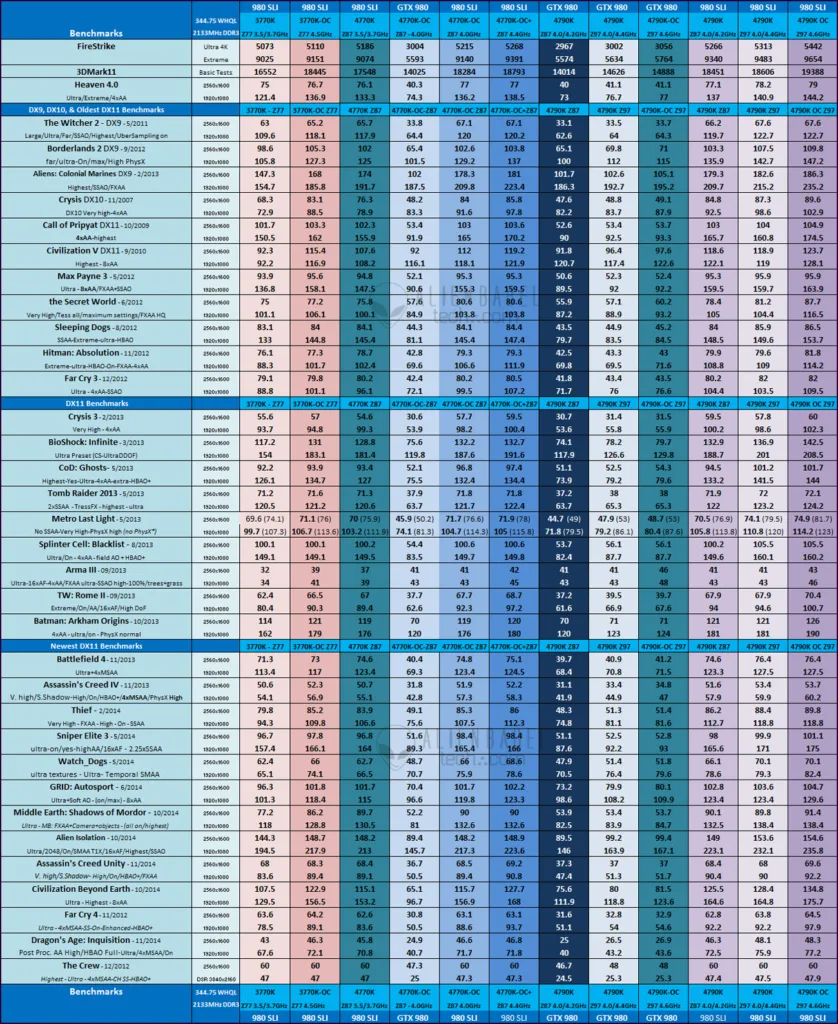 We see good overall scaling related to CPU core speeds and much more differentiation at 1920×1080 than at 2560×1600. The GTX 980 is sufficient to differentiate between CPU speeds and GTX 980 SLI much more so. Some games are very GPU dependent and vary little whereas others are somewhat CPU-limited.
If you are a gamer, you can definitely get by with an older CPU, such as a highly overclocked Bloomfield Core i7-920. However, we saw the need to upgrade to Haswell and to Ivy Bridge more strongly indicated by many tasks other than gaming, not to mention efficiency, which we did not explore in this evaluation. Let's head for our conclusion.
Conclusion
There is absolutely no doubt that Haswell is faster clock-for-clock than Ivy Bridge and by extension, Sandy Bridge and earlier CPUs. All of the processors scale similarly but it is noticeable even at the same stock 3.7GHz, that the i7-4770K is faster than the i7-3770K, and that the performance differences becomes more noticeable as the clock speeds go up. It appears that the approximately "ten percent faster" clock-for-clock (IPC) improvements of Haswell means that the more-difficult-to-overclock i7-4770K Haswell doesn't need to clock as high as Ivy Bridge – Core i7-4770K at 4.0GHz is generally faster in gaming than Core i7-3770K at 4.5GHz. And Devil's Canyon at 4.6GHz, running cool and stable without any voltage increase, certainly is the first choice of our three tested processors.
We also see that the Devil's Canyon Core i7-4790K is what enthusiasts had hoped for with the Core i7-4770 originally. Here we have the 4790K, a more overclocking friendly chip than the 4770K, that runs cooler at a lower voltage. However, it doesn't appear to be able to reach much higher in ultimate frequency either under air or by using watercooling. We did manage a reasonable overclock +200MHz over the 4790K's 4.4GHz turbo boost and +400MHz over the 4.2GHz that the stock settings for the ECS motherboard offers us which is nice, but nothing special considering that our i7-4770K managed to benchmark stably at 4.4GHz, although with significantly higher core voltage and increased temperatures.
From previous testing, we noted that a GTX 680 is not powerful enough to differentiate an i7-4770K from an i7-3770K even at 1920×1080 with maxed-out settings that gamers usually choose although a GTX 980 is. However, paired with a pair of really powerful video cards in SLI, the Core i7-4790K is the perfect match for high-end gaming at its stock speeds. Should you upgrade? Probably not from Ivy Bridge, but if you are a gamer that is buying a new CPU and motherboard now, the i7-4790K is probably the best choice to pair with an overclocking friendly Z97 motherboard like our ASUS Z97-E which is also able to handle the next generation of Intel CPUs, Broadwell, with a BIOS update.
Final Thoughts
We feel that the Devil's Canyon Core i7-4790K deserves BTRs Editor's Choice Award, and together with the ASUS Z97-E motherboard and our mSATA to M2 adapter, it is now our flagship benching platform.
We believe that the Intel Devil's Canyon Core i7-4790K/Z97 platform is incrementally better than the older i7-4770K/Z87 platform and it has already become BTR's newest testing platform. All of our evaluations will be performed on this platform, and we will benchmark games generally at its stock speeds of 4.0GHz which are allowed to turbo to 4.4GHz.
We are looking forward to completing our restoration of BTR's last two major lost evaluations this week here – the Kingston mSATA review and the Maxwell GTX 980 introduction. In testing for our next brand new evaluation of the GALAX GTX 970 EXOC, we discovered that the latest Nvidia 347.09 WHQLs drivers brought some nice performance increases over the last 344.75 WHQLs and we will have a very short mini-evaluation published here by this Friday. We are also benching a pair of R9 290Xes with AMD's latest Omega drivers for a SLI versus CrossFire showdown to be published here in a week or so.
This editor is playing KoTOR on SHIELD currently.
Happy Gaming!
Mark Poppin
BTR/ABT Editor-in-Chief